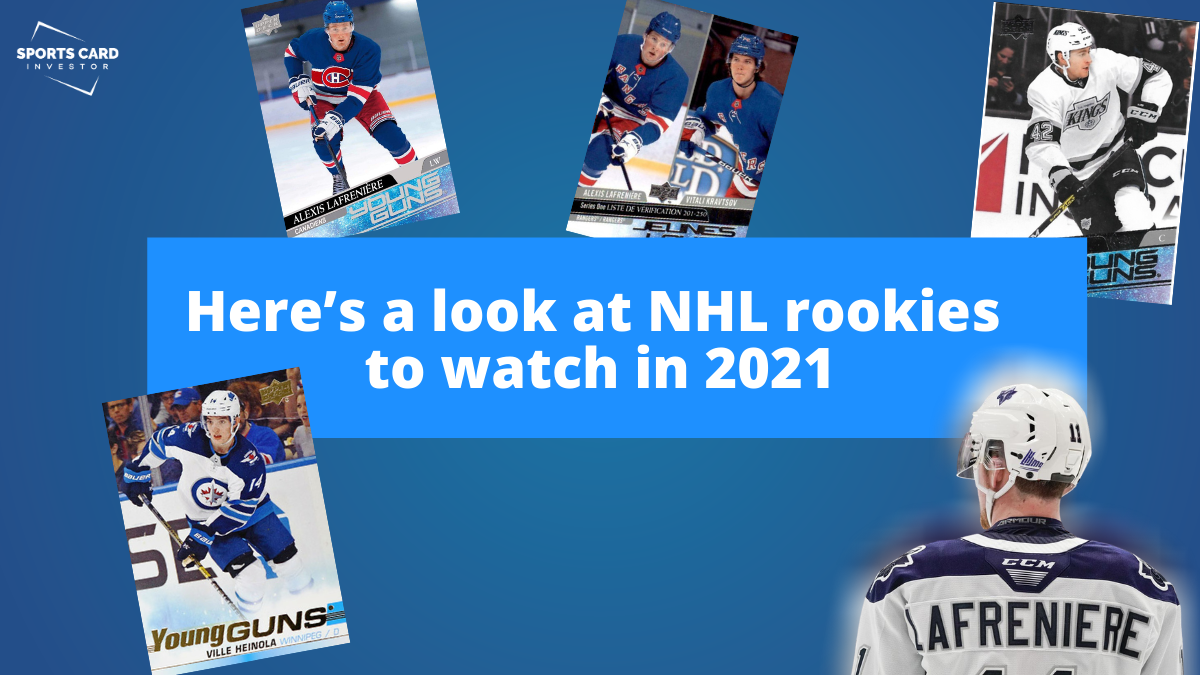 This guest post came through our Article Submission Program. Thoughts and opinions are those of the author.
Introduction
A new NHL season is finally upon us. Forced to start three months later because of the pandemic, the new season will officially open on Jan. 13 with a 56-game schedule and teams forced into realigned regional divisions because of travel restrictions between the U.S. and Canada as a result of the pandemic.
The coming season brings with it all the hype that comes each year around the league's class of rookies. This season's class is headed by New York Rangers left winger Alexis Lafreniere. While his cards have already skyrocketed in value, there are other rookies to watch in 2021. 
Several card products have already been released this season, most notably Upper Deck Series 1. It's in the UD flagship product that the Lafreniere "Young Guns" card can be found. Series 1 also has other rookies (holdovers from last season and other players who debuted in the bubble) that could make an impact this year.
Bashing this year's rookies is easy to do, but there are some potential gems to mine. A crop of Russian players, led by Minnesota Wild left winger Kirill Kaprizov, have their eyes set on the Calder Trophy, awarded to the league's top rookie each season. Kaprizov follows in the footsteps of many great players to hail from Russia who have been flooding into the NHL for the past three decades.
Kaprizov, who has appeared in various KHL card sets in Russia as a member of CSKA Moscow, has yet to appear in a major U.S. release. Kaprizov was signed this past summer and could make his debut this season. Should he get ice time, expect Kaprizov to appear in UD Series 2. On the other hand, Lafreniere, if he racks up the points many expect him to, should skate to the Calder prize, but even the big prospects are known to fail despite the preseason hobby hype.
UD Series 2 isn't the only product to look forward to in 2021. Skybox Metal Universe Hockey Cards, a nod to the '90s, has the hobby excited with its short-printed rookies (like Fleer Ultra of past years). Skybox is expected to be released on April 7, although Upper Deck has yet to announce the final checklist. A week later, Upper Deck will release a 26-card box set featuring Lafreniere that also features limited autos.
For those who can't wait until spring for those sets, two releases to look forward to this month, both expected to be loaded with rookies, autographs and special inserts, are Artifacts and Synergy. While hockey cards haven't risen as quickly as basketball or soccer, that could change as interest and demand increases.
The IIHF World Junior Championship is always a good place to scout future talent while also giving fans a taste of the competitive hockey that's to come. Lafreniere, for instance, was not released by the Rangers to play in the tournament for Canada fearing he could get injured ahead of the season. How popular is Lafreniere? So popular that police in Canada have warned of counterfeit cards with his likeness purported to be from 2013 as part of the Quebec International Peewee Hockey Tournament. No such cards were ever issued, tournament organizers confirmed, even though they have popped up on eBay in recent weeks.
Here's a look at five rookies to watch for this season and what cards and sets to focus on:
Igor Shesterkin (New York Rangers)
Like Lafreniere, Rangers goaltender Igor Shesterkin is likely to get the starting job after the retirement of fan favorite Henrik Lundqvist. The Russian-born netminder has the pressure that comes with being in a major market like New York, but his hobby stock will likely rise faster as a result should he rack up wins early on.
Shesterkin's rookie card — the sought-after "Young Guns" base — is No. 528 in the UD Update Series inserted in packs of SP Authentic. While the "Young Guns" in that set show up one out of every 15 packs, your best bet is to buy it as a single now before the price rises.
One of only 12 "Young Guns" cards in that set, the other card that has sold well was the one of David Ayres, the operations manager who played for the Carolina Hurricanes as an emergency back-up goaltender in a win against the Toronto Mapleleafs last season.
Shesterkin is also scheduled to appear in UD Series 2, to be released on March 10, in the form of a "Rookie Materials" card. For those who prefer patches and autos are better off looking past his "Young Guns" card and focusing on upcoming releases. 
Ville Heinola (Winnipeg Jets)
The Finnish-born defenseman is just 19 and drafted by the Winnipeg Jets in 2019. He made his debut last season, playing in just eight games and amassing five points. Heinola's "Young Guns" card was included in last year's flagship set as No. 204.
Heinola plays defense and is in a smaller media market like Winnipeg, but that shouldn't stop people from buying his cards. His O-Pee-Chee rookie base card and Platinum versions are also popular and more affordable given the lower demand for those sets.
Gabe Vilardi (Los Angeles Kings)
The Los Angeles Kings, drafted 11th overall in 2017, made his debut last season, earning him a "Young Guns" No. 215 card in this season's set. Vilardi is a big and burley center, using his size and skill to overpower defenses. He also has a short printed card (#/11) that's included in Synergy.
He played in just 10 games last season, a sample size that yielded three goals and four assists. That display is a preview of what could come this season. If Vilardi can replicate what he did in the bubble, the Kings will get a lot more competitive in the hunt for a Stanley Cup and his cards will steadily rise in value. Vilardi remains a darkhorse for the Calder, but his rookie card at just a few dollars is worth gobbling up now.
Vitali Kravtsov (New York Rangers)
This list started off with a rookie in New York and will end with one. Vitali Kravtsov, a ninth overall pick in 2018, plays right wing and could team up with Lafreniere at some point this season.
He has a "Young Guns" card in Series 1 (No. 243) and shared a checklist with Lafreniere (No. 250). It remains unclear when Kravtsov will play in the NHL after the Rangers loaned him out to KHL club Traktor Chelyabinsk last summer once they were eliminated.
The 20-year-old Russian played in the AHL last season, racking up six goals and nine assists across 39 games. He could stay in the KHL this year (especially now that the AHL season has been pushed back into later in the year) and join the Rangers as late as April once the season in Russia comes to an end.
There's lots of prospecting going on at the moment after the 2019-20 season extended into the summer following the pandemic pause. That will not only affect the truncated 2021 season, but will severely impact the hobby in ways never seen with past rookies.
Track your collection and maximize your profit with Market Movers, the hobby's most powerful sports card pricing platform! Learn more here.
Note to readers: If you purchase something through one of our affiliates we may earn a commission.