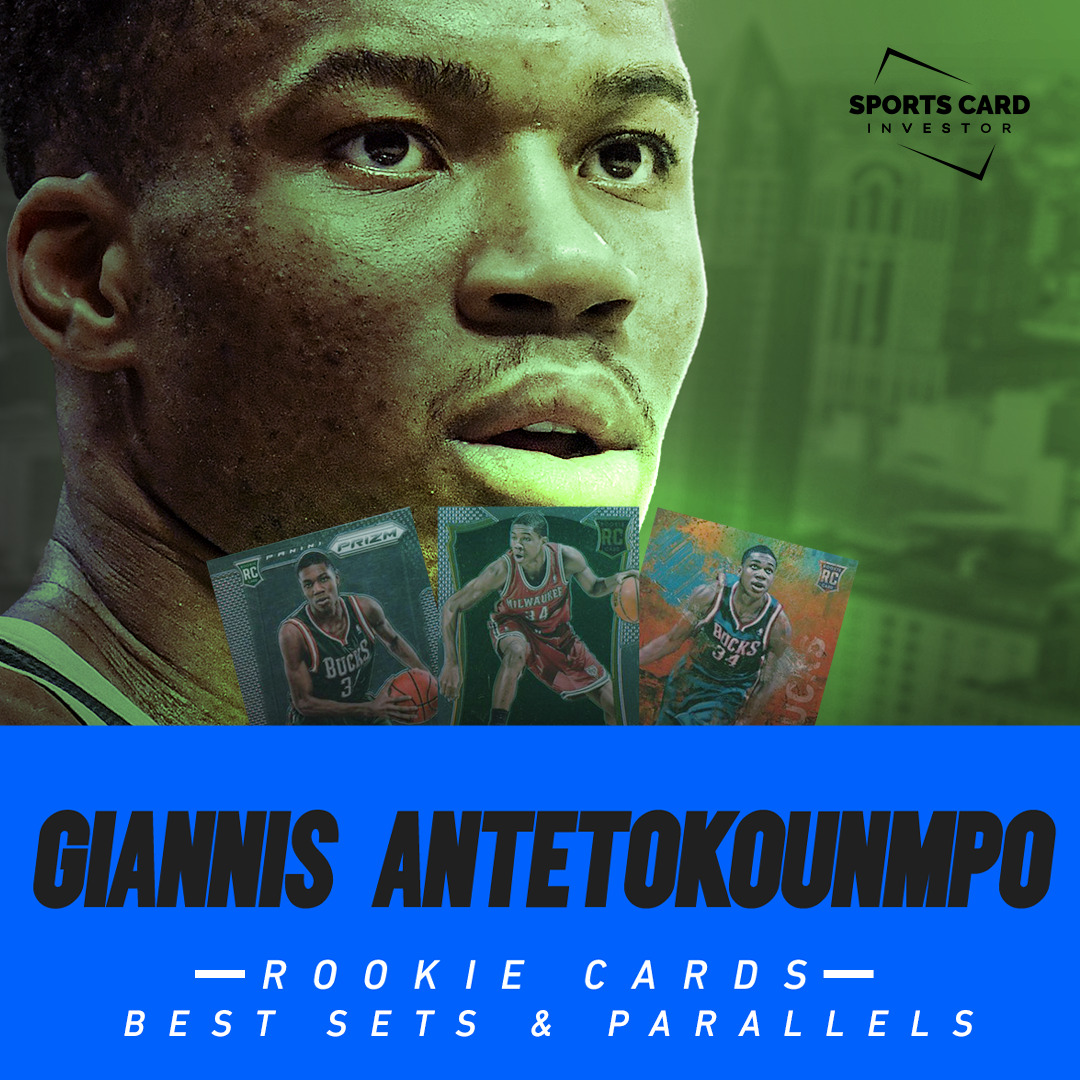 From a highly-criticized project pick to an MVP, GIannis Antetokounmpo has had a meteoric rise since joining the Milwaukee Bucks in 2013. Along with his on-court success, Antetokounmpo has become one of the most popular players in the sports card hobby.
Antetokounmpo has dozens of rookie cards from the 2013 season, so use the Sports Card Investor guide to see which ones we think you should focus on. Cards are broken down into tiers, ranging from the most affordable and more popular options to the most unique, expensive and rare.
VALUE ROOKIES:
The Value Tier Includes cards with high print runs or lower-quality cardstock. A good fit for new collectors or those on a limited budget.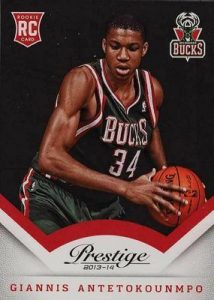 Hoops #275: This release shows off Antetokounmpo in his Bucks jersey for the first time, so it remains popular among collectors even though it's a more basic set. You won't find him in any fantastic insert sets that new Hoops releases are known for, but Red Back parallels found in hobby boxes are nice, too. Shop now >
Panini #194: One of the hobby's most basic sets, Panini is a strong option for beginners wanting to add anything Antetokounmpo to their collection. Along with this base card, look for Antetokounmpo in the Rising Tide Autographs set. Shop now >
Prestige #178: Considered by many to be slightly nicer than Hoops or Panini, Prestige has become more popular among Antetokounmpo collectors in recent years because of its lower cost of entry. Gold parallels numbered to just 10 are strong additions to any collection. Shop now >
POPULAR ROOKIES:
This tier includes cards from the most popular sets across both retail and hobby formats. Typically easy to buy or sell when needed.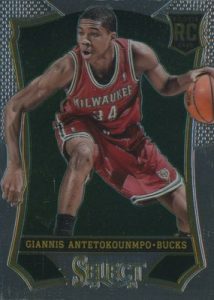 Prizm #290: In just its second season, the 2013 class didn't originally seem great for Prizm. Antetokounmpo has changed that, though, with his Prizm Base becoming one of the most popular cards in the entire hobby.
Like the modern Prizm Silver, 2013's Prizm parallels should receive consideration from any collector. Shop now >
Select #178: You won't find multiple levels of rookies in this release like the ultra-modern Select sets, but Antetokounmpo's base is still a fit for most collectors.
Look for the Bucks star in the Red Hot set as well as any of the color-based Prizms parallels. Shop now >
MORE UNIQUE ROOKIES:
This tier Includes cards with lower print runs, unique designs, or cards from hobby-only products. Usually higher-quality cards than the Value or Popular Tiers, though not necessarily more popular or easier to buy or sell.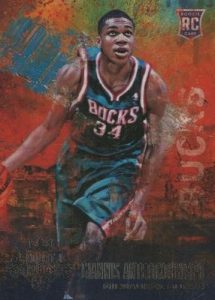 Court Kings #125: Featuring some of Panini's best designs, Court Kings spotlights Antetokounmpo in four different rookie cards varying in scarcity — the Rookies 4 set is numbered to just 49. The Art Nouveau and Fresh Paint Autographs sets are fantastic additions to any collection. Shop now >
Gold Standard #231: The "Gold" part of Gold Standard's name is taken seriously as most cards feature the color as a major portion of the design. Antetokounmpo makes an appearance in the impressive Rookie Autograph Jerseys Set. Shop now >
Innovation #13: Outside of his base card, you'll find Antetokounmpo in the Main Exhibit Signature Rookies and Rookie Jumbo Jerseys sets. The big draw for Innovation, though, is the Rookie Stained Glass checklist. Stained Glass cards come one per box while parallels like Gold and Light Blue are even tougher chases. Shop now >
RAREST AND MOST EXCLUSIVE: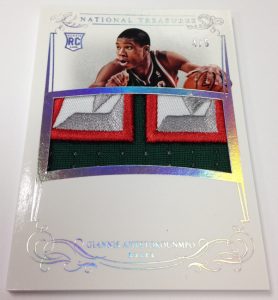 We won't spend much time here because this category is likely out of reach for most collectors due to price, but they are still fun to look at.
Sets like Flawless, Immaculate, and National Treasures typically feature visually stunning designs and low-numbered cards.
This is also where you'll find the most impressive patches paired with high-quality on-card autographs. Don't worry if this tier is too pricey as there's plenty of options in other categories that could be perfect for your collection.
Track your collection and maximize your profit with Market Movers, the hobby's most powerful sports card pricing platform! Learn more here.
Note to readers: If you purchase something through one of our affiliates we may earn a commission.