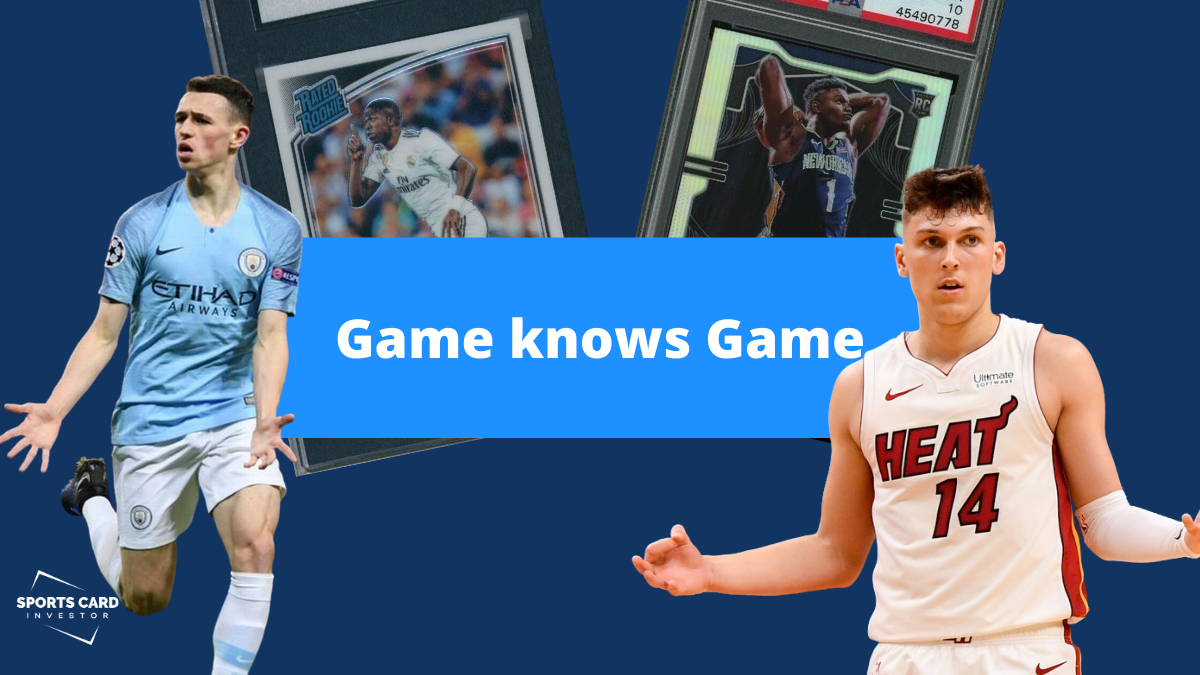 This guest post came through our Article Submission Program. Thoughts and opinions are those of the author.
Introduction
No one knows what the future holds. Like other investment vehicles, sports card investors purchase cards with the hopes that it will skyrocket in the future. When buying for investment purposes, an individual develops a thesis that justifies the purchase. If the goal is to select players before their cards explode, a framework from which to base the analysis is critical. As an investor, it is fascinating to understand the rationale behind the selection of certain players – why did Gary V invest in Devin Booker and Kylian Mbappe (this article argues that Mbappe is not the soccer player to invest in)? Why does Geoff Wilson recommend cards of certain players? How did they build a series of assumptions and rationalizations that fueled their actions? Like stocks or venture capital, individuals develop a framework based on their worldview that guides their selections. This article presents the "Game Knows Game" framework for analyzing players with incredible investment upside and recommends players based on the system.
Framework for Analysis: Game Knows Game
The thesis that one uses to justify a purchase is created through personal analysis fueled by consumed content. The reasons vary for every individual. Some purchase out of fandom while others purchase after hearing information on podcasts, watching a game, or reading articles. We all take tidbits from here and there to create an overall thesis on each player's investment potential. With the advent of social media and the ever-growing volume of content, it is advantageous to have clear frameworks for analysis when choosing sports card investments. Some use analytical tools while others "trust their gut." The Game Knows Game framework combs through social media content and places value based on analysis by fellow players or coaches. Although we take all public statements with a grain of salt, it is possible to identify moments of genuine admiration or respect – from which we develop our thesis for the potential of players.
HOT CARDS ON EBAY
Player #1: Tyler Herro
For those who consume YouTube Basketball content, Tyler Herro was a household name long before he played for Kentucky. Through content machines like Ball is Life, Overtime, and House of Highlights – one can watch the development of players starting in high school (or even earlier for players like Bronny James and his AAU squad). There are two interesting social media tidbits that present a very strong case for Tyler Herro. The first Game Knows Game tidbit comes from Jimmy Butler. Perhaps the most notorious teammate, Jimmy Butler is known for his work ethic and holding his teammates to incredibly high standards. He wore out his welcome with the Bulls and notoriously grated against his teammates in Minnesota and Philadelphia. The Timberwolves and Sixers hoped that Butler would lead their team and mentor their young superstars, which included Andrew Wiggins, Karl-Anthony Towns, Ben Simmons and Joel Embiid. Instead, the relationships fractured and devolved into a public spat over social media, resulting in a media narrative that Jimmy was a "difficult teammate." Jimmy, however, is now thriving in Miami under Pat Riley and Eric Spoelstra. With a core of young talent from Bam Adebayo to Duncan Robinson and Kendrick Nunn, the Heat have a bright future. And yet, even with all these young stars, Jimmy Butler has become closest with Tyler Herro. In the following two YouTube videos, we see Jimmy Butler's apparent admiration for Tyler's work ethic, game, and swag.
Exhibit A: JJ Redick Podcast Minute (starting watch at :51)
Exhibit B: Post-Game Interview
The second Game Knows Game tidbit comes from Zion Williamson himself. In the video below, Zion calls Tyler the most underrated player in the class.
Exhibit C: Zion on Tyler (start watching at 1:37)
Game Knows Game Thesis: Jimmy Butler, the notoriously "difficult teammate," took Tyler Herro under his wing and stated that the city of Miami would fall in love with him. The most hyped player of his class, Zion Williamson, says that Tyler Herro is the most underrated player in the class. If you are going to invest for player upside based on the Game Knows Game framework, Tyler Herro may not be a bad bet.
Framework for Soccer
The threshold for soccer stardom is difficult to grasp. Unlike the MLB, NBA or NFL, there are multiple soccer leagues around the globe. This makes selecting the next star difficult. The soccer world has been spoiled with two transcendent talents over the past 10-15 years: Lionel Messi and Christiano Ronaldo. The soccer world is always looking for the next "Messi" or "Ronaldo." One framework for picking players with sports card investment upside is to consider potential future Ballon d'Or recipients. The Ballon d'Or is an annual award given to the player recognized as the best soccer player in the world. Consider it the global MVP if you will, with team success playing a vital role in the selection of the winner.
Analyzing winners of the past decade, winning titles (either La Liga or Premier League) and the Champions League provides the highest indicator for selection. Success in the World Cup or Europe Championship also correlates with winning the award. Here is a list of winners since the 2009-2010 season with their team's accomplishments in that year:
| | | |
| --- | --- | --- |
| 2009-2010 | Lionel Messi | La Liga Title |
| 2010-2011 | Lionel Messi | Champions League, La Liga Title, |
| 2011-2012 | Lionel Messi | |
| 2012-2013 | Cristiano Ronaldo | |
| 2013-2014 | Cristiano Ronaldo | Champions League |
| 2014-2015 | Lionel Messi | Champions League, La Liga Title |
| 2015-2016 | Cristiano Ronaldo | Champions League, European Championship (Portugal) |
| 2016-2017 | Cristiano Ronaldo | Champions League, La Liga Title |
| 2017-2018 | Luka Modric | Champions League, Croatia World Cup Runner-Up |
| 2018-2019 | Lionel Messi | La Liga Title |
In six out of the ten years, the award recipient's team claimed the Champions League Title. 2009-2010 and 2011-2012 are anomalies as Inter Milan won the title in 2010 and Chelsea won the title in 2012. Bayern Munich won the Champions League title in 2013, hence Franck Ribery coming in third for the award, and Liverpool in 2018-2019, Virgil Van Dink came in second for the award. Luka Modric won the award in 2017-2018 as he led Real Madrid to the Champions League title and Croatia to the finals of the World Cup (Cristiano Ronaldo played for Juventus that year). To summarize, in order to win the Ballon d'Or, a player's resume must include some combination of the following criteria: 1. The general consensus as one of the top players in the world, 2. Champions League success, 3. League success in La Liga or the Premier League (Inter Milan won the Champions League in 2009-2010 but their top player Zlatan Ibrahimovic was seventh in the voting), and 4. International Success.
Based on this assumption that the Ballon d'Or is a good indicator for soccer superstardom, it is interesting that a lot of hype has been built around Kylian Mbappe. France won the World Cup in 2018, but the finalist for the Ballon d'Or was Antoine Griezmann and not Mbappe (Griezmann placed third in the voting as his team Atletico Madrid placed second in La Liga standings). If we compare Mbappe against the Ballon d'Or criteria above he has several factors hindering his chances for selection: he plays for Paris-St. Germain in French Ligue 1 and may not even be the best player on the French national team. In order for him to win, he would have to transfer to one of the top two clubs in the world, gain Champions League success, and be the best player on his international team. If this is the case, which players have a clear path to winning the Ballon d'Or? The Game Knows Game framework provides some insights.
HOT CARDS ON EBAY
Player #2: Vinicius Junior
Based before the arrival of Cristiano Ronaldo and Lionel Messi, Brazilians dominated Ballon d'Or voting. Ronaldo Lima (who for those growing up in the 90's is the original and true "Ronaldo") won the award in 1997 and 2002 and placed in the top three in 1996 and 1998. Rivaldo won the award in 1999, Roberto Carlos was in the top three in 2002, and Ronaldinho won the award in 2005 and placed in the top three in 2004. Kaka was the last Brazilian to win the award in 2007, with Neymar placing in the top three in 2015 and 2017. There is a high probability that the post-Ronaldo/Messi era will see a Brazilian as a finalist for the award as the country continues to generate incredible talent every generation. Having analyzed the top La Liga and Premier League teams while combing through social media content for Game Knows Game references, the clip of an interview with Neymar clearly stood out. In the video, Neymar is asked who he thinks is the best young talent in the world. Mind you, Neymar played for Barcelona and is currently playing for Paris St. Germain (Mbappe's team). Usually, players skirt around the answer and name multiple players or gracefully decline to answer. However, Neymar's answer is telling: this assumption that the Ballon d'Or is a good indicator for
Game Knows Game thesis: An emphatically clear answer – Vinicius Jr. He is primed to explode on the world stage as he plays for Real Madrid and makes a case to star in the 2022 World Cup for Brazil. He has the ability, playing on the wing, to be the Talisman for his club and national team. There is a clear path to soccer superstardom.
Player #3: Phil Foden
There is no more significant soccer storyline than England winning the World Cup. England, the creators of the sport, have not hoisted the World Cup trophy since 1966. This will be bigger than Andy Murray winning Wimbledon in 2013. The golden generation of English soccer, which generated players like Michael Owen, Steven Gerrard, Frank Lampard, Paul Scholes, David Beckham, etc., never claimed the greatest international prize. England now has a new generation of incredible talent that includes Marcus Rashford, Jadon Sancho, Raheem Sterling, Harry Kane, Tren Alexander-Arnold, etc. However, the one that sticks out and is poised to break out is Phil Foden. Jadon Sancho's card prices have seen an incredible rise, but based on the Ballon d'Or criteria will have to move to a bigger club to garner consideration. Both he and Phil Foden came up in the Manchester City system, but it is Phil who is best staged for success. Pep Guardiola, considered one of the greatest coaches of all time (and still active), has won 30 trophies as a manager. His titles include the 2009 Champions League and the 2017-2018 and 2018-2019 Premier League titles. He coached Messi at Barcelona and had incredible success at Bayern Munich. At Manchester City he coaches the likes of Kevin De Bruyne, Raheem Sterling, Sergio Aguero, and David Silva. With a storied coaching career and first-hand knowledge of the most exceptional talent on the planet, Pep Guardiola states that Phil Foden is the most talented player he has ever seen. Wait, more talented than Messi?! And Aguero and De Bruyne!?!
To further strengthen the case, watch the clip below (start watching at minute 4:55) as Pep gives his assessment of Phil
Game Knows Game Thesis: "England has a diamond." With the upcoming transfer of David Silva, the stage is primed for Phil Foden's path to stardom. There is no greater story in the next two years than Phil Foden becoming the key component of a Manchester City Champions League run and England winning the World Cup in 2022.
What a great article, often we forget to listen to what the competition is saying! Do you have any instances in which you listen to what a player said about his competition, and you invested for that reason? We would love to hear your thoughts regarding this topic.
Ready to take your sports card investing to the next level? Join our Membership Program now for card picks, analytics, premium community access and much more!