This guest post came through our Article Submission Program. Thoughts and opinions are those of the author.
Hello, I'm back for my third and final part of my article. I am also the December 2019 and February 2020 article winner. Last time I posted an article, a few people who read part 2 didn't take my advice to read part 1. So I've put all three parts together into one with some added insight on previous parts. Any new comments that I add will be in bold italics, so it will be easier for you to find the new parts if you've already read part 1 & 2. Or you can read it entirely to make it easier to follow along. This will be the longest article put together.
A little bit about myself, my name is Karmy. I'm a Chinese American born here in America. I had to go through many struggles before I got to where I wanted to be. I'm a high volume card seller on eBay.
When I was a young kid, I started buying cards back in 1990, and my first pack of cards I opened was the 1990 WWF Classic. I was looking for a Hulk Hogan card but didn't pull one. I still have those cards today. I was hooked on collecting cards and started buying more. Eventually, I started getting into cards in other sports such as baseball, basketball, & football. I told the card shop owner, "when I grow up, I want to be just like him and sell cards." And that's exactly what I became.
I started to become a card seller in 1999 when Pokemon cards first came out and were hot. My parents owned a restaurant, and they allowed me to sell cards in a little space inside. I started selling Yugioh when it first came out in 2002. Not long after that, I was setting up at card shows in 2003. My parents retired so I couldn't sell them in the restaurant anymore. I created my eBay account in 2005. I was only buying on eBay. I was usually looking for cards that I think I can sell at the card shows.
The best cards I ever owned in each sport are the 1984-85 Star Michael Jordan rookie GAI 7, 1955 Topps Sandy Koufax rookie, 1957 Topps Bart Starr rookie PSA 5, and 2018 WWE Legends Mankind/ Dude Love/ Cactus Jack triple auto.
I eventually stopped doing card shows in 2011 due to little to no profits. I've lost thousands of dollars investing in players I thought would be good investments but ended up being busts. Players such as Tim Couch, Jamarcus Russell, Jay Williams, RG3, Emeka Okafor, Daisuke Matsuzaka and many others who lost me so much money. I couldn't stop selling cards because I still have too many cards—approximately 2.5 million cards at that time. I had to change something because what I was doing wasn't working. I stopped buying higher dollar cards($10 or more) from this point going forward because the risk of losing big is too significant. Cards in my $1 box and undersold the best at card shows, so it seemed like a good idea to sell only that, but there weren't enough people buying these at card shows.
I decided to do some research on eBay before I started selling there. I noticed that there were only 2 card sellers with over 2000 listings in wrestling cards. I had bought a bunch of wrestling cards during my first year in collecting and saw this as a great opportunity to make money due to lack of competition. I focused my efforts in buying large wrestling collections, got a flatbed scanner and in 2012, I listed all of my wrestling cards. I got up to 2500 different listings, which was my eBay limit at that time. I had more wrestling cards listed than anybody else on eBay, but the sales weren't there. I would only sell 30-45 cards per month. Why are sales so slow with 2500 listings? A change had to be made immediately. I reviewed my listings and figured it out. It was the cost of shipping that made sales so slow. I was hesitant to switch to PWE or plain white envelope, but sales were too horrible not to try it. When I lowered the price of shipping to the cost of a stamp and envelope, my sales shot up the next day by 8X and I never looked back. I became the #1 wrestling card seller on eBay. I've sold more wrestling singles on eBay than anybody else.
Here are some tips on wrestling cards.
Wrestling tip #1. Wrestling cards are unlike other sports cards. I know a lot of people consider cards that were printed in 1987-1993, the junk era. But wrestling cards are a different story. Wrestling cards from those years were not mass-produced and are harder to find. Take, for example, the first pack of cards I ever opened was the 1990 WWF Classic. You can look on eBay for a box of that, and you won't find very many. I still remember paying 50 cents per pack. There are 36 packs in a box, so $18 for a box back in 1990. You would be lucky to find a box of 1990 WWF Classic for that price today. These boxes currently sell anywhere from $40-$50 on eBay.
Wrestling tip #2. Some of the things I learned from being the #1 wrestling card seller on eBay. Most wrestling autos or relic cards don't go up in price over time except for two cards. These 2 cards are the 2015 Topps Paige kiss and kiss auto. I remember these cards going for $160 for the regular kiss and $260 for the kiss auto during the first week of release. This was the only year Paige had any kiss cards produced. And due to how significant of a role she played in women's wrestling, these cards are the only ones going up in price. The last ones I've seen sold on eBay were $280-$320 for the kiss and $800-$1,100 for the kiss auto. Both cards were ungraded. Another card that has potential to go up in price is the 2019 Transcendent Collection Vince McMahon auto. It's too early to know for sure, but I do think this will be an excellent card to invest in. This is the first time WWE Chairman Vince McMahon has any autographed cards made by a card manufacturer. McMahon is in his mid-70s, and it's not likely he'll be signing a bunch of cards for much longer.
Wrestling tip #3. It doesn't matter if you know wrestling or not. Wrestling cards are much different than what you would think. My best selling cards are the women wrestlers that are good looking. It doesn't matter if she is the one losing all the time. As long as she is beautiful, she will probably sell better than the champion. A good example of this is I've sold about 70 Mandy Rose cards (she loses pretty much every match) during the last 12 months, but only 10 Bayley and 50 Becky Lynch cards (both current womens champions as of April 10th, 2020)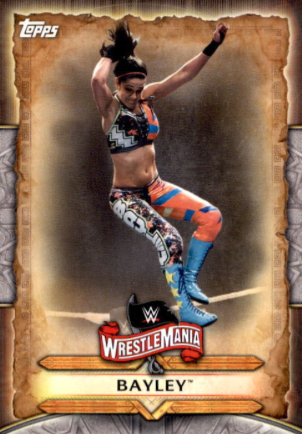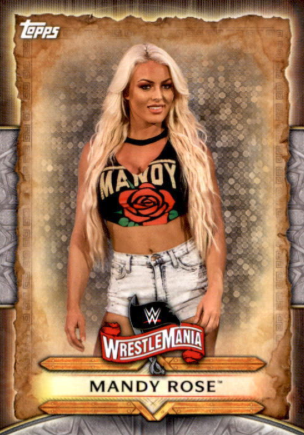 A lot has changed from 2012 to 2020. I now have over 14,000 different listings and about 600-800 shipments going out every month. I know there are a lot of people that want to be able to do what I'm doing. The money is very good at selling low dollar cards($5 and under). I will share some of my knowledge, but be aware; not everybody will be able to do this type of work or have what it takes to get here. Here are my key things you need to do or know.
The most important part before you get started. You will need to have a high selling limit on eBay. The fastest way to do this is to register as a business on eBay. Sign up for a Tax ID or EIN (Employer Identification Number). I have here a picture of my 2nd account after I registered as a business. You can see that the feedback score is at 0, with a selling limit of 5,000 items and $50,000. New eBay sellers usually start with a selling limit of 10 items and $500.
Be aware that this is going to be a long process to get a large number of listings up and shipping a lot of cards out. You're looking at least 2-3 years just to get started if you do the work by yourself. I've seen a lot of people quit after 1-2 years because they can't handle the long process or don't know enough about cards and eBay. You need to put in the effort in order for this to work. The process doesn't stop after 2-3 years. That's just to get your number of listings up. If you don't have a lot of time to put effort into selling cards, then you probably shouldn't get involved. Usually, when I come across a new card seller who doesn't put much effort. He's going to take forever to ship the card and probably get a bunch of eBay defects, which could get his account suspended or terminated for poor performance. If it's going to take you 1-2 weeks to ship a card, then you shouldn't be a card seller on eBay.
Open an account with Ultra Pro or BCW and get card supplies at the lowest price possible. AN EIN or Tax ID is required.
See if Paypal Micropayments is something that would work for you. Micropayments are a smaller fee for sellers who are mostly selling items that are $12 and under. The fees are 5 cents, plus 5%. If this looks like something that works for you, register as a business on Paypal and call Paypal to sign up for it. Only business accounts can get this feature.
Having a lot of doubles will be a big key to your success with lower dollar cards. One of the advantages of low dollar cards is you can have a lot of doubles and sell that same card over and over. For example, I've sold 70 copies of the 2017 WWE Alexa Bliss for $2 each. That is $140 coming from one listing. The cards are shipped to 70 different people, so you are doing more work in shipping, but the listing stays active as long as I have doubles.
6. Having the best equipment will be important. You're looking at least $1000 to have the necessary equipment just to get started. If you want to get big in a short amount of time, then having the fastest scanner possible will be a big key. The fastest scanners are currently duplex high resolution scanners which are around $300 used or $750 new. They can scan 3,000 cards, front and back in 60 minutes. The one that I have is the Fujitsu fi-6130z. Keep in mind this scanner won't scan real thick cards. You'll need a flatbed scanner along with this duplex scanner. Other equipment you'll need are a laptop computer, scale, and thermal printer. A thermal printer can print shipping labels without any ink. Ink is costly and could ruin your profits. A thermal printer doesn't use ink, so this will save you a lot of money. A lot of new people might not realize how vital a scale is for eBay. You need to know the exact weight of your package. If you print a shipping label with incorrect weight, this could delay your shipment and make it arrive late. If you want to see how the scanner works, there are a few videos on youtube. A link to some videos are here: https://www.youtube.com/watch?v=V8HkqF27YQM
7. This needs to be treated like a job because it is. You need to make a schedule where you are working on something with cards. An example of this is you can work 2-4 hours from Monday-Friday doing the work. You're looking at about 10-20 hours spent each week on buying collections, sorting, scanning, listing, and shipping. If you skip a day, you need to make up for that time. It doesn't have to be done in 5 days, you could spread it through 6 or 7 days each week, or only work during the weekends and put in 5-10 hours on both Saturday and Sunday. This will be all up to you. It doesn't have to be 10-20 hours like what I'm doing; this could be whatever you think you can manage. What I was doing was putting in 20 hours per week, putting up 200-500 new listings every week. Sometimes 1,000 new listings in a week. You need to work efficiently and fast; time is money. When I was more established as a seller with more experience, I was able to cut that time down to 8-10 hours per week. If you want to know my schedule, I ship cards out Tuesdays, Thursdays, and Saturdays. Sort and organize cards Wednesday and Friday. List cards on eBay Saturday and Sunday. Off on Monday. Buy card collections whenever possible. There have been times when I change my schedule around to try and attend a card show. Sometimes a card show could be on a Saturday. If that is the case, then I do my shipping Monday, Wednesday, and Friday. Sort cards on Tuesday and Thursday. Attend the card show and list it on Saturday. Take Sunday off because I have a high-speed scanner. I usually wait until I have a lot of new cards and then do my scanning once every 2 or 3 months. 
8. Keep your cards as organized as possible. When you sell a card on eBay, you need to know where that card is at. If it takes you longer than 60 seconds to find a card, that's not good. If it takes you that long to find one card, can you imagine how long it would take you to fulfill 500 orders? The best way is to sort cards by year, set, numeric order, or if you come up with your own idea that is faster.
9. If you are planning to ship like me using mostly PWE for all of your low dollar card sales. Then you need to know the USPS rules for such shipments. The envelope has to bend a little bit for the sorting machines, so you can't use top loaders or send thick or jersey cards this way. You can't put "Do Not Bend" on the envelope. Doing so can cause the card to be returned to you or to the customer with postage due for First-Class Package or Non-Machinable. Each post office interprets the rules differently. Using card savers or semi-rigid holders to ship is the best option. There is a limit to how thick a shipment can go; in this case, the maximum is three standard cards. You can't use any cardboard cutouts or dummy cards with this type of shipment. Some post offices won't accept your PWE shipment as non-machinable if you have Do Not Bend and/or a top loader in it. I've come across two instances where the customer had to pay over $3 postage due for First Class Package. Most large eBay card sellers don't ship cards with cardboard cutouts or cardstock because it cuts into the profits, or it's too much work. They know how hard it is to make a profit and will try to cut costs anywhere possible. If you are only shipping 10-50 cards in a month, that's fine. But if it was you with 500 shipments going out each week. Are you going to spend that much time making cardboard cutouts? However you ship a card out, imagine if it was you with 500 shipments going out every week. Would you still ship exactly the same as you do now? Or would you change something? How I ship a card in PWE is I put the card in a soft sleeve, card saver, and then put it in a team bag. Put it in an envelope with a stamp AND THAT IS IT. I can locate 300 cards, pack and ship them in 5 hours. You do anything extra with the shipping, it's going to take longer to do. I've worked in shipping and receiving for 20 years, with over 100,000 shipments under my belt. I picked up a lot of things from this job and used it for eBay. One of the key things I learned from this job is knowing all the rules of USPS, UPS, and FedEx. If you ever have questions, you can ask your local postmaster for more information about the rules.
10. Don't be afraid to learn a new sport or about gaming cards. Gaming cards such as Magic the Gathering, Pokemon, and Yugioh shouldn't be ignored just because you don't know anything about them or you don't like them. From my experience in selling cards for the last 20 years, people that are 35 and older are mostly buying sports cards while those that are 25 and younger are mostly buying gaming cards. Gaming cards is where the future is currently at right now, but that isn't where my passion is at. It's in sports cards. The best way to learn about gaming cards is to learn how to play each card game. You don't have to play with the cards, just know how the game is played. This will make it easier for you to identify cards that are good for selling.
11. One of the major reasons why I sell low dollar cards is because it can be very profitable if a common player blows up in price who used to sit in bargain bins. Some examples are Jeremy Lin rookies which went from 25 cents to $15 (he's back down to 25 cents), Stephen Curry Topps rookie jumped from $2 to $200. And lastly, Tony Romo and Tom Brady rookie cards could be bought for $1-$3 at one point many years ago. I was able to make big profits from the Jeremy Lin and Stephen Curry rookies because I had 9 of each. I purchased the cards in a large collection ($50 for 5000 cards, for example), and those 18 cards ended up bringing me $1,935.
12. A lot of shelves will be needed for all your cards. Don't get the cheap plastic shelves. These will break over time. Just like organizing your cards, the shelves need to be organized. Have the shelves organized by sport, brand, set, and year. For example, if you have a 5 tier shelf. The top shelf has baseball cards from 2010 Topps. The next shelf on the bottom will be the 2011 Topps. Keep doing this until you get to the bottom shelf with the 2014 Topps cards. Depending on how big the shelves are, most 4 tier shelves can hold anywhere from 40,000-77,000 cards depending on what type of card storage boxes you use.
13. You're going to need a lot of large card boxes to store your cards and put on the shelf. They come in 1600 count, 3000, 3200, 5000, and card houses that hold 9600. You'll need to decide which box size is best for you. Try using all 4 and then decide which are better. I only use 1600 and 3200 count boxes because they are much easier to move around when needed and they fit on the shelves much better than the other box sizes, but that's just me. I usually don't bother with single row boxes unless I'm bringing cards with me when I'm going somewhere. Some people like to use the nine pocket pages, but most card sellers never use these as this cost too much money to purchase, and it doesn't hold very many cards.
14. Do not take out a loan to buy any equipment or cards. The interest rates will kill all your profits. Only use money that is yours. If you don't have enough money to buy a collection, then you need to turn down the deal and walk away. There will be plenty of opportunities to buy cards in the future. If you don't have enough money for certain equipment or shelves, then start saving up for it.
15. You'll need to learn how to tell a fake card from a real card. Just because 2 of the same card has slightly different colors doesn't mean one is fake. Most card sellers use a magnifying lens to see the dot pattern on a card. I'm actually able to see the dot pattern without a lens, but if your eyes aren't as good, then get yourself some magnifying lens. Fake cards are usually high dollar cards. People don't make fake common cards. Most of the time, you can tell a card is fake due to the quality of the picture. A fake card will usually have a more fuzzy and not so clear picture. I have attached 2 pictures here where the grey is a little different. The card on the left, the grey on top is a little lighter than the one on the right. A common mistake many new or uneducated collectors do is look at this and think one is real and the other is fake, but that isn't the case. Both cards are real. The same rule applies to gaming cards such as Magic the Gathering, Pokemon, and Yugioh.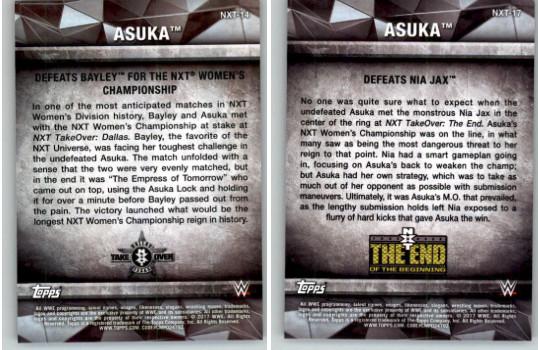 What I found easiest for me is I get a common card from the same set and compare it with the card in question. I have here a 1969 Topps Mickey Mantle, and I compare the picture quality with a common card from that set. The picture quality should match as it does here. Both cards are real. If it's not a match, then it is fake. For gaming cards, you can always look at the back of the card, which is mostly the same in every set. Fakes show up in gaming cards at a much higher rate than sports cards.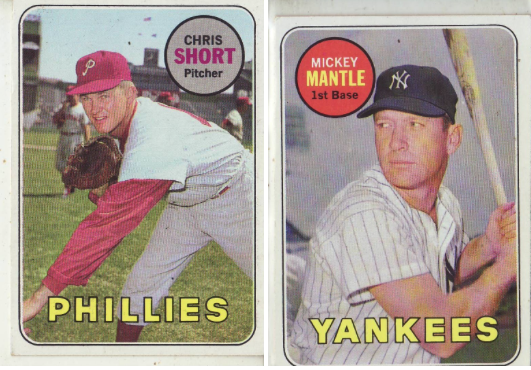 I usually throw away any fake cards that I come across. But I saved one fake card for this article. I have 2 Pokemon cards with the fake and real card marked here. You can see that the dot pattern of the wind going around the ball is not the same. On the real card, the dot pattern is all bunched up and tight while on the fake, the dot pattern is more visible to the eye than it should be. The light reflecting off the bottom white part of the ball is more visible on the real card and not so visible on the fake.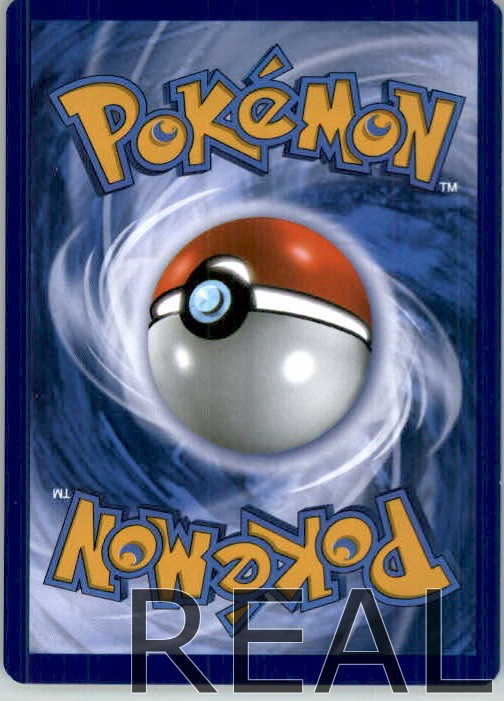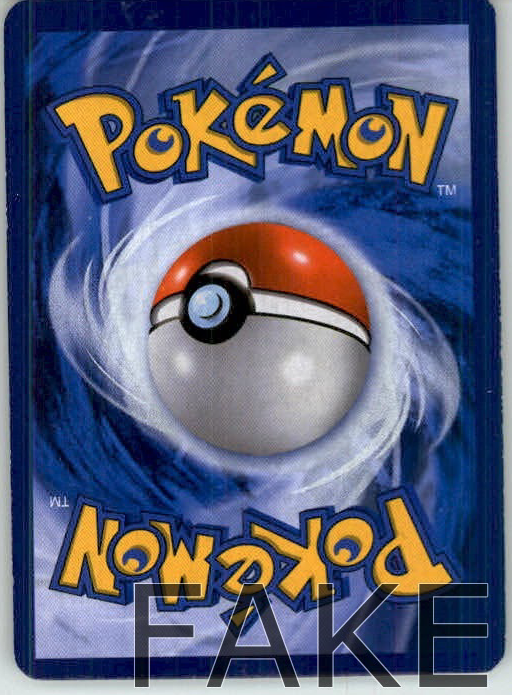 I've already come across thousands of fake cards in my lifetime from new and vintage. Just because technology is better today doesn't mean people can copy the dot pattern. This fake card is from 2016 Pokemon Sun and Moon. When you place a bunch of real cards next to the fake card, the fake sticks out, this is why I suggest getting a common card from the same set to compare. Nobody is making a fake common card that you can get for 25 cents. Comparing two cards from the same set isn't as hard as what people may think.
I know a lot of people would rather sell high dollar cards. High dollar cards of $100 or more are hard to come by at good prices. Even if you do come across a high dollar card like that, they are harder to sell. One of the biggest dangers with high dollar cards is a scammer/robber could target your card. It doesn't matter if you are selling online or meeting someone in person. A scammer/robber will look to steal your card by any means necessary. If you are selling it on eBay, they could claim that you sent them an empty envelope with nothing in it, or they do a chargeback on their credit card as unauthorized. When selling it to somebody in person, he could try to steal the card from you when you are not looking, trick you, or take a gun out and take it from you. Theft is unavoidable in the card business. When you become a card seller, this will happen to you sooner or later. An eBay scammer will usually target new sellers or sellers with very little feedback in the last 12 months(100 or less) because they are seen as a much easier person to scam then somebody with 2,000+ feedback in the previous 12 months.
Have a good connection with several other card sellers. You'll need to attend card shows and establish an excellent business relationship with some of these card sellers. You will need to keep in mind that not everybody is an excellent connection to have. Talk to everybody at the show and see if you can establish a business relationship with a few of them. If there are sellers from a different state, they could be more helpful to you than those that are in your state.
Some people like to make a database to keep track of what they have in stock. This will be all up to you if you choose to have a database. I don't use a database, as this will add a lot more work. My inventory changes every week, so it would mean I have to update my database every week. Keeping a database will double the amount of work for you. For me, I have about 2 million cards in my inventory and that inventory changes daily. It's going to take a long time to do a database of 2 million cards. The database would be outdated within a day due to my moving cards at a high volume.
You're going to need to be able to type fast and spell words accurately. There are software that can teach you to type. The last time I checked, I was at 117 words per minute back in 2003. You don't need to be as fast as me, just fast enough. Spelling is going to be one of the most important things when selling on eBay. If you misspell a word in the title, people aren't going to find your listing.
Don't open hobby boxes to get cards. This is a gamble, and I'd say 90% of the time, you lose money. When you open a box of cards and list everything you pulled, you will sell approximately 25% of those cards. The best way to get cards is to buy people's large collections and piece it out. If you must open boxes to get the newer cards to sell, then I suggest opening retail boxes. When a new wrestling set comes out, I open about 3-4 retail or blaster boxes the first week the set comes out, or I buy complete master sets. When the box price comes down after 6-12 months, then I get a case or 2. Because these are retail, it's harder to get autographs. I don't care about the autos and concentrate on getting more cards for less money. A retail box usually has the same number of cards as a hobby box. If you are good at math, then you can calculate if a retail box can make you money or not. I usually pay around $10-$15 for a retail box. If a box has 24 packs and 7 cards per pack. That gives you 168 cards total. About 25% of them will sell, which is 42 cards. You sell those 42 cards for about $60, half of that money goes towards fees and the cost of the box which leaves you with $30 profit from each box. The cost of the box is $15 plus $9 in eBay and Paypal Final Value Fees, plus eBay store or insertion fee. If you pull a relic or auto in that retail box, it just makes your profit that much sweeter. The hobby box at $70 however will usually give you 164 cards due to the relic card being thick. You sell the relic for let's say $5 for a minor star and the auto for $10 if it's a player that not many people care about. Add that $60 and you have $75 in cards on that $70 box. After fees, you lost about $20-$30 on that box. That 25% selling rate could go up to 40% or down to 20% on certain sets. Even with it going down, I would still have room to make a profit. This tip would only apply to sets that came out during the last 4 years. For older sets that aren't considered vintage, it can go down to about 15% or less. The average selling price is around $1.50 per card with all hits included. I know 42 cards would actually be $63, but I rounded it down to $60 to make things easier. Don't sell all of the base and inserts at $1 across the board. If you do, you're making $20 less than what you should be making. If a card sells for $2 all day, then you shouldn't have it for $1. That 25% selling rate applies to all hits. Around 75% of the autos and relics might never sell.
I have pulled big hits out of retail and blaster boxes. The biggest hit I've pulled from blaster boxes is the Asuka kiss auto card, which I sold for $175. From retail boxes, I pulled a 1/1 red auto of Afa which I sold for $60. What do I do with the cards that I can't sell? If I have a lot of doubles of a card that doesn't sell. I will include some of them in orders that are over $10 or something like that.
21. A lot of packages end up never being delivered due to inadequate packaging. If you print any shipping labels with a regular printer instead of a thermal printer, you need to make sure that the label is properly taped on with clear packing tape. Don't use scotch tape; it's not strong enough. Use the packing tape and cover the address to protect it. If the label smears when it gets wet from rain, it's not being delivered because the mail carrier can't read the address. It can't be returned to you because your return address is smeared too. I've had a few times received cards in a bubble mailer with the return address smeared slightly, but my address was okay. I've come across a few where the shipping label was just barely hanging on because the guy used scotch tape. The shipping label has to be protected just as much as the card itself.
22. I know some people use the Beckett price guides, but the prices on these are never accurate. If you must use it as a reference, then you need to know that the high price in the Beckett is something that 99.9% of the time, you will never get. My suggestion is to use a low price, which is closer to being more accurate. Beckett rarely updates the card prices for older sets, and those could be off by much more even if you use the low price. I've come across many cards where Beckett says the card sells at $15 high and $8 low, but in reality, it's more around $1-$2.
Some good practices when selling on ebay.
1. The most important thing about eBay. You can't use somebody else's picture or description in your listing. This can get you in legal trouble if you come across the wrong person. The person that you stole the picture from can file a VERO claim with eBay, which can result in your account being suspended or terminated. It doesn't end there for some, this person can sue you for copyright infringement. Don't risk it happening to you. Use your own images.
2. Being top rated is something that a lot of eBay sellers look at and think that this is something you need to have to be successful. That isn't the case for everybody. For me, I fell into that trap and shipped everything with tracking to get that top-rated discount. But sales were very bad when I did that with low dollar cards. When I didn't worry about being top-rated and shipped a majority of my cards in a PWE with no tracking, my sales went up 8x in one day. I do come across a person (about 1 in every 1,000 shipments) that says they didn't get the card. With that ratio, it wasn't much of a loss when I refunded that person his money. I do keep track of all of the people that do this so if it happens a 2nd time, they get blocked. If it's somebody that has purchased many cards from me and has been mostly good, then I give them the benefit of the doubt and not block them. Which would you want more? More sales or a 10% discount on your eBay fees? In my case back in 2012, I would've only saved $1 in eBay fees as top-rated with sales at $100, but my sales went up to $800 when I stopped worrying about that top-rated discount. eBay charges 10%(9% for stores), so out of $100 in sales, eBay takes $10. You save 10% of that $10, and it's really $1 you saved.
3. If you are only selling one card, then you should only have a picture of 1 card and not multiple cards. Customers almost never read the description and will claim the picture to be misleading, making them think they are getting everything pictured.
4. If you are listing cards at $1 each, then the best offer is something that will not work. Per eBay rules, a minimum for a Buy it Now is 99 cents with free shipping. The only offer that a buyer can send to a $1 listing is 99 cents. Buyers won't be able to send any offer less than that.
5. If you are selling a card lot, know that you won't get the full value of those cards. An example, if you have 100 Peyton Manning cards that could sell for $1 each, don't expect to sell the 100 card lot for $100. You won't get anywhere close to that $100. Lots like these sell for 70%-90% less when sold as a lot as opposed to selling the cards individually.
6. When you sell a high dollar card or multiple cards for big money to one person, you need to ship the card with tracking. If it's over $750, then you need signature confirmation. Depending on how high a price the card sells for, you will need to consider if you want to add insurance. If the card gets lost, damaged, or stolen, the insurance will cover the card, and you still have your money. The way I do it is when an order is over $10, I ship with tracking. If it's over $100, I add insurance.
7. You will need to have an eBay store. Decide which store size is best for you. There are currently five different eBay stores. With Starter(100 Buy it Now listings), Basic (250 listings), Premium (1,000), Anchor (10,000), and Enterprise (100,000). Make sure that your selling limit is high enough for the store that you want if you signed up for the Anchor store but only have a selling limit of 250. That's not going to work. If you do want to be like me and sell mostly low dollar cards, then the Anchor store is the minimum needed here. The listing fees go down significantly when you get to Anchor. A lot of times, that lower insertion fee is enough to help turn a good profit consistently each month. It also means that you are going to need a minimum of 7500 different listings. The anchor store gives you a lot more exposure and perks that aren't available with any smaller stores. Getting more exposure is available with the anchor or enterprise stores. Even if you do sign up for an anchor store, you'll need to learn how to get that exposure. It doesn't just come automatically. The anchor store gives you a quarterly $25 to use on promoted listings for free. Promoted listings is a fee to put your listing on the front of search pages. Since most of the cards I sell are low dollar cards, it takes me a while to use up that $25. Sometimes, I'm not able to use it all up. An extra benefit with the anchor store, this will only apply to those that have a large account. Most people know that when somebody tries to scam a seller on eBay, eBay will side with the buyer. If you are one of those with a large selling account with thousands of transactions and many years of selling, eBay will trust you and side with you. 
8. One of the things that got me success is to do things differently than everybody else. Everybody concentrates on selling high dollar cards while I do the opposite with low dollar cards. Everybody is ripping hobby boxes to get the autographs while I open retail, and I don't care about the hits. That's just a few things that I do differently. Because I've been a buyer on ebay for so many years, I've noticed how hard it is to look for a card from the regular Topps set. With that being said, I made sure that I made it easier for my customers to find cards in my eBay store by only using the word Topps for the regular Topps set. For example, instead of putting in the title 2019 Topps Heritage, I use the title 2019 Heritage. It can be very frustrating for a customer to search thousands of listings but is unable to find the Topps card that he is looking for. Yes, it could hurt you in search, but those that can find your listing will be more than happy with your effort in making things easier to find.
9. Look at your listing description from time to time and see if you need to make changes to them. If you make each listing description exactly the same with all your listings, you can do a bulk edit with find and replace. Otherwise, you'll need to go in there and change each listing one by one. If you have thousands of listings like myself, that's going to take a lot of time.
10. There is always a way to improve your sales. This is a selling tactic that you're gonna need to learn on your own. Every card seller started at the bottom and worked his way up. If you want to be one of those people that worked his way up, then you'll need to always aim higher. It's good to keep a record of what you did each month and year. I challenge myself to beat my sales from the previous year. Having that mentality to do better than what you did the previous year and doing something about it will help you get there. If you don't do the work, it won't happen. Just like in sports, nothing is given to you, everything is earned. 2019 was my 4th year in a row where my sales have increased from the previous year. This tells me I'm doing something right.
11. One of the disadvantages of being a small seller back in 2012 on eBay is when you get one negative feedback; it brings your feedback % down significantly. If you are only getting 50 positive feedback in a 12 month period, one negative knocks you down to 98% positive. 2 negatives knocks you down to 96%. In the old days of eBay in 2012, if your feedback was 96% or lower, you got restricted to a smaller selling limit. A lot of older eBay accounts didn't get any selling limits and still don't have any today. I do believe selling limits became a thing around 2011. I was hit with a 2500 item limit due to one person giving me 8 negatives without contacting me about any issues. It was a very flawed system. eBay has now changed that to defects. There are currently 3 defects which are a) Cases closed without seller resolution, b) you canceled for being out of stock, and c) late shipment. Late shipment isn't listed under defects in your seller dashboard, but don't let that fool you. When you get too many defects, you will either get a much smaller selling limit or get banned from selling on eBay.
12. Experience goes a long way when selling cards. This is just like anybody starting a new job. The new guy will lack experience and will make many rookie mistakes before he starts to get the hang of things. Selling cards on eBay will be no different. The one major mistake that I've seen is that most card sellers don't really know if they are making a profit or losing money. If you are able to do the math and calculate everything, then you should be able to see if you really are making money or not. Most new card sellers don't realize that they are losing money until a few years later. A lot of times, a card seller doesn't calculate how much he paid in fees and/or for the card. You paid something for that card.
13. There is a maximum limit of 40 items that can be purchased at one time on eBay. A lot of new eBay sellers don't know this limit exists. If all that you are selling are $1 cards, and you have a promotion of free shipping if you spend $50 or more. Then nobody will be able to take advantage of that promotion because of the 40 item limit with the shopping cart.
14. You can't put your contact information in an eBay listing or messages. This includes email, phone numbers, and links to other websites. This is an eBay rule, and if caught, you could face a penalty.
15. Ship cards out as quickly as possible. eBay gives you a small window of when they expect you to ship the card. That time frame can be anywhere from 1-3 business days. If you don't ship the card out within that time frame, you get dinged with a defect for late shipment. You get enough defects, and your account will no longer be able to sell anything anymore.
16. Pricing is everything on eBay. If you price a card too high, it won't sell. You need to price your cards right around the market value. If one card has sold for $2-$5 on average, then pricing your card at $10 wouldn't be very wise.
17. List your card with free shipping or not? This will be up to you if you want to charge for shipping or not. There are pros and cons to both. If you list your card with free shipping, your card will have better visibility on eBay for best match searches, but then your card won't be found on google. If you charge for shipping, then your card can be found on google. There are a lot more people on Google than there are on eBay. Not everybody looks up the best match on eBay, so this might not work for some. You do what works for you.
18. Decide if you want to ship worldwide or not. I do a lot of international shipping, and it is better that you ship the cards yourself instead of using the Global Shipping Program. The post office sells global stamps, which can be used for PWE shipments. I've had many people buy $20-$60 worth of cards from another country. That is a lot of money you're missing out on if you don't ship internationally. When I first began selling cards on eBay, 25% of all my PWE shipments were for international customers.
19. One of the few ways to increase traffic to your store is to have a lot of people following you or have you as a saved seller on eBay. Some sellers already know this, but most do not. This does give you a small boost in best match search.
20. What I've learned in my 8 years of selling on eBay. Low dollar cards have a much higher profit margin than high dollar cards. I could sell 1 card for $200 and probably make a profit of around $20-$50 on average. But if I sell 200 cards at $1 each, the profit is more around $100-$150. This has a lot to do with me being able to buy these cards for pennies and turning them into dollars. I don't need to wait months or years to see a card go up in price.
21. I learned a lot during the 2008/09 recession. What I did during that 2009 recession time is I did a lot of research, and what I learned is that history always repeats itself. There will be another recession, maybe 10-20 years in the future. I also learned that low dollar cards would not lose their value during a recession. Low dollar cards are already at the bottom and can't go any further down. This was a major factor with me going all-in with low dollar cards and ignoring everything else, especially the hits.
I know right now is a tough time with the economy the way it is. I've been through this during the 2008-2009 recession, and I was one of the few with money to use on buying card collections. I was able to turn a $1,000 purchase into $10,000 during that time. If you have money to spend and are financially set, right now is the time to buy. When are card prices going to reach the bottom? Nobody knows the answer to this, but I do know that these cards will be going back up in price. I wouldn't wait for the bottom to hit but to buy the cards now. Maybe the card you buy today goes down another 10% tomorrow. Something like that is out of your control, but pretty much everybody knows the card is going to swing back up in price at some point. If you don't need the money, hold your cards and don't sell.
Thank you for taking the time to read my 3rd and final article. If there is enough interest, maybe I can make youtube videos to discuss what I've talked about? You can find me on eBay under usernames karmy2005 and karmy2018. I'm also on the Sports Card Investor Facebook group. I hardly make any comments on the Facebook group, but I am there. I know a few people want to contact me to discuss cards or eBay in general. I have an email but I hardly ever use it. I usually don't have time to go and check my email so it isn't a good way to reach me. Some links to reach me are:
Main eBay anchor store https://www.ebay.com/usr/karmy2005
2nd eBay anchor store https://www.ebay.com/usr/karmy2018
Facebook page https://www.facebook.com/sportslegend/
What an excellent three-part series by a two-time article submission award winner, not much to say, but thank you for the insight to the eBay game. If you are an eBay flipper and have anything to add, we would love to hear your thoughts and experiences!
Ready to take your sports card investing to the next level? Join our Membership Program now for card picks, analytics, premium community access and much more!