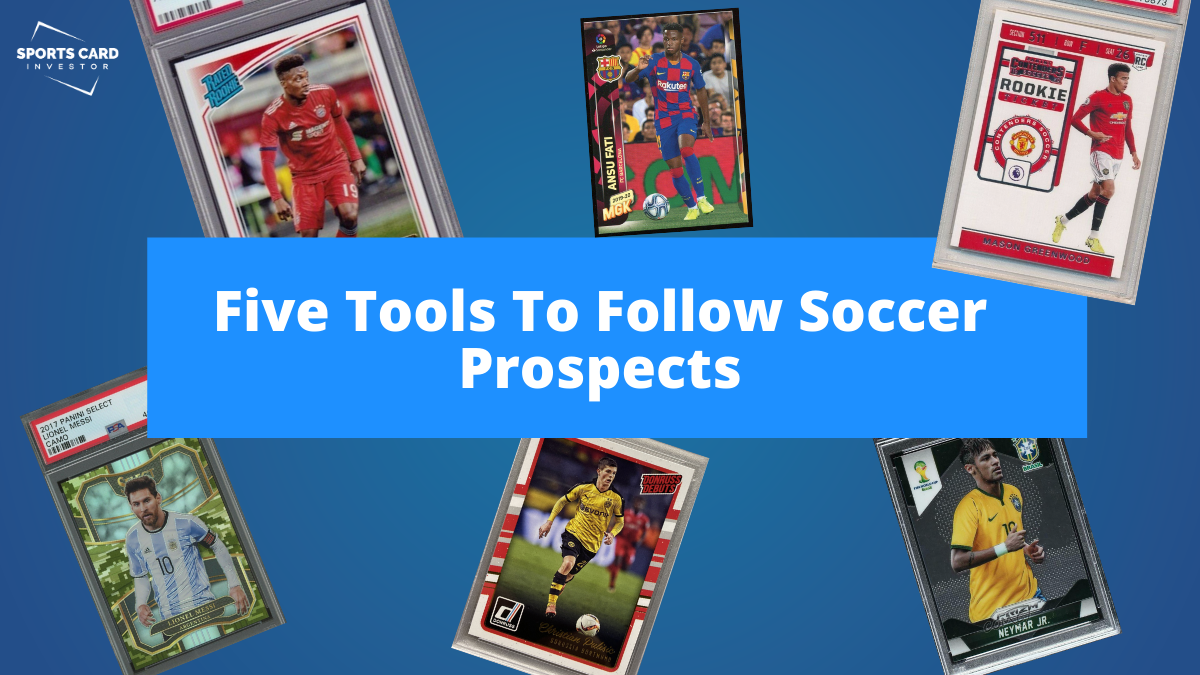 This guest post came through our Article Submission Program. Thoughts and opinions are those of the author.
Introduction
If you're looking at getting into soccer cards for the first time (or you want to get into the sport more), there's a whole lot you need to learn.
There's leagues all around the world
Each league has different prospects
Each league has different product by different brands
There are competitions like the Champions League that involved clubs from different countries
National competitions like the World Cup, Euros, and Copa America
Then, there's the whole soccer cards vs stickers thing too.
Basically, there's a whole lot to figure out.
So, as you can probably imagine, keeping up with prospects can be a bit of a nightmare. Sure, the high-ticket guys like Kylian Mbappe are well known, but they certainly aren't cheap. Instead, finding the right prospects is a great way to get in cheap.
In this article, we'll look at five ways you can keep on track of soccer prospects.
1. WhoScored
If you want something basic, then WhoScored is a great tool. There's statistics from a range of the major leagues all around the world.
You can keep track of score lines, tables, and basic player statistics. The site also does this cool thing where, based on a statistical algorithm, they give each player a score out of ten for every match. Which, if all you want is a quick rundown of who is playing well, that score is a good starting point.
WhoScored also uses a player's statistics to write a short bio. For example, let's say you're looking into a winger who has a high cross percentage, and completion percentage. In that case, under the player's 'strengths' column, it would list crossing. This can help you understand the numbers a little more.
WhoScored isn't the 'be all and end all', but it is a good starting point.
2. FBRef
If you're familiar with major American sports you've probably seen sites like Basketball Reference, Football Reference, and Baseball Reference.
Well, FBRef is their soccer statistics site.
Like FBRef's siblings, it's a treasure trove of statistics, and even dives into some advanced stats which are harder to find in soccer.
Seriously, you have no idea how cool it is to have a site like NBA.com that gives everyone access to advanced stats. In soccer, they're a lot harder to come by.
With FBRef, you can find stats like a player's xg (expected goals), and other advanced passing statistics. You can also compare players throughout leagues, and even compare the top five European leagues (England, Italy, Spain, France, and Germany) combined.
FBRef also covers a massive selection of leagues from all around the world. However, not every league has the same detail and statistics. For example, I can find the npxg/90 (non-penalty expected goals per 90 minutes) from leagues like the Premier League but not the Australian A-League.
This isn't really an issue for card investors though, as the bigger leagues are covered pretty well.
TRENDING SOCCER CARDS ON EBAY
3. Watch The Games…
Okay, this one is a little obvious, but you can definitely watch the games too…
Now, I'm definitely not suggesting you watch all of the games. Because, well, nobody has time to do that.
But, you can stick to one league or even a team that has a lot of prospects and watch their games. For example, you might really like Borussia Dortmund, who have Erling Haaland, Giovanni Reyna, Jadon Sancho, and other generational talents all under twenty-one years old.
If that's so, then just watch their games. By watching games, you'll be able to see a lot of things that some statistics don't tell you. For example, let's say you are watching Dortmund, and want to keep an eye on Giovanni Reyna.
Well, you might see that he was the target of a few passes into the box, but they were deflected by a defender or didn't get to him. No statistics you'll find will tell you that he was in a scoring position and let down by the pass. However, watching that passage of play will let you know that he is getting in scoring spots but not getting much luck.
I wouldn't feel the need to dive too deep into watching matches every weekend, but it does help if you're looking at following a few players in particular.
4. Fantasy Soccer
If you're not down for watching one team or league regularly, you might want to use fantasy sports as a way to learn more about soccer.
Obviously fantasy sports is massive in the states, and it's growing in the UK, with Fantasy Premier League growing steadily every year.
Now, Fantasy Premier League is very basic score-wise. Players will get most of their points through goals and assists. While that makes for a pretty average, or limited fantasy experience, it makes it super-relevant for card investors.
Because let's be honest here, most of the time, card prices fluctuate depending on 'glamour stats' like goals and assists. With that being the case, a sociring system that only really takes those glamour stats into account is super relevant.
For example, if you see a forward that is scoring really well in Fantasy, then they are likely banging in a lot of goals and getting assists. If that's the case, then they might be worth looking at in a little more detail.
Like any fantasy sport, it also helps you keep track of the entire league too and not just the very top teams.
5. Soccer Cards Rock
If you'll humor me, I'll go a little Barry Horowitz here and give myself a little pat on the back for this last option.
I've got a newsletter titled Soccer Cards Rock, that has a bunch of free content just for soccer card collectors and investors.
Basically, I do a lot of the work watching games and checking advanced stats so you don't have to.
We run weekly podcasts, some with interviews like the one with the legends at Sunday League Investors (check out their Instagram!). Along with the podcasts, there's other exclusive content, including some pretty detailed weekly scouting reports on prospects who are catching my eye. A lot of these prospects are lesser-known guys who I think have a chance at a great future.
In fact, I recently wrote a scouting report on young Belgian winger, Jeremy Doku, that was published about a week before he made a big-money move to Rennes in France. The transfer came out of nowhere too, so those readers who picked up his rookie stickers after that scouting report came out got themselves a bit of a bargain!
There was also one on Swedish attacker, Dejan Kulusevski, that came out about a month before he was confirmed as a starter at Juventus. When he started his first game, his rookie card basically doubled in price overnight.
Final Thoughts
There's plenty of ways you can keep track of prospects in soccer. The important thing is not to try and do everything at once! You want to find a process that's sustainable and repeatable.
Great article containing five sources where soccer card/sports card investors can access information regarding the soccer card market. We would love to hear from the community about some other sources that you all use to help research players and projections.
Ready to take your sports card investing to the next level? Join our Membership Program now for card picks, analytics, premium community access and much more!