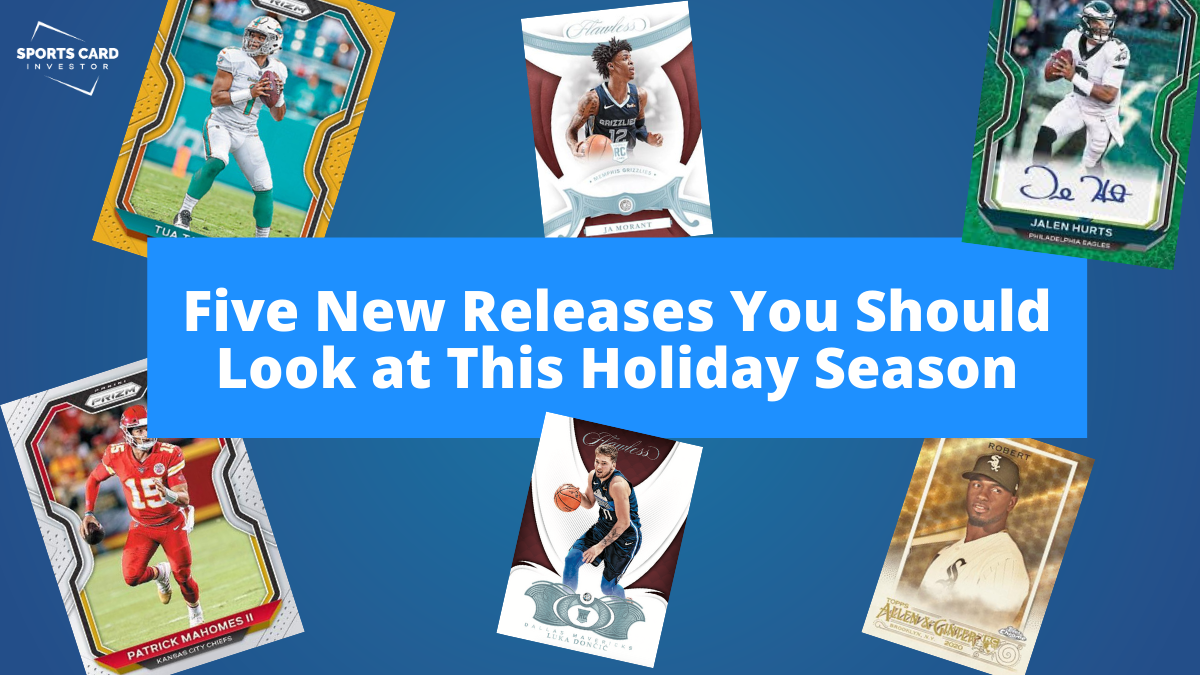 This guest post came through our Article Submission Program. Thoughts and opinions are those of the author.
Introduction

As 2020 heads into its final weeks, there are still plenty of new sports card releases to come in December. Collectors and investors looking to rip new products (and maybe even give some as a gift this holiday season) will certainly not be disappointed.
If you're done buying hobby boxes and packs of Topps Baseball Update (and you have already pulled the Jo Adell prospect card, his rookie will be part of the Topps flagship set in 2021) and Trent Grisham rookie, placed them in top-loaders and tucked them away or are getting them graded). There are plenty of other releases for you that are coming up.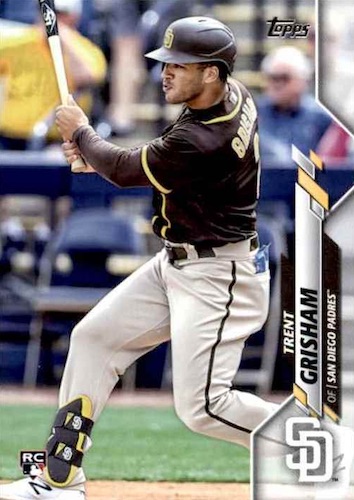 There is a saying that all that glitters is not gold, but that hasn't stopped Topps from releasing several new products in the coming weeks that feature traditional releases in Chrome versions. Allen & Ginter and Stadium Club Baseball will be released in December, both in Chrome versions for the very first time.
Baseball isn't the only sport with new releases. Two new Panini products — Prizm Football and Flawless Basketball — are highly anticipated right in time for the gift-giving season. Football cards have been doing very well — largely due to the ongoing NFL season — while basketball fans are still gobbling up key cards from a very deep rookie class months after the 2020 NBA season came to an end.
The pandemic pushed releases later into the year, bringing us a hectic winter in terms of buying. As a result, December alone will feature more than a dozen new releases. That's an average of three a week, meaning you need to budget before visiting your local card shop or making that online purchase.
Here are five sets worth a look as the calendar year comes to a close:
Panini Prizm Football (December 2)
Panini's Prizm line of cards, regardless of the sport, are always a hit. And if you like football, lots of colors, even more parallels than usual and star rookies, then Prizm Football is for you!
A hobby box will get you a dozen packs (with 12 cards in each one). A box includes 11 parallels, nine of them numbered. Two autographs per box also make this release appealing. Like last year, the set consists of 400 base cards. Rookies make up the last 100 cards in the set.
The rookie checklist includes Cincinnati Bengals star quarterback Joe Burrow as well as established stars like Patrick Mahomes. Mahomes cards' value has skyrocketed over the past year after leading the Kansas City Chiefs to the Super Bowl.
TRENDING 2020 MOSAIC CARDS ON EBAY
Topps Allen & Ginter Chrome (December 4)
Many people passed on Allen & Ginter this year. The set can be fun, but it has few rookies and in some cases the cards carry with them little long-term value.
Nonetheless, Topps decided this year to release a Chrome version of the set. That's something investors can rally around, especially when it comes to pulling key rookies and autographed cards.
The 300-card checklist, loaded with baseball stars, features base refractors along with green, gold, orange, red and superfractors. The set isn't known for its rookies, but this set does have some. The key rookies are Luis Robert and Bo Bichette.
Topps Stadium Club Chrome Baseball (December 9)
Stadium Club is known for its borderless cards highlighting great photography. This year, Topps has added a Chrome edition that will showcase all those beautiful cards with this shiny new version.
At 400 cards, the Chrome edition (with one autograph per hobby box) base set is larger than the regular Stadium Club set. The stock chromium version allows Topps to insert players as a way of updating the set from the standard release that came out over the summer. Also, some autos and parallels come in the form of refractors, including 1/1 superfractors.
The checklist is loaded with rookies. Set builders can easily make it their New Year's resolution to compile this one, but those interested in singles won't be disappointed. Don't miss out on players like Kyle Lewis, Luis Robert, Yordan Alvarez and Dustin May, who is fresh off winning the World Series with the Los Angeles Dodgers.
Panini Flawless Basketball (December 9)
Panini's line of Flawless releases isn't for anyone. These high-end sets are expensive (with a box going for upwards of $7,000 each) but offer an incredible array of cards in return.
Each box contains ten cards: eight autographs, one memorabilia card and one diamond version. Autos are all on-card — which is a major reason why investors like this set — and include patch versions. Indeed, it's this mix of stars and legends that make this for a very popular set among deep-pocketed investors. At a time when there are few card shows, this set allows for the chance to collect great autographs.
Like other basketball sets, this one is also heavy on rookies (both limited platinum and gold parallels) like Ja Morant and Zion Williamson, two players that have lit up the hobby among basketball collectors this year. The full checklist is expected to be made public in the coming weeks.
Bowman's Best Baseball (December 23)
One of the final baseball releases of the year (Topps Heritage High Number is the last on December 30), Bowman's Best is loaded with prospects and rookies. Another chromium version to round out the year, this product has lots of base parallels, special inserts and autos.
Beautifully designed, there are five cards per pack and only 12 packs per box. Among the cards investors can pull are dual autographs (#/25), Atomic Refractors (#/10) and SuperFractors (1/1) parallels.
Key prospects in this set are Jasson Dominguez, while notable rookies include Bo Bichette and Luis Robert. Topps has yet to release the full checklist for this set, but plans to in the coming weeks.
If Bowman's Best doesn't excite you, waiting after Christmas could be your best move. There is one final baseball set out before the year ends, with the release of Topps Heritage High Number on December 30. The 225-card set is again loaded with rookies, autos and special inserts.
It has been quite an unusual year for sports, but one that saw a massive boom in the sports card market. Make your final purchases of the year good ones. Here's to a happy and healthy holiday season and enjoy the shopping!
It should be an exciting holiday season with this many new high-end and sought after products dropping at once! What product are you most interested in this holiday season, and why? Will you be purchasing boxes, entering breaks, or buying raw cards? We would be interested in hearing your strategy for these releases; tell the community in the comments!
Ready to take your sports card investing to the next level? Join our Membership Program now for card picks, analytics, premium community access and much more!