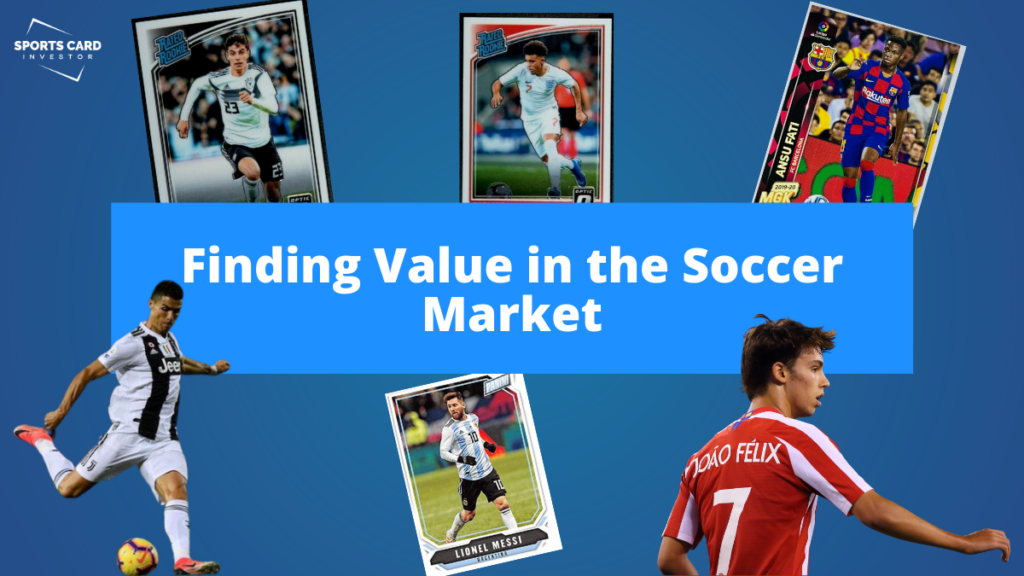 Finding Value in the Soccer Market
This guest post came through our Article Submission Program. Thoughts and opinions are those of the author.
Introduction
As we all know, the soccer market for sports cards has been on fire as of late. Many people who are not incredibly versed in soccer have jumped into this red hot market and are buying players cards up like crazy. As someone who has avidly watched soccer for years, I am seeing incredible gaps for value where there are countless soccer players whose sports cards are grossly underpriced. The beauty of soccer is that it's a world sport. There are hundreds of unbelievable players around the world, yet their card prices haven't moved a blip. (News flash: There's more to soccer than eight players!). If you are looking to get into the soccer market and are on a limited budget like me, here are some players and things to consider when hunting for the next big player.
Leagues Matter
One thing I'm seeing a lack of discussion on when it comes to soccer is the league that a player plays in. It means a lot more to score goals in the English Premier League than it does to score goals in French Ligue 1. If you ask people to rank the top 5 soccer leagues in the world, it would probably look something like this:
Premier League (England's top division)
Serie A (Italy's top division)
Bundesliga (Germany's top division)
La Liga (Spain's top division)
Ligue 1 (France's top division)
You may be asking yourself, why would this matter? It matters because some leagues are more competitive than others. Everyone is hot on Kylian Mbappe at the moment but forgets that he plays in Ligue 1. Yes, he is a star in his respective league, but I challenge you to ask people who are versed in soccer if Ligue 1 is a good league. They will most likely say no and give it the term "Farmers League," which essentially means that the league is dominated by one club. That club, of course, is the club that Kylian Mbappe plays for. In the last decade, Mbappe's club, PSG (Paris Saint Germain), has won 7 times. Of the three times PSG didn't win, Mbappe's first club, AS Monaco, won once. After AS Monaco won the league, Mbappe was bought by PSG.
One reason I have some doubt in Kylian Mbappe is that he has yet to win the holy grail of European club trophies, the UEFA Champions League. This is when the best of the best teams across Europe come together to play each other to see who will be crowned the best club in Europe. As I am writing this, PSG is set to play Italian side Atalanta in the quarter-finals. They have the potential to move on, but they are yet to prove themselves in the last few years as a truly dominant club in Europe.
To simply put it, goals can be easily inflated for some leagues. If Mbappe stays in Ligue 1 his whole life, he will easily become the top goalscorer of all time in France. Still, it will be very hard to compare him to someone like Cristiano Ronaldo, who has played in England, Spain, and now Italy, where he has dominated and won everywhere he has gone.
Start Paying Attention to Assists
Another flaw I am currently seeing in the market is that nobody pays attention to assists. Yes, goals are incredibly important to a player's value. But one thing I can see people don't understand about soccer is that assists are just as crucial as a statistic. If anyone reading this has watched Manchester City play this year. You will know that they can score a lot of tap-in style goals. Raheem Sterling, who was 3rd overall this year for goals this year in the Premier League and 1st for goals for Manchester City would not have scored nearly as many goals if it wasn't for the pinpoint passes from his teammate Kevin De Bruyne.
Looking at this card on eBay, it seems like you can purchase it from anywhere from $30-$40. The best part is that little to none of these are graded.
This season, Kevin De Bruyne tied the Premier League's assist record at a mindblowing 20. This puts him on the same pedestal as one of the greatest players of all time, Thierry Henry. Why is it that nobody in the sports card market is talking about him? Out of curiosity, I went to look at Kevin DeBruyne's rookie cards and was shocked at its value. The hobby is considering 2016-2017 to be his rookie card even though he has a handful of stickers from before that, such as his 2014 World Cup sticker. In particular, De Bruyne's first Prizm card, which came from the 2016 UEFA Euro seems to be the card.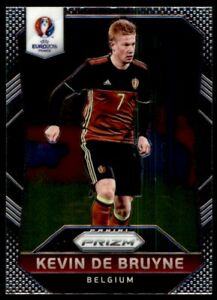 Many players can be hailed for the goals they score in soccer. But one stat that I think trump's just goals is goal contributions. This is a combined stat of both goals and assists. It paints a clear picture of how a player is helping their team out on a game by game basis. For example, in the Premier League alone, De Bruyne played in 35 out of the 38 total games and contributed a total of 33 goals (13 goals and 20 assists). This shows you how influential he is in a game given that soccer is such a low scoring sport.
When researching a player you are interested in investing in, keep an eye out on assists. They are a crucial stat in soccer that I believe is being undervalued in the sports card market.
Overhyped and Overvalued Players
The final topic I would like to discuss is the blatant overhyping of about eight players. Whenever I am talking to someone about soccer sports cards, I hear about the same eight players:
Lionel Messi
Cristiano Ronaldo
Kylian Mbappe
Joao Felix
Ansu Fati
Erling Haaland
Kai Havertz
Jadon Sancho
[adcards]
I want to say that I am using the term overhyped gently in this sentence. We all know that Messi and Ronaldo are not overhyped players. They are icons who deserve to be talked about. Where my real problem lies is with some of these younger stars. In particular, Joao Felix and Ansu Fati. You go onto your favorite card purchasing site and you will be shocked by the prices of these two's cards.

As for Ansu Fati, his PSA 10 2019 stickers are going for over $400+ and his PSA 10 Panini Megacracks cards are going for over $200+ RAW! And his stats? 24 out of 38 matches played in La Liga where he contributed 7 goals and 1 assist. You have got to be kidding me!


Now, before everyone starts coming after me saying that the price is reflecting their potential in the future, I understand where you are coming from but only to a certain extent. When you have a player like Jadon Sancho who is playing in a better league and contributed a total of 33 goals (17 goals and 16 assists) in 32 appearances. You can go on eBay right now and snap up his Topps Chrome PSA 10 for around $500. Not only is he contributing more goals, but he is also about to make a big-money move to Manchester United, a team that is the #1 most recognized sports team in the world. If he performs well, there his first season? Get ready for those cards to go easily over $1,000.

Want to know a player that's better than Ansu Fati and Joao Felix and nobody is talking about him at all? Tammy Abraham. This past year was his debut season for Chelsea FC. He is a young player that came through the Chelsea Academy and last season earned the Golden Boot in the EFL Championship (England's 2nd Division) for Aston Villa while on loan for Chelsea. This season, Abraham contributed 18 goals (15 goals and three assists) in 34 Premier League matches. How much can you buy his rookie cards for? Next to nothing! It means way more to contribute 18 goals in 34 appearances in the most demanding league in the world than it does to contribute eight goals in an average league.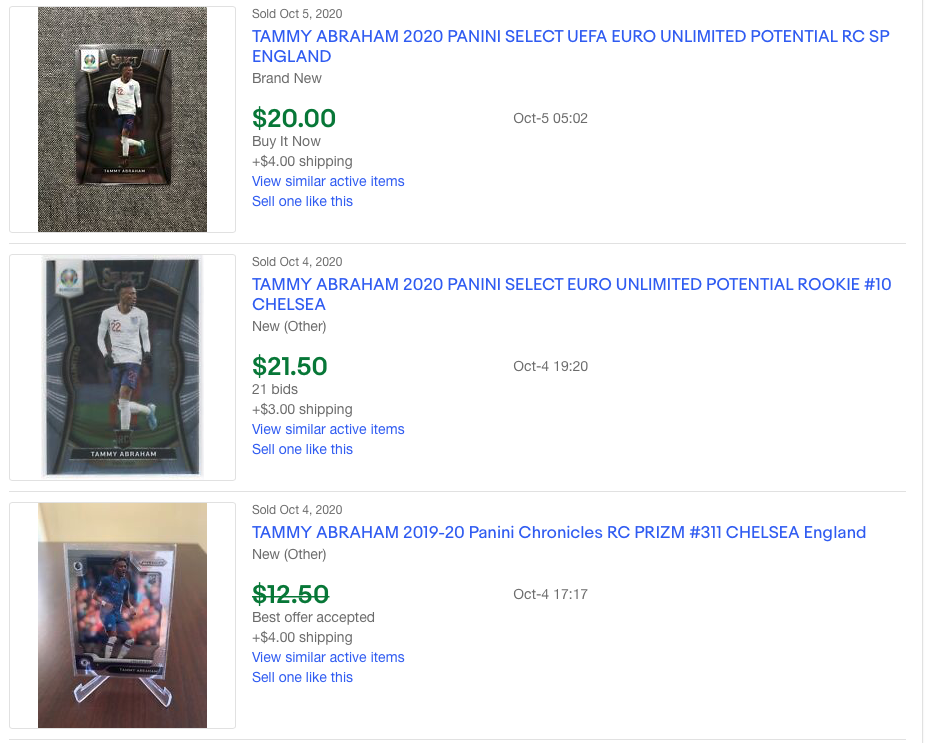 Conclusion
As a college student with little money to throw around at sports cards, I am always looking for value. Soccer cards are incredibly undervalued at the moment. If you take some time this season to watch the Premier League (available on NBC Sports) and Champions League (available on CBS Sports). I promise you that you can not only find incredible young talent to invest in, but you will also find a deep love for this rapidly growing sport in America that will make you love the sports card hobby that much more.
Have you made any soccer card investments? Let us know in the comments below.
Ready to take your sports card investing to the next level? Join our Membership Program now for card picks, analytics, premium community access and much more!