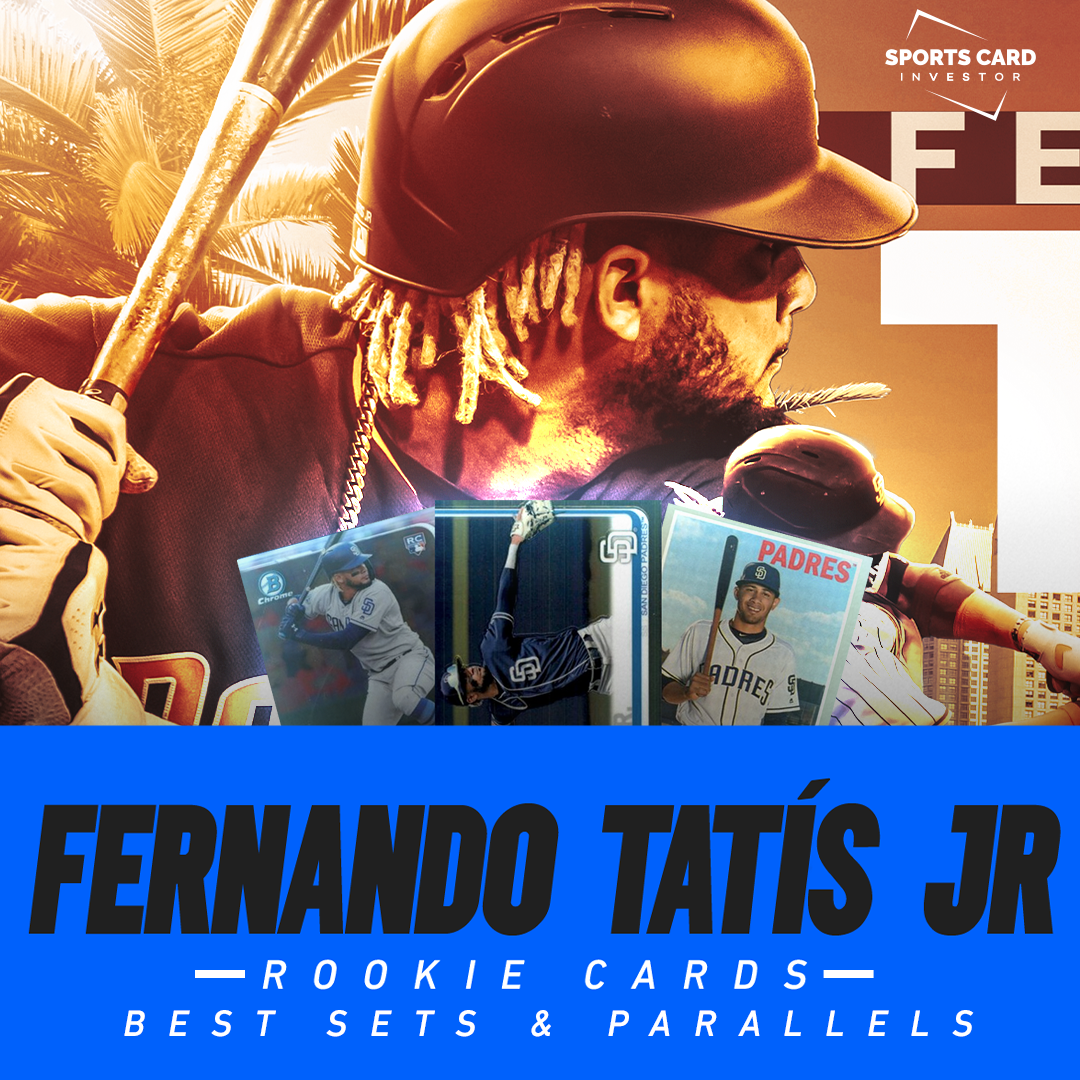 Fernando Tatis Sr. was a really good baseball player — on April 23, 1999, the St. Louis Cardinals third baseman became the only man in MLB history to hit two grand slams in one inning — but it might be safe to say that his son, Fernando Tatis Jr., is already a more electrifying presence on the diamond. A five-tool guy who has that sixth element of swag in spades, the sensational San Diego shortstop/outfielder is one of the league's brightest young stars.
Tatis Jr. has dozens of rookie cards from across the 2019 season, so use the Sports Card Investor guide to see which ones we think you should focus on. Cards are broken down into tiers, ranging from the most affordable and more popular options to the most unique, expensive and rare.
VALUE ROOKIES:
The Value Tier Includes cards with high print runs or lower-quality cardstock. A good fit for new collectors or those on a limited budget.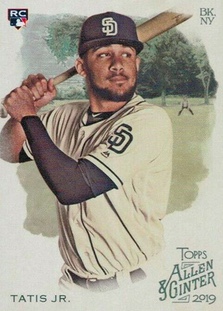 Allen & Ginter #183: Usually one of the only brands you see stocked in retail stores, the somewhat-overlooked Allen & Ginter is known for its illustrated cards and roster of non-athlete inclusions. Still, it mixes in a good bunch of rookie cards, like Tatis Jr.'s, in the wild pile.
Topps #410: At press time, there were more than 15,000 PSA 10s of this card already accounted for. While this card is everywhere, it's also safe to say that it will be one of the RCs mentioned when collectors discuss Tatis Jr.'s greatness 20 years from now. Purple, rainbow foil and gold parallels are fun (and potentially lucrative) chases.
Topps Heritage #517: This classic-looking release could fit well in the Popular Tier, but is placed here because of its growing popularity for collectors looking for high-graded but affordable rookies. Find this Tatis Jr. card in the high-numbered packs. If you stumble across a Black Border (#'d to 50), thank your lucky stars.
POPULAR ROOKIES:
This tier includes cards from the most popular sets across both retail and hobby formats. Typically easy to buy or sell when needed.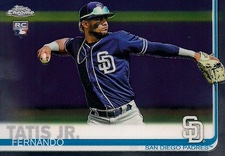 Topps Chrome #203: Essentially the slick version of the aforementioned Topps card, this one is also an extremely popular grading submission (more than 9,000 PSA 10s). Prisms and some of the colored refractors can be challenging to track down, but they prove more than worthy of the hunt.
Bowman Chrome #26: Though the coveted 2016 Bowman Chrome autograph card is going for thousands these days, this 2019 installment is not a bad consolation prize. Purple Refractors /250 and Gold Refractors /50 are the desired parallels here.
Donruss Optic #84: One of Tatis Jr.'s best-looking RCs, this card captures No. 23 at the end of his sweet swing. While we aren't sure if he's hitting a home run or not, Donruss knocked this one out of the ballpark with a rainbow of parallels (Carolina Blue, Green Cracked Ice, etc.) that have become some of the player's most sought-after cards.
MORE UNIQUE ROOKIES:
This tier Includes cards with lower print runs, unique designs, or cards from hobby-only products. Usually higher-quality cards than the Value or Popular Tiers, though not necessarily more popular or easier to buy or sell.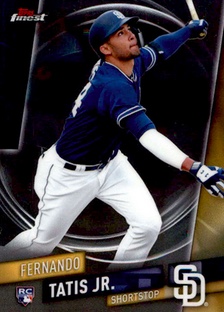 Finest #85: With its polished feel and bold, geometric background, Finest tends to stand out. Seeing as how its boxes don't flood the market, it's also a brand with a bit of panache. The '19 version features a host of Refractors (from Purple /250 to the 1/1 Superfractor) and on-card autographs for Tatis Jr.
Chronicles Obsidian #35: Chronicles is a relatively inexpensive product that sprinkles different brands in the same box. Obsidian happens to be one of the rare-treat possibilities. There's a certain cool factor here with Tatis Jr. captured in mid-swing on a card framed in a black and chrome.
Bowman's Best #58: A colorful upgrade to other Bowman releases, Bowman's Best is built around splashy designs and a strong lineup of Refractors. While you won't go wrong with any of the latter, Tatis Jr. has a few set inserts (Franchise Favorites, Future Foundations die-cut) worthy of owning, too.
RAREST AND MOST EXCLUSIVE:
We won't spend much time here because this category is likely out of reach for most collectors due to price, but they are still fun to look at.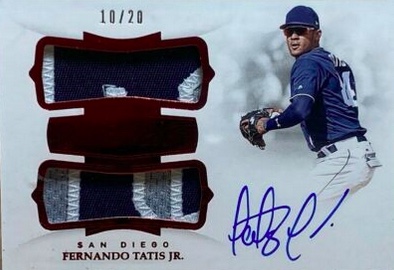 Sets like Topps Chrome Sapphire, Flawless, National Treasures and Dynasty typically feature visually stunning designs and low-numbered cards.
This is also where you'll find the most impressive patches paired with high-quality, on-card autographs. Don't worry if this tier is too pricey as there's a host of options in other categories that could be perfect for your collection.
Track your collection and maximize your profit with Market Movers, the hobby's most powerful sports card pricing platform! Learn more here.
Note to readers: If you purchase something through one of our affiliates we may earn a commission.