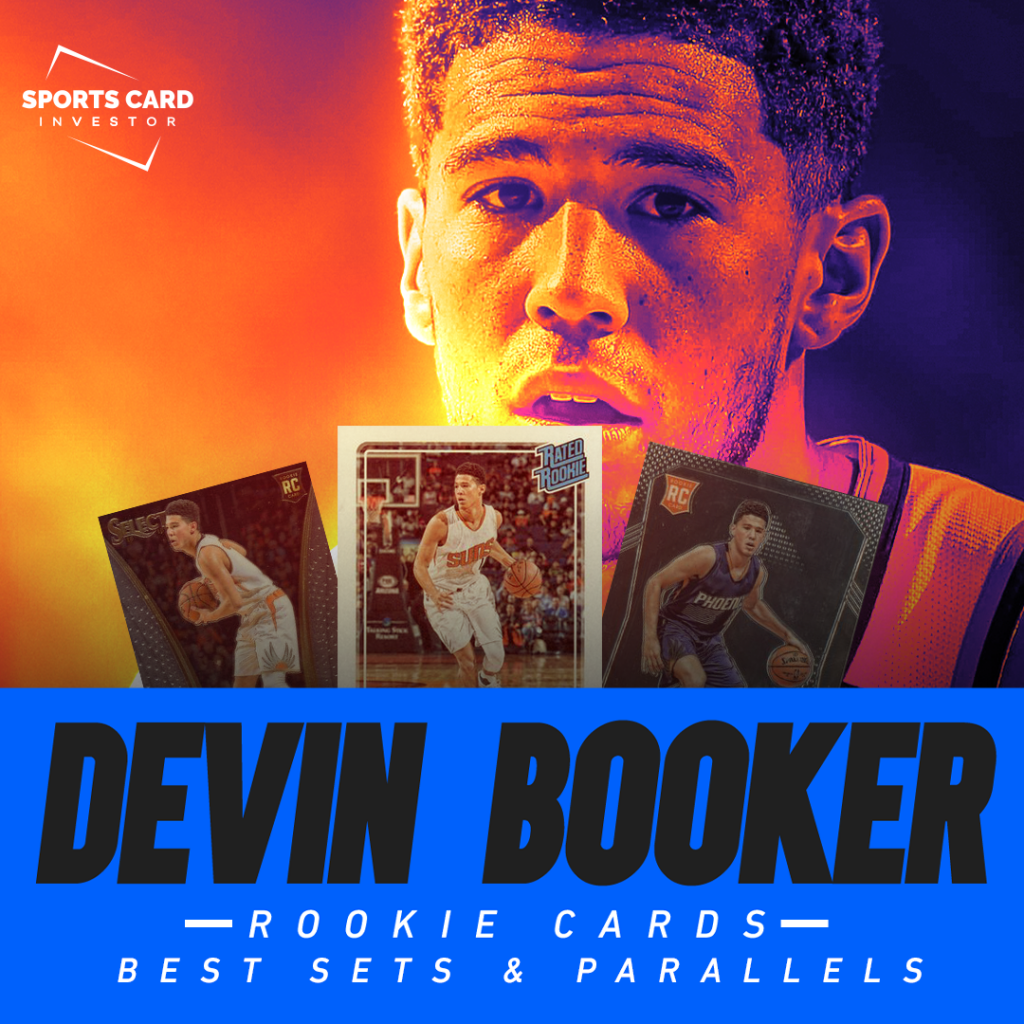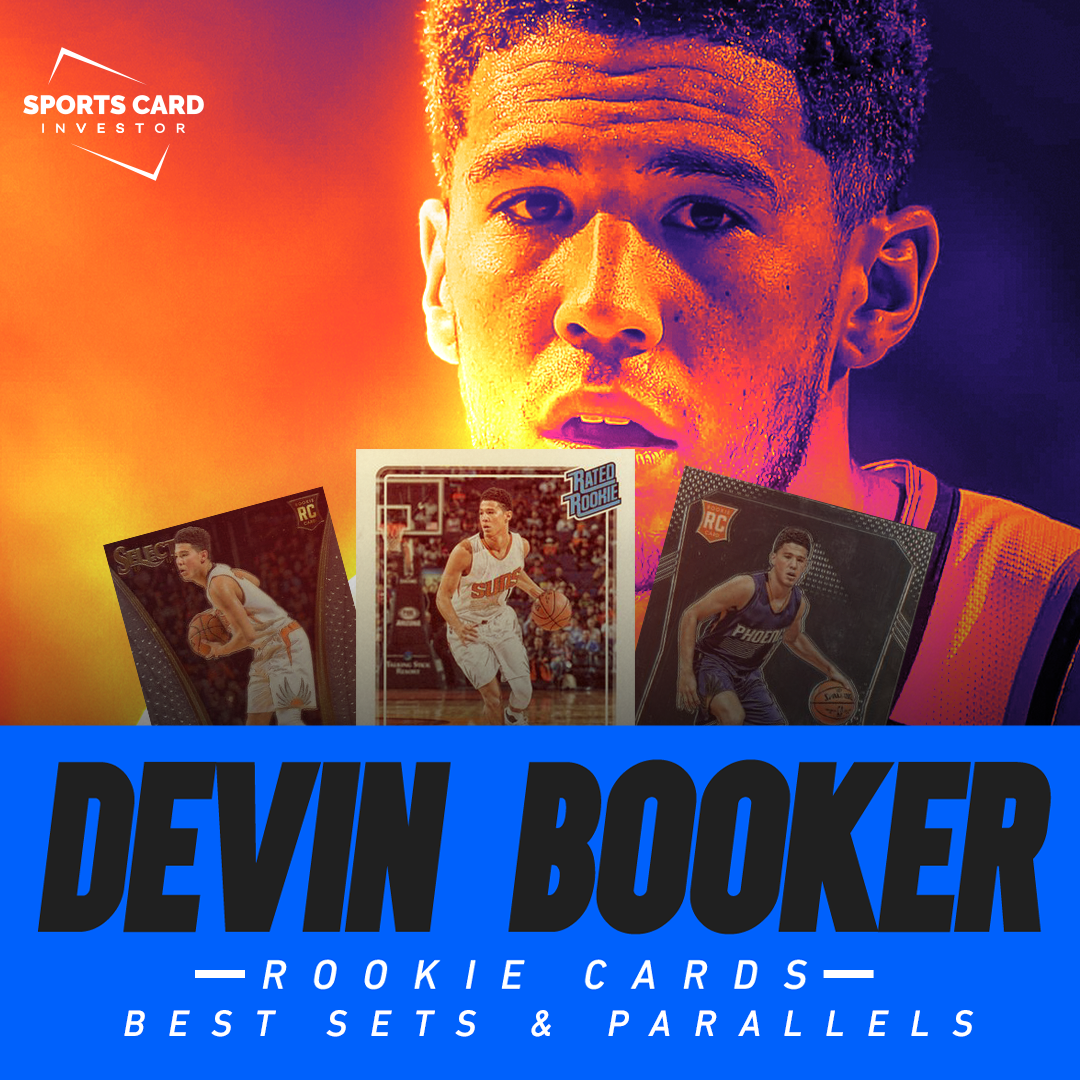 Devin Booker Rookie Cards: Best Sets and Parallels to Buy
One of the NBA's top shooting guards, Devin Booker is often compared to Kobe Bryant because of his lethal scoring and smooth mid-range game. The No. 13 overall pick in the 2015 NBA Draft, Booker has outplayed his draft position to become a true franchise player.
Booker has dozens of rookie cards from across the 2015-2016 season, so use the Sports Card Investor guide to see which ones we think you should focus on. Cards are broken down into tiers, ranging from the most affordable and more popular options to the most unique, expensive and rare.
VALUE ROOKIES:
The Value Tier Includes cards with high print runs or lower-quality cardstock. A good fit for new collectors or those on a limited budget.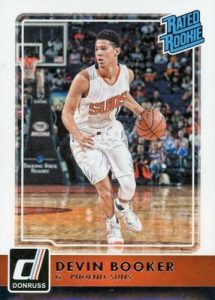 Donruss #223: It's hard to go wrong with one of Panini's flagship releases every year. Along with his base Rated Rookie, look for Booker in the Elite Dominator insert set and the Timeless Treasures Autographed Materials checklist. Shop now >
Hoops #268: Always a strong value option for any collector, Hoops is the first official release with Booker in his Phoenix Suns jersey. Autograph sets like Great SIGnificance and Hot Signatures are fine additions to most collections. Shop now >
Prestige #221: A Target retail-exclusive in 2015, Prestige is a strong starting product with solid designs. Prestige features stronger artwork than other value products, and the Acetate Rookies set is a nice bonus. Shop now >
POPULAR ROOKIES:
This tier includes cards from the most popular sets across both retail and hobby formats. Typically easy to buy or sell when needed.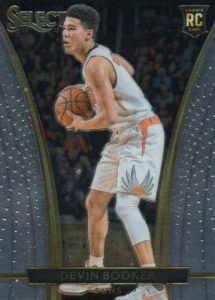 Prizm #308: The 2015 Prizm release features a massive 400-card base checklist, and Booker has plenty of great parallels to grab. Silver Prizms are still the variation to snag if you can afford it, while the hobby-only Mojo parallel has one of the coolest designs in the hobby. Shop now >
Select #203: Though not quite as popular in 2015 as it is in 2021, Select still featured fantastic designs, parallels and three levels of base cards to chase. Carried by lower print runs than other popular products, Select's Tie-Dye Prizms numbered to just 25 are a fit for any collector. Shop now >
MORE UNIQUE ROOKIES:
This tier Includes cards with lower print runs, unique designs, or cards from hobby-only products. Usually higher-quality cards than the Value or Popular Tiers, though not necessarily more popular or easier to buy or sell.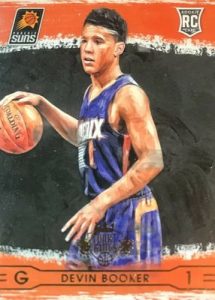 Court Kings #114: Built around multiple levels of rookie cards varying in rarity, Court Kings also features some of Panini's best designs. Look for Booker in the popular Fresh Paint autograph set. Shop now >
Luxe #11: Though Luxe lasted for just two seasons, it featured unique and artistic designs to go with framed cards numbered to 99 or less. Booker's Framed Auto numbered to just 49 is a good starting place with the brand, while the D-Luxe and Red Memorabilia Die-Cuts sets also deserve consideration. Shop now >
Revolution #102: One of Panini's most unique designs, Revolution is centered around one of the hobby's best lineups of parallels. Parallels like Galactic, Sun Burst, and Cosmic are some of the best out there. Shop now >
RAREST AND MOST EXCLUSIVE:
We won't spend much time here because this category is likely out of reach for most collectors due to price, but they are still fun to look at.
Sets like Flawless, Immaculate, and National Treasures typically feature visually stunning designs and low-numbered cards.
This is also where you'll find the most impressive patches paired with high-quality on-card autographs. Don't worry if this tier is too pricey as there's plenty of options in other categories that could be perfect for your collection.
Track your collection and maximize your profit with Market Movers, the hobby's most powerful sports card pricing platform! Learn more here.
Note to readers: If you purchase something through one of our affiliates we may earn a commission.