One of the NBA's most electric scorers and lethal shooters, Damian Lillard has dominated opposing defenses since entering the league back in 2012. Regularly considered an MVP candidate, Lillard has become one of the West Coast's top stars and arguably the best player in Portland Trail Blazers history.
Lillard has dozens of rookie cards from the 2012 season, so use the Sports Card Investor guide to see which ones we think you should focus on. Cards are broken down into tiers, ranging from the most affordable and more popular options to the most unique, expensive and rare.
VALUE ROOKIES:
The Value Tier Includes cards with high print runs or lower-quality card stock. A good fit for new collectors or those on a limited budget.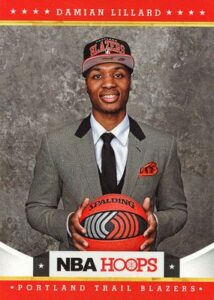 Hoops #280: A standard purchase for most collectors, this Hoops card features Lillard smiling on draft night in his new Blazers hat. Hoops is a good starting point for collectors new to the hobby or basketball in general and provides good value.
Marquee #231: You'll find a variety of Lillard rookies in this Marquee release, making it a good option for the more unique section of this guide as well. There are five rookies to grab here, ranging from a basic black background to an acetate card and the popular Swirlorama variation. Any are fine additions for a new collector or those looking to add a little flair to their Lillard lineup.
Panini #262: Much like NBA Hoops, Lillard's Panini rookie is a good starting point for those new to basketball or the hobby. A simple design paired with a lower price make it one of the better entry points for a regular MVP candidate.
POPULAR ROOKIES:
This tier includes cards from the most popular sets across both retail and hobby formats. Typically easy to buy or sell when needed.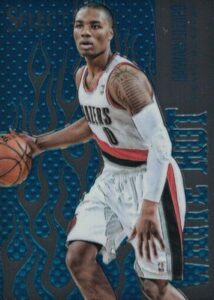 Prizm #245: Lillard's base Prizm is the go-to card for many collectors, while the Prizm's parallel — known today as the Silver Prizm — is the must-have variation. A small print run and larger base checklist made snagging these parallels a little tougher in 2012 than most are used to with ultra-modern sets.
Select #150: Originally a brand from the '90s, Select was brought back by Panini for the 2012 season with major success.
Lillard's base card is a fine addition to most collections because of Select's more limited print run, though the Prizms parallel is a must-have for any hardcore collector. For inserts, look for Lillard in the Hot Rookies and White Hot Rookies checklists.
MORE UNIQUE ROOKIES:
This tier Includes cards with lower print runs, unique designs, or cards from hobby-only products. Usually higher-quality cards than the Value or Popular Tiers, though not necessarily more popular or easier to buy or sell.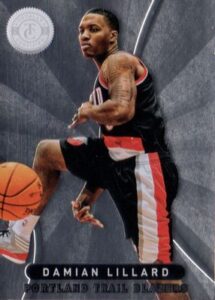 Brilliance #283: This set could fit in with the value tier as well, though we put it here because of its unique foil design. Lillard's base Brilliance is a good option for those looking for some serious eye appeal while on a budget.
Innovation #142: Lillard's base card is printed on acetate, which isn't popular among all collectors. Innovation does have Lillard's first autographs in an NBA jersey, however, so that certainly provides a draw to the set.
Along with his base and autos, look for Lillard in the iconic Stained Glass checklist. Innovation's Stained Glass had an extremely-low print run and was underappreciated on release compared to its extreme popularity in ultra-modern sets like Mosaic and Prizm.
Totally Certified #70: A loud, foil design means Totally Certified isn't meant for everyone. Some love it, though, and Lillard's rookie features a slick under-the-leg pass. Unfortunately, Lillard doesn't appear in the popular Rookie Roll Call autograph set.
RAREST AND MOST EXCLUSIVE: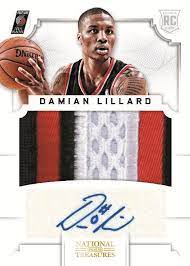 We won't spend much time here because this category is likely out of reach for most collectors due to price, but they are still fun to look at.
Sets like Flawless, Immaculate and National Treasures typically feature visually stunning designs and low-numbered cards.
This is also where you'll find the most impressive patches paired with high-quality on-card autographs. Don't worry if this tier is too pricey as there are plenty of options in other categories that could be perfect for your collection.
Track your collection and maximize your profit with Market Movers, the hobby's most powerful sports card pricing platform! Learn more here.
Note to readers: If you purchase something through one of our affiliates we may earn a commission.