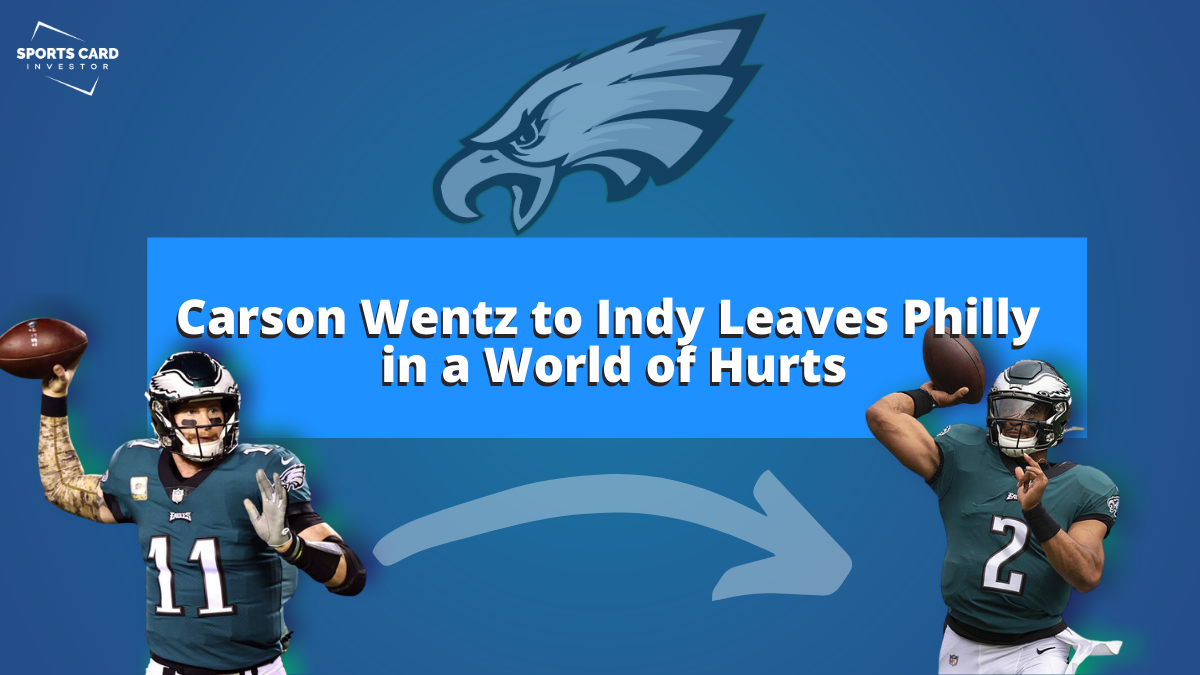 This guest post came through our Article Submission Program. Thoughts and opinions are those of the author.
Introduction
In case you haven't heard the news, the Philadelphia Eagles have agreed to trade Carson Wentz to the Indianapolis Colts for a 3rd round draft pick in 2021 and a potential 1st round pick in 2022. ESPN reported that the 1st round pick would be determined by whether or not Wentz takes 75% of the Colts' snaps.
With Wentz out of the picture, there is really no question at this point who the Eagles' starting QB for next season will be. Jalen Hurts will be flying high leading his team, and with only one other QB on the roster, Nate Sudfeld, who has a combined total of 188 yards over five seasons, the Eagles can only hope nothing happens to Hurts. While most seasons we wouldn't really even think about this, 2020 has made us question the health of the QB game. Between Joe Burrow, Tyrod Taylor (although Justin Herbert showed to be impressive), Teddy Bridgwater, Patrick Mahomes (He toughed it out to the end) and basically the whole Cowboys' QB lineup, among many others, no quarterback is safe.
So what are the Eagles planning? Will they trade for someone else and let Hurts take 2nd seat (There were rumors)? What about Wentz? Will he come in stride with his former offensive coordinator and become the QB many analysts have predicted him to be? But the big question for those of us here at Sports Card Investor is –
"WHAT WILL HAPPEN TO THEIR CARD PRICES???"
Let's break this down and look at what's been happening to each player.
Jalen Hurts –
With COVID-19 card submissions swamping PSA, Beckett, and other major card grading companies, it is hard to really get a look at Jalen Hurts' cards. PSA has, at the time of this writing, graded a total of 48 Jalen Hurts 2020 Prizm silvers. Of those 17 have been graded a PSA 10. ONE of those has sold (and been paid for) on Ebay, for $650. There are numerous others listed, and at least two auctions will end within the next five days. His raw Prizm silver is currently up about 100% over the past 30 days since the talk about trading Wentz really began.
His Optic raw is currently up almost 100% over the past week since its release. And his Mosaic Silver in PSA 10 has only 53 PSA grading's, of those, 34 are PSA 10. It also is trending up, but only about 4.3%.
(Jalen Hurts – 2020 Prizm Silver Raw)
Carson Wentz –
Carson Wentz's cards are a lot easier to track due to the number of years he's been in the league. For this article, we are tracking his 2016 Silver Prizm and Silver Optic. Both of these are up big over the last 90 days, hitting +151% and +108%, respectively. If you look at his card history, there was a period of about two weeks in November and December when these cards were losing value. Still, once the rumors started about him potentially being traded, you start to see those percentages climb.
Synopsis –
At this point, you're probably thinking, "This is great info that I could have dug up myself. What I want to know is, 'if I had to invest in one of these guys, who is it?'" and that's what I hope to help you uncover with this last segment.
Obviously, both QB's are trending up at the moment. The Eagles now have nine (9) draft picks in the 2021 draft thanks to the trade with the Colts, a new head coach and OC, and will be playing in the NFC East, which wasn't much to brag about this last season. They can now draft some players to fill in the holes in their team. Many people talked about the excitement that Hurts has brought back to the Eagles since he got the starting job last year. There are a lot of things in play for the Eagles in 2021, but honestly, they can't sink much lower.
Carson Wentz statistically bested Hurts in a lot of different areas. His biggest challenge in 2020 was the 15 interceptions and 50 sacks. But moving to Indy could fix all that. The Colts allowed just 21 sack last year as compared to the Eagles' 65. If Wentz's new offensive line can protect him, you could have a very dangerous man putting passes down field.
At the end of the day, both QB's have a lot of potential to really soar in their new programs. I think you will see Carson Wentz's cards go up in the next few days with the trade excitement, and then sink a little before the gradual climb leading into the new season. Overall, I'm not too certain about "huge returns" on his cards just yet. It will depend on how he starts the season with the Colts. Jalen Hurt's will be harder to predict simply because of the lack of graded cards currently on the market. With the draft in April, there could be a lot of excitement generated around the Eagles, and they have a lot of potential to really improve their standings from last year. The biggest question will be how many newly graded cards will start to fill the market as people start getting their submissions back. Will they sell them quickly, or will they hold on to them in hopes that they will improve as the season gets closer? Will 2021 be a BIG improvement for the Eagles or just a stepping stone? Some sportswriters have predicted that we won't see the Eagles in the playoffs until 2023. By that time, will we be watching a calm and collected veteran Jalen Hurts, or will 2021 wash him out? Personally, my money is on Hurts. His prices may dip a little in the off-season (maybe, there hasn't been much of a dip in the market yet.), but as the season gets closer, I am betting he comes up big in 2021. It'd be hard to do worse than 4-11-1.
Editor's comment: The trade season, NFL draft month and free agency are all coming up for the league. What interesting trades do you anticipate and whose cards will be most affected? If you have a write-up about something interesting that you have seen across the league, we would love to hear from you!
📈 Do you want to track your card collection and maximize your profit? Then you need Market Movers, the hobby's most powerful pricing database and market intelligence platform. Find out more here!