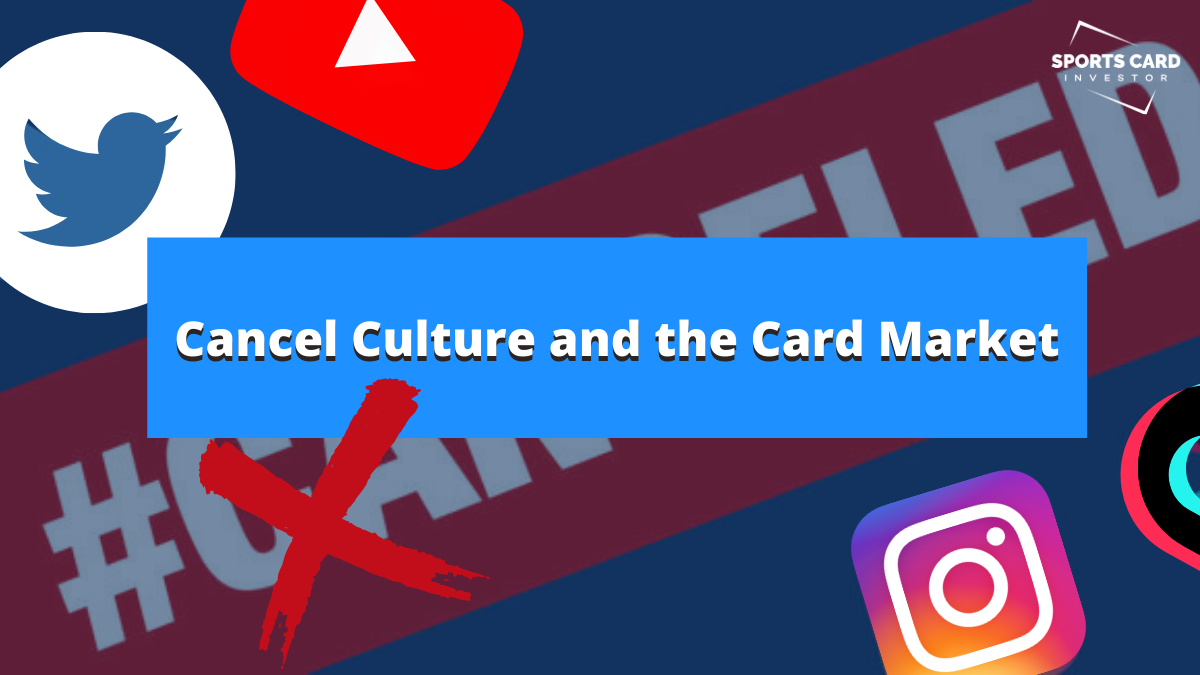 This guest post came through our Article Submission Program. Thoughts and opinions are those of the author.
Introduction
The sports card market can be a wild and crazy place at times. An athlete gets injured, his prices go down, or sometimes they go up (Joe Burrow)? Free agency can mean not being signed and plummeting prices, or you could see your prices spike as in the case of JJ Watt and Deshaun Watson. How do you predict it all? How do you know if this injury will allow you to buy low or sell high, or if you should fire sale that player's cards because he probably isn't coming back? Lots of possibilities. Lots of questions.
The simple fact of the matter is that LIFE influences our beloved hobby. Kneeling for the Anthem in football or standing for the anthem in Basketball, the choices an athlete makes off the court and on the side of the field can influence and impact card prices in many ways. Most athletes are fairly closed-lipped and live quiet lives, if the media lets them. But it seems like the ESPN news ticker always has something non-game-related scrolling as you watch your matchups.
Let's take Antonio Brown for example. 2019-2020 was a whirlwind of chaos for the guy. He left the Steelers for the Raiders. He left the Raiders, signed by the Pats. Cut by the Pats, finally picked up by the Bucs. Multiple lawsuits, "retiring" then not retiring numerous times, it's a wonder this guy is even playing ball today with that kind of rap sheet. But what did his cards do?
If you look close, you'll see that Brown's 2010 Score card (one of the few cards we have a large amount of data on) is fairly stagnant at the start. In fact, his second-lowest card prices were on June 10. Two days later, Antonio Brown pleads no contest to battery and burglary. For most people, this would not be a good sign. But the next data point, June 15, actually show's Brown's cards jump 140+%. And instead of following the previous pattern, they jump and continue to rise a little instead of falling back down again. In fact, he was talked about enough in articles and the news that his card value jumped up 1400% from the first pip on this graph. But then quickly drops back down as he starts fading from the news. The next spike happens within a week of him saying he's retiring. And then he fades again.
Each time Antonio Brown starts sinking, something happens and the news tickers start running his name again and his prices jump… again. The last and biggest jump happened when he signed with the Bucs. Obviously, joining Tom Brady has a positive effect on almost anyone's cards, but it is still interesting to note the trend of "headlines = added card value."
But let's look at one more card. The card for which the title of this article is referencing. And that is Gina Carano. For those of you who don't know, before Gina was in movies like Fast and Furious 6 and starred in Disney's The Mandalorian, she was an MMA fighter. And was a pretty good one at that. She went 7-1 in her career before various events took place that kept her from fighting again.
Since Disney and Lucas films released her from her role as Cara Dune, it is interesting to note that most of her MMA cards have almost no notable difference in card value. But her 2020 Topps Mandalorian auto has seen a huge jump. Perhaps the reason hobbyists and Star Wars nerds alike have taken an interest in this card specifically is because this is the role she was currently playing (Don't ever mess with Star Wars or Star Trek fans). The reason we are looking at her base auto is that this was the only card with enough volume on the market, already sold, that we can actually have reliable data to study.
Prior to her being removed from this role on Feb. 10, 2021, her cards were going for $75-175. Since she has left and moved on to other film opportunities, her 2020 Topps base auto has sold three times and each of those were for over $300. The most recent sale on 2/22/2021 was for $400. That's a massive increase. Many of her other Mandalorian autos have also seen a price spike as well.
If you look on news channels and websites, most all of them have at least one article on the firing of Gina Carano. Politicians have weighed in, the Star Wars fanatics have given countless hours of conversation to the topic, and the feminist movement also has been trying to determine whether or not it was the right thing for Disney to do. No matter your opinion, based on the data shown here, it becomes more apparent that the more your name is brought up in the news, whether good or bad, the more it can influence your card values, and usually for the better.
To further encapsulate this theory, I want to leave you with this. I was listening to the radio last year when the BLM movement was a huge discussion in the NBA, and Jonathan Isaac had just been the first NBA player to stand for the National Anthem and not wear a "Black Lives Matter" shirt over his uniform. Within four days of that moment, the radio host said, "the sales rate of his jersey caught up to the sales rate of the #1 sold jersey in the country, Lebron James." Stores could not keep enough of his jerseys in stock and many of them sold out. In the sports card hobby, we also see a slight spike there. Unfortunately, he tore his ACL three days later and the data tracking the impact of his "patriotic stand" can't fully be measured.
It will be interesting to watch the next few years as athletes become more and more outspoken off the field about politics and other topics, as well as the media airing more details about these sportsmen and women's personal lives outside of their sports, to see how their card prices are impacted. Who will be the next person on the news with significant headlines? Will they stay there long enough to see their cards affected?
Editor's comment: Life frequently does influence this market, both positively and negatively. It seems more so now, but occasions in the past come to mind. I often think of the MLB PED scandal and how some of those cards dipped and not until recently are you seeing a good appreciation in value. Can you remember any dips or an influx in the market due to events that have occurred? Can you speculate what cultural action may affect the market over the next 90 days? If you can, we would love to hear your thoughts on this subject.
📈 Do you want to track your card collection and maximize your profit? Then you need Market Movers, the hobby's most powerful pricing database and market intelligence platform. Find out more here!