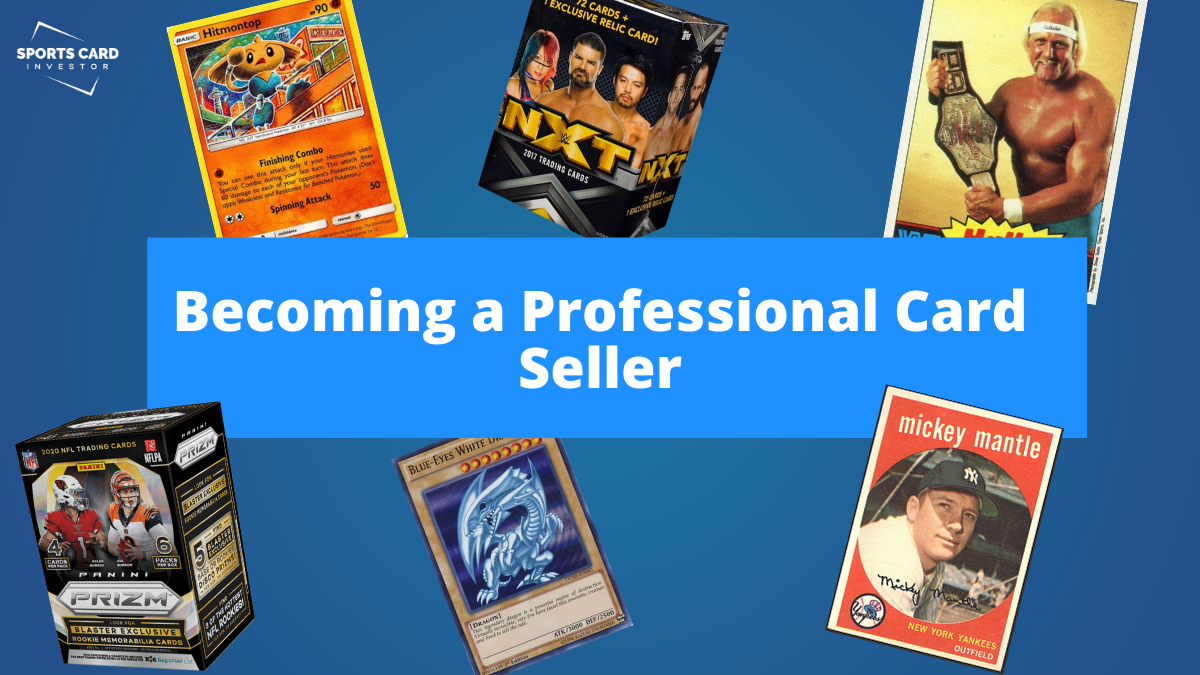 This guest post came through our Article Submission Program. Thoughts and opinions are those of the author.
Introduction
Hello everybody. My name is Karmy and I'm back for my 6th and final article. I'm going to retire from making articles because I've accomplished what I wanted to do, which is to rejuvenate the card market. This time, I will include all 5 of my previous articles here with expanded information on many things that I purposely omitted from previous articles but will include it this time around. I was contacted about having my articles published in a newspaper. Since some of the information is now outdated due to changes to the ebay policy, I have the information updated. I will also share my entire story of how I found success in the card market. I only told bits and pieces of it in previous articles, but this will be my entire story.
When I was young, I started buying cards in 1990. The first cards I ever bought were from the 1990 WWF Classic at a bowling alley. I was looking for a Hulk Hogan card, but I didn't pull one that day. Hulk Hogan has six different cards in that set and I happen not to pull a single one of them. I started going to card shops and buying other sports cards. I even told the card shop owner Martin that I wanted to grow up to be just like him. Shout out to Martin.
My parents ran a restaurant and I was allowed to sell a few of my cards there, but I didn't try to become a card seller until 1999 when Pokemon cards were first released. I saw my younger brother was selling Pokemon cards and making a lot of money. I figured this was a great time to get started with selling cards. My parents retired from the restaurant business in 2000 but gave me the option to continue selling cards in the restaurant if I wanted to go that route. I was selling sports and pokemon cards up until March 2002 when Yugioh came out. I learned about Yugioh and business was good until late 2002 when Pokemon, Yugioh, and sports cards weren't doing enough business to keep the doors open. I didn't have to pay any rent, but it wasn't enough to cover the time and expenses. My parents found someone that wanted to rent the restaurant space. I got married in February 2003 and this became my top priority. I was willing to quit the card business for her, but that all changed when I lost my wife seven weeks later. It was a very heartbreaking moment for me and I needed something to get my mind off the subject and that was me going back to cards. Perhaps this was what The Man above wanted me to continue doing.
I decided to do card shows in the summer of 2003, which were solely at shopping malls in my area. These were normally three day shows from Friday to Sunday. My best days were usually Saturday, with Friday being my worst sales day and Sunday not that much better than Friday. When I compare it with my eBay sales, it's the same as during my days doing card shows. There was no difference with Saturday being king of weekends at card shows and on eBay.
One of the things I learned is there will be people trying to take advantage of your inexperience in cards, especially if it's your first time. One of the card dealers at that show came to me trying to sell his 1980s and 1990s junk era cards. He sold them to me at $1 for 1000 cards. I thought it was a great deal and agreed to buy them from him. He lived close to the mall and had his daughter watch his table while he went home and got those cards. I didn't know these cards were considered worthless until I talked with other dealers at the show. I had spent $100 for 100,000 cards. I thought I was swindled. Instead of confronting the guy, I tried unloading these cards at the show. I was selling a 3000 count box full of cards for $10. Little did I know that I would sell all of these cards at that show. It turned out to be a great buy after all.
I spent $100 and got $330 back. I made a $230 profit on those cards. I tried to mark it up to $12 a box, but everybody that was interested was only willing to spend $10. The only problem was I couldn't get anymore because the card dealer sold everything he had to me. It's also hard to come across these cards at a show for that price. That card seller and I got along just fine. He saw a lot of people walking around the card show with what used to be his boxes of cards. He knows what I did and thought it was funny to him. He tried to sell these cards to those same people moments before he sold them to me and they all said no. Then they go to me and buy those same boxes for a higher price.
My best friend from high school helped me a few times at these card shows, but he passed away in February 2007. This was going to be the beginning of a pattern here. I eventually realized that I wasn't making any money at these card shows and I needed to make a change. I got into vintage baseball in winter 2008 when I came across a man who was in need of money and sold me a big 12,000 card collection of 1963-1971 baseball cards for $650. It was one of those deals too good to pass up. He originally wanted $800, but since I didn't know anything about vintage cards at that time. I gave a lower offer and he accepted it. I remember there were 7 Mickey Mantle, Pete Rose 2nd year, 2x Nolan Ryan 2nd year and a few others in mid-grade condition. The collection ended up getting me $6,000 in a few shows. But I soon realized how hard it was to acquire such collections if I'm only doing card shows. During the 2009 recession, there was a chance that I could be out of work due to my workplace not having enough work, go out of business, or my knee injury could prevent me from continuing working. I injured my left knee while playing basketball. I had to do something to create a steady income in case something happened.
In summer 2010, I decided to move into an indoor flea market to buy card collections when people bring them in. I did a few card shows to get the word out to customers that I was setting up at the flea market. When I started making more money at the flea market than I was at card shows, it was time for me to stop doing card shows. I was selling a lot of the cheap cards, specifically 1980s and 1990s era cards.
But then something happened. During the Christmas season in 2011, the flea market was notifying everybody that they were closing the place in the summer of 2012 and everybody had to move out. I had no plans on setting up at card shows again. But I had too much inventory to stop selling cards entirely. This was when I researched selling cards on eBay.
Back in 2012, eBay had a page that showed you who had the most card listings up for sale. This page isn't available anymore. I looked up wrestling cards and saw only three people with over 2,000 listings. I figured this was a category perfect for me due to a lack of competition. I listed all of my wrestling cards and I eventually became #1 for a brief moment for having more wrestling card listings than anybody else. I held that title for a few weeks, but my sales were really slow. It was like this for about a year going into 2013. But then my father's health started getting worse every month in the fall of 2013. Everybody in the family knew that he was entering his last days and we were going to lose him soon. The family was in need of money due to the added medical and travel expenses. But with slow sales on eBay, I had to change something. I had to think like a customer and look at my listings and figure it out. It was the cost of shipping. I switched to PWE shipments after Christmas 2013 and this was when business turned around very quickly. I lost my dad in February 2014, but at least he was around when I started to succeed in selling cards. February was starting to be a tough month for me after losing my best friend in 2007 and my wife in 2003. All three coincidentally had a connection with February. It was a difficult time and there were two things that I did to try to get my mind off this. Those 2 are cards and WWE Network.
In 2014 the WWE Network was launched on Feb 24, which was three weeks after I lost my dad. One of the key selling points for the WWE Network was NXT which was a developmental show for new wrestlers joining WWE. NXT is considered the minor league for WWE. I heard a few wrestling fans on social media were praising an NXT wrestler as being the next big thing, which was Paige. Her first card was released in 2014 Topps WWE on Feb 28. I saw the potential for this card to be underpriced by a majority of card sellers because most WWE women wrestlers weren't taken seriously due to a lack of talent and not given a chance to shine by WWE. I knew most card sellers were going to list Paige's first cards up for $1. I bought every listing on eBay and Beckett marketplace that was $2 or less. It didn't take long for this card to go up in price because Paige became WWE Divas champion on her first day on WWE Monday Night Raw. This card shot up to $8 due to Paige becoming a first-time WWE champion, which is now renamed the WWE Women's Championship.
Many wrestling fans know that Paige helped to change women wrestling forever. Due to everything that happened in 2014, I knew that I had to meet Paige at least one time which I did in the 2015 Wizard World Comic Con in Cleveland which coincidentally was in February.
Women wrestlers have dominated my sales and took at least the top 5 spots each year from 2014 to today. Those top 5 wrestler each year are:
2014 #1 Paige, #2 AJ Lee, #3 Trish Stratus, #4 Kelly Kelly, #5 Sable
2015 #1 Paige, #2 AJ Lee, #3 Nikki Bella, #4 Lita, #5 Trish Stratus
2016 #1 Alexa Bliss, #2 Mandy Rose, #3 Charlotte Flair, #4 Nikki Bella, #5 Paige
2017 #1 Alexa Bliss, #2 Mandy Rose, #3 Nikki Bella, #4 Becky Lynch, #5 Charlotte Flair
2018 #1 Ronda Rousey, #2 Mandy Rose, #3 Kairi Sane, #4 Alexa Bliss, #5 Sasha Banks
2019 #1 Alexa Bliss, #2 Mandy Rose, #3 Becky Lynch, #4 Toni Storm, #5 Asuka
2020 #1 Mandy Rose, #2 Alexa Bliss, #3 Asuka, #4 Sasha Banks, #5 Becky Lynch
Paige was very influential in getting women's wrestling to where it is today. She kick-started it all and even had a movie made about her life experience, which is titled "Fighting with My Family". Her kiss cards have been the only wrestling cards that have increased in price substantially over the last ten years before the pandemic. I believe it's due to how big of an impact she had for professional wrestling, which caused her kiss and kiss auto cards to rise up in price.
In 2014-2015, I researched Pokemon cards and saw that there were very few sellers on eBay that were selling cards from the Nintendo era Pokemon sets. There weren't many large card sellers with this product and I decided to give it a try by listing all of my rares and reverse holos, which I got up to around 5,000 listings at one point. I stumbled upon TCGplayer at this time and looked into it for a little bit. I decided that it wasn't the right move to use TCGplayer due to the fact that the majority of the gaming card competition was on TCGplayer and there was hardly any on eBay. Plus, a lot of the cards that were selling for a dime on TCGplayer, I was selling for $1 on eBay. I disagreed with TCGplayer having near mint as the highest condition. Add the fact that PayPal micropayments wasn't offered, which is a smaller fee for business accounts. It was a no-brainer for me to go with eBay. For those that don't know, PayPal micropayments is a smaller fee of 5% and 5 cents per transaction, which is ideal for someone selling cards, mostly $12 and under. 99% of all gaming and sports cards ever produced fall into the $12 and under price range for single raw cards. This covers every card in every year and every set.
HOT HOLIDAY CARDS ON EBAY
The competition got wild and fierce once Pokemon Go was released in 2016. A bunch of new card sellers jumped into selling cards on eBay. Bulk or common pokemon cards, which used to sell for 3-4 cents per card, went up to 7-8 cents per card. It became tough to make money with Pokemon cards due to the increase of new sellers who didn't know what they were doing. They were overpaying for these bulk cards and selling the cards for too cheap. I knew that these people wouldn't stick around in the long run and I stepped away from Pokemon to let these people continue to lose money. I didn't have any new pokemon listings until Sept 2020.
The people renting the restaurant closed up in 2017 and it has been vacant. Nobody was using this space. I decided I might as well use it for my eBay selling operations in 2018 rent-free. I decided not to be open to the public, but I would let customers come in if they make an appointment with me in advance. I had too much theft going on when I was at the flea market. I thought it was best not to be open and only sell cards online. I started attending card shows in 2018, trying to find cards that I can sell on ebay and to fill up that restaurant space with cards. By my estimates, I think I can fit 20 million cards in this 4000-5000 square feet restaurant. I currently have approximately 2 million cards.
In February of 2019, I had to have surgery on my left knee to remove scar tissue that was building up. Yes, it's February once again. The doctor said that he has never seen this much scar tissue before coming from one knee. It took me five months before I fully recovered from the surgery. I used this time to build up my 2nd eBay store. My sales from my main account weren't enough to be a full-time income. Enterprise-level was the next one up after anchor, but it was way too big of a jump going from $300 to $3,000. And going from 10,000 listings to 100,000 listings was something that I wouldn't be able to do in a short amount of time. So I came up with the idea of having the 2nd store.
During my downtime from surgery, I was thinking about the card market and how it seemed like it was dying. All of the disadvantages that new sellers were receiving were too big for any of them to succeed. I was planning to do youtube videos on teaching people how to make money selling cards on eBay and try to spark interest in the card market as it seemed to be dying a slow death. I didn't know how I was going to do this without really revealing any trade secrets. Plus, I wasn't comfortable talking to a camera, I'd rather have talked to somebody, but I didn't have another person to do that with. I stumbled upon Geoff's youtube channel and saw that he was doing an article submission contest and figured this might be the best way. My first article was published on December 1, 2019 and I wasn't sure if my plan would be successful or not, so I purposely left information out in case it didn't work out. I still gave out the blueprints, but I left it up to the readers to figure out how to do each step. Some people were able to figure it out; some could not. Geoff contacted me and wanted me to appear on his show. I declined for several reasons. Going by recent interviews Geoff had with other guests, I knew there would be a lot of questions asked that I wasn't ready to reveal the answer to just yet. And it was the Christmas season and it would've been a bad time for it. I made two more articles on February 19 & April 12, discussing how I made money on retail and blaster boxes. All retail packs and boxes would soon start to disappear at Walmart and Target stores soon after those articles were published. At first, it was only basketball retail that was being bought out but then it expanded into baseball and football. Did I have an influence on this? Some people think I did; some don't. I did an article talking about Pokemon cards on September 27, 2020 and Pokemon cards blew up not too long after that. Did Logan Paul read my article? I have no clue who reads my articles. If you want my thoughts, I don't really care who or what is responsible for the card market gaining popularity as long as it did happen.
The news going around the card market is eBay is making a deal with USPS to allow tracking for low-end cards for the cost of a stamp almost. This will be a big game-changer for the card market whenever this comes into effect. Did I have an influence with this when eBay read my article Flipping low dollar cards on eBay part 3, where I talked about how my sales went up 8x within the next day of switching to PWE? Only eBay can answer that question. I'm sure that eBay would like everybody to increase their card sales by 8x. Until this comes into effect, I will explain what I do when shipping a card via PWE within the following steps.
Most people quit buying cards for various reasons. Some left because the money wasn't there. Because they lacked the experience and didn't know how to buy and sell cards, some went off to college or had kids and became first-time parents who took priority in their lives. For those that went off to college or became parents for the 1st time, there's nothing that can be done about them. But there is something I can do for those looking to make money on cards. I made it my goal to help those that were looking to make money on cards by showing them how to do it properly. Here is my entire guide on flipping low dollar cards for a profit with added details.
You need to diversify as much as possible in order to be successful. This means you need to learn everything about every card market. Basketball, baseball, football, pokemon, YuGiOh, Magic, you need to learn everything. If one of the card manufacturers makes a big mistake by overprinting cards and destroying the card market for a particular sport or game, at least you can rely on some of the others to carry you. For example, if Panini starts overprinting everything making basketball and football cards worthless, just like in the junk wax era. At least you still have Topps, Nintendo, and other card manufacturers to rely on to carry your business. Panini wasn't around during the overprinting of the 1980s and 1990s. I'm not saying that Panini will do this; I'm just giving an example if something happened. You want to be like Walmart and carry as much variety as possible. I will explain what cards to look for.
WRESTLING
I currently sell more wrestling card singles than anybody on eBay. Who better to talk about wrestling cards than me. I will only be covering WWE licensed cards with the first set released in 1985 by Topps. Wrestling cards are unlike all other sports cards and should be treated that way. Wrestling cards from the 1980s to 1990s are not as mass-produced as the other major sports cards. It was never overprinted. Unlike athletes in other sports, wrestlers don't represent a city or region and so they have a far greater reach with more people buying their cards. A WWE wrestler will sell in any city, region, or country. It doesn't matter if this wrestler is a big star or not. As long as this wrestler is popular with the fans, his or her cards will sell. Even somebody that loses pretty much every single match like Curt Hawkins and Mandy Rose are selling really well. Mandy Rose is actually my #2 best selling cards during the last four years and she hasn't won anything yet in WWE as of December 1, 2020
Unlike other sports, people who use steroids are frowned upon, especially in baseball. But not in wrestling. Hulk Hogan and many other wrestlers have admitted to using steroids and yet people still love them more so than anybody in baseball who used steroids. That's because the winner of a wrestling match is predetermined and the wrestler would've won that match regardless if he or she was using steroids or not. Another thing that is different are the roller-coaster price changes of current athletes in other sports don't apply with wrestling cards. You won't see a WWE rookie card or rookie auto drop from $100 to $1. This doesn't exist with wrestling cards.
One of the things that most people say is that wrestling is fake. Yes, the outcomes of wrestling matches are fixed, just like any movie that you watch. But the body slams that they take are not fake. Many wrestlers who have died over the years never lived past 60 years old. Mr. Perfect died at age 44, Eddie Guerrero died at 38, Test at 33, Macho Man Randy Savage 58, Rowdy Roddy Piper 61, Chyna 46, just to name a few. There are a lot of wrestlers that died very young. When you have this many people dying at a young age, this tells me it's not all fake. Have you ever slipped on some ice during the winter and fell down? If you don't have snow in your area, then have you gone ice skating before? Image if it was you falling down 5-10 times each day for several years. Those bumps are going to take their toll on your body at some point.
The most highly sought after cards in wrestling today are kiss and kiss auto cards. These kiss cards do the most money especially if you have a popular female star.
Currently, the most expensive kiss card belongs to Paige. The last Paige kiss card sold for $420. Paige has a kiss auto version of this card which does more money but one hasn't appeared on ebay for several years.
Some of you might ask, who are these popular female stars? I break them down into four groups below. Most of the NXT and legends will not be covered, as that would make the list too large. The list only covers my base and insert card sales, which can determine how popular each wrestler is. Autograph and kiss card prices are usually determined by each woman's legacy or the total number of accomplishments and her popularity. If she has a lot of accomplishments but isn't popular, this can hurt those auto and kiss card prices. If she doesn't have any championships won yet and is very popular, this can hurt her value for some or all cards. What you want are the women wrestlers that are popular with the potential to become a WWE champion in the future.
Superstars(sells at the best rate/very popular)- Alexa Bliss, Mandy Rose, Paige, Asuka, Kairi Sane, Becky Lynch, and Sasha Banks
Stars(sells at a decent rate/popular)-Liv Morgan, Charlotte Flair, Nikki Bella, Lacey Evans, AJ Lee, Ronda Rousey, Peyton Royce, and Toni Storm.
Semi-stars(sells once in a while)-Lana, Nia Jax, Mickie James, Billie Kay, Dana Brooke, Sonya Deville, Shayna Baszler, Bayley, Zelina Vega, Mia Yim and Natalya
Commons(doesn't sell or very little sales)-Alicia Fox, Carmella, Naomi, Renee Young, Cathy Kelly, Jojo, Nikki Cross, Ember Moon, Brie Bella, Bianca Belair, Tamina and Ruby Riott
AUTOGRAPH CARDS
An auto usually sells for about the same price as any other sets of similar hobby box price range. An example is the 2018 Women's Division Mandy Rose auto sells for the exact same amount as her 2019 Women's Division auto. But you can't compare these autos with one from Transcendent Collection which was a $12,000 box.
This can be applied to autos in other sports, specifically non-rookie autos. But an autograph can decrease in value if that athlete signs too many autographs. A great example of this is Bob Feller, who never says no to anybody asking for an autograph. His autos are not worth much due to how many autos he has signed in his lifetime. In wrestling, Hulk Hogan has a ton of autographed cards, but Vince McMahon is the opposite of Hogan and has hardly any autographs of anything, whether it's autographed cards or autographed memorabilia. Vince doesn't do public or private signings because he doesn't need the money and probably doesn't have the time. Currently, the only autographed cards of Vince McMahon are the 2019 & 2020 Topps Transcendent Collection and the upcoming 2020 Fully Loaded. In my opinion, I do believe that Vince McMahon's autos will be the next ones to see a substantial increase in price, especially if Vince passes away anytime in the future.
Autographed rookie cards will always sell for more money than autographed cards from other years. The athlete could sign a bunch of autographs but his/her rookie autos will still sell for the most money and go up the most if they become big stars. Some of the key WWE rookie or 1st year cards to look out for during the last 8 years are:
2013 Roman Reigns
2014 Paige, Charlotte Flair, Bayley, Sasha Banks
2015 Alexa Bliss, Becky Lynch, Finn Balor
2016 Mandy Rose, Asuka
2018 Kairi Sane, Ronda Rousey
2019 Toni Storm, Io Shirai
2020 Rhea Ripley
With the way WWE treats NXT wrestlers that have been called up to the main roster, I wouldn't put much money into any of the current NXT wrestlers from the last 2 years. It could take those NXT wrestlers quite a while just to become a first time WWE champion if ever at all.
Portrait photos
In all of my years selling wrestling cards, I've noticed that the ones that sell the best are portrait style cards where he/she is looking at you or they are posing in the picture. The cards of a wrestler doing wrestling moves or something else don't sell as well. I have three cards of Alexa Bliss from 2017, 2018, and 2019 Women's Division. The one from 2018 where she is jumping is the least popular card and doesn't sell anywhere near what the other two are selling for. This has also affected the price of her auto version, and the 2018 Alexa Bliss auto sells for less than the 2017 and 2019 autos.
Another example, the 1991 WWF Classic set has 4 Undertaker rookie cards in it but they don't sell for equal money for all four cards. Card 64 from that set has the Undertaker looking straight at you and this card makes the most money among all 4 Undertaker cards. Anybody that has been a longtime wrestling fan knows that card 64 is the best card in the set. The portrait rule applies here, and the other 3 Undertaker cards don't sell for as much as the one portrait card. The Undertaker portrait card is one of the hardest cards to find listed for sale. The other three aren't as hard to find. The portrait cards sell the best with all wrestlers.
I have no idea if this works in other sports due to a lack of data. I guess you could say I've gathered a lot of data and statistics similar to the movie Moneyball with Brad Pitt, but these statistics are for wrestling cards. This is data that only I have, and I'm sharing only a little bit of it with you. I'm observing cards in a different perspective and came up with my own data on what sells and what doesn't.
VINTAGE
There are vintage cards in every sport and in gaming cards. But they all have various years. For some people, vintage baseball is 1975 and older; some believe it should be 1972 and older. There are a lot of different beliefs about when vintage years should be. Basketball vintage is presumed to be 1988 and older. Wrestling vintage cards are from 1997 and older, Pokemon vintage cards are from 1999-2003. Every type of card has vintage years.
Vintage Topps baseball cards from 1959-1972 have high numbers, which usually sell for more money than other lower number cards in the rest of the set. These high numbers are usually card numbers in the 700s and 600s, sometimes in the 500s. There are high numbers in other years, but don't have as significant a jump in price as these years.
Vintage baseball cards from 1956 and older don't use the standard card sizes that we have today. Topps made cards that were bigger than the standard card sizes while others like Goudey and T206 have much smaller sized cards. Bowman has various card sizes.
Two of the vintage cards that usually sell for more money are the first and last card in the set will sell for a premium if it is in excellent condition. It doesn't matter if it is a star player or not. What a lot of kids during the early years was they put the cards in their pockets and it is in numeric order. The first and last cards would be the ones that would get damaged when this happens. Card protection didn't exist during those times. For wrestling cards, this only applies to cards from the 1980s. The 1985 Topps WWF set has 2 Hulk Hogan rookies that have the same image but a different number and background color. Card #1 has a yellow background will always make more money than card #16, which has a blue background. It's much harder to find card #1 in excellent condition than it is to find card #16. This doesn't apply to vintage gaming cards.
GRADED CARDS
A card that is graded a 10 can increase the value of a card immensely, but that all depends on what the card is. But it would help if you kept in mind there are many people that will never buy a graded card. This exists primarily with wrestling card collectors. The majority of people are buying wrestling cards for their personal collections, not to make money on the card. You look at sold listings of wrestling cards on eBay and most of those cards sold are raw and ungraded. Pop reports for graded wrestling cards are usually very low for the reason that I have stated, especially with sets from 2003 to the present. There are a few wrestling cards that do great money as a graded card, but a majority of them won't. There isn't much of a market for graded wrestling cards right now compared to other sports cards. Maybe graded wrestling cards haven't caught on yet? You need to check to see if there is a demand for that card to be graded. You can still lose money on a wrestling card that comes back a PSA 10 if there isn't anybody willing to buy it. One of the ways to profit from graded cards is to buy low graded cards like a PSA 7 and lower for modern cards and cracking it out of the case, selling the card raw. An example is you bought a 2003 Topps Lebron PSA 6 for $200, you cracked it out of the case and sold the card raw for $300. Some people won't crack it out of the case because they are afraid of damaging the card. Learn to crack graded cards out of their holders and this could help you make a profit.
LOOK FOR THE NEXT CHAMPION
I've been playing basketball for over 24 years. When you've played for that long, you eventually learn how to see plays happening in an NBA game on TV a lot better than an average fan who doesn't play the game. I've used some of this knowledge and I was able to come up with a winning bracket in my NCAA tournament pool five times in a nine year span. The thing I see the most from the NBA Finals, usually the best player in the series, is also the best defender. Michael Jordan, Kobe Bryant, Tim Duncan, Hakeem Olajuwon, Kevin Durant, Kawhi Lenard and Lebron James to name a few, are all really great on defense and offense with multiple championships. There are also a lot of players that are poor on defense but great on offense. These players with poor defensive skills usually never win a championship unless they ride the coattails of somebody else. All of those NBA champions that I just mentioned, most of them are shooting guards and small forwards that have led teams to championships. A player's cards will usually reach their highest peak when they win a championship and be named Finals MVP. If there is an NBA player that you are investing in heavily, ask yourself if this player's defense and offense is as good as anyone that I just mentioned. If this player has poor defense, can he learn to play great defense later in his career? Don't fool yourself and assume that this player can improve just because you like him a lot. This player has to prove he can improve his defense while still being really good on offense. Never assume anything, because if you assume something will happen and it never happens, this can cost you a lot of money. Winning the NBA regular season MVP will usually cause a temporary spike and isn't anywhere near what an NBA Finals MVP can do. Point guards win the NBA Finals MVP the fewest number of times out of all five positions from the last 30 years. This is an important thing to keep in mind. The small forward position has won the NBA Finals MVP from 2012-2020. Dirk Nowitzki was the last player that wasn't a small forward to win the NBA Finals MVP.
2011 PF Dirk Nowitzki Dallas Mavericks
2012 SF Lebron James Miami Heat
2013 SF Lebron James Miami Heat
2014 SF Kawhi Leonard San Antonio Spurs
2015 SF Andre Iguodala Golden State Warriors
2016 SF Lebron James Cleveland Cavaliers
2017 SF Kevin Durant Golden State Warriors
2018 SF Kevin Durant Golden State Warriors
2019 SF Kawhi Leonard Toronto Raptors
2020 SF Lebron James Los Angeles Lakers
This plays a factor in wrestling as it does in other sports cards. There are three ways that a wrestling card auto will see a spike in price. One of them, a wrestler, will see a spike in their prices when they become a first-time champion. For men, this only pertains to the WWE or Universal Championship. For women, this only pertains to Raw and Smackdown Women's Championships. All other titles like Tag Team, Intercontinental, NXT and others don't do anything. This has to be this wrestler's first time holding one of those belts. Once someone becomes champion for the first time, holding for example, the WWE championship, then winning the Universal Championship for the first time doesn't do anything. It doesn't cross over to the other belt once it's already been accomplished. Once the wrestler wins one or the other championship, that will be the only spike. For example, when Alexa Bliss won the Smackdown women's championship to become a first-time champion, her autos went up to $90 for a bit before dropping to $70. When she moved to Raw at a later time and became Raw women's champion for the first time, this had no effect because she had already become champion on Smackdown first. Her autos remained the same. For those that have autos of wrestlers that haven't been a champion yet, you might want to hold onto those and see if they become champions in the future. It can sometimes be easier to predict who will become a first-time champion in WWE more so than in other sports. After all, it's all just a show to entertain people. The other 2 ways a wrestling card can see a spike is when the wrestler announces their retirement and when the wrestler passes away. That last spike is up to you if you want to go that route. Each spike is usually temporary and will usually last 7-12 days. If a wrestler stays popular after becoming champion for the first time, there might not be a drop off in price after 12 days. This only applies to autographed WWE cards licensed and authenticated by the card manufacturer.
Pokemon
Pokemon and gaming cards in general have been on an upward spiral for 10-15 years with most of the younger generation of 25 and younger are mostly buying gaming cards. Pokemon cards that were printed by Wizards of the Coast are considered the vintage era of pokemon. Nintendo took over the pokemon card operation in 2003.
Pokemon cards first came out in the United States in 1999 with Base set. There are currently three different types of cards from the base set, which are 1st edition shadowless, shadowless and unlimited. This only pertains to the base set. Jungle was the 2nd set and this was the start of only having two different types of cards(excluding error cards), which are 1st edition and unlimited. The first picture on the left is a 1st edition shadowless Poliwrath holo with the 1st edition symbol circled. 1st edition cards represent the first print run of that card. The 2nd picture in the middle has an area circled on the right side of the picture where there normally is a shadow and it's missing the 1st edition symbol. These cards are called shadowless. The 3rd picture is a regular card with a dark shadow on the right side of the picture, which was absent from the previous two pictures. The thing circled on the 3rd picture is how rare the card is and some numbers. The number on this card is 13/102. The 13 represents the card number, while the 102 represents the number of different cards in that set. Right next to these numbers is a symbol that represents how rare the card is. A circle means it is common, a diamond means uncommon, and a star means it is a rare card.
The most highly sought after pokemon cards are 1st edition holos from any English sets. A holo has the picture all shiny and sparkly. Holo cards exist in Pokemon, Yugioh and Magic the Gathering. A reverse holo is the opposite where the picture is not shiny, but the rest of the card is. I have a reverse holo Electrike pictured below as an example.
One of the issues with holo cards is the curling of the card, which happens on every holo card. Some customers will see this curving and believe that it is damaged or bent when, in fact, they all will have the curling. When a card is curling, it isn't considered damaged. If you are grading a card that has curling, PSA only takes curling into consideration when it is excessive. Curling exists in some sports cards like Chrome and Prizm. You can still get a PSA 10 with a card that is curling.
Be careful when putting holos into soft sleeves or nine pocket pages as this can cause scratching on the holo, decreasing the card's value. This can happen when you take a holo card in and out of the nine pocket page or sleeve too many times with the holo part rubbing on the plastic, causing scratches. Base set 1st edition cards are the toughest ones to find and have the highest value among all English pokemon cards. The 1st edition base set Machamp holo is the only exception from this unless it is shadowless. The print runs for base set unlimited is very massive and these print runs got smaller and smaller as each new set came out. The 2nd and 3rd pokemon sets, Jungle and Fossil, had a slightly smaller print run than Base set. This happened all the way to the last Wizards of the Coast set, which is Skyridge. Skyridge has the smallest print run out of all vintage sets and is one of the rarest cards in pokemon.
The most coveted vintage pokemon cards are Charizard which has 4 different 1st edition holo cards. The best 1st edition holo Charizards in order is
1999 Base Set 1st edition Charizard holo
2002 Neo Destiny 1st edition Shining Charizard
2000 Gym Challenge 1st edition Blaine's Charizard holo
2000 Team Rocket 1st edition Dark Charizard holo
Pokemon stopped making 1st edition cards when they introduced the Legendary Collection and E series. Cards from the E series would have an E on the bottom left corner of the card as circled in the first picture below. The E series has the smallest print runs out of all of the vintage pokemon sets. Cards from the E series are so hard to find in great condition that many of the common cards will sell for $1-$2 dollars per card, similar to what vintage baseball cards are doing. The last pokemon set to have 1st edition cards are Neo Destiny. 1st edition holos from Neo Destiny sell for the 2nd most money outside of base set 1st edition holos. Each pokemon set has a symbol to represent which set it's from, with the exception of the Base set, which has no symbol. The 2nd picture below is a Shining Noctowl from the Neo Destiny set with the Neo Destiny symbol circled.
For newer pokemon cards, the newest sets usually do the most money on the first few weeks of release, similar to sports cards. Prices usually drop a few weeks after release. Prices usually don't go up for pokemon cards but stay about the same once it's hit the bottom. Based on my experiences, the cheap rares and holos that are around 50 cents and under usually go up in price and sell much better after the card is no longer legal in a tournament or when it's out of print. Cards from the past 12-13 sets are used in tournaments or sets released during the last three years. The best strategy that I've had is to sell all of the hits on the first few weeks after release and hold onto the cheap rares and holos for at least two years. There are some people that send pokemon cards to get graded. Some cards do go up in value when it is a PSA 10, but most do not. Use your best judgment if the card you have can go up in value if you grade it. Is there a demand for that card in PSA 10? If you are looking to grade a card, but keep it for your personal collection, that is a different story. There are other things such as gold star, GX, EX, Level X and stuff like that, but that would make this article much too long and it won't be discussed here. It will be up to you to go learn about them on your own. You can't expect me to do all of the work for you now, did you?
MAGIC THE GATHERING
I'm only going to go through the basics of Magic and Yugioh, but it will be up to you to go and learn about this stuff on your own. There are four types of card rarity for most sets. The first picture on the right has the Dominaria symbol circled. This one is red, which represents Mythic; this usually brings the most money and most sought after cards. Not all mythics will sell for a lot of money. The next picture has the symbol in gold color, meaning these are rares. The numbers circled on the bottom are just like the ones on pokemon cards. The first number is the card number, with the 2nd number representing the number of different cards in the set. An uncommon has a blue symbol and a common is black, or black and white. There are some older Magic cards from the 1990s that don't have symbols. There are times a magic card could see a spike in price due to a newly released set that makes that card much more useful than before.
YUGIOH
Yugioh cards are a little different from Magic and Pokemon. These cards were never printed by Wizards of the Coast. The rares usually have a silver stamped lettering for the card name; sometimes it's black. For the rare card pictured, Monk of the Tenyi is in silver. The circled part in the picture says RIRA-EN043. RIRA represents the name of the set, in this case the set is Rising Rampage. The next one EN represents the language, which is English. The next one 043 is the card number. Yugioh used to be printed by Upper Deck, but it is now done by Konami. There are 1st edition Yugioh cards with the 1st edition letters are usually in the same area as pokemon 1st edition cards. There are a lot of other things that I can talk about like secret rares, ghost holos and stuff like that. But that will be up to you to learn about all of that stuff on your own.
Now that you learned what cards to look for, you need to learn how to acquire these cards.
2. Make up a buy rate which is what you are willing to pay per card. As I explained in my story, my buy rate for 1980s and 1990s junk era cards was $1 for 1,000 cards.
The best way to buy cards is to buy big collections or card lots and sell the cards individually or in smaller lots. When buying a single card, be careful of getting misinformation from other collectors that can cause you to lose money. Card collectors don't have the same experience as a card seller because it's an entirely different experience. An example of misinformation, somebody could come out and say the Blazers will pull off an upset and knock the Lakers out of the 2020 NBA playoffs. Somebody could believe this statement and buy up all of the Damien Lillard rookie cards but then lose a ton of money when it didn't happen. Or somebody could claim that a card is worth $500 when in reality it is only worth $5. If you aren't sure if the information you are getting is good or not, I recommend seeking somebody with at least ten years' experience with selling cards. If you can't find somebody with ten years, then seek someone with five years of experience with a high IQ. Somebody with five years or less is still learning and doesn't know all of the in and out of the card business yet.
Whatever emotions you have for a particular team or player, you throw that out. It would be best if you were treating it like you don't have a favorite team or player. One of the best ways to build up that mentality is to become a professional gambler in sports. You don't need to have any money on the line; just see if you can win over 50% of your picks. Look at the NFL or NBA point spread and make your picks for every game against the spread, over and under, or however, you want to do it. If you aren't trying to win 50% of your picks, then this won't work. If you keep picking the home team to win, then this won't work either. Whatever the media predicts, you have to ignore them. A professional sports gambler would beat all or most of them when the point spread is in play.
4. There are a lot of places where you can buy card collections and one of them is at card shows. I will usually bring around $80-$150 cash to a card show and try not to spend more than that. It's very easy to overspend at a card show. Limiting the amount of cash you bring can help you only spend up to that much. If you have a debit card, you leave that in your car or at home. There have been times where I only spend a small fraction of the money I bring to a show because there wasn't much there to pique my interest.
After I've found the boxes of cards I like, I ask the dealer if he's willing to sell the whole box and for how much. I have a price in my head on what I'm willing to pay, but sometimes the dealer will give a better deal than what I was thinking. Always ask for a price first. If he asks for an offer, you ask him again how much. You are the customer and he is the card seller. He's supposed to give you a price. That's how it works everywhere. You go to Walmart and everything has a price. If his asking price is too high, then I might give my offer depending on how much higher it is from the price I was thinking of. If he says $100 and I'm thinking $25, then I know a deal won't happen, so I don't bother with giving my offer. If he says $40, there is room to negotiate there. If we can't agree on a price, then I ask if I pick out a bunch of cards, would he be willing to do a better deal. Most of the time they'll say yes. I will pick all of the star players in the box, leaving all the commons and semi-stars.
6. After attending the card shows a few times, you get to know which dealers are regulars and which ones are new or first time card sellers. I usually go directly to the tables of first time card sellers because I can usually get a great deal from them. This doesn't happen all the time.
If I find star cards from sets that I'm not familiar with, I throw those cards up as auction first with a starting bid at $1. If it doesn't sell the first time, then it becomes a $1 buy it now on the relist. I sometimes get cards that sell for more than what I was expecting. I came across a Skybox Soul of the Game Kobe Bryant card that sold for $38, which I bought from a 50 cent box. I didn't know this card sells for that much money. I was happy that I put the card up as an auction. Whenever you want to have the auction end is up to you. So that you know, my best sales days have been Tuesday(1st) and Thursday(2nd). Followed by Wednesday(3rd), Saturday(4th), Monday (5th), Sunday (6th but only slightly less than Monday), and Friday(7th).
8. All of the stars and hall of famer cards that I bought from card shows. I sort these cards into player lots. Example, I put all Drew Brees cards into 1 pile, Shaq cards in another pile, etc.
I would organize the player cards by the manufacturer. For example, I put all David Ortiz cards from Topps on the front of the stack. This stack would have regular Topps, Heritage, Chrome, Allen & Ginter and any other sets made by Topps. Next is Panini/Donruss cards of David Ortiz directly below the Topps stack. Next is Upper Deck/Fleer. All other sets go in the back of the stack, such as Bowman, Skybox, Leaf, etc. All doubles would need to be put together and not scattered.
If there are no card shows to attend or the show I went to doesn't have what I'm looking for. I can always go on eBay to search for card lots. I do find a lot of digital cards in the eBay search. One trick that I use to get rid of all digital cards from search is using a minus sign in front of the word digital. For example, if I'm looking for a 2020 baseball card lot, I type in "2020 baseball card lot -digital". This will remove all listings with the word digital in the title while still searching for 2020 baseball card lot. You can do this for as many words as you like as long as there is room in the search bar. Digital cards are considered intangible and are not allowed on eBay. Ebay requires all items that you are selling to be shipped when sold. Just because there are people selling digital cards on eBay right now doesn't mean that you should do the same.
When buying cards on eBay, you need to always read the entire description so that you are not scammed. An example of a scam is when it will say you are buying a photograph of the card. You aren't getting the card, but you will get a photo of the card shipped to you. The listing was just as described, but you didn't bother to read the description. Another type of scam is it could say it is a charity listing. It will say you are donating money to a person so they can afford to buy the card pictured. They will ship to you a photo of himself holding the card. Don't let these types of scams happen to you. Read the entire description. These types of scams usually happen with accounts that have a very low feedback score of 100 or less. Ebay is currently cracking down on false items, not as described cases and you could get a strike from eBay for falsely claiming an item is not as described when in fact, it is. You get a warning on the first offense. Your account gets suspended for X number of days on a 2nd offense. 3rd offense, your account is terminated on eBay.
On eBay, it's usually best to look for auctions and place a bid on them. You typically get the best deals this way. You will probably lose most of the auctions, but there are bound to be a few that get thru and sell for lower than expected. When bidding on auctions, it is better to use an odd number. Ebay has a rule that if two people place the same bid, let's say $30, for example. The first bidder automatically becomes the highest bidder over the 2nd bidder. But if you put in an odd number, bid like $30.01. You become the highest bidder by a penny. I've won many auctions due to that extra penny I put in the bid. It won't work all the time, but it does help sometimes. You place a bid that you are comfortable with paying and you are able to make money if you win. Let's say, for example, I'm willing to pay 10 cents per card on a 1000 card lot of Barry Bonds. I would put a bid of $100.01 and hope I win. I won't be putting another bid; this will be my one and only bid. This is the price I am willing to pay where I feel I can make money and I'm not spending more than that. Shill bidding can still happen. It doesn't necessarily mean that the seller participated in the shill bidding. If you lose the auction and then you get a 2nd chance offer just a few moments after you lost the auction. That could be a sign of shill bidding. I usually ignore 2nd chance offers, but if you still feel comfortable with taking the 2nd chance offer because you can make money. By all means, go ahead and accept it. If this person relisted the cards, I'd still put a bid on it once again, but this time I lower my maximum bid. Sometimes I would win these relisted auctions for less money the 2nd time around.
If you are looking for gaming card lots to buy on eBay. You need to know that these types of collections will most likely have damaged and/or fake cards mixed in. The damage/fake cards can make up anywhere from 5-10% of the entire collection. You need to adjust your bid accordingly. For example, if the card lot has 1000 cards and you are willing to pay 5 cents per card across the board. That means you are thinking $50. You deduct 10% of what price you want to pay, which gives you a bid of $45. If the person is charging for shipping, you can deduct that from your bid as well if you want. You will lose these auctions more times than winning. Bidding on multiple auctions would be best. If he has a photo of a Priority Mail box filled with cards, there is a great chance that you will get damaged cards. This is the worst way to ship cards. I've had sportscard sellers send me cards this method with 10-20% of the cards damaged.
14. Another way to buy on ebay is to search for the newest listings. Sometimes you can find underpriced buy it now listings. This doesn't happen very often. But you never know.
15. One thing I do when buying on eBay is to try not to purchase card lots from someone who has a large eBay account with 250 or more positive feedback in the last 30 days. I'm only buying from people who don't have a ton of feedback. When I try to win an auction from someone with a large eBay account, the card lot has no chance of selling for what I'm willing to pay, so I don't bother placing a bid.
16. eBay is the largest platform that has the most people buying and selling cards. There are other alternatives like Bonanza, Mercari, and TCGplayer, to name a few. These sites won't get the same traffic as eBay does. Most of these other sites don't have any insertion fees like eBay, which looks like a good thing to sellers but might not be to buyers. If there is no insertion fee, then the seller would feel no pressure to make a sale on a card that he may have overpriced. There is a good chance that this seller might have quit selling on the site months ago, but he didn't bother to delete his listings. You could end up buying a card and he never ships it out because he didn't bother to take down his listings after he quit.
17. If you have more than 1 ebay account. I use 2 different browsers for each account so I don't have to log off and on to switch accounts. I use Google Chrome for my main store and Internet Explorer for my 2nd store. Saves me a lot of time.
Always try to leave positive feedback for the seller. This could be a very important thing for both you and the seller. The importance of feedback will be discussed later in this article. If there's a problem and it's something minor, I usually don't leave any feedback at all. I think it's best not to leave any feedback than to leave neutral feedback. I have it set up where eBay automatically gives my customers positive feedback after I've received it from them. I do this to avoid giving people who want to cancel an order a free positive feedback at my expense. I've had several people cancel an order minutes after paying for it. I wouldn't feel alright if I gave this person one free positive feedback that this person didn't earn.
It's going to be an uphill climb if you don't have a high feedback score on eBay. It needs to be somewhere around 1000 or higher before you can see some success selling low dollar cards on eBay. Your feedback score is the number next to your eBay username with a star. You can increase your score by buying everything you need right on eBay. If there is a movie or whatever it may be, buy it on eBay. When my main eBay account started to explode in sales in one day when I switched to PWE shipments, this account's feedback score was already over 2000. It already had a high feedback rating and the sales came once I made the switch. My 2nd account was created in January 2018 and it didn't get consistent profitable sales until late March 2020. That 2nd account would lose a little bit of money in most months. Sometimes it'll break even and a few times, it'll make a profit. But I had my main account to help balance it out. If you are planning to do things like I am with selling low dollar cards at a high volume and you have a low feedback rating of less than 100. This is going to be at least a 2-3 year process with no way around it. Most of the work is in the beginning to start your business up. You will probably lose money or have lackluster sales in the first two years. Most people quit before they reach the goal due to them being impatient, don't know how to buy and sell cards or don't have the money to continue. But the reward could be well worth it if you stay the course, which will be discussed in the next step.
Some people may question if something like what I'm doing is profitable or not. If you're good at math, then you can calculate it and see for yourself. I get around 600-800 shipments per month. A shipment can have one or more cards. If you're not good at math, then I'll try to do it here. This is assuming you can reach my level of selling cards at a high volume on eBay. Let's say you have a premium store that costs $60 per month on a yearly subscription. You sell on average, approximately 1000 cards each month with an average selling price at $1.50. That gives you $1,500 in sales per month. Ebay takes its final value fee of 11.5%, which is $172.50. Out of those 1000 cards sold, there are about 600 transactions due to people buying more than one card. You are charged a 30 cents transaction fee for each. 600 transactions x0.30=$180. You add the eBay store fee + final value fee + transaction fees =$412.50 in total fees. Now you need to add how much you paid for those cards. Let's say you paid approximately 5 cents for each card, which brings it to $50 for 1000 cards. You add that $50 to the fee total, which brings you to $462.50. You deduct that from your sales of $1500 to give you a profit of $1037.50 each month. Now you divide that profit into the number of hours you put in each month; in my case, it's 40 hours per month. That means I would be making $25.94 per hour. If you charged for shipping, then you don't need to add that to the total. If you have free shipping on all your cards, then it needs to be added to your fees.
21. Another way to get cards is to have cards on consignment. If you have friends that trust you and you have a large ebay selling account. A selling limit of 10,000 items or higher is recommended. You can have your friends give you his cards to sell on ebay. I'm currently selling cards for two people on consignment similar to what COMC does. The difference between COMC and myself, I only take base and insert cards of $3 or less but the cards need to be organized by set and in numeric order or by player before I would take them. I'm taking 50% of the selling price and I price all of the cards myself. Because I price everything for my friend, it has a better chance of selling. He doesn't care what he gets for these cards. COMC doesn't price any cards themselves which can be a good or bad thing. If you price a card too high, it's not going to sell no matter who you have selling for you. I ship most card orders in PWE. I use tracking when the order goes over $10. COMC doesn't ship in PWE. For me, 1 shipment out of 1000 in PWE will either get lost, stolen or returned to you due to insufficient or incorrect address. Most people are honest. Your friend gets some good money out of those cards and it didn't cost you any money to get those cards. You will need to keep track of your friends card sales by taking notes on what sold. What I do is when I pull a card out for shipping, I write down how much it sold for.
22. I've come across a few card sellers who wanted to buy out my entire inventory in Pokemon cards, or vintage baseball or whatever it might be. They are doing this to get the best deal that they can get. I always say no to such people wanting to buy me out for one reason. I've already put in a lot of time and effort into the cards like sorting, scanning, pricing and all that stuff. I would make less money for the cards if I would sell it all to one person. The time I put into the cards is a factor. When I've already put a lot of time into a large batch of cards like say 25,000 cards, I'm not going to throw away all that work I've put into those cards by making a few dollars and let somebody else profit from the work that I've already put in. Time is money, and I've already put in lots of time into those cards. Once I put in the time, it's going up on ebay. Anybody that wants to buy me out will have to pay full ebay price on every card. If it were cards that I just got and I didn't put any time into yet, that's an entirely different story. They can buy those cards because it's a quick flip.
After you learn all of this it's time to get started selling on ebay.
1. Most important part before you get started. You will need to have a high selling limit on ebay. The fastest way to do this is to register as a business on ebay. Sign up for a Tax ID and/or EIN (Employer Identification Number). I have here a picture of my 2nd account after I registered as a business. You can see that the feedback score is at 0 with a selling limit of 5,000 items and $50,000. New ebay sellers usually start with a selling limit of 10 items and $500.
2. You will need somewhere around $5,000 to start out your new business. The money will be going towards equipment, shipping supplies, card supplies, cards and many other things.
Be aware that this will be a long process to get a large number of listings up and shipping a lot of cards out. You're looking at least 2-3 years just to get started if you do the work by yourself. You need to put in the effort in order for this to work. The process doesn't stop after 2-3 years. That's just to get your number of listings up. If you don't have a lot of time to put effort into selling cards, then you probably shouldn't get involved in selling cards. Usually, when I come across a new card seller who doesn't put much effort. He's going to take forever to ship the card and probably get a bunch of eBay defects, which could get his account suspended or terminated for poor performance. If it's going to take you 1-2 weeks to ship a card, then you shouldn't be a card seller on eBay. You will see little to no sales in the beginning because nobody knows if you are trustworthy or not.
4. Open an account with Ultra Pro, BCW, or Cardboard Gold and get card supplies at the lowest price possible. AN EIN or Tax ID is required. This will be one of the most important things when becoming a card seller online. In order to compete with the larger card sellers, you need to even out the playing field as much as possible. Now that you have an account with these companies for card supplies, you will need to spend at least $1,000 to get the best prices possible.
Having a lot of doubles will be key to your success with lower dollar cards. One of the advantages with low dollar cards is you can have a lot of doubles and sell that same card over and over. For example, I've sold 70 copies of the 2017 WWE Alexa Bliss for $2 each. That is $140 coming from one listing. The cards are shipped to 70 different people, so you are doing more work in shipping, but the listing stays active as long as I have doubles. Another advantage of having many doubles is that I could sell 1,000 cards but only lose 50 listings because they are now sold out. I don't have to replace those 1,000 cards sold with 1,000 new listings.
Keep your cards as organized as possible. When you sell a card on eBay, you need to know where that card is at. If it takes you longer than 60 seconds to find a card, that's not good. If it takes you that long to find one card, can you imagine how long it would take you to fulfill 500 orders? The best way is to sort cards by year, set, numeric order, or if you come up with your own idea, that is faster. It takes me around 10 seconds or less to locate one card. I have two types of organization with my cards. I have cards organized by the player for my 2nd account and cards categorized in numeric order, year and card sets for my main account. I have a picture below of some wrestling cards sorted by year, set, and numeric order as an example.
Equipment
Having the best equipment will be essential. You're looking at least $1,000-$1,500 to have the necessary equipment just to get started. If you want to get big in a short amount of time, then having the fastest scanner possible will be a big key. The fastest scanners are currently high-resolution duplex scanners, which are around $300 used or $750 new. They can scan 3,000 cards, front and back, in 60 minutes. You need the more expensive duplex scanners. The cheaper ones scan much too slow. The one that I have is the Fujitsu fi-6130z. Keep in mind this scanner won't scan real thick cards. You'll need a flatbed scanner along with this duplex scanner. You get more sales if you show the card that you are selling instead of using a generic picture for every listing.
I only need to scan 1 of each card with my duplex scanner. I keep all of the images in my computer so I can reuse it whenever I need to relist a card that was sold out a while ago. I've tried variation listings for a few sets, but sales from those listings seem to not do as well for me so I'm not doing those types of listings anymore. Plus, variation listings can't be used for gaming cards on eBay.
Next equipment, I get some plain white envelopes and I use a rubber stamp to put my address on the top left corner. I could use a printer, but the cost of printer ink is too expensive. Maybe when my sales go up to a certain number, I might use a printer.
Next, I use a thermal printer to print the customer's address. A thermal printer can print shipping labels without any ink. Ink is very expensive and could ruin your profits. A thermal printer doesn't use ink so this will save you a lot of money. Some people write the address right on the envelope, but it's a lot faster to just print an address label out as pictured below. I use a desktop computer for all of my shipping. I have both a laptop and desktop computer for my ebay business.
I actually have three thermal printers, with each doing a specific job. The 2nd one prints the labels for First-Class Package and Priority Mail, while the 3rd prints postage stamps as pictured below. I get a small discount when I print my own stamps. It is recommended for you to ship at least 500 PWE orders per month. If you don't ship that many, then this service might not be for you because it might cost you more money than save money.
You'll need a laptop computer, a tablet, or an Ipad. I take my laptop computer to go and look into all of my boxes for the cards I need. I have 18 shelves to look for cards. I've tried using the eBay app on my phone and it doesn't give me enough details like card number, full card title, or picture of the card. Plus, if I don't touch it every few seconds, it'll go dark. Some people like to print out a pull ticket to find the cards they need to pull, but that costs money to print out the labels, which I don't think is necessary.
A lot of new people might not realize how important a scale is for eBay. You need to know the exact weight of your package. If you print a shipping label with incorrect weight, this could delay your shipment and make it arrive late. You always round up the weight, you never round down. Example, if it says 2.2 ounces, then it is 3 ounces.
12. A lot of shelves will be needed for all your cards. Don't get the cheap plastic or wooden shelves. These will break over time. Just like organizing your cards, the shelves need to be organized. Have the shelves organized by sport, brand, set and year. Example, if you have a 5 tier shelf. Top shelf has baseball cards from 2010 Topps. The next shelf on bottom will be 2011 Topps. Keep doing this until you get to the bottom shelf with 2014 Topps cards. Depending on how big the shelves are, most 4 tier shelves can hold anywhere from 40,000-77,000 cards depending on what type of card storage boxes you use.
You're going to need a lot of large card boxes to store your cards and put on the shelf. They come in 1600 count, 3000, 3200, 5000, and card houses that hold 9600. You'll need to decide which box size is best for you. Try using all five and then decide which are better. I only use 1600 and 3200 count boxes because they are much easier to move around when needed and they fit on the shelves much better than the other box sizes, but that's just me. I usually don't bother with single row boxes unless I'm bringing cards with me when I'm going somewhere. Some people like to use the nine pocket pages, but most card sellers never use them as they cost too much money to purchase and don't hold very many cards. Plus, binders can damage cards if you turn the pages incorrectly.
This needs to be treated like a job because it is. You need to make a schedule where you are working on something with cards. An example of this is you can work 2-4 hours from Monday-Friday doing the work. You're looking at about 10-20 hours spent each week on buying collections, sorting, scanning, listing, and shipping. If you skip a day, you need to make up for that time. It doesn't have to be done in 5 days; you could spread it through 6 or 7 days each week, or only work during the weekends and put in 5-10 hours on both Saturday and Sunday. This will be all up to you. It doesn't have to be 10-20 hours like what I'm doing; this could be whatever you think you can manage. What I was doing was putting in 20 hours per week, putting up 200-500 new listings every week. Sometimes 1,000 new listings in a week. You need to work efficiently and fast; time is money. When I was more established as a seller with more experience, I was able to cut that time down to 8-10 hours per week. If you want to know my schedule, I ship cards out Tuesdays, Thursdays, and Saturdays. Sort and organize cards Wednesday and Friday. List cards on eBay Saturday and Sunday. Off on Monday. Buy card collections whenever possible. There have been times when I change my schedule around to try and attend a card show. Sometimes a card show could be on a Saturday. If that is the case, then I do my shipping Monday, Wednesday, and Friday. Sort cards on Tuesday and Thursday. Attend the card show and list on Saturday. Take Sunday off. Because I have a really fast scanner. I usually wait until I have a lot of new cards and then do my scanning once every 2 or 3 months.
If you plan to ship like me, using mostly PWE for all of your low dollar card sales. Then you need to know the USPS rules for such shipments. The envelope has to bend a little bit for the sorting machines, so you can't use top loaders or send thick or jersey cards this way. You can't put "Do Not Bend" on the envelope. Doing so can cause the card to be returned to you or to the customer with postage due for First-Class Package or Non-Machinable. Each post office interprets the rules differently. Using card savers or semi-rigid holders to ship is the best option. There is a limit to how thick a shipment can go; in this case the maximum is three standard cards. You can't use any cardboard cutouts or dummy cards with this type of shipment. Some post offices won't accept your PWE shipment as non-machinable if you have Do Not Bend and/or a top loader in it. I've come across two instances where the customer had to pay over $3 postage due for First Class Package. Most large eBay card sellers don't ship cards with cardboard cutouts or cardstock because it cuts into the profits or it's too much work. They know how hard it is to make a profit and will try to cut costs anywhere possible. If you are only shipping 10-50 cards in a month, that's fine. But if it was you with 500 shipments going out each week. Are you going to spend that much time making cardboard cutouts? However you ship a card out, imagine if it was you with 500 shipments going out every week. Would you still ship exactly the same as you do now? Or would you change something? How I ship a card in PWE is I put the card in a soft sleeve, card saver, and then put it in a team bag. Put it in an envelope with a stamp AND THAT IS IT. I can locate 300 cards, pack and ship them in 5 hours. You do anything extra with the shipping, it's going to take longer to do. I've worked in shipping and receiving for 20 years, with over 100,000 shipments under my belt. I picked up a lot of things from this job and used them for eBay. One of the key things I learned from this job is knowing all the rules of USPS, UPS, and FedEx.
The way I ship, I put the cards into penny sleeves and then into a card saver or top loader, depending on how valuable the card is. Pictured below is a card that I sold for $1 and I have it in a soft sleeve, card saver 2, and team bag in case the mail carrier has butterfingers and drops it in a puddle of water. This happened to my mom one time when she dropped a card in the toilet. The team bag protected it enough to prevent water from getting in.
Some people use top loaders and non-machinable stamps, which is okay for the most part. If you are competing with thousands of people for sales, people are generally going to go with the person with really high feedback and cheapest shipping. If you are charging 70 cents for a non-machinable stamp and I'm charging 55 cents. To some customers, that 15 cent savings might be important enough to choose my listing over yours. I use top loaders for the more valuable cards that are $10 or more. I've had people tell me to ship the card sandwiched between 2 pieces of cardboard when shipping in PWE, which is a no go according to the USPS rules. I ignore such requests and ship it the standard way. Customers don't know all of the USPS shipping rules and don't understand what can be done and what can't. There is a lot of false information on how to ship a card via PWE on youtube. Most of the videos are from card sellers who have been doing it for a year or less and don't have enough of a high volume to know any better. If you ever have questions, you can ask your local postmaster for more information about the shipping rules. I can fit two card savers taped together into #10 envelopes to maximize the number of cards that I can ship via PWE.
I use card saver II or semi-rigid 2 which is the smaller one more so than card saver 1. I never use card saver 1 to ship a single card. I've had a few problems with a pokemon card slipping out of the holder and getting damaged with Card Saver 1s. Gaming cards have thinner card stock than sports cards and will wiggle and move around in card saver 1s. Card Saver 2 is smaller and tighter, which can be a little more difficult to put the card in if you are a beginner. I've been using 2s for over 6 years with over 20,000 card saver 2s used. I use card saver 1s when somebody buys 3 cards. I did happen to kinda damage a vintage baseball card with a card saver 2, but this was due to the card already having multiple creases and in poor condition. The card was already damaged and I added one more crease to it. I personally don't like Cardboard Gold card saver 2 because they are smaller and I can only fit 1 card in it.
I do give my customers 3 shipping options with PWE, First Class Package and Priority Mail. I hardly ever get anybody paying for First Class Package or Priority Mail. I do believe I've only had 2 customers pay for Priority Mail and 7 choose First Class Package out of 25,000 shipments. Not a whole lot of people choosing to pay the higher shipping cost.
10. Don't be afraid to learn a new sport or about gaming cards. Gaming cards such as Magic the Gathering, Pokemon, and Yugioh shouldn't be ignored just because you don't know anything about them or you don't like them. From my experience in selling cards for the last 20 years, people that are 35 and older are mostly buying sports cards while those that are 25 and younger are mostly buying gaming cards. Those that are 26-34 are in the middle doing both sports and gaming cards or only one of them. Gaming cards is where the future is currently at right now, but that isn't where my passion is at. It's in sports cards. The best way to learn about gaming cards is to learn how to play each card game. You don't have to play with the cards, just know how the game is played. This will make it easier for you to identify cards that are good for selling.
11. One of the major reasons why I sell low dollar cards is because it can be very profitable if a common player blows up in price who used to sit in bargain bins. Some examples are Jeremy Lin rookies which went from 25 cents to $15 (he's back down to 25 cents), Stephen Curry Topps rookie jumped from $2 to $200. And lastly, Tony Romo and Tom Brady rookie cards could be bought for $1-$3 at one point many years ago. I was able to make big profits from the Jeremy Lin and Stephen Curry rookies because I had 9 of each. I purchased the cards in a large collection ($50 for 5000 cards for example) and those 18 cards ended up bringing me $1,935.
14. Do not take out a loan to buy any equipment or cards. The interest rates will kill all your profits. Only use money that is yours. If you don't have enough money to buy a collection, then you need to turn down the deal and walk away. There will be plenty of opportunities to buy cards in the future. If you don't have enough money for certain equipment or shelves, then start saving up for it.
You'll need to learn how to tell a fake card from a real card. Just because 2 of the same card has slightly different colors doesn't mean one is fake. Most card sellers use a magnifying lens to see the dot pattern on a card. I'm actually able to see the dot pattern without a lens, but if your eyes aren't as good, then get yourself some magnifying lens. Fake cards are usually high dollar cards. People don't make fake common cards. Most of the time, you can tell a card is fake due to the quality of the picture. A fake card will usually have a more fuzzy and not so clear picture. I have attached two pictures here where the grey is a little different. The card on the left, the grey on top, is a little lighter than the one on the right. A common mistake many new or uneducated collectors make is look at this and think one is real and the other is fake, but that isn't the case. Both cards are real. The same rule applies to gaming cards such as Magic the Gathering, Pokemon, and Yugioh.
What I found easiest for me is I get a common card from the same set and compare it with the card in question. I have here a 1969 Topps Mickey Mantle and I compare the picture quality with a common card from that set. The picture quality should match as it does here. Both cards are real. If it's not a match, then it is fake. For gaming cards you can always look at the back of the card which is mostly the same in every set. Fakes show up in gaming cards at a much higher rate than sports cards.
I usually throw away any fake cards that I come across. But I saved one fake card for this article. I have 2 Pokemon cards with the fake and real card marked here. You can see that the dot pattern of the wind going around the ball is not the same. On the real card, the dot pattern is all bunched up and tight while on the fake, the dot pattern is more visible to the eye than it should be. The light reflecting off the bottom white part of the ball is more visible on the real card and not so visible on the fake.
Sometimes the card will be a slightly different size or a different type of cardboard. Some fakes have a glossy finish to the card, while real cards don't have that. Sometimes the text font is different. All these things I just mentioned can be used to spot fake sports cards. You will need to have a real card from that same set to compare; it doesn't have to be the same card. I have an example picture below with the fake card in the middle having a different type of text than both of the real cards. I attached both the actual real card and a different card from the same set to show that you don't need to have the exact same card. Fake sports cards are usually high dollar cards or more expensive cards. They don't make fake common sports cards. But in gaming cards, fake cards come in all types, including commons.
I've already come across thousands of fake cards in my lifetime from new and vintage. Just because technology is better today doesn't mean people are able to copy the dot pattern. This fake card is from 2016 Pokemon Sun and Moon. When you place a bunch of real cards next to the fake card, the fake sticks out; this is why I suggest getting a common card from the same set to compare. Nobody is making a fake common card that you can get for 25 cents. Comparing two cards from the same set isn't as hard as what people may think. If you still have questions on if your card is real or fake, you can always take your card to a card shop and have them take a look at your card. I recommend seeking those that have been selling cards for over ten years. Anybody that has five years or less of experience with selling cards won't have enough knowledge in this area.
I know a lot of people would rather sell high dollar cards. High dollar cards of $100 or more are hard to come by at good prices. Even if you do come across a high dollar card like that, they are harder to sell. One of the biggest dangers with high dollar cards is your card could be targeted by a scammer/robber. It doesn't matter if you are selling online or meeting someone in person. A scammer/robber will look to steal your card by any means necessary. If you are selling it on eBay, they could claim that you sent them an empty envelope with nothing in it or they do a chargeback on their credit card as unauthorized. When selling it to somebody in person, he could try to steal the card from you when you are not looking, trick you, or take a gun out and take it from you. Theft is unavoidable in the card business. When you become a card seller, this will happen to you sooner or later. An eBay scammer will usually target new sellers or sellers with very little feedback in the last 12 months(100 or less) because they are seen as a much easier person to scam than somebody with 2,000+ feedback in the last 12 months.
17. Have a good connection with several other card sellers. You'll need to attend card shows and establish a great business relationship with some of these card sellers. You will need to keep in mind that not everybody is a good connection to have. Talk to everybody at the show and see if you can establish a business relationship with a few of them. If there are sellers from a different state, they could be more helpful to you than those that are in your state. Some card sellers will try to take advantage of your inexperience so be on the lookout for those people.
18. Some people like to make a database to keep track of what they have in stock. This will be all up to you if you choose to have a database. I don't use a database as this will add a lot more work. My inventory changes every week so it would mean I have to update my database every week. Keeping a database will double the amount of work for you. For me, I have about 2 million cards in my inventory and that inventory changes daily. It's going to take a really long time to do a database of 2 million cards. The database would be outdated within a day due to me moving cards at a high volume.
19. You're gonna need to be able to type fast and spell words accurately. There are software that can teach you to type. The last time I checked, I was at 117 words per minute back in 2003. You don't need to be as fast as me, just fast enough. Spelling is going to be one of the most important things when selling on ebay. If you misspell a word in the title, people aren't going to find your listing. I learned to type with an old program called Mavis Beacon teaches typing.
Don't open hobby boxes to get cards. This is a gamble and I'd say 90% of the time, you lose money. When you open a box of cards and list everything you pulled, you will sell approximately 25% of those cards. The best way to get cards is to buy people's large collections and piece them out. If you must open boxes to get the newer cards to sell, then I suggest opening retail boxes. When a new wrestling set comes out, I open about 3-4 retail or blaster boxes the first week the set comes out, or I buy complete master sets. When the box price comes down after 6-12 months, then I get a case or 2. Because these are retail, it's harder to get autographs. I don't care about the autos and concentrate on getting more cards for less money. A retail box usually has the same number of cards as a hobby box. If you are good at math, then you can calculate if a retail box can make you money or not. I usually pay around $10-$15 for a retail box. If a box has 24 packs and 7 cards per pack. That gives you 168 cards total. About 25% of them will sell, which is 42 cards. You sell those 42 cards for about $60, half of that money goes towards fees and the cost of the box which leaves you with $30 profit from each box. The cost of the box is $15 plus $9 in eBay and Paypal Final Value Fees, plus eBay store or insertion fee. If you pull a relic or auto in that retail box, it just makes your profit that much sweeter. The hobby box at $70, however, will usually give you 164 cards due to the relic card being thick. You sell the relic for, lets say $5 for a minor star and the auto for $10 if it's a player that not many people care about. Add that $60 and you have $75 in cards on that $70 box. After fees, you lost about $20-$30 on that box. That 25% selling rate could go up to 40% or down to 20% on certain sets. Even with it going down, I would still have room to make a profit. This tip would only apply to sets that came out during the last 4 years. For older sets that aren't considered vintage, it can go down to about 15% or less. The average selling price is around $1.50 per card with all hits included. I know 42 cards would actually be $63, but I rounded it down to $60 to make things easier. Don't sell all of the base and inserts at $1 across the board. If you do, you're making $20 less than what you should be making. If a card sells for $2 all day, then you shouldn't have it for $1. That 25% selling rate applies to all hits. Around 75% of the autos and relics might never sell.
I have pulled big hits out of retail and blaster boxes. The biggest hit I've pulled from blaster boxes is the Asuka kiss auto card, which I sold for $175. From retail boxes, I pulled a 1/1 red auto of Afa, which I sold for $60. What do I do with the cards that I can't sell? If I have a lot of doubles of a card that doesn't sell. I will include some of them in orders that are over $10 or something like that.
.
A lot of packages end up never being delivered due to cards being poorly packed. If you print any shipping labels with a regular printer instead of a thermal printer. You need to make sure that the label is properly taped on with clear packing tape. Don't use scotch tape; it's not strong enough. Use the packing tape and cover the address to protect it. If the label smears when it gets wet from rain, it's not being delivered because the mail carrier can't read the address. It can't be returned to you because your return address is smeared too. I've had a few times received cards in a bubble mailer with the return address smeared slightly, but my address was okay. I've come across a few where the shipping label was just barely hanging on because the guy used scotch tape. The shipping label has to be protected just as much as the card itself. If you ever run across a new seller, you can always ask how they are shipping the card to you and you decide if this is good enough for you or not.
22. I know some people use the Beckett price guides but the prices on these are never accurate. If you must use it as a reference, then you need to know that the high price in the Beckett is something that 99.9% of the time, you will never get. My suggestion is to use the low price which is closer to being more accurate. Beckett almost never updates the card prices for older sets and those could be off by much more even if you use the low price. I've come across many cards where Beckett says the card sells at $15 high and $8 low, but in reality it's more around $1-$2.
23. This is more of an advanced technique that some card sellers do and takes up a lot of time. I would advise against using this method if you are new to card selling. Because this method is so time consuming, you could choose the wrong player or set and lose a lot of money in the process. One of the ways to control the market is to own a majority or all of the print run of a certain card or set. I have a 2016 WWE Mandy Rose rookie auto pictured below. This is her only rookie auto and there are only 99 of them. I do believe there are parallel variations of this card like /25, /10, and 1/1.
If I went and bought, let's say 50-60 or maybe all 99 of this card. I can sell the card for as high as I want and dictate how much the card is worth. This strategy only works on certain players and/or sets. This strategy usually doesn't work on really low numbered cards like /25 or /10. It has the most impact with the higher print runs like the base rookie or base rookie auto. Some card sellers will try to own a majority of an entire print run of a certain set. This happens a lot in gaming cards. For example, 1999 base set Pikachu has a print run of around 1 million, the goal for that person is to own 500,000 or more copies of that card. Most people quit this strategy because they don't know how high the print runs are and it's taking too much time and money.
Some good practices when selling on ebay.
Most important thing about eBay. You can't use somebody else's picture or description in your listing. This can get you in legal trouble if you come across the wrong person. The person that you stole the picture from can file a VERO claim with eBay which can result in your account being suspended or terminated. It doesn't end there for some; this person can sue you for copyright infringement. Don't risk it happening to you. Use your own images.
I started listing cards on eBay using the sell similar link pictured below. It can go pretty fast if you are listing every card from one set. All you would need to do is change the card number, athlete's name, and picture.
Being top rated is something that a lot of eBay sellers look at and think that this is something you need to have in order to be successful. That isn't the case for everybody. I used to ship everything with tracking to get that top-rated discount. But sales were very bad when I did that with low dollar cards. When I didn't worry about being top-rated and shipped a majority of my cards in a PWE with no tracking, my sales went up 8x in one day. I do come across a person (about 1 in every 1,000 shipments) that says they didn't get the card. With that ratio, it wasn't much of a loss when I refunded that person his money. I keep track of all of the people who do this so if it happens a 2nd time; they get blocked. If it's somebody that has purchased many cards from me and has been mostly good. Then I give them the benefit of the doubt and not block them. Which would you want more? More sales or a 10% discount on your eBay fees? In my case back in 2012, I would've only saved $1 in eBay fees as top-rated with sales at $100, but my sales went up to $800 when I stopped worrying about that top-rated discount. Ebay charges 11.5% for those with eBay stores, assuming you have managed payments. Out of $100 in sales, eBay takes $11.50. You save 10% of that $10 and it's really $1.15 you saved.
3. If you are only selling one card, then you should only have a picture of 1 card and not multiple cards. Customers almost never read the description and will claim the picture to be misleading, making them think they are getting everything pictured.
4. If you are listing cards at $1 each, then the best offer is something that will not work. Per ebay rules, a minimum for a Buy it Now is 99 cents with free shipping. The only offer that a buyer can send to a $1 listing is 99 cents. Buyers won't be able to send any offer less than that.
5. If you are selling a card lot, know that you won't get the full value of those cards. An example, if you have 100 Peyton Manning cards that could sell for $1 each, don't expect to sell the 100 card lot for $100. You won't get anywhere close to that $100. Lots like these sell for 70%-90% less when sold as a lot as opposed to selling the cards individually.
6. When you sell a high dollar card or multiple cards for big money to one person, you need to ship the card with tracking. If it's over $750, then you need signature confirmation. Depending on how high of a price the card sells for, you will need to consider if you want to add insurance. If the card gets lost, damaged or stolen, the insurance will cover the card and you still have your money. The way I do it is when an order is over $10, I ship with tracking. If it's over $100, I add insurance.
7. You will need to have an ebay store. Decide which store size is best for you. There are currently 5 different ebay stores. The number of listings you get are assuming you have managed payments. With Starter(250 Buy it Now listings), Basic (10,350 listings), Premium (51,000), Anchor (85,000), and Enterprise (200,000). Make sure that your selling limit is high enough for the store that you want. If you signed up for the Anchor store but only have a selling limit of 250. Getting more exposure is available with the anchor or enterprise stores. Even if you do sign up for an anchor store, you'll need to learn how to get that exposure. It doesn't just come automatically. The anchor store gives you a quarterly $25 to use on promoted listings for free. Promoted listings is a fee to put your listing on the front of search pages. Since most of the cards I sell are low dollar cards, it takes me a while to use up that $25. Sometimes, I'm not able to use it all up.
8. One of the things that got me success is to do things differently than everybody else. Everybody concentrates on selling high dollar cards while I do the opposite with low dollar cards. Everybody is ripping hobby boxes to get the autographs, while I open retail and I don't care about the hits. That's just a few things that I do differently. Because I've been a buyer on ebay for so many years, I've noticed how hard it is to look for a card from the regular Topps set. With that being said, I made sure that I made it easier for my customers to find cards in my ebay store by only using the word Topps for the regular Topps set. For example, instead of putting in the title 2019 Topps Heritage, I use the title 2019 Heritage. It can be very frustrating for a customer to search thousands of listings but is unable to find the Topps card that he is looking for. Yes, it could hurt you in search but those that can find your listing will be more than happy with your effort in making things easier to find.
9. Look at your listing description from time to time and see if you need to make changes to them. If you make each listing description exactly the same with all your listings, you can do a bulk edit with find and replace. Otherwise you'll need to go in there and change each listing one by one. If you have thousands of listings like myself, that's going to take a lot of time.
There is always a way to improve your sales. This is a selling tactic that you're gonna need to learn on your own. Every card seller started at the bottom and worked his way up. If you want to be one of those people that worked his way up. Then you'll need to always aim higher. It's good to keep a record of what you did each month and year. I challenge myself to beat my sales from the previous year. Having that mentality to do better than what you did the previous year and doing something about it will help you get there. If you don't do the work, it won't happen. Just like in sports, nothing is given to you; everything is earned. 2020 is my 5th year in a row where my sales have increased from the previous year. This tells me I'm doing something right. 2015 was the lone down year since I started shipping with PWE because there wasn't a wrestler that blew up like Paige did in 2014. Alexa Bliss and Becky Lynch are in 2015 but both didn't become big stars until later.
One of the disadvantages of being a small seller back in 2012 on eBay is when you get one negative feedback, it brings your feedback % down significantly. If you are only getting 50 positive feedback in a 12 month period, one negative knocks you down to 98% positive. 2 negatives knocks you down to 96%. In the old days of eBay in 2012, if your feedback was 96% or lower, you got restricted to a smaller selling limit. A lot of older eBay accounts didn't get any selling limits and still don't have any today. I do believe selling limits became a thing around 2011. I was hit with a 2500 item limit due to one person giving me eight negatives without contacting me about any issues. It was a very flawed system. Ebay has now changed that to defects. There are currently three defects, which are a) Cases closed without seller resolution, b) you canceled for being out of stock, and c) late shipment. Late shipment isn't listed under defects in your seller dashboard, but don't let that fool you. When you get too many defects, you will either get a much smaller selling limit or get banned from selling on eBay.
12. Experience goes a long way when selling cards. This is just like anybody starting a new job. The new guy will lack experience and will make many rookie mistakes before he starts to get the hang of things. Selling cards on ebay will be no different. The one major mistake that I've seen is that most card seller's don't really know if they are making a profit or losing money. If you are able to do the math and calculate everything, then you should be able to see if you really are making money or not. Most new card sellers don't realize that they are losing money until a few years later. A lot of times a card seller doesn't calculate how much he paid in fees and/or for the card. You paid something for that card.
13. There is a maximum limit of 40 items that can be purchased at one time on ebay. A lot of new ebay sellers don't know this limit exists. If all that you are selling are $1 cards, and you have a promotion of free shipping if you spend $50 or more. Then nobody will be able to take advantage of that promotion because of the 40 item limit with the shopping cart.
14. You can't put your contact information in any ebay listing or messages. This includes email, phone number, and links to other websites. This is an ebay rule and if caught, you could face a penalty.
15. Ship cards out as quickly as possible. Ebay gives you a small window of when they expect you to ship the card. That time frame can be anywhere from 1-3 business days. If you don't ship the card out within that time frame, you could get dinged with a defect for late shipment or negative feedback. You get enough defects and your account will no longer be able to sell anything anymore.
16. Pricing is everything on ebay. If you price a card too high, it won't sell. You need to price your cards right. If one card has sold for $2-$5 on average, then pricing your card at $10 wouldn't be very wise. If you know that you have a card priced too high where it won't sell, why do you have it priced that high in the first place? I don't use the best offer because this takes too much time going back and forth. It's time that could be used to doing something else.
17. List your card with free shipping or not? This will be up to you if you want to charge for shipping or not. There are pros and cons for both. If you listed your card with free shipping, your card will have better visibility on ebay for best match searches, but then your card won't be found on google. If you charge for shipping, then your card can be found on google. There are a lot more people on google than there are on ebay. Not everybody looks up the best match on ebay, so this might not work for some. You do what works for you.
18. Decide if you want to ship worldwide or not. I do a lot of international shipping and it is better that you ship the cards yourself instead of using the Global Shipping Program. The post office sells global stamps which can be used for PWE shipments. I've had many people buy $20-$60 worth of cards from another country. That is a lot of money you're missing out on if you don't ship internationally. When I first began selling cards on ebay, 25% of all my PWE shipments were for international customers.
19. One of the few ways to increase traffic to your store is to have a lot of people following you or have you as a saved seller on ebay. Some sellers already know this, but most do not. This does give you a small boost in best match search.
20. What I've learned in my 8 years of selling on ebay. Low dollar cards have a much higher profit margin than high dollar cards. I could sell 1 card for $200 and probably make a profit of around $20-$50 on average. But if I sell 200 cards at $1 each, the profit is more around $100-$150. This has a lot to do with me being able to buy these cards for pennies and turning them into dollars. You could wait 10 years just to see one of your cards go up $1,000, but it would only take me one month to make a profit of $1,000.
21. I learned a lot during the 2008/09 recession. What I did during that 2009 recession time is I did a lot of research and what I learned is that history always repeats itself. There will be another recession maybe 10-20 years in the future. I also learned that low dollar cards will not lose their value during a recession. Low dollar cards are already at the bottom and can't go any further down. This was a major factor with me going all in with low dollar cards and ignoring everything else, especially the hits.
22. Be prepared to adapt your business strategy as time goes by and you gain a lot of experience. What worked last year, might not work today. I'm already changing my selling strategies by picking up more higher end cards because I can afford to do it now. All that money that I've made with lower end cards has given me the income to go out and get higher end cards every now and then. Just like Brad Pitt says in Moneyball, adapt or die.
HOT HOLIDAY CARDS ON EBAY
Google trends is telling me that gaming cards have overtaken sports cards in popularity. Will the trends stay the same 5 years from now or will it change? What I know is some senior citizens don't use computers which can have an impact on the trends for sports cards. Will the sports card trend continue on it's path? Will it go up or down in 2025? What about 2030?
From looking at the trends from 2004 to present day, what used to be at the top is no longer at the top. The trends have changed from 2004 to the present day.
2004 trends
1. Magic the Gathering
2. Yugioh
3. Baseball
4. Pokemon
5. Football & soccer
6. Basketball
2020 trends last 12 month average
1. Pokemon
2. Baseball
3. Magic the gathering
4. Yu-Gi-Oh
5. Football & soccer
6. Basketball
I had to use the term cards or else it wouldn't work due to there being so many anime, video games, etc that could fall into the name. I didn't use the term cards for Magic the Gathering. I don't think Magic has anything but the card game. I know the term football can be used for soccer in other countries sometimes; keep that in mind. American football is a term that isn't used very often. The trends are telling me that Magic and Yugioh occupied the top 2 spots but have seen a decline. Will this decline continue? Baseball saw a slight decline but has come back up in recent years but is still down from what it used to be in 2004. Pokemon used to be neck and neck with football & soccer before trending up. The trend charts I put up aren't meant to be a competition between gaming cards and sports cards. But to help people see what has been trending up and down. If Magic continues its current path, it could fall even further down in the rankings. Yugioh has been pretty stable for several years.
23. Ebay and Paypal currently will send a report for most states of what you've sold to the IRS but only if you sell over 200 items and $20,000 in a calendar year. If you fall under this threshold, it doesn't get reported. Whether you report this income yourself or not, that is up to you. If you already signed up for a tax ID, then they already know you are making some sort of income. What I usually do is I spend all of the money that I've made from selling cards by putting it back into the business so there is no income to report. This helps me expand my business to new heights. The expenses can be anything from gasoline, utility bills, dining out for lunch/dinner or whatever. You can treat yourself to that $50 steak dinner, or bring a date or employee and it's $100. As long as you keep all of your receipts to prove that you didn't make any income from selling cards, you should be okay. When you're selling cards at a level that you are comfortable with, you can cut down on the spending and see the money coming in.
24. Condition means a lot with cards. When selling raw cards, most high volume card sellers never state that a card is mint condition on ebay. It is usually best to say that the card is near mint with minor flaws being possible. A lot of raw cards get returned due to the description saying a card is mint when it is really near mint and ungradable. If you state the card is near mint or not perfect, this could help defer those buyers looking for a perfect card from you. There is less hassle over conditions if you state the card you have isn't perfect. The card could look perfect to you, but may not be perfect in your customer's view.
One of the most commonly asked questions going around today is when to sell a card. And how to price the card. When I buy a single card, I throw the card up on eBay as soon as I get it. I mark it up about 30%-35% from what I paid. For example, I bought a Nikki Bella kiss card for $100 and listed it for $130-$135. I don't take any offers; whatever I have it priced at is the best I can do. I know that if I mark it up any higher, it won't have a chance of selling. Sometimes I hold the card for a little bit longer before listing it because I know it is going to go up sooner or later, for instance, the 2014 Topps WWE Paige card, which went from $1 to $8. I knew this card was going to go up due to nobody watching NXT except for die-hard wrestling fans.
For most card listings I have on eBay, I only have a quantity of 1 up for sale, but I actually may have 20-300 copies. When one card sells, I check to see if I have another. If yes, I relist the card. Some people call this a circuit breaker, which is put in place just in case a card might see a spike in price. Let's say I have 20 cards of the 2014 Topps WWE Paige. The card starts out at $1 during release, but the card would see a jump in price to $8 just a few months later. If I had the card up on eBay with a quantity of 20, somebody is going to go in there and wipe me out buying all that I have. Because I only had a quantity of 1 listed, I can adjust the price on the remaining 19 to the correct market price.
Do not be lazy. However you are doing your listings, the easier way to do things could end up losing you sales. Ebay introduced variation listings sometime in 2016 where you can put up to 250 different cards into 1 listing. I have some of these types of listings on eBay. I have not seen much sales from this. You are saving on fees, but you could be losing out on sales. Not everybody knows how to buy cards from these variation listings. The customer might be looking for a specific player and he's not going to scroll down 250 variations to look for the card he wants, especially if he doesn't know the card number. I sold 500 cards from the 2019 WWE Women's Division in just three days, over 2,000 cards were sold from this one set. I have not found any competitor's variation listings that have equaled or come close to my sales. Plus, there is always the chance that eBay could decide to get rid of the variation listing at any time. Ebay has already increased the number of listings each store gets when enrolled in managed payments; why use variation listings? If you have only a picture of the front but not the back, this could decrease your sales. If you use variation listings but only use a generic image for all 250 cards, this could hurt your sales. People want to see what the card looks like.
My plans going forward
I've had knee issues ever since I injured it playing basketball. I pretty much know that I won't be able to do my regular day job forever. How much longer I continue doing my job will all be determined if I can find another woman in my life. I will continue to bring my listings up as much as possible to get a legitimate 2nd income. I can train her to work on cards and she can take control of the business if she wishes to go that route. It will be up to her to try to build up the business where it's making enough income for both of us. I know this will take many years (about 6-10 years) of work to do this. If I can't find another woman in my life, the number of years goes down and I only need the business to make enough for myself.
I'm also planning to start selling card supplies on eBay and maybe get back to doing card shows once again. I haven't done a card show in 10 years. I'm also planning to expand into other categories such as Lego sets, action figures, manga comic books and DVDs/Blu-Rays, to name a few. I already have a large inventory in these categories; I just haven't listed them on eBay. I know some people think that physical media such as DVDs and Blu-rays are going extinct, but I don't think so myself. I've been able to purchase brand new DVDs and Blu-ray movies for far less money than the digital version. Some of these would include a digital copy. If the movie isn't very good, I can get rid of the DVD/Blu Ray by selling it or give it away to a friend. I can't do that with a digital movie. Plus, if you have a terrible internet connection or no internet, you can't watch that digital movie. This is just my opinion on the topic.
I'm planning to raise my listings up to 85,000 on both ebay accounts. This is going to take a long while for me to get there.
Conclusion
There are a lot of ways to make money with cards. People just need to learn how to do it correctly. Not everybody cares about making money with cards. If you don't succeed at first, try again and never give up. Even during my darkest times, I didn't give up and I did find success eventually. I'm very thankful to The Man above for guiding me to this success. He watches over all of us and knows everything that we do. Perhaps you don't care about what He sees from you. What about any of your parents, grandparents, friends, or anybody from your family tree that has passed away. They are all watching you from above. It is up to you to make them proud of you. Whatever happens to me during the pandemic, I leave you with this message. Take care of others the way that you want to be treated. I'm walking away from making articles, but you can always find me on eBay and Facebook at
Main eBay store https://www.ebay.com/usr/karmy2005
2nd eBay store https://www.ebay.com/usr/karmy2018
Facebook page https://www.facebook.com/sportslegend/
An excellent article that is filled with tips and tricks if you want to sell on eBay. As many of us know, it's not overly complicated, but you definitely need to know and understand things like shipping, packaging and listings. If you have any useful tips that you have learned regarding eBay, the community would love to hear from you!
Ready to take your sports card investing to the next level? Join our Membership Program now for card picks, analytics, premium community access and much more!