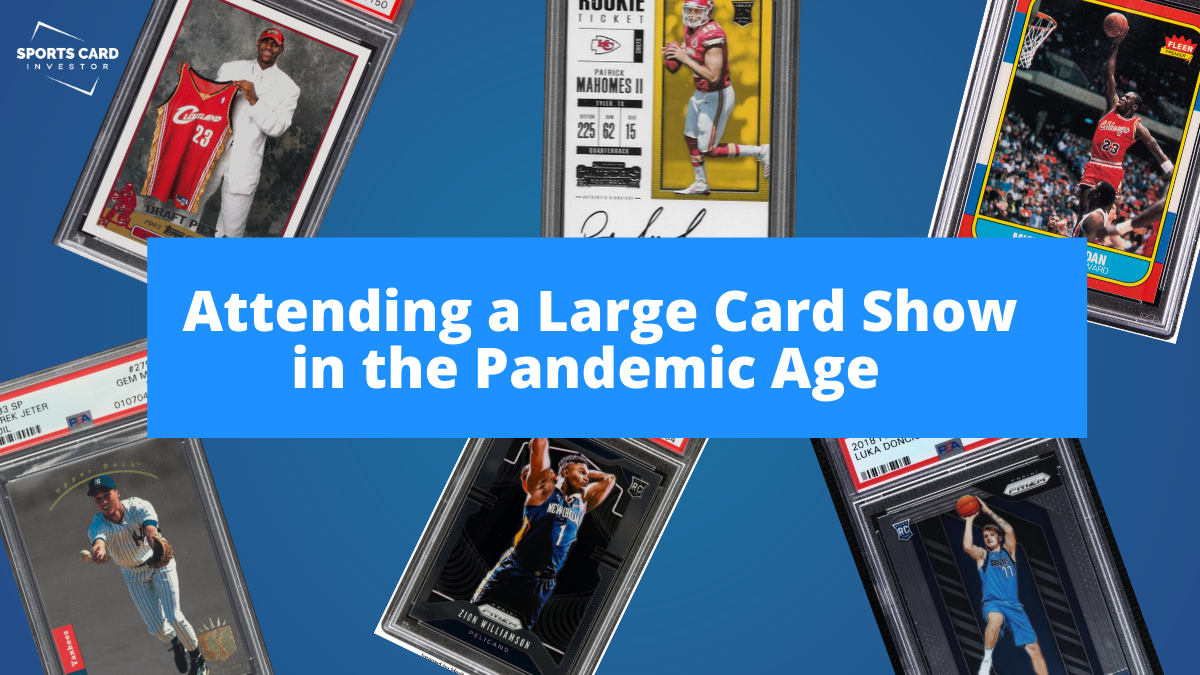 This guest post came through our Article Submission Program. Thoughts and opinions are those of the author.
Introduction
I arrived at the Dulles Expo Center, a 30-minute drive from Washington, D.C., at 9 a.m. sharp. Despite the steady rain and the chilly autumn air, I was expecting a very long line on October 25, the final day of the Chantilly Show. The show is, after all, one of the largest on the East Coast. 
Instead, there were only about a dozen people, each person standing six feet apart, waiting for the doors to open. Throughout the day, a steady stream of people — like dads with their children — strolled the spacious convention hall seeking cards, autographs and jerseys. Attendees from as far as New York made the trip, a state where large gatherings are largely prohibited due to the virus.   
The show was a welcomed event for those of us who collect and invest in sports cards. Many people I know have been craving to attend a show in person for months. Dealers from as far west as Washington State and as far south as Florida stood at their tables as people streamed in. In all, most of the dealers said they had a great show.
Sports card shows — like all public events that draw large crowds — have become a casualty of the pandemic. Card shows across the country have been canceled this year, most notably the National Sports Collectors Convention. Organizers of the three-day Fall Chantilly Show, one of the hobby's larger get-togethers, went ahead with their plans with limited capacity, social distancing rules and a requirement that everyone wear masks after Virginia gave them the green light. Some people also wore gloves for extra protection.
The show was a glimpse into what card shows across North American could look like in the foreseeable future. While cases of COVID-19 have increased in some parts of the country, the Chantilly Show was proof that a large-scale card and memorabilia show could be held safely and with reduced risk of infection. It's also true that the large crowds that usually attend these types of shows weren't there — especially older people — for fear of contracting coronavirus.
Nonetheless, CSA Shows, the event organizers, were able to successfully bring together 125 vendors and thousands of collectors spread out over three days. Virginia's limit on public gatherings had forced organizers to cancel both their April and July shows.
State officials allowed CSA Shows to hold their October event, but with a strict 1,000-person limit. That capacity included dealers, attendees, staff and cleaning crews. Social distancing was strictly enforced between booths, something that was helped by increased aisle space and no autograph sessions. There was plenty to see at the 300-table show, including plenty of vintage cards, junk wax era and newer stuff. Aside from dealers, the show attracted some big players in the hobby, such as Heritage Auctions, Beckett Authentication and Steel City Collectables.
With the hobby booming, the ability to purchase cards in person and chatting with dealers and collectors was a welcome return. The hobby has exploded again — thanks largely to eBay and other online platforms — but nothing beats a card show.
The show itself had something for everyone. There were plenty of baseball, basketball and football cards, along with some overpriced retail blaster boxes of various 2020 releases that have been hard to find at your local Walmart or Target like Topps Fire and newly-released MLB factory sets (with bonus cards) that everyone has been talking about lately.
For me, card shows are a great place to pick up high-value singles for my collection. Retail wax is indeed hard to find at big box stores, but the truth is you should be shopping at your local card shop for hobby boxes and packs. Shows, on the other hand, are where I come with a wish-list and a budget. I also make it a point to visit a multi-day show on its final day since dealers are more prone to make a deal — especially when it comes to unopened wax boxes and collated sets — since they don't want to load those heavy items back into their cars.
I primarily collect baseball, hockey and soccer. Baseball cards aren't too difficult to find at shows, but hockey and soccer often are. There were a few dealers in Chantilly who exclusively had hockey, but most had a great mix of everything. I generally like to buy graded versions of cards I need (a rule I use when purchasing online), but do go the raw route if I can spot a good deal, or that's all I can find.
Popular cards at most tables were Randy Azorena's Topps Series 1 rookie released earlier this year. His postseason exploits with the Tampa Bay Rays have catapulted his card from the commons bin to the glass showcase. The base version was selling for $30 raw. There weren't any graded versions at the show, but expect those to flood into the market in the coming months once they get into circulation from PSA and BGS.
Above all, the great thing about shows is talking to dealers and other collectors about what they're buying and selling, the state of the hobby and speculating on who will be the next big player to collect. A lot of those conversations take place around the dollar and quarter boxes where people look for deals or to complete sets.
Here's a look at what I picked up: 
Michael Jordan's galore
ESPN's "The Last Dance" brought attention to former Chicago Bulls superstar Michael Jordan. As a result, his 1986 Fleer rookie card skyrocketed in value over the summer. Several dealers at the Chantilly Show were selling PSA 9 versions of the card for $5,000, an amount out of reach of most people. One dealer said he sold a Jordan rookie that had made doing the show worth it.
That doesn't mean other Jordan cards, much cheaper ones, aren't out there. I picked up six raw Jordan cards from the 1990s — the years he was most successful — for just 50 cents each. These cards are fun and something a Jordan collector needs for their portfolio. Never really noticed how many of Jordan's cards over the years feature him doing nothing but dunking a ball.
The option of grading them — in the hopes of getting a 10 — and potentially selling them even for just a few more bucks also exists. If anything, they're fun to look at and reminisce about a time when Jordan dominated the NBA like no other player in league history.
Mike Trout's other rookie card
Overall, the prices at the show were high and there was little room to negotiate. The card boom on eBay over the past few months hasn't helped. That means you have to be smarter about where you spend your money.
That takes me to my next purchase. If Jordan is the greatest basketball player ever, then Mike Trout is the best baseball player currently playing. The Anaheim Angels outfielder has seen his 2012 Topps base rookie soar in price over the past decade.
I got my hands on a PSA 9 version of that card a few years back on eBay. However, missing from my card portfolio is Trout's Heritage version based on the 1963 Topps design. The Heritage rookie — along with his Panini Prizm — has seen steady increases over the past year. I was able to get a raw version, with sharp corners, for $100. The dealer was selling it for $150.
Obscure '80s sets
I grew up during the 1980s and cards from that era remind me of my childhood and when I first started buying cards. One last purchase on my way out the door was at a table selling 33-card rookie sets put out from 1987 to 1991 by Topps in conjunction with Toys "R" Us.
I bought the 1988 version — featuring Mark Maguire and Fred McGriff — for just $1.50. Both those cards could easily be graded and flipped for a profit given the low pop report. Unlike most products from this time, these cards generally have great centering and wonderful photography.
McGriff could even end up in the Hall of Fame, so gobbling up his cards now is a smart move ahead of 2021. While the cards were produced during the junk wax era, these sets could really help fuel your collection — especially if in mint condition.
Card shows are the lifeblood of the hobby. Here's hoping for more of them in all our futures.
A great glimpse into how many card shows will operate over the next few months. The card shows should slowly be coming back to each state and we would love to hear how you prep for a show. What do you come with to get the most out of each show.
Ready to take your sports card investing to the next level? Join our Membership Program now for card picks, analytics, premium community access and much more!