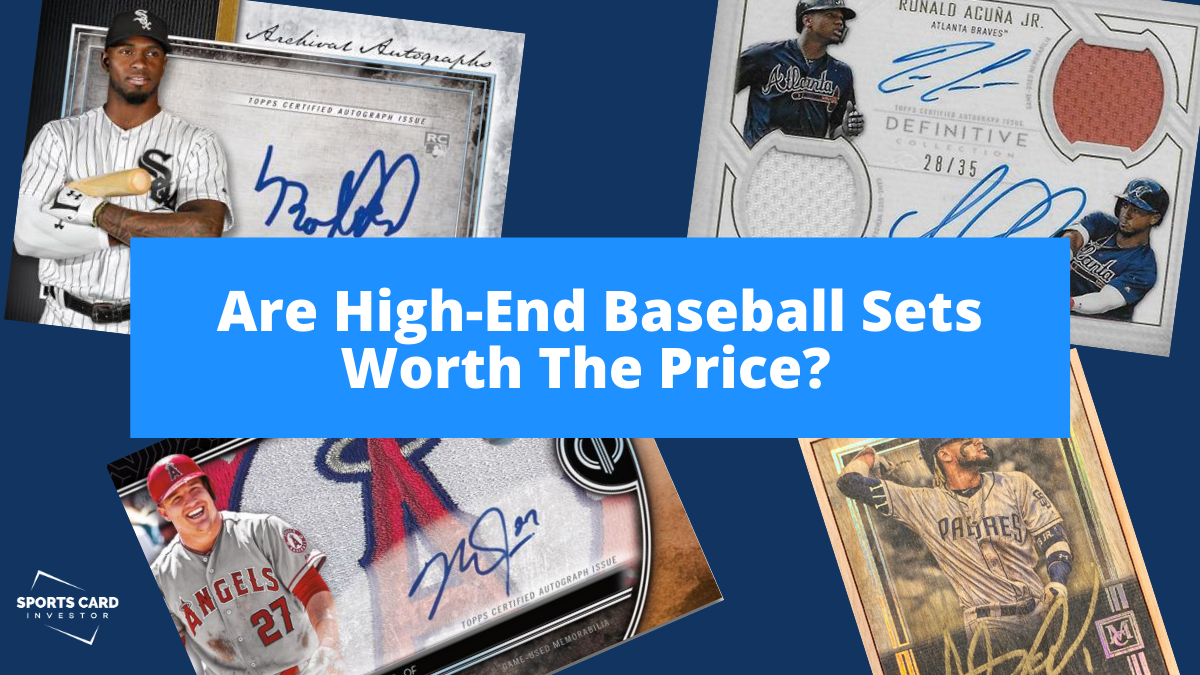 This guest post came through our Article Submission Program. Thoughts and opinions are those of the author.
Introduction
Baseball is back! While the pandemic-shortened season finally started up earlier this summer despite the ongoing pandemic, baseball card shows have been few and far between. With most states banning large indoor gatherings, the ability to buy cards from dealers and get autographs from your favorite retired players has — for now — been put on hold. With the internet loaded with bogus autographs, these cards give investors security when making such purchases. Even snagging a signature at the ballpark is out of the question since games feature no fans for the foreseeable future.
For those who like autographed cards, the only real alternative in the COVID-19 era is through the purchase of high-end baseball sets. There have been plenty of products to keep collectors and investors busy this year in addition to Topps Series 1 and the recently-released (and underwhelming with the exception of Luis Robert's rookie card) Series 2.
Over the past few months, Topps has rolled out several high-end card sets — ones that retail for hundreds, even thousands per box — loaded with autographs and limited-number cards. It is these individual autos that can go for lots of money on the secondary market. As Americans continue to spend their stimulus checks in an effort to pump money back into the economy, some are opting to buy boxes of this stuff in lieu of autograph signings. Others use these pulls to make a profit on eBay and other secondary market websites.
Topps Archives Signature Series: Retired Player Edition has been one of the best-selling releases of the summer. Another Topps release, Clearly Authentic, is similar to Archives in that it contains just one autographed card. It, too, has been selling very well. These cards have kept investors busy, especially since the Topps flagship releases have been anemic due to MLB being put on hiatus throughout the spring.
These releases, however, are akin to buying a lottery ticket. The return on investment is a huge gamble. While fans who buy Archives dream of pulling a Hank Aaron or Sandy Koufax auto, the checklist also features guys like Gorman Thomas and Mo Vaughn. These autographed cards sell for much lower individually than the $50 to $70 range most boxes go for at your local card shop.
To up your odds of scoring a hit with Topps Archives, buying a case may be a better way to go, although it can get expensive. Another way is to get into a break and try your luck there. Nonetheless, one way to up your odds is to buy hobby boxes that feature both base cards and autographs.
With so many releases out there, here are five sets — ranging in price from a few hundred dollars to ridiculous amounts like $20,000 — out already this year that are worth a closer look.     
Topps Tribute
This set became a favorite during the spring COVID-19 lockdown as investors gobbled up boxes for a chance to score a big name auto or flip low numbered cards on eBay. Either way, hobby boxes (which range in price from $300 to $500) was the first high-end release of the year. The 90-card base set features a mix of current stars and Hall of Famers. Each hobby box contains three autos and three relics.
The set features a 10-card rookie subset that are rare — just two per case — as well as numbered parallels. Also fun to pull are Franchise Best Autographs (#/99) that were case hits. In addition, investors soon discovered there was an unannounced buyback in the form of "Tribute to the T-206 Series" cards. These are T206 originals that are stamped 1-of-1 on the border similar in style to Allen & Ginter.
Is it worth it? For sure. Lots of great pulls can be had for a relatively affordable price.
Topps Transcendent Collection: Hall of Fame Edition
At a cost of $20,000 for one box, this product usually comes out at the end of the year but pushed up to April this year. Limited to just 50 boxes, each box contains 43 autographs and an invitation to a VIP party.
Transcendent has existed for a few years, but this year's release features somes of the best all-time players in MLB history. The checklist includes Yankee legends Babe Ruth and Lou Gehrig, along with Rod Carew, Nolan Ryan and Mariano Rivera.
There is an interesting subset featuring legendary pitcher Sandy Koufax "Through the Years Autographs." The checklist features 50 cards, each one numbered 1/1. In addition, sketch cards, oversized cards featuring cut signatures (both numbered 1/1) and a PSA-graded card can also be found in this set.
Is it worth it? This box isn't for everyone. Unless you have the cash to burn, this set may be the most inaccessible Topps product of the year.
Topps Definitive Collection
Like Transcendent, Topps Definitive is loaded with great autograph cards but much cheaper. Nonetheless, a vox will set you back $1,000. For that, you get six autographs and two relics.
Each card is numbered to 50. Some cards in the set feature a metal frames (#/30) and the checklist has both Hall of Famers and rookies. Particularly striking are the dual auto cards that are part of a 38-card subset (#/35 or less) that include a Ken Griffey Jr./Mike Trout card.
Like the 2019 edition, this set features an array of superstars (rookies from 2020 and legends) as potential pulls. There are purple parallels (#/10 or less) and red (1/1). One of the most interesting cards in this set is the 28-card subset of autograph patch books that are 1/1. The checklist features such stars like Juan Soto and Fernando Tatis Jr.
Is it worth it? Return on investment here is tough given the price and number of cards in a box.
Topps Sterling Baseball
As the summer progresses, so too do the releases increase. Like Definitive Collection, a box will run you about $1,000. It should be noted that Sterling Baseball makes its return this summer following a 10-year absence.
Sterling is a fun product and each box comes with two mini-boxes containing a card each. The cards are on-card signature relics and each pack features a theme like "2020 Rookies" or "Stat Leaders." The checklist features up-and-coming stars like Aristedes Aquino and Bo Bichette as well as past stars like Don Mattingly and Mark McGwire.
The set also includes jumbo patches (with autos, of course) and a 19-card dual autograph subset that features some wonderful possible pulls such as Ronald Acuna Jr. and Hank Aaron and Shohei Otani and Ichiro. These cards are #/10. Parallels in the form of red (#/5) and silver (1/1).
There is also an 11-card triple auto subset that has similar parallels. Cut signatures go the extra mile in this set and include both balplayers and legendary figures with no baseball connection like actor Carey Grant and former President Bill Clinton. These cards are rare and all 1/1s.
Is it worth it? Like Definitive, a potential return on investment is difficult with this one given the price and the low amount of cards you get in each box.
Topps Museum Collection
Retailing for $250, the Topps Museum Collection is the newest high-end release of the season, giving investors a shot at pulling some terrific cards. Each box gets you two autos and two relics and features a 100-card base set. Like Topps Tribute, a hobby box is doable and the risk/reward of getting a great card is high.
The base set includes 100 cards and emerald 1/1 parallels. The set also includes oversized swatches (#/15 or less) and jumbo patch autobiography books (#/5). The rarest auto-relic hits — the ones investors want to get their hands on — include "Museum Framed Autograph Patch" (1/1) and Museum Framed Dual Autograph Patch Book cards, also 1/1.
Like other sets mentioned here, there are dual (#/15 or less) and triple autos (#/5) that include big names like current superstars Mike Trout and Aaron Judge and Hall of Famers like Andre Dawson and Tom Glavine.
Is it worth it? Like Tribute, grabbing a box of this stuff makes for a fun break, but also gives you a shot at some great cards.
A very in-depth look at some costly sets that could bring huge returns could also not reach your expectations. Take time to do your research, but articles like this are great resources for making tough decisions in the card game. If you would like to add anything or have insight on another high-dollar set, we would love to hear your thoughts and comments!
Ready to take your sports card investing to the next level? Join our Membership Program now for card picks, analytics, premium community access and much more!