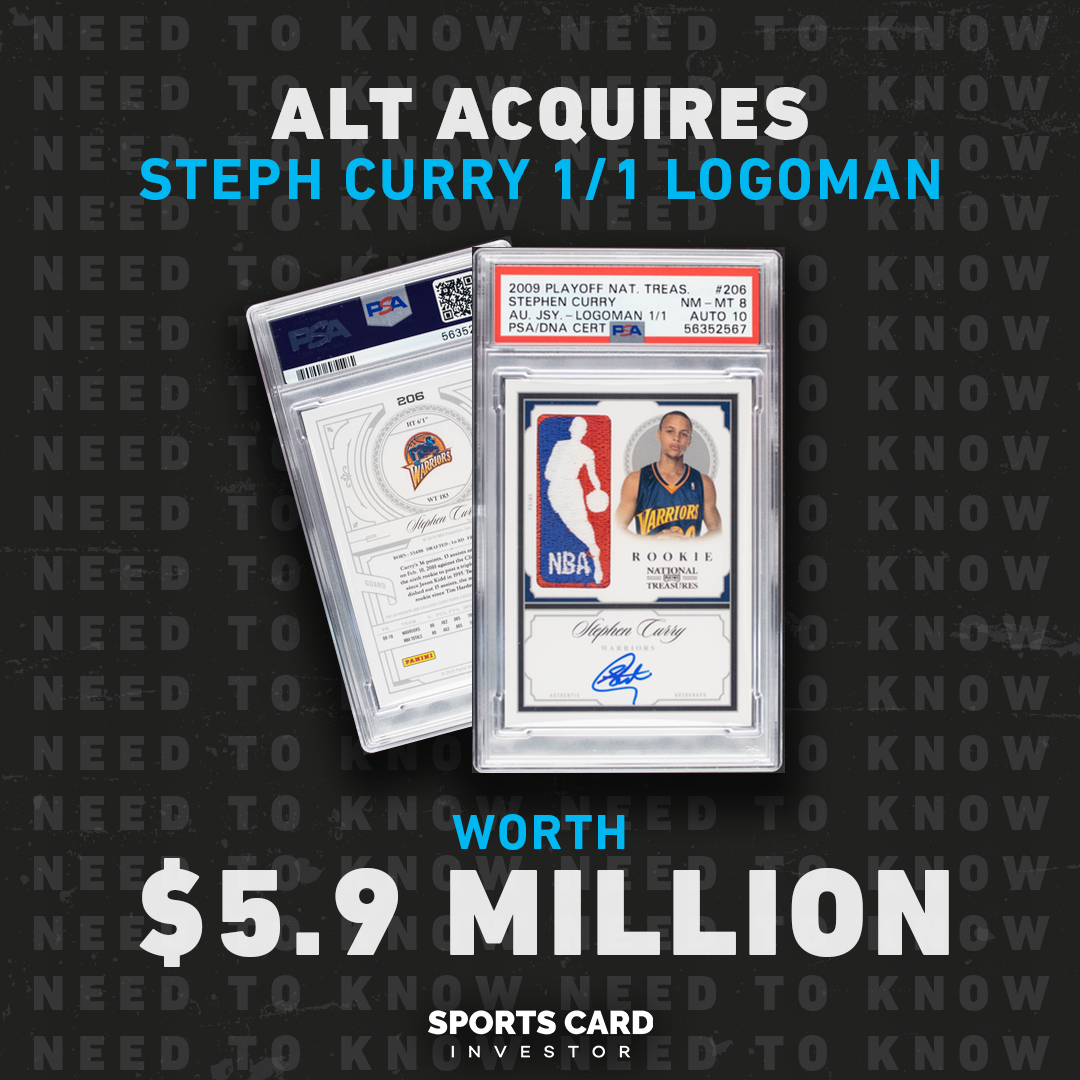 Trading card-focused alternative asset platform Alt announced Tuesday that an investment fund managed by the company has acquired the majority ownership of a historic 2009 National Treasures Stephen Curry Rookie Logoman 1/1.
Graded a PSA 8 with a 10 autograph, Alt says it has purchased 51% of the Curry Logoman at a valuation of $5.9 million.
Alt confirmed to Sports Card Investor that the other 49% of the card is owned by a private collector who asked to remain anonymous.
The $5.9 million valuation is the highest ever for a modern card, and tops the confirmed sale of a 2003 Exquisite LeBron James RPA for $5.2 million earlier this year.
"Steph is a generational player. Our data shows that Steph's cards have increased 35% in value YTD – compare that to the S&P and you can see the outsized return potential," Alt founder Leore Avidar said in a statement. "We believe this card's upside is tremendous and represents the best of the best of the entire sports card market. We're anchoring Alt Fund II to this purchase and have built a thesis with this asset at its core."
Built around its Exchange and Vault, Alt's platform attempts to bring the liquidity of publicly-traded stocks to cards by allowing users to quickly buy, sell, or store them.
Alt announced that the Curry card will be the foundation of Alt Fund II, the second of Alt's investment funds which target and invest in high-end cards. According to The Action Network, the Alt Funds are highly-selective and for accredited investors only.
Alt says the Curry Logoman will be stored in its Vault along with over 10,000 cards from customers worth over $50 million.
The Curry purchase makes Alt the latest alternative asset platform to make news with a historic card in recent months.
Sports memorabilia investment platform Collectable announced in June that it would IPO shares of a 1914 Babe Ruth Pre-Rookie card with a $6 million valuation.
Collectable reported that the card had been recently sold to an anonymous buyer for a record amount, but didn't disclose the exact number.
Track your collection and maximize your profit with Market Movers, the hobby's most powerful sports card pricing platform! Learn more here.