At 6'7," 282 pounds, Aaron Judge is quite the physical presence. But as the centerpiece of a New York Yankees lineup that's intended to be potent every season, you need broad shoulders to help carry the offensive load. Since a 2017 campaign when he smashed a then-rookie record 52 home runs, that's exactly what Judge has done. The Yankees outfielder went on to smash 100 dingers in just 371 games, making him the fourth-fastest in MLB history to hit the mark. And at the rate he's swinging the bat, Yanks fans (and card collectors) won't be waiting too long for the 200- and 300-HR marks to be eclipsed.
Judge has dozens of rookie cards from across the 2017 season, so use the Sports Card Investor guide to see which ones we think you should focus on. Cards are broken down into tiers, ranging from the most affordable and more popular options to the most unique, expensive and rare.
VALUE ROOKIES:
The Value Tier Includes cards with high print runs or lower-quality cardstock. A good fit for new collectors or those on a limited budget.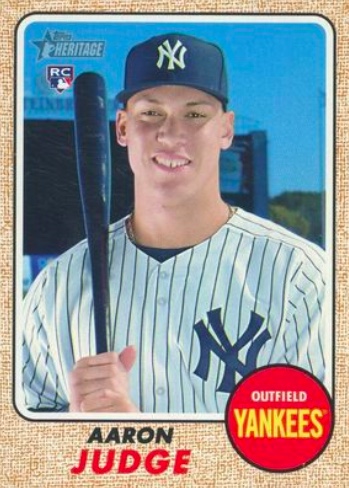 Topps Heritage #214: We know the Heritage design is a nod to '68 Topps, but there's even something about Judge's picture that screams vintage. Might be the timeless Yankees hat. Could be the bat resting on his shoulder. Either way, this card will likely stand the test of time.
Allen & Ginter #172: The brand known for its artistic approach keeps things pretty simple here with this Judge portfolio. Spice things up with one of the many A&G variations, including cool minis.
Bowman #32: Though this Bowman RC never caused much market fuss, it is one of the better shots of Judge preparing to take a swing at the plate. PSA 10s do fetch around $100, though.
POPULAR ROOKIES:
This tier includes cards from the most popular sets across both retail and hobby formats. Typically easy to buy or sell when needed.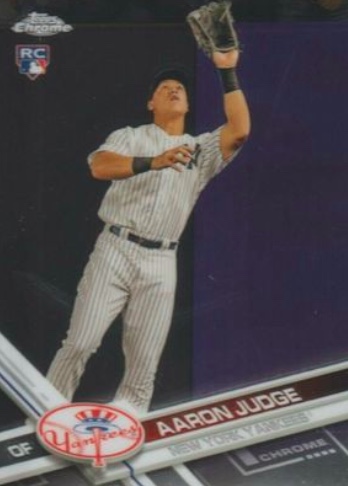 Topps Chrome #169: One of the most frequently graded Judge cards (nearly 4,000 PSA 10s), this image of the Yankees outfielder making a grab at the wall is the one etched in most minds. The basic chrome is fine, but the Pink and Prism refractors are the attractive parallels with value.
Donruss Optic #38: While this card and the Donruss version share the same image, this one stands out with its chromium finish. Black (/25) and Gold (/10) parallels are the Optic chases, but the Aqua (/299) isn't a bad second prize.
Topps Stadium Club #64: Renowned for its pristine photos, Stadium Club doesn't miss with this opportunity to show a focused Judge during the singing of the national anthem at Yankees Stadium.
MORE UNIQUE ROOKIES:
This tier Includes cards with lower print runs, unique designs, or cards from hobby-only products. Usually higher-quality cards than the Value or Popular Tiers, though not necessarily more popular or easier to buy or sell.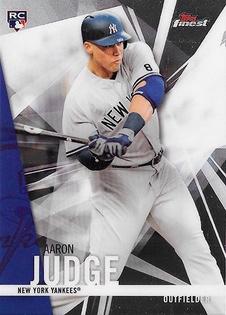 Finest #2: One of the more underrated lines, Finest generally delivers with funky, shape-filled backdrops on quality glossed cardstock. This one is enhanced even further by a great shot of Judge taking a hack.
Museum Collection #95: With a roster of on-card autos and serialed rarities, Museum Collection is one of the savvy collector's favorite products. Judge's Sapphires (/150) and Amethyst (/99) are the home runs in this set.
Bowman's Best #1: Arguably the most exciting Bowman set of '17, Bowman's Best is a higher-quality card that still manages to sneak under many collectors' radars. A cool, glossy card with a jazzy design, this Judge RC stands out even more with Purple (/250) and Blue (/150) refractors.
RAREST AND MOST EXCLUSIVE:
We won't spend much time here because this category is likely out of reach for most collectors due to price, but they are still fun to look at.
Sets like Flawless, National Treasures and Dynasty typically feature visually stunning designs and low-numbered cards.
This is also where you'll find the most impressive patches paired with high-quality, on-card autographs. Don't worry if this tier is too pricey as there's a host of options in other categories that could be perfect for your collection.
Track your collection and maximize your profit with Market Movers, the hobby's most powerful sports card pricing platform! Learn more here.
Note to readers: If you purchase something through one of our affiliates we may earn a commission.