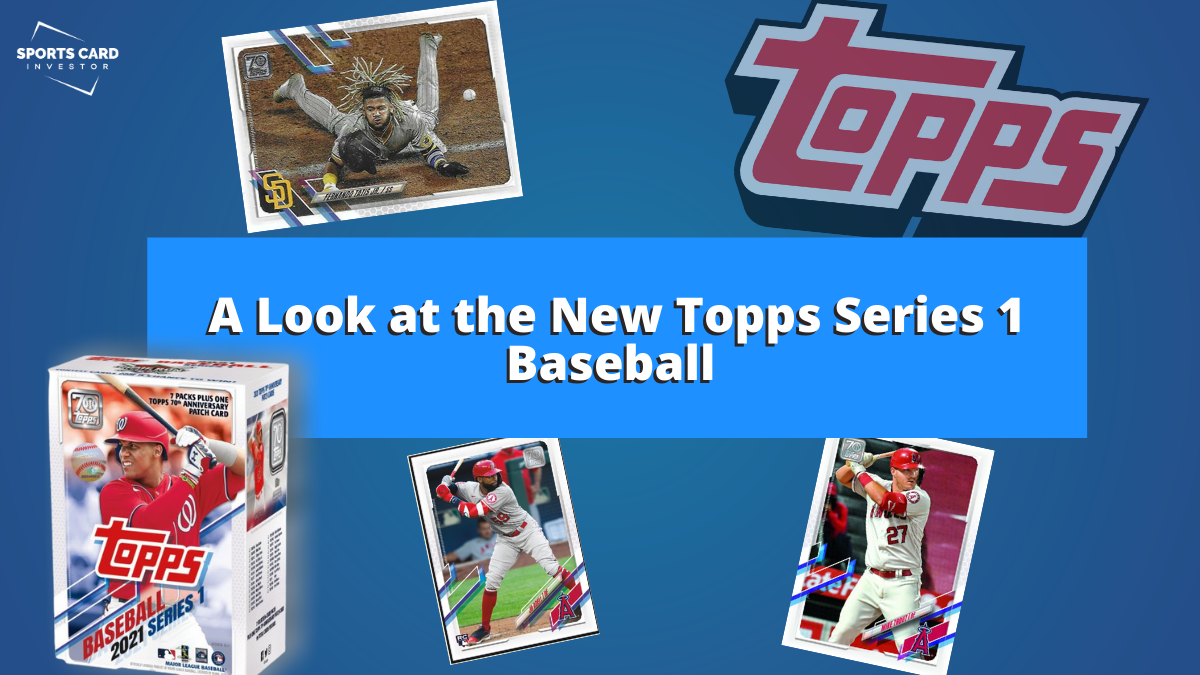 This guest post came through our Article Submission Program. Thoughts and opinions are those of the author.
Introduction
The 70th-anniversary installment of the Topps Baseball flagship series is out. The set is traditionally one of the most-anticipated releases of the year for Topps. Not only does it mark the unofficial start of the baseball season (Opening Day is set for April 1, although pitchers and catchers report to spring training this month), but it's also a chance for collectors and investors to start speculating on rookies and chasing numbered parallels and inserts.
The 330-card Series 1 set this year is smaller than past sets – 20 cards less than 2020 Series 1 – but it packs in the rookies (50 in all) after many of them were held over from last year's shortened, pandemic-plagued season.
The set also features lots of nostalgia – not unusual given that it's an anniversary set – and again allows for the pulling of great autographs and relics. Many are investing in the wax version of this product, as evidenced by the popularity in pre-sale numbers of hobby boxes over the past few weeks.
I have made it a habit of buying a jumbo box on the day Series 1 is released. It is more expensive ($250 versus $130 for a hobby box), but there are more chances at hits and makes it easier to complete the base set.
That's not to say I don't like to break hobby boxes, but those are often better left unopened since they tend to rise in value over the course of the season and beyond. In other words, the jumbo box pulls are for my collection (and duplicates and parallels for trading), while the hobby version can be flipped sometime later on eBay. Blaster boxes, hangers and tins (already available at Target and Walmart) are products I plan to buy over the course of the year.
San Diego Padres shortstop Fernando Tatis Jr. is card No. 1 in this year's set, solidifying his status as one of the best baseball players of this current era. Tatis joins an exclusive list of superstars (like Mike Trout, Ronald Acuna Jr., Aaron Judge and Kris Bryant) who have earned that honor over the last few seasons.
Overall, the 2021 design is sharp (2011 remains one of my favorites from recent years) with a Bowman-like feel, although the print used for the nameplates on the front is a little too small. I recently broke a jumbo box.
Here's a review of the product and what I pulled:
Rookies
It's worth noting that base rookie cards from this set aren't rare. Nonetheless, they tend to hold their value if the player pictured on the card turns out to be a superstar. Trout's rookie from 2011, for example, has soared in value over the past decade. Get them graded into PSA 10s and 9s and they're worth even more. Ditto for players like Juan Soto, Acuna and Tatis.
It's also true that many of those rookies were included in Series 2 or Update, meaning that Series 1 rookies don't often rise in value as some expect. This year can be different given how many of them were not added to the 2020 Update set.
Of the 50 rookies on the checklist, I pulled 49 of them from my box (only failed to get Texas Rangers outfielder Leody Taveras). I was happy to pull Jo Adell, the 21-year-old highly-touted Anaheim Angels outfielder who was drafted in 2017.
Other big-name rookies in the set that I got: San Francisco Giants catcher Joey Bart (two of them), Miami Marlins pitcher Sixto Sanchez, Toronto Blue Jays shortstop Santiago Espinal and Detroit Tigers pitcher Casey Mize. I also pulled a special 35th anniversary 1986 design Chrome card of Jonathan Arauz and one of Sanchez. Those can be had in the black packs that are included with jumbo and hobby boxes.
SEALED WAX ON EBAY
Anniversary inserts
Look for some new inserts to coincide with the 70th-anniversary theme, including "70 Years of Topps Baseball" – a 70-card subset depicting past designs with a checklist that includes both former and current players. A Chrome variation (exclusive to retail tins) means I didn't pull any from my box. Autographed versions of some cards are also out there. Those are all numbered to 10 or less. Again, no luck pulling any of those rare cards.
These inserts definitely have an Archives and Heritage feel to them. That'sThat's not necessarily a bad thing if you like the older designs with new players on them. These subsets carry some value, although the ones that do are the rarer ones that are numbered. It would be best if you focused on those whenever you're breaking a box.
Other inserts to watch for are the 1986 Topps Baseball subset that celebrates the 35th anniversary of that series, iconic for so many of us because it's some of the first sets we collected. Again, the checklist includes former and current players as well as this year's rookie class. In addition, 1951 Topps Major League All-Stars Box-Toppers, a 25-card throwback to the original issue, are also included. Autograph parallels of those are numbered to 10.
I didn't pull any noteworthy inserts from my box, but that doesn't mean they can't be had.
Relics and autographs
Some of the biggest chase cards from Series 1 are the 1986 Topps Baseball Relics, which carry a square patch. This insert comes in four parallels (black #/199, gold #/50, red #/25 and platinum 1/1). Tougher relics to pull are Name Relics (all are 1/1) and feature individual letters from game-worn jersey nameplates.
As for autos, there are plenty in this year's set. The 70 Years of Baseball Autographs inserts features parallels similar to the 1986 relics subset. There are dual autograph versions numbered to just 5. There are also 1986 Topps Baseball Autographs – all on-card autos – that also can be had. Red versions (#/25) are hobby box exclusives, while platinum 1/1s can be found in both hobby and jumbo.
I was extremely pleased with my auto and authentic relic. I pulled a Eric Davis sticker autograph. The former Cincinnati Reds outfielder, a .269 hitter who played throughout the mid-1980s and '90s, was one of my favorite players from that era. The auto was not numbered.
The relic I pulled was a Tatis patch card. The material is "player-worn memorabilia" and not game used, which would bring with it more value. Nonetheless, Tatis is a big name player. This card was also not numbered.
Conclusion
Overall, it was a fun opening this box. Enjoy breaking the product over the next few weeks and throughout the baseball season! Let us know in the comments what you pull.
I think we can all agree, one of the most fun things to do in this hobby is grabbing some sealed wax and breaking it for fun. It never gets old! If you break a lot of wax and want to do a product review, we would love to hear your thoughts. Some great products will be released soon; hopefully, you can share your insights and hits with us!
Ready to take your sports card investing to the next level? Join our Membership Program now for card picks, analytics, premium community access and much more!