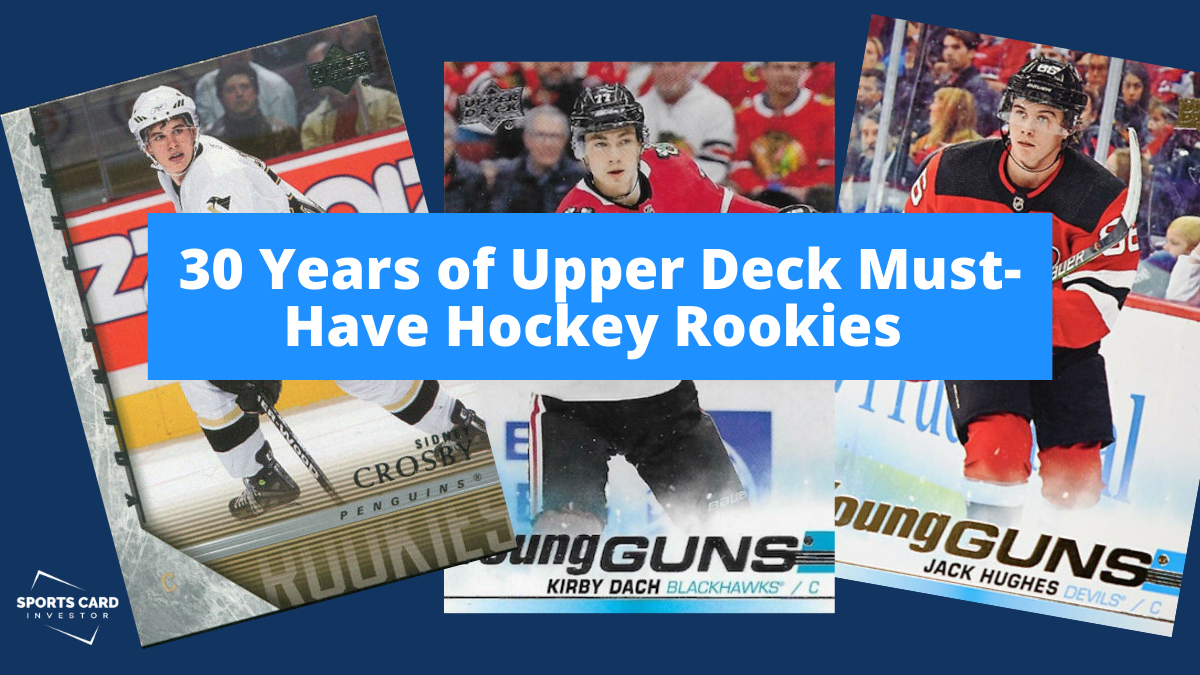 This guest post came through our Article Submission Program. Thoughts and opinions are those of the author.
Introduction
If there is anything sports card investors look forward to each year — even ones who don't typically buy hockey — is gobbling up Upper Deck "Young Guns" cards.
The pending return of the NHL season this summer following the pause forced upon the league by the pandemic back in March as well as the 30th anniversary of the "Young Guns" subset has put renewed focus on these iconic cards. It is truly incredible how enduring they have been given that they are not autographed and do not feature any numbers to denote short print runs — making them attainable for buyers of all ages in the United States and Canada.
Attainable yes, but not always affordable when it comes to trying to buy past ones of established superstars. Part of the fun of the "Young Guns" subset is to speculate on the players — and with it their value — even years after the cards are released.
Upper Deck debuted "Young Guns" during their 1990-91 season at the height of what would be later called the "Junk Wax Era." During the early '90s, "Young Guns" cards were widely available and printed in massive amounts, just like the rest of the stars and commons cards in each year's sets.
In recent years, "Young Guns" are found in a ratio of one in every four packs, meaning they are harder to find but not impossible. It's that scarcity — unless you can purchase a case to increase your odds — that makes these cards instantly more valuable on the secondary market soon after Series 1 and Series 2 are released.
"Young Guns" cards were part of UD's sets through the 1992-93 season, only to return again in 1995. That, too, was short-lived and the cards disappeared again within two seasons. These days, "Young Guns" cards are a staple and several players — especially the superstars of the last decade — have seen card values explode in a way comparable to baseball and basketball cards.
While it's true that hockey doesn't have the mass appeal of other sports, the market in Canada has helped fuel prices on eBay and at card shows like the Sportscard and Memorabilia Expo held outside Toronto.
This season's final 12 "Young Guns" cards are included in the newly-released 2019-20 SP Authentic Hockey set, highlighted by David Ayres, the Zamboni driver-turned-Carolina Hurricanes emergency goalie.
One of the exciting things about "Young Guns" cards is that players who can be had in the dollar bin one year could see their value rise considerably into the hundreds over the course of a season. Case in point: St. Louis Blues goaltender Jordan Binnington. Last year's Stanley Cup winner saw his "Young Guns" card go from just a few dollars into the hundreds over a span of a few months.
TRENDING YOUNG GUNS HOCKEY CARDS ON EBAY
Sergei Federov and Pavel Bure (1990-91)
The original subset was added to the 1990-91 Upper Deck Hockey High Number series. One of the hottest rookie cards that year among collectors — both the U.S. and French-language edition sold in Canada — was Soviet center Sergei Federov of the Detroit Red Wings.
The prices for this card (and all of Federov's rookies) soared at the time, but cooled off considerably in the ensuing years as a result of mass production and fewer collectors.
Indeed, Federov was one of the first stars from the Soviet Union to play in the NHL when the geopolitical situation in his homeland was fast-changing. The ensuing collapse of the Berlin Wall in December 1989 and the fall of communism in the U.S.S.R. meant more players could come to play in North America, a trend that forever changed the sport and the hobby. No longer were NHL stars primarily from Canada, the U.S. and a few Scandinavian nations such as Sweden and Finland. Like the NBA over the course of the same decade, hockey's global footprint had expanded outside of North America and into Russia and Eastern Europe.
A decade removed from the U.S.'s "Miracle on Ice" gold-medal victory that had included a shocking defeat of the Soviet Union, NHL teams could now scout and sign players like Federov and Bure, who had been previously deemed untouchable.
Federov was a trailblazer when it came to former Soviet block players coming to North America, In July 1990, several months before the collapse of the Berlin Wall, Federov defected while he was with the U.S.S.R. in the United States to play at the Goodwill Games. He signed with the Red Wings soon after defecting.   
Federov, with his combination of skill and speed, would go on to win three Stanley Cups and was inducted into the Hockey Hall of Fame in 2015. In recent years, as Generation Xers have returned to the hobby, Federov's "Young Guns" card (with that very '90s cartoon-like logo in the corner) has again soared in price, particularly when his No. 525 card has been graded a PSA 10.
Pavel Bure's "Young Guns" card No. 526 from the same set has also seen considerable value. These two cards remain one of the few players from the '90s that have resulted in a solid investment.
Alex Ovechkin (2005-06)
Another Russian superstar, Alex Ovechkin, has been one of the NHL's best players of the 21st century. Since his rookie year in 2005-06 with the Washington Capitals, Ovechkin has emerged as a scoring machine and one of the highest-profile NHL players.
Ovechkin, a left-winger, has played for the Caps for his entire NHL career, with the exception of the 2012-13 season when he spent a season with his former Russian team Dynamo Moscow. Ovechkin's "Young Guns" No. 443 card will only increase as it becomes more apparent that he aims to become the greatest goal scorer in NHL history.
Ovi, who currently has 706 regular-season goals, was on pace this season to surpass Gretzky's record of 894 goals — although the virus stoppage could hamper that effort. Nonetheless, his card has seen growth with every passing season.
Sidney Crosby (2005-06)
Despite all the love Connor McDavid gets from collectors (more on him later), Pittsburgh Penguins star Sidney Crosby is, to many, considered the heir to Gretzky both on the ice and on cardboard. Nicknamed "Sid the Kid," Crosby's other nickname, "The Next One," is the moniker he received upon entering the league back in 2005.
Crosby's "Young Guns" card has soared in value over the past 15 years and his No. 201 card remains a must-have for collectors and a solid investment for those looking for long-term value. The three-time Stanley Cup champion is a lock for the Hall of Fame and his popularity has helped fuel value.
Although 19 different rookie cards exist of Crosby, his "Young Guns" card isn't the rarest, even though it is considered a short print. Nonetheless, Crosby's success, coupled with the preeminence of the "Young Guns" franchise, have come together to make this card part of the Mount Rushmore of hockey cards for many investors.   
TRENDING YOUNG GUNS HOCKEY CARDS ON EBAY
Carey Price (2007-08)
The early 2000s saw an explosion of new hockey stars and increasing values in their "Young Guns" cards like that of Montreal Canadiens goaltender Carey Price.
Following in the tradition of other great Habs netminders like Ken Dryden, Price is a typical modern goaltender with his Patrick Roy-inspired "butterfly style" moves while also being quick with the glove.
Playing for a storied franchise such as Montreal has helped increase the value of Price's No. 227 card. It also doesn't hurt that Price has been one of the best goaltenders of his generation. He won the Vezina Trophy for being the league's best goaltender in 2015, the same year he was awarded the Hart Memorial Trophy that is given to the NHL's MVP.
Despite being hampered by injuries and unable to yet win a Stanley Cup, Price is destined for the Hall of Fame given his individual stats and makes for one great investment.
Connor McDavid (2015-16)
Everything about McDavid reminds fans of Wayne Gretzky. Although "The Great One" captured four Stanley Cups with the Edmonton Oilers in the '80s, McDavid hasn't yet been so successful.
Even though Upper Deck printed more Serie 1 cards than usual, knowing that McDavid's appeal would lure in collectors. Despite the supply issue, the card remains hot among investors. Parallel versions, such as the acetate or foil versions (#/99), sell for much higher.
While McDavid has zero cups, individually, he can put on a show much like Gretzky did throughout the 1980s and '90s. McDavid's appearance on card No. 201 in the 2015-16 Upper Deck "Young Guns" subset was one of the most anticipated rookie classes in years. Along with McDavid, investors can also pull rookies from Series 1 like Dylan Larkin, Max Domi and Artemi Panarin as well as the much-sought Jack Eichel in Series 2.
McDavid has played in the NHL for just four full seasons, recording 100-plus points in three of them. The Oilers center had 97 points this season before the league was paused because of the virus.
Others to put your money on
While the aforementioned cards are all very dear to many, there are many others that could be great long-term investments. Leon Draisaitl's 2014-15 "Young Guns" No. 223 card saw an increase in value this year after the Oilers left winger started putting up points this season.
Also, Boston Bruins star Brad Marchand's No. 452 card from 2009-10 is another one investors like after becoming his team's all-time scoring leader. Goaltender Marc-Andre Fleury's No. 234 card of him pictured in a Penguins uniform from 2003-04 is also very collectible given his track record over the years. More recently, the 2016-17 Auston Matthews No. 201 has had investors gobbling up those cards over the past four years.
Conclusion:
A quick look at some Upper Deck Young Guns rookies, but there are plenty of hobby boxes and blaster boxes still out there from the last decade if investors still want a shot at grabbing "Young Guns." With hockey scheduled to return, these cards are the perfect way to enjoy the remainder of the season. Happy hunting!
A fantastic article highlighting Upper Deck Young Guns Hockey rookies, we have had only a couple of articles regarding Hockey, so it was a great read. I would love to hear the thoughts of more Hockey collectors and investors on some players that were not mentioned, we should be keeping an eye on.
Ready to take your sports card investing to the next level? Join our Membership Program now for card picks, analytics, premium community access and much more!