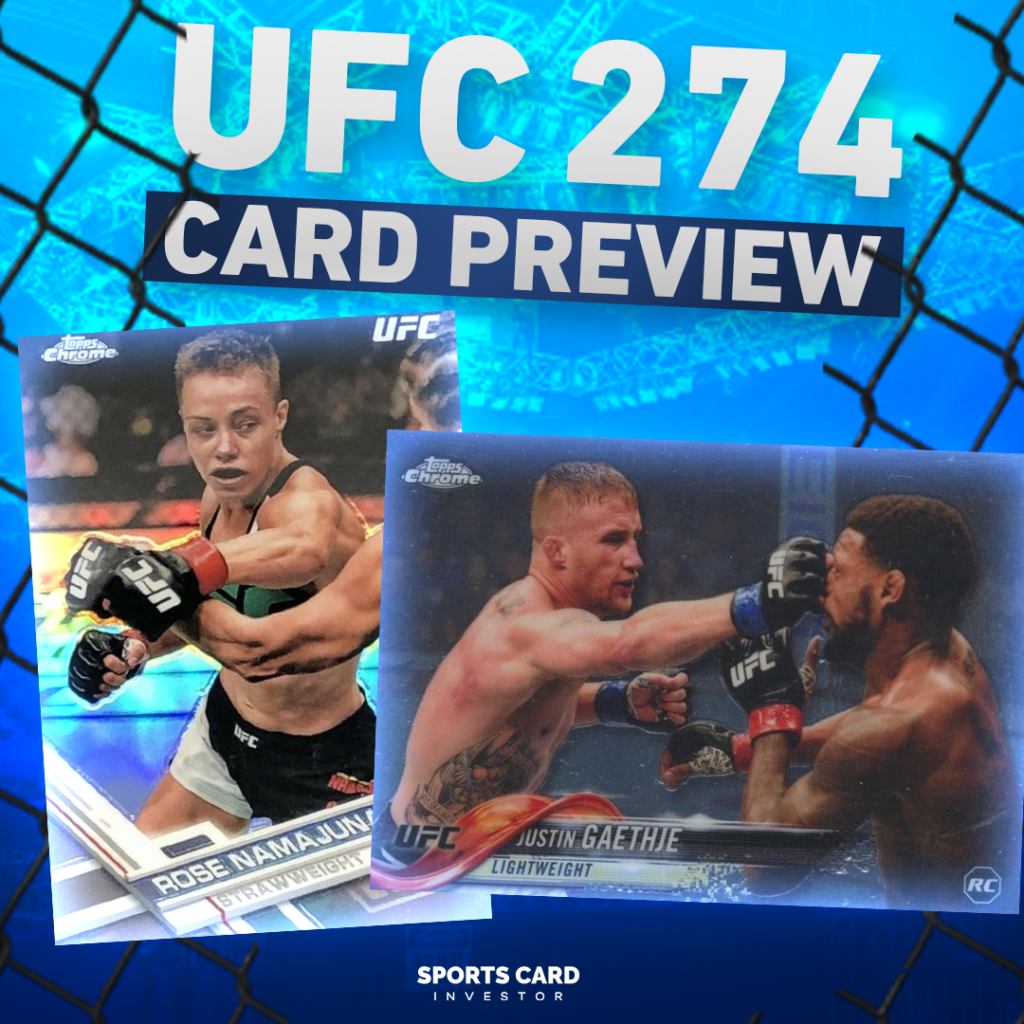 Your UFC 274 Card Preview
After April's action-packed UFC 273, MMA action return to Phoenix on May 7 for UFC 274, which features two highly anticipated title fights, Charles Oliveira/Justin Gaethje and Rose Namajunas/Carla Esparza. The evening's card also showcases a "fight of the night" candidate between Michael Chandler and Tony Ferguson as well as bouts with UFC legends Shogun Rua, Donald Cerrone and Joe Lauzon.
UFC 274 is not nearly as critical to trading card investors as UFC 273 was. While the lineup is decently stacked from top to bottom, it lacks a marquee prospect such as Khamzat Chimaev, who commanded a significant amount of investment attention. The main event does feature two of the most exciting lightweights in champion Oliveira and top contender Gaethje. Olivera's base rookie is technically from 2010 Topps Chrome and his first on-card auto is in 2010's Leaf set. Neither has garnered much attention from collectors despite the Brazilian's championship reign.
Gaethje's 2018 Topps Chrome rookies, however, have enjoyed more attention. The challenger's rookie black refractor (#/10) sold for nearly $900 in early March while his orange refractor (#/25) went for just under $500 in late March. If you are a true believer in either of these top-ranked lightweights, investing in their Prizm Color Blast or low-numbered Prizm or Select cards is still relatively affordable and likely the best option given the popularity and recency bias of the product. If you think Gaethje has potential as a future champion, now would be the time to grab a couple low-numbered Topps Chrome rookies.
The co-main event features a rematch between strawweight champion Namajunas and Esparza. Esparza defeated Namajunas almost seven years ago to become the first-ever UFC women's strawweight champion. Of the four just-mentioned fighters, Namajunas is by far the most intriguing as far as potential investments go. She is extremely popular with the fans, undoubtedly well-rounded, and has all the tools necessary to go on a memorable title run. Her first official autograph is from the 2015 Topps UFC Champions set.
Namajunas fans don't need to get complicated when it comes to her cards. Her 2021 Panini Prizm Gold (#/10) PSA 9 sold for roughly $3,900 in late March while her 2022 Color Blast sold for $1,625 in mid-April. Her rare or low-numbered cards sell fairly consistently on the market, given her popularity. Despite Esparza's notable wrestling background, I do expect her to defend her title and continue her reign as champion. If that streak goes on, her popularity and card value will only rise even more.
One of the most interesting storylines going into UFC 274 is Michael Chandler and his future as a UFC lightweight contender. Despite his exciting style and undeniable popularity, he is 1-2 in his UFC career and has yet to return on the investment that many collectors may have gotten into prior to his two-fight skid.
Fortunately, there is a path where his cards do become valuable. Chandler will likely defeat Ferguson and hold his place as a top-five contender. The best possible scenario for the former Bellator standout from there is to secure to fight with Conor McGregor, if he returns to 155. Chandler's relentless style, wrestling and thunderous knockout power should provide everything he needs to defeat the Irishman. Other potential opponents include Dustin Poirier and Rafael dos Anjos. Wins over either big name would lead to his RCs going up.
Assuming all this happens, his 2021 Prizm and Select rookies will certainly take off. If you have any faith in Chandler's title aspirations, grab a handful of Select, Immaculate and Prizm autos for a few hundred dollars each. Chandler is one of the most sought-after rookies in the 2021 set, next to Chimaev.
The final two names worth mentioning from UFC 274 are welterweight knockout artist Khaos Williams and flyweight contender Brandon Royval. Williams is a thunderous power puncher who holds KO victories over Alex Morono, Abdul Razak Alhassa and most recently Miguel Baeza. He made his cardboard debut in Prizm 2021 and has all the makings of an exciting fighter. Williams should be able to get past Randy Brown and extend his win streak to three.
Royval is the 6th-ranked flyweight and has barely cracked his prime. The 29-year-old will likely beat Matt Schnell and continue to chase a title shot. Both fighters' numbered parallels can be purchased for well under a hundred bucks and offer low risk/medium reward value for collectors.
Track your collection and maximize your profit with Market Movers, the hobby's most powerful sports card pricing platform! Learn more here.
Note to readers: If you purchase something through one of our affiliates, we may earn a commission.