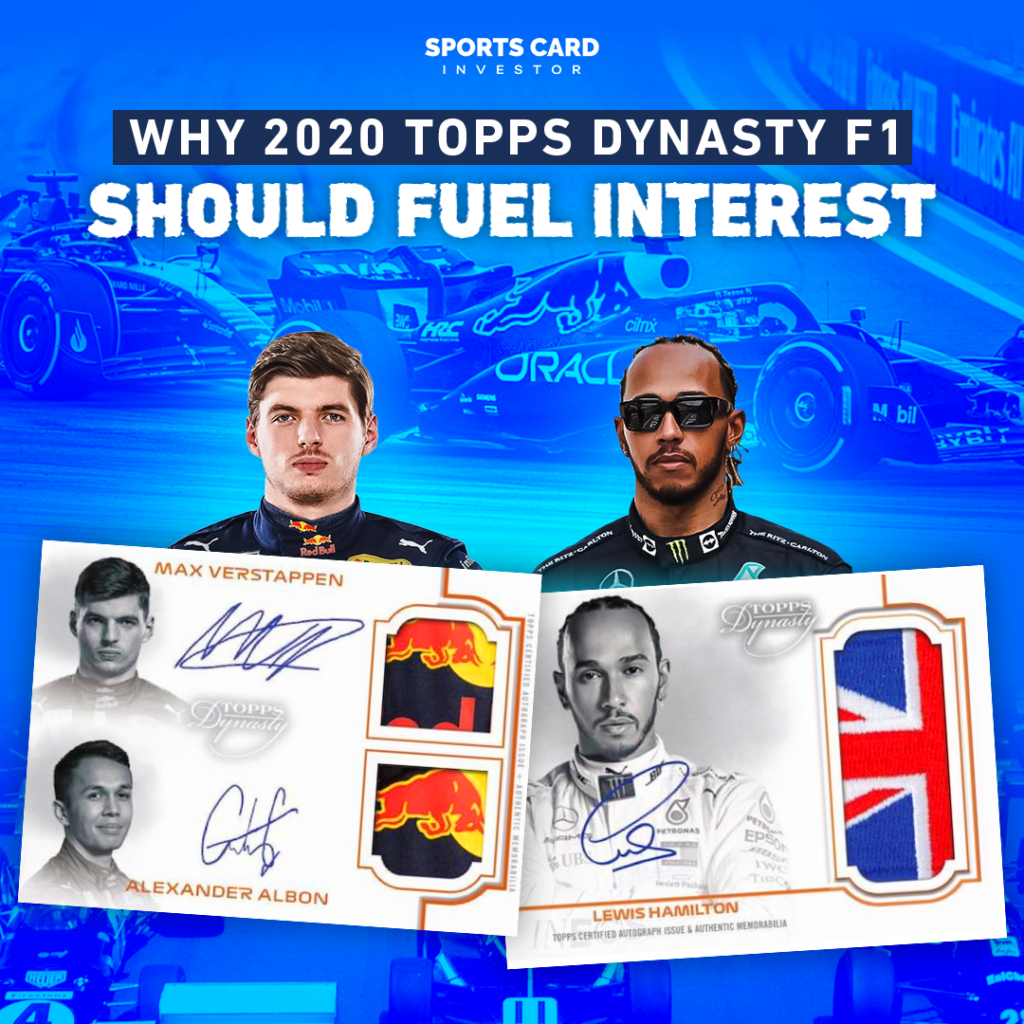 Why 2020 Topps Dynasty F1 Should Fuel Interest
The F1 card market has cooled off in terms of sales prices since the release of 2020 Topps Chrome products, but the market cap, transaction volume and liquidity of F1 products continues to climb. To me, this means longevity for the F1 collecting sector.
Thus far in 2022, we've also seen driver performance dictate fluctuation in pricing, which is a good sign for sports card investors getting into F1. It means stability and, to a certain extent, predictability.
As such, F1 prospecting can make you some serious money, especially with top-tier products. And with 2020 Topps Chrome F1 and 2020 Topps Chrome F1 Sapphire Edition (and their 2021 counterparts) dominating the sales, there is one set in particular being overlooked that may have great long-term value and that's 2020 Topps Dynasty F1.
This inaugural true high-end F1 release comes complete with /10 patch autos (yes, of the on-card variety!), /5 patch autos and 1/1s for all the top drivers. To put it another way, if Topps Chrome is the Prizm of F1, think of 2020 Topps Dynasty F1 as the first set of National Treasures Football or Exquisite Basketball.
We're in a special time to invest in this product, as we have the luxury of a market correction, a slight lull in the F1 season with the August summer break approaching, and a clear landscape of who may win the Drivers' Championship and how seats may shake out for the 2023 season.
That said, Topps Dynasty F1 features The Dynasty Autographed Patch (/10) line showcasing a large swatch for top names, plus Red (/5) and Gold (1/1) parallels. Like I said, the National Treasures of the F1 card world, but at a much-lower entry price.
Every single card is investable, as a box from this debut set features one encased autograph numbered to 10 copies or less – currently available on secondary marketplaces for around $5k per box (which, for clarity, is actually $5k per card).
And while a 2020 Topps Dynasty F1 Max Verstappen Patch Auto /10 PSA 10 sold for $37,000 on eBay on July 8, there's still a risk of getting slaughtered by this product if you, instead, pull a lesser driver or team principal.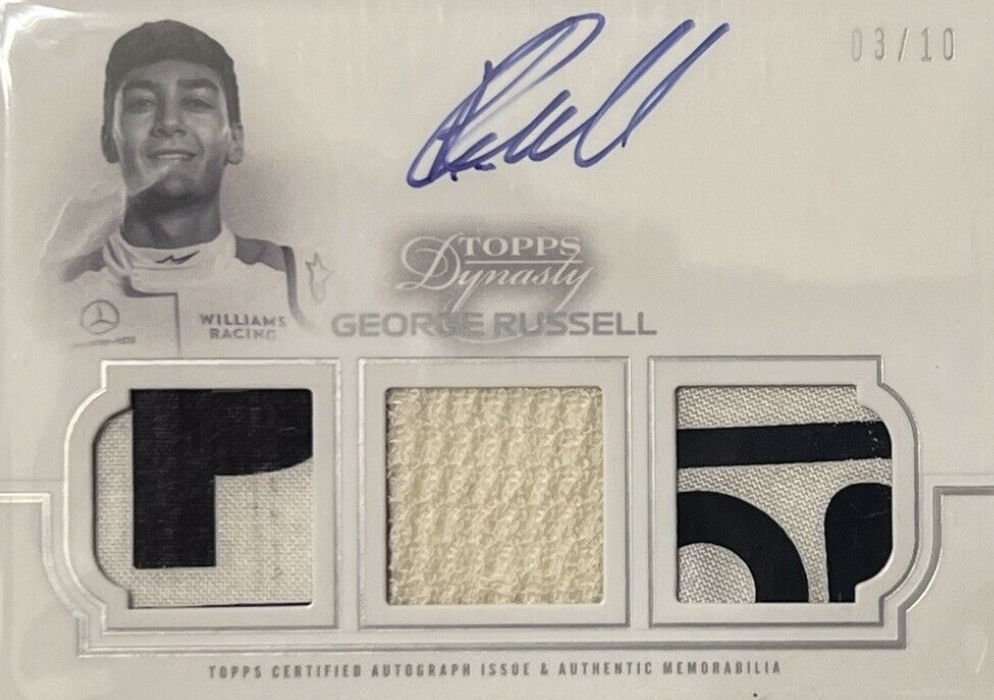 Here's what you really need to know about 2020 Topps Dynasty F1:
The sets are released with the previous year's drivers and teams. For example, George Russell joined Mercedes for the 2022 season, but the 2021 Topps Dynasty F1 set that was released during this year featured him in his old Williams Racing gear. This means that some of the patches will be outdated. With this comes a two-pronged opportunity: for young, talented drivers like Russell, his 2020 Dynasty cards will be sought after due to not only his stature, but because they're his first ultra high-end product, basically his only rookie patch auto; this also gives value to future card releases, where Russell will have his "first Mercedes" patch auto, etc.
Many of the cards are of team principals. If you watched the Netflix series Drive To Survive, you're familiar with personalities like Claire Williams, Christian Horner, Guenther Steiner and Toto Wolff. These team principals are phenomenal at their jobs, but their cards are essentially the equivalent of a Phil Jackson 1989 NBA Hoops. They're coaches, basically. Thirty percent of the Dynasty Autographed Patch checklist are of team principals. So, if you drop $5k on a box, there's a 30% chance you won't even get an F1 driver. And the resale value of principals maxes out at around $500 (a 90% loss).
Many of the drivers aren't driving in F1 anymore. Antonio Giovinazzi is now in Formula E. Daniil Kvyat is no longer in F1. Kimi Räikkönen is out of the sport. Romain Grosjean is in IndyCar. These names basically make up another 15% of the checklist.
Another group is unlikely to continue their F1 careers soon. Lance Stroll and Nicholas Latifi are both universally known as near-jokes in the sport and are unlikely to have long-term careers, especially with up-and-comers like Oscar Piastri vying for seats. With Stroll and Latifi making up another roughly 10% of the checklist, the odds get less and less likely you'll pull something that will make you a profit.
Just based on this simple analysis of the checklist and the future projected landscape of drivers, cross-referenced with recent eBay sales, there is an 55% chance that, if you buy a sealed box, you'll lose between 76% to 96% on your investment if you try to buy, rip and flip 2020 Topps Dynasty F1.
So, what's the play? For starters, you should go with singles of particular drivers instead of boxes—and not just any drivers, but up-and-comers with a projected path to future podiums.
Buying in at the high-end is tricky for most of us spending around $1k/month on cards. We're not going to be able to grab the Verstappens, Hamiltons and Russells of the racing world. Dropping more than $15k on a card makes it harder to see sure-fire future profits.
But there is a path to profit here. In fact, there are three drivers whose cards sell for significantly less than the cost of a sealed box, eliminating your lottery risk and actually putting you in position to profit in the next 12-24 months.
On the F1 Card Strategy Show, I've talked about these following targets quite a bit:
2020 Topps Dynasty F1 Pierre Gasly Triple Patch Relic Auto /10 (currently selling for ~$1,200). To me, Gasly has the lowest entry point and highest ceiling.
2020 Topps Dynasty F1 Esteban Ocon Rookie Patch Auto /10 (currently selling for $635). Ocon has a growing fan base and growing confidence—at half the entry point of Gasly.
2020 Topps Dynasty F1 Lando Norris Red Triple Rookie Patch Auto /5 (currently selling for between $5k-$6,500). Buying Norris is about the same as buying a box, but if you could guarantee a Trey Lance auto out of Contenders at the same price as a hobby box, for example, you'd do it. This is Norris to me in F1. A solid long-term investment at this price point.
Each of these young drivers has a serious following, a respectability factor, and paths to better seats with better teams/cars and, in Norris' case, eventual podiums with his current team.
Their pricing has cooled off since the initial release, but it has remained steady. So, rather than buy a box and hope to pull Lewis, Max or George (which all go for $25k+), spend your F1 money on two Gasly /10s and an Ocon, or one banger Norris. Honestly, locking in an RPAs /5 or /10 of one of these already successful talents might be the best way to spend any money in the sports card investing world right now.
So much racing card hype has gone towards F1 Chrome, F1 Chrome Sapphire and newer releases like 2021 Dynasty F1 that 2020 Topps Dynasty has largely driven under the radar and wreaks of opportunity.
Paul Hickey is a regular contributor to Sports Card Investor, the creator of the Sports Card Investment Report at NoOffseason.com, and the host of the Sports Card Strategy Show on Apple Podcasts, Spotify and YouTube. He can be found on Instagram at @sportscardstrategy and on Twitter @nooffseasoncard. 
With the Sports Card Investor app, you can profit from the hobby you love by keeping up with trending cards, tracking real-time prices with Market Movers and buying items on eBay. Download the industry-leading app here for Apple or Android
Note to readers: If you purchase something through one of our affiliates, we may earn a commission.