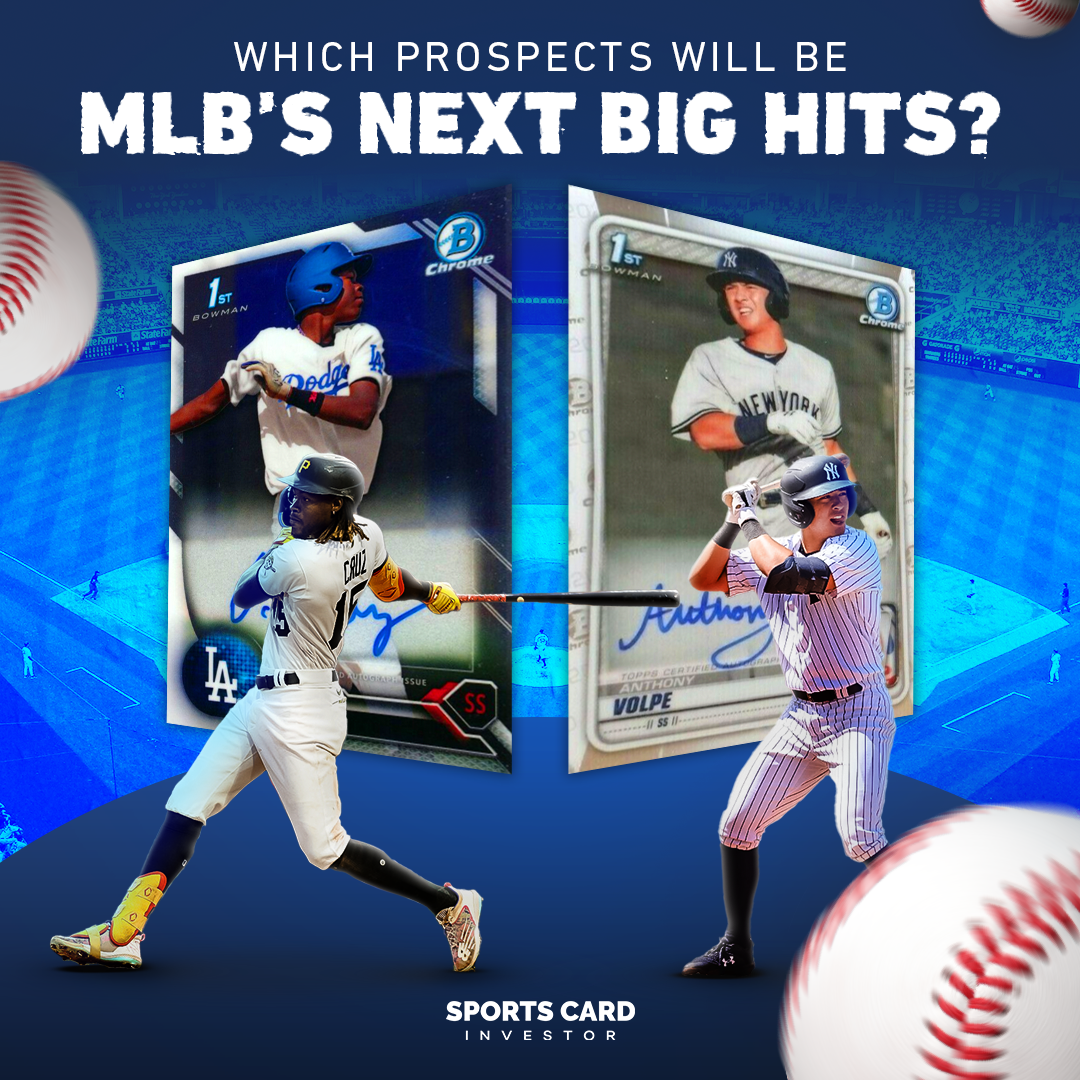 When it comes to investing, people tend to migrate toward things that they know or situations that they like. For example, when it comes to the stock market, an investor may be more inclined to buy shares in a large, blue-chip company with steady growth and cash flow over a smaller, unproven enterprise.
This same notion can apply to sports cards. One of the most lucrative forms of profiting from the hobby is investing in MLB prospects. However, it is critical that hobbyists understand that, very much like a start-up, some of these investments will take several years to pay off; others may never materialize at all.
Before we dive into the prospects who may be worth your dollar, it's important for beginners to understand which products and brands to focus on. Bowman, a Philadelphia-based confections and novelty company that became a pioneer in baseball trading cards, is a good place to start. After producing cards throughout the late 1930s and '40s, Topps acquired the company in 1956. More than a half century later, it still produces baseball cards under the Bowman name, across different imprints such as Bowman Draft and Bowman Chrome. Simply put, Bowman is the crème de la crème when it comes to investing in prospects. 
Now, with all of that out the way, let's put the focus on some solid card plays.
The New York Yankees
With 27 World Series titles and a myriad of baseball legends who've donned the pinstripes, it's not difficult to understand why the New York Yankees are baseball's most valuable team, worth an estimated $6 billion.
Given the hype and excitement around the Bronx-based club, one investment strategy may be identifying the franchise's top prospects and start buying. In the case of Jasson Dominguez, he was a top international prospect in the 2019-2020 class. As a switch-hitting, five-tool-having outfielder, it makes sense why investors began pouring into his cards as soon as they were printed in 2020.
One of the most basic (yet coveted) baseball rookie cards is Bowman 1st Prospect. While these cards come in both paper and chrome, Market Movers shows us that both versions have been trending way down since Dominguez Fever hit a year or so ago. Even a high-end Speckle on-card auto in a PSA 10 is down nearly 30% over the last several months. 
While the decline in value could be attributed to Dominguez's so-so performance in the minors (9 HRs and a .265 average at Single-A Tampa in '22) or the fact that the Yankees look like World Series contenders who probably won't need to call up the young outfielder, investors can see the stark difference between base paper rookies and rarer parallels of the same player.    
Another popular Yankees prospect is shortstop Anthony Volpe. Buyers can see that, while Volpe's cards are fetching prices well over $1,000 regularly, the pop reports on these cards are relatively low. Stated another way, there are very few graded parallels of Volpe's Bowman in the market currently. This means that, due to the exclusivity, as well as the hype around a top prospect, investors are willing to pay a premium to get in early.
The Next Acuna Might Be… Acuna
Generally speaking, investors in the hobby are beginning to see some interesting trends. While the prices of sealed wax seem to still be rising, average costs for graded singles have generally plateaued or even declined. And it doesn't matter if you're talking about a journeyman on his 10th team or Ronald Acuna Jr., one of the MLB's most promising young ambassadors.
The Atlanta Braves superstar's 2017 Bowman 1st paper regularly sold for hundreds of dollars in late 2021. Perhaps some of this was driven by last season's World Series hype (even though he was injured and did not play). However, nearly eight months later, that same PSA 10 is selling for well under $100, off nearly 50% over the last 12 months.
The point we're making here as investors is that those with a long-term mindset may have interesting arbitrage opportunities with the likes of Acuna and other sluggers in the market right now. The most prudent action for investors in the intermediate term would probably be to assess player performance as opposed to relying on hype and popularity.
Cruz Control
What if I told you there was a baseball player who was the same size as an NBA all-star, ran faster than an NFL wide receiver and threw a ball over 97 mph. Is that something you might be interested in? If you answered "yes," then you may want to get to know Oneil Cruz, a young shortstop for the Pittsburgh Pirates who was named after Yankees outfielder Paul O'Neill.
The Market Movers data shows us that Cruz's cards are beginning to see a nice uptick. This is probably because Cruz impressed fans all over the league during his 2022 debut (8 hits, 8 RBI in first 10 games) in June. With the mid-summer classic coming up right before the biggest card event of the year, investors will have a chance to buy Cruz's 2022 Bowman Chrome Rookie Auto over the next few weeks. Just be aware that sellers may be commanding a premium at the moment, given the hype around his potential.  
The New Spirit in St. Louis?
Another budding talent to keep your eyes on is St. Louis infielder Nolan Gorman. Now, as a Philadelphia fan, I'd like to forget that the youngster participated in this record-setting highlight just a couple weeks ago. But as a baseball fan, it's hard to ignore the sheer talent.
While some of his rarer cards have been trending upwards, the opposite can be said about his less-desirable base cards. As for his 2018 Bowman Draft Chrome Refractor /499 with on-card auto, sales are essentially flat over the last year in terms of absolute dollars. While the pop reports for Gorman cards are a bit low, investors should keep their eye on the 22-year-old rookie. Given the relative decline in his valuation recently, now may be a decent time for a speculative buy. 
With the Sports Card Investor app, you can profit from the hobby you love by keeping up with trending cards, tracking real-time prices with Market Movers and buying items on eBay. Download the industry-leading app here for Apple or Android
Note to readers: If you purchase something through one of our affiliates, we may earn a commission.