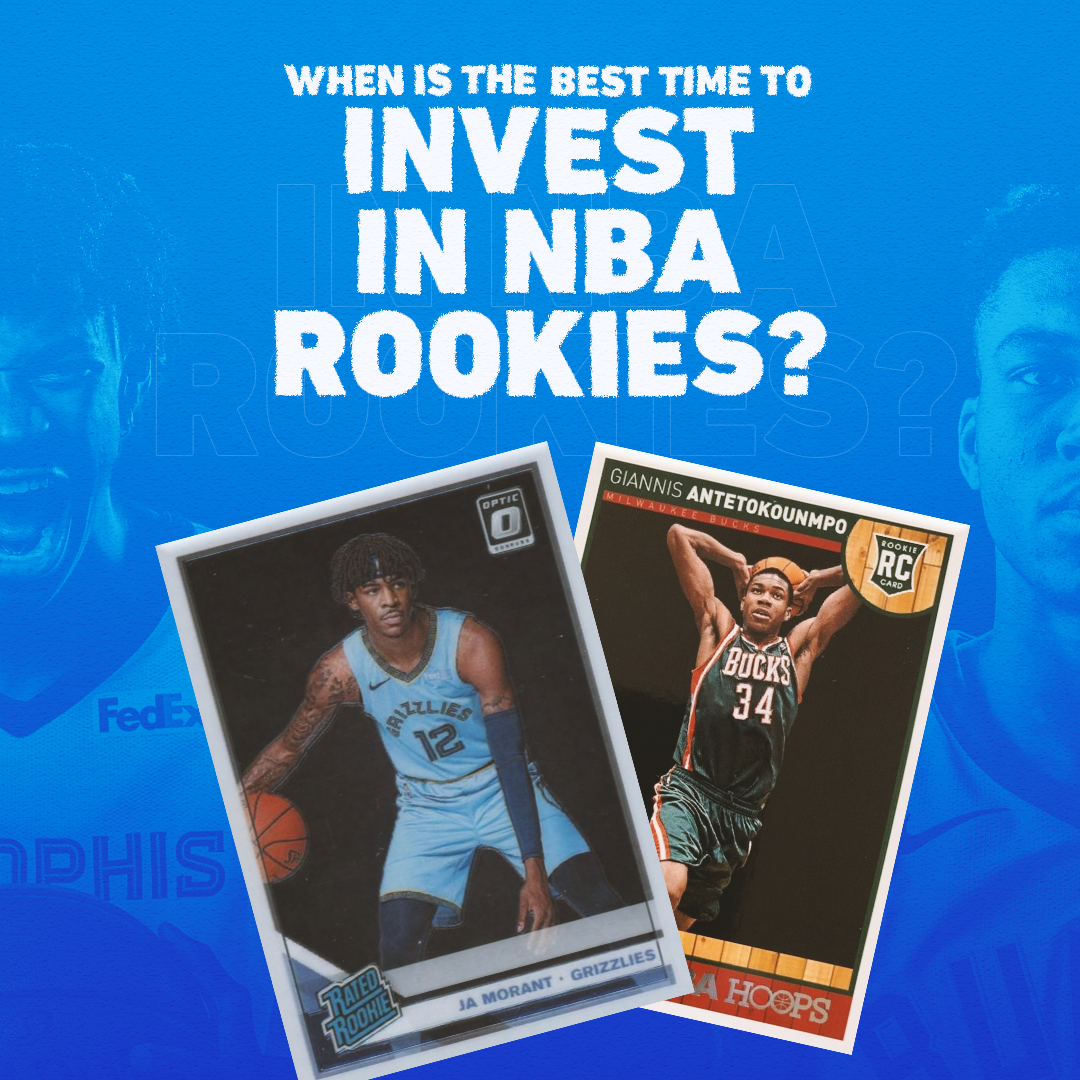 When we think about basketball card investing, we typically center our conversations around established veterans and the latest rookie class. We all dream of purchasing some first-year player's cards and he ends up becoming the next Giannis Antetokounmpo or Steph Curry. But really, how often does that happen? What if I told you that the average length of an NBA player's career was only 4.5 seasons? And of that small group who make it to Year 5, only a fraction of a fraction ever reaches Giannis' or Steph's level.
I did a breakdown on the odds that a player drafted 6th or lower exceeds career expectations and found they have less than a 2% chance of hitting Greek Freak status. I took the total amount of players in the NBA (496 players) and subtracted the last two largely unproven draft classes (120 players). Of the 376 remaining players, I found only Curry (drafted in the 7th slot), Paul George (10th), Antetokounmpo (15th), Kawhi Leonard (15th) and Nikola Jokic (41st) became MVP winners or finalists when they weren't really expected to. This led to a 1.3% chance to find an MVP-level player outside the first five picks every year. Not great odds.
Now that we've internalized those numbers, let's take a look at the NBA Draft classes from four years ago. Of the 60 players chosen in 2018, only two (Luka Doncic and Trae Young) have been selected to all-star teams—though players like Miles Bridges and Shai Gilgeous-Alexander could be joining them in midseason showcases soon. Numbers aren't much better from the '17 Draft, where just four players (Jayson Tatum, Donovan Mitchell, Bam Adebayo and Jarrett Allen) have been all-stars.
But there we were five years ago, investing our money in those names and a roster of others who haven't quite lived up to the hype. That's where the troubles lie, though. By only focusing on the latest headliners from the most recent draft classes, we're spotlighting groups with the highest risk.
The value of young players is disproportionately weighed by expectation more than performance—and that formula is costing collectors. I'm not saying it's time to toss those 2019 Prizm RJ Barrett PSA 10s you paid $200 for a year ago, but it may be time to re-calculate those investing numbers.
One stat to consider when doing that is a player's Value Over Replacement Player. VORP is a box-score estimate of the points per 100 team possessions that a player contributed above a replacement-level player translated to an average team and prorated to an 82-game season.
Consider VORP when you're looking for draft classes where prices are reasonable and risks are low. This advanced stat can be easily found on any player at www.basketball-reference.com. VORP is sort of like WAR (Wins Above Replacement) in baseball. VORP ranges from a -2.0 (a bench player who is replaceable) to a 4 (all-star level) to a +10 (a Jordan-like season for the ages).
Taking a look at the VORP for 20 of the players who were in the NBA for the longest periods (think LeBron, Vince Carter and Kevin Garnett), I calculated what seasons those players made their biggest statistical jump. This information could help us re-evaluate which draft classes might be less risky to invest in down the line.
Some players were early bloomers and had their biggest leap in their second or third seasons. Others took some time and didn't make a large impact until their 12th or 13th campaigns. Still, the average and median appeared the same, the sixth season, which might explain why 2016 draftee/current San Antonio Spurs stud Dejounte Murray is having a stellar, 3.6 VORP season.
But many pundits say that a young man's "prime" comes between the ages of 26 and his early 30s, so slightly later than the 6th season that was just mentioned. Players like the 32-year-old DeMar DeRozan, who's having an MVP-caliber year with the Chicago Bulls in his 13th season, exemplify this perfectly. Even still, DeRozan's best VORP showing (3.3) was his 8th year.
Now, if you insist on investing in the latest rookie classes, know that you won't find many LaMelo Balls or Evan Mobleys, guys who instantly transform a franchise's playoff hopes. I know that seeing budding stars like Ja Morant (3.5 VORP) having breakout seasons in just their third year, it's reaffirming that some guys don't have the patience to wait for their sixth season to show out. But do understand that the Grizzly sensation is an outlier.
In most instances, investors should take a step back and look at on-the-cusp players entering their fourth through eighth years. Find somebody like Portland's Anfernee Simons (0.6 VORP) who's doing well but hasn't yet had that breakout season. These are the hoopers you should still be able to find cards at reasonable prices with relatively low risk.
Jordan Luithle contributes stories on the business of sports card collecting to Sports Card Investor. You can follow his journeys in the hobby via Instagram and YouTube.
Track your collection and maximize your profit with Market Movers, the hobby's most powerful sports card pricing platform! Learn more here.
Note to readers: If you purchase something through one of our affiliates, we may earn a commission.