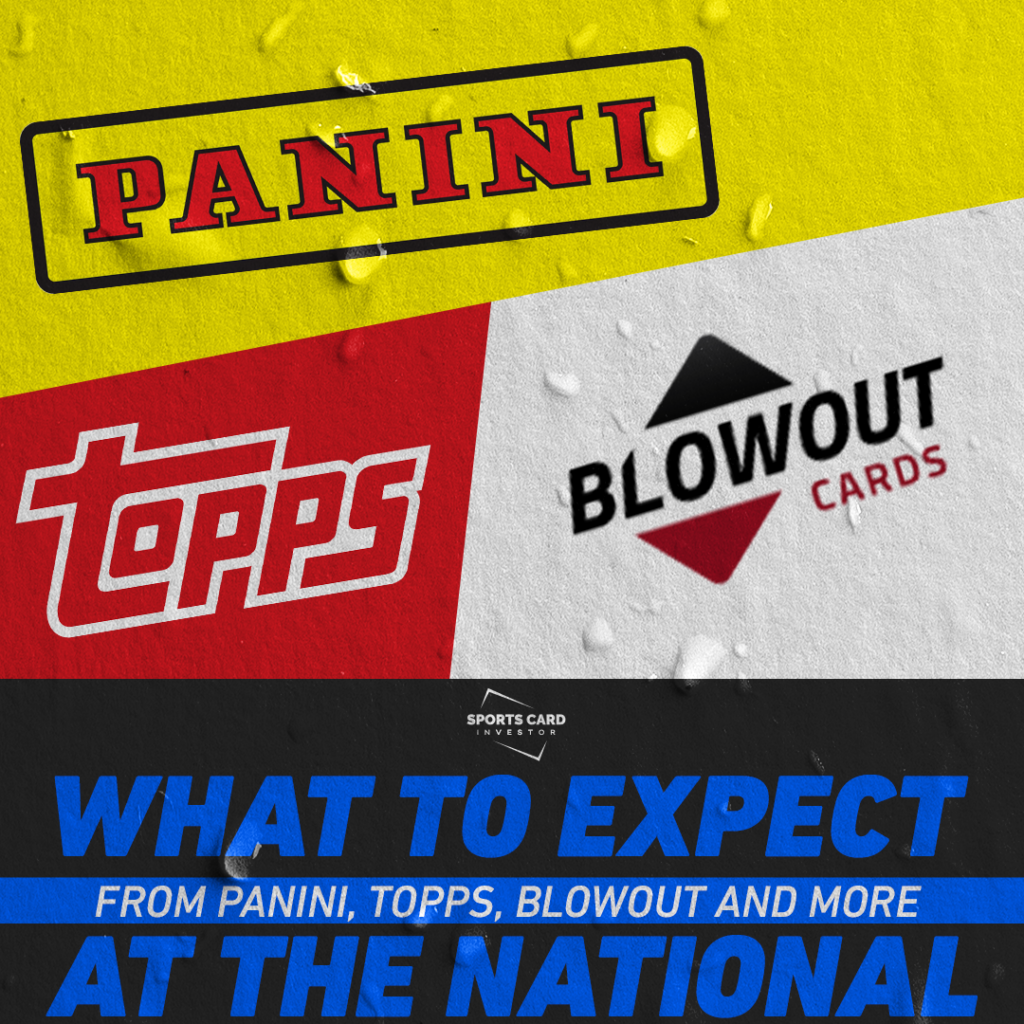 What to Expect from Panini, Topps, Blowout and more at The National
While most collectors will be coming to The National Sports Collectors Convention in Chicago to buy and sell from smaller dealers, major companies like Topps, Panini and PSA will all be there as well.
From on-site grading to breaks, giveaways and more, here's a look at what you can expect from some of the hobby's biggest players.
What to expect: Watch for exclusive wrapper redemptions, giveaways, pack wars and a trading card wall.
More from Topps: "Topps plans year-round to bring the best experience possible to our collectors who visit the booth during NSCC! Since we didn't get to see everyone last year, we're especially excited to bring an improved booth to this year's show. Over this past year, the Topps team has been working to create a more interactive experience, which we hope will be evident and welcomed by those who regularly visit the booth year after year. The interactive elements are inclusive of the opportunity to play trivia on digital screens, take a photo right at the booth and create your own custom Topps card (that is then emailed to you in a digital format), and even play puzzle games, where we shuffle the pieces of a card and fans have to unscramble them to create a full Topps card. This year especially, we wanted to pay homage to our 70th anniversary. Lining the entire back wall of our booth collectors will find a digital showcase of cards from each decade in Topps history. Visitors can scan a QR code from their favorite era of Topps cards, which will lead them to our YouTube page to watch a video all about Topps during that decade."
What to expect: Panini plans to debut its new Kid's Crate program, which aims to give young collectors affordable options. A limited number of crates will be available exclusively through Blowout Cards, Dave & Adam's and Steel City Collectibles before a full launch in August.
Also watch for box breaks, Silver Pack Redemption promotions and Panini Black Boxes.
What to expect: Expect a giveaway around a fractionalized asset as well as other giveaways. Look out for displays of some of Collectable's rare assets that have been IPO'd and traded on the platform.
More from CEO Ezra Levine: "As a new entrant in the industry, this is Collectable's debut at The National. We're very much looking forward to connecting directly with the community in person, showing off some of our platform's capabilities, and providing unique and enjoyable experiences for collectors. People are the lifeblood of the hobby, and we expect this show to be an incredible opportunity for us all to celebrate the growth of the industry and reunite in full force."
What to expect: Unlike most years, Upper Deck won't have a full booth at The National due to safety concerns. UD plans to have senior staff on-site, however, and a variety of activities for collectors.
Look for VIP Gift Bags, Upper Deck Black Packs and new UD shirts. Upper Deck will also be hosting free box freaks on Thursday from 3 p.m. to 4 p.m. on the Main Stage.
More from Upper Deck: "Supporting our collectors and CDDs (Certified Diamond Dealers) that have decided to attend is a priority for Upper Deck, and we have put together programs that our highly respected and trusted partners will carry out onsite, including a black pack redemption, free box breaks, a welcome raffle, expired redemption raffle, and multiple and more. In addition, we will be sharing several sneak peek news announcements on the mainstage Thursday afternoon."
What to expect: As expected, retailer Blowout will be selling cards, wax and memorabilia. Watch for promotions and gift certificates as well as partnerships with Loupe and Platinum Card Breaks.
More from co-founder Thomas Fish: "If you're in the trading card business, big or small, this is where you want to showcase who you are and what you do. It's important to see our customers and thank our customers. And it's the only place where we can get good feedback and talk to them. We have support and feedback on the website but it's important to talk in person."
What to expect: PSA will be offering on-site authentication and grading for two service levels. Along with grading, PSA is also planning interviews with its recruitment team for those looking to join the company as an employee. Collectors should also watch for "GEM-MT 10" t-shirts that will be given away each day of the show.
More from CEO Nat Turner: "I personally view it as important to be at the biggest card show in the world — it would be weird if we weren't. And it would be weird if we were there and couldn't offer a core service. Regardless of the cost we needed to be there. Goal isn't to make money. Goal is to be present. I think a lot of it is our employees really want to be there to see customers and talk to people."
What to expect: Look for Loupe employees roaming the show for branded top loaders and stop by the booth for a $10 coupon if you're already a Loupe member. Loupe is also a sponsor of Thursday's Trade Night from 6 p.m. to 10 p.m.
There will also be a Loupe community meetup set for Friday at 8:30 p.m. at Short Fuse Brewery.
What to expect: Starstock is partnering with Sports Card Investor and Blowout Cards for a 64-person box war tournament starting on Thursday. Market Movers will be used to determine winners of each round.
What to expect: Visit the eBay booth for coupons and giveaways. There will be a 41st National Sport Collectors Convention drawstring tote bag as well as coupons for eBay purchases. There will also be photo boxes to help take high-quality pictures for your auctions.
Track your collection and maximize your profit with Market Movers, the hobby's most powerful sports card pricing platform! Learn more here.
Note to readers: If you purchase something through one of our affiliates we may earn a commission.