In 2021, I traveled to 52 card shows in 14 different states. The best part? I had no idea or plan on going to that many shows.
The story started in early 2020. I was a senior at the University of Central Florida, finishing up my last semester for my electrical engineering degree. During my free time, I would run with other students in a club called the Knight Runners.
That spring, we had a marathon booked in Miami. At a dinner before the race, I was on my phone looking at eBay for cards. One of my friends in the group, Steven Lazar, saw what I was doing and mentioned that he also collected. At that time, I didn't know anyone else my age who collected. In fact, I only had ever talked with my dad about cards.
Flash forward about six months. I was done with college and I had some more free time. I wanted to pick up another hobby. I had seen some card-show vlogs on YouTube but no one was recording the Florida shows.
I reached out to Steven about launching a YouTube channel, where we would educate people on vintage cards and record the Florida shows. That idea birthed Breakout Cards. At that time, I had no clue that I would wind up traveling across the U.S. Honestly, the only shows I really knew outside of the state were the National, The Philly Show and Chantilly.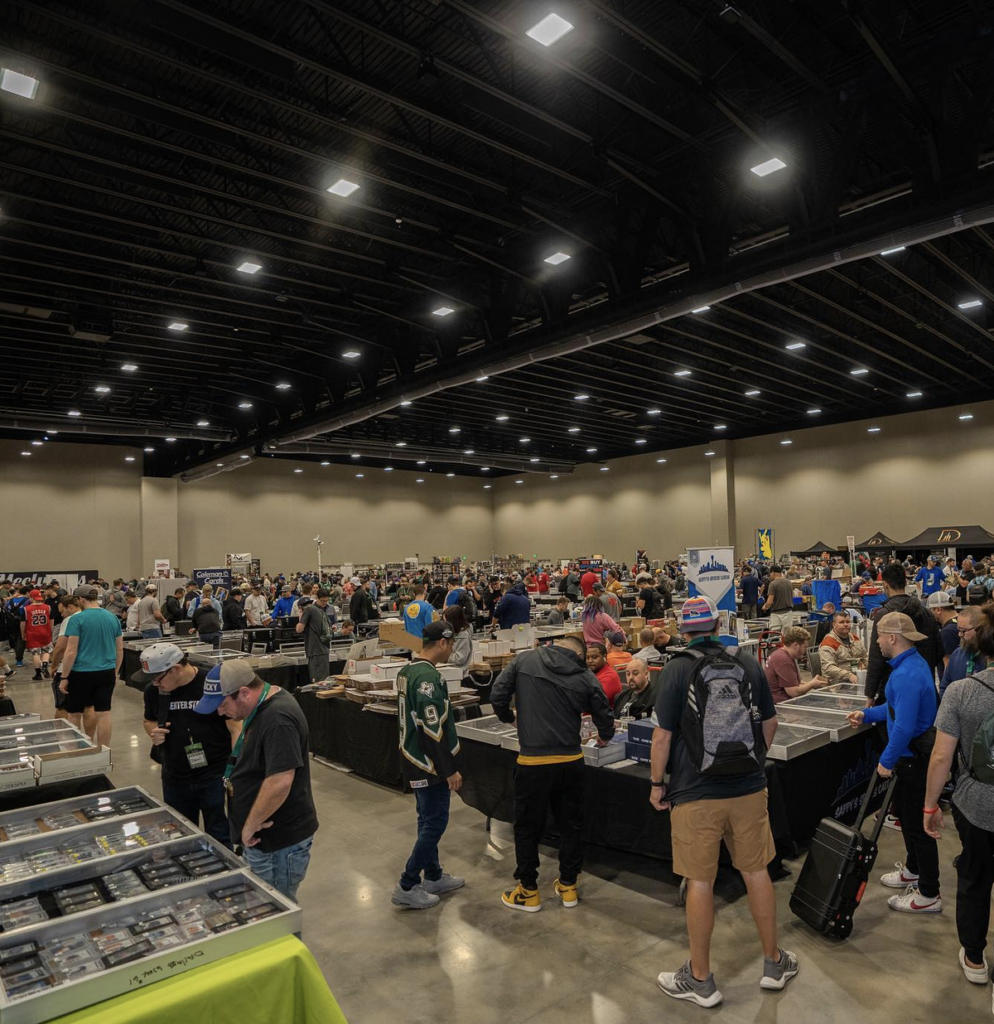 After a few months creating videos, a dealer at the Apopka (in the Orlando area) show told me about a big event happening in Texas. He said this show was going to be a replacement for the Covid-canceled National. It had all the dealers and was going to attract a big crowd.
At first, I was on the fence about going. But after seeing a cheap Spirit flight, I decided to see what was going on. Before this, the only out-of-state show I had attended was The National back in 2019. My family was on vacation in Chicago, and I lucked out that the event was the same weekend.
The Dallas show was so much different than all the Florida ones I was going to. It was a breath of fresh air. There were hundreds of tables, tons of card variety and non-stop action on the floor. Oh, I was also able to grab some great barbecue and Mexican food.
After publishing the vlog from Texas, I noticed that it did significantly better than the other videos I was posting. I knew that when the DCS came around again I had to go.
Up until Spring 2021, I would continue to only go to shows in Florida and Dallas. I didn't really expand my reach until hearing about a huge show that was coming to Wisconsin.
Just like with Dallas, I had a completely different experience at the Wisconsin Dells Card Show. New dealers, different cards and good food. I picked up a Jim Brown rookie there and the video crushed it. It was obvious that traveling to events outside of my home state was fun and would have a positive impact on my YouTube numbers.
I would continue going to shows nonstop through the year. Due to the number of events popping up because of the hobby boom, I could even attend multiple shows on the same day or weekend.
I once hit up three shows in one day. Another time, I got to Atlanta and Dallas in the same weekend. I didn't realize it at the time, but the number of shows I was attending was quickly piling up.
But it wasn't until I was doing an interview after the ATL/Dallas shows with YouTuber NEO Cards and Comics, I believe, that it all really started to dawn on me. We talked about the 30 shows I had already attended. Then, all of a sudden, an idea sprung in my head: why don't I go to 52 shows in one year? One show for every week of the year! So, that's what I sought out to do.
Along the way, I did have some difficulties, though. After one show, I had to take a three-hour Uber ride across Nebraska due to a flight-booking error just to have the flight I was supposed to take get canceled. My job was not thrilled that I had to call out the next day.
I was also really close to missing show #52 in Alabama when my layover in Charlotte landed 90 minutes late due to inclement weather. I missed my connecting flight and had to wait on standby for a later flight that had no available seats. Luckily, I did end up completing my mission and making it to that last show.
So, what's next? I'm currently working on my new goal of hitting a card show in all 50 states. I'm currently one-third done with my plan on having somewhere between 30-35 states visited by the end of 2022. Assuming everything goes to plan, I'll complete my show tour in 2023.
The most difficult part is going to be finding a show in states like Alaska or Wyoming. I'm not too familiar with the card scene in either of those places, so if you know of a show there, please let me know!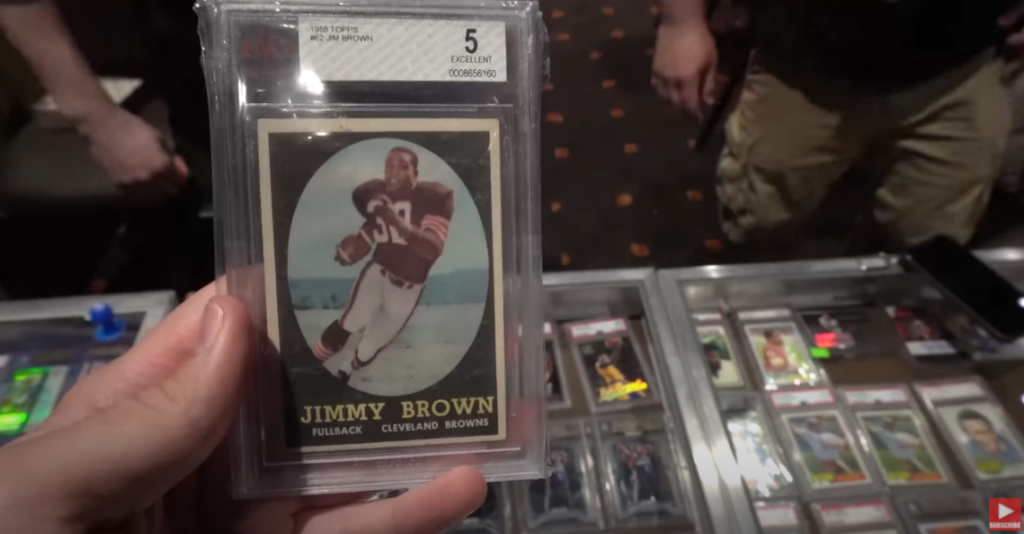 As for the things that I've learned over the past year or so, the list is long. But here are the 20 most important takeaways from my 52-show journey:
If you want to make money, become a dealer. Dealers have inventory come to them and can set prices in transactions.
Always comp a card. Never trust a price given to you. Market Movers will give you the price and trend line to ensure you don't overpay.
Always negotiate… Unless the deal is way too good. Dealers will have some wiggle room. Besides, the worse thing they can say is "No."
Building relationships with dealers allows you to get a cheaper price with cards you want. Also, some dealers will go out of their way to hold cards that you're looking for. Relationships are huge in this hobby.
Beware of fake cards and slabs. Many scammers pass them off at shows. I've seen multiple fake slabs, forged Kobe autograph cards and counterfeit vintage cards on show floors. Do your research before dropping a lot of money.
Inspect your cards. Even if you know it's 100% real, some dealers will pass on damaged or altered cards to others. It happens and is unfortunate. When you deal with a ton of cards, it's hard to spot-check everything.
Know when to walk away from a deal. Most cards are replaceable or can be found at someone else's table. If a dealer low-balls you on a trade or offer for your cards, say no. You can always go back, if you're desperate for a deal later.
Check the bargain bins. Yes, they take time but sometimes they make the show worth it. I've done better in a bargain bin at a local show than bigger national shows with hundreds of dealers.
Always check out the display cases first. The first thing you should do at a show is look at the glass card cases, as they generally get picked around before people raid the bins.
Don't hesitate on buying an inexpensive or rare card. If you see something you want, get it! Deals/unique cards get scooped up fast.
The best times for deals are in the beginning and when things are shutting down. New inventory might not be priced properly at the show's start, so you'll find opportunities then. And when the show is nearly over, dealers often give discounts to sell X amount of cards for the weekend.
Don't be afraid to trade with/buy from people walking the show. In the past, many people looked down on this. But that mentality is quickly changing.
Bring supplies with you. Yes, most big shows will have them available, but you can save some money on toploaders and sleeves if you bring your own.
Ask questions on cards you don't know about. Sellers should know their inventory. You build up a knowledge base by asking questions, even if they seem stupid.
If you go to card shows often, I highly recommend bringing a carrying case. It'll help you store your stash while you're walking around.
Trade nights are a great way to move inventory but know that they are dominated by modern cards. Vintage sightings are rare at those events.
Always bring cash to a show. A lot of older dealers will not accept PayPal, Venmo, Zelle etc. Others simply want to avoid the $600 IRS threshold.
Also, bring some of your cards to the show. If a dealer wants a specific player or set, you can use it for trade or sell them for a profit.
Though a bit overlooked, you'll want to make sure you wear comfy shoes. If a show has hard floors, your feet will hurt.
Try some local food or experiences if you've traveled out of town for a show. When I go to a new event, I look up food near the venue and try to catch a rock/metal concert.
Ryan Nolan writes about vintage cards and other topics for Sports Card Investor. He also runs Breakout Cards and is the co-host of Moneyball Cards. Follow him on Twitter and YouTube for more content.
Track your collection and maximize your profit with Market Movers, the hobby's most powerful sports card pricing platform! Learn more here.
Note to readers: If you purchase something through one of our affiliates, we may earn a commission.