Bubba Watson is just like you. As a child growing up in the '80s, he loved Michael Jordan—his game, his shoes, his everything. "When I was a kid," remembers the 43-year-old PGA Tour star today, "my mom got off work to go get me Jordans. She went into debt [buying the sneakers]. I'm not gonna lie. But when I turned pro, I paid off all the bills. She went into debt making sure her son had something he loved."
When it comes to sports cards, Watson is a lot like you, too. Before the pandemic, he had family and work to keep his mind occupied — okay, so his job of winning two Masters and earning more than $45 million in prize money may be a little different from yours — but since the shutdown, he's had time to fall back in love with the hobby. He bought Jordan slabs. He posted card pics on Instagram (@bubbawatson). He attended shows with his children.
Unfortunately, Watson is dealing with a torn meniscus he suffered back in May, so he hasn't seen many card stores or golf courses lately. During a recent interview with the 12-time tournament winner, we talked about his painful rehab and all the joy cards have brought him.
First off, how are you feeling?
I've felt better. Last Thursday, we just started putting weight on my foot. It's a lot more detailed than I was expecting. We're still two months out from starting to chip and putt. The pool is broken at the facility, but as soon as that's up, we're going to get in the pool and, hopefully, loosen up my leg. The knee right now, in my mind, is tense so it's making all the muscles around it tense. But we started putting weight on it. And as soon as this interview is over, I'm going over to rehab. Hopefully, we'll just keep making progress. It's slow gains. I'm American, so I want it now!
So, what's your best guess for when you can get back out on the golf course?
It's all speculation. Tomorrow will be exactly one month from surgery. We just started putting weight on it. It hurts so bad to try to walk. I'm supposed to be walking with my crutches, putting light pressure on my foot and getting to practice bending. When I say bending, it's only bending a couple of centimeters. It's all mental. And it's over a meniscus. It's not even a real ACL [injury] or anything. We're just trying to repair the meniscus. We're looking at a couple of months 'til chipping and putting and then, a couple of months after that, we can get to the twisting, where I can get in real shots.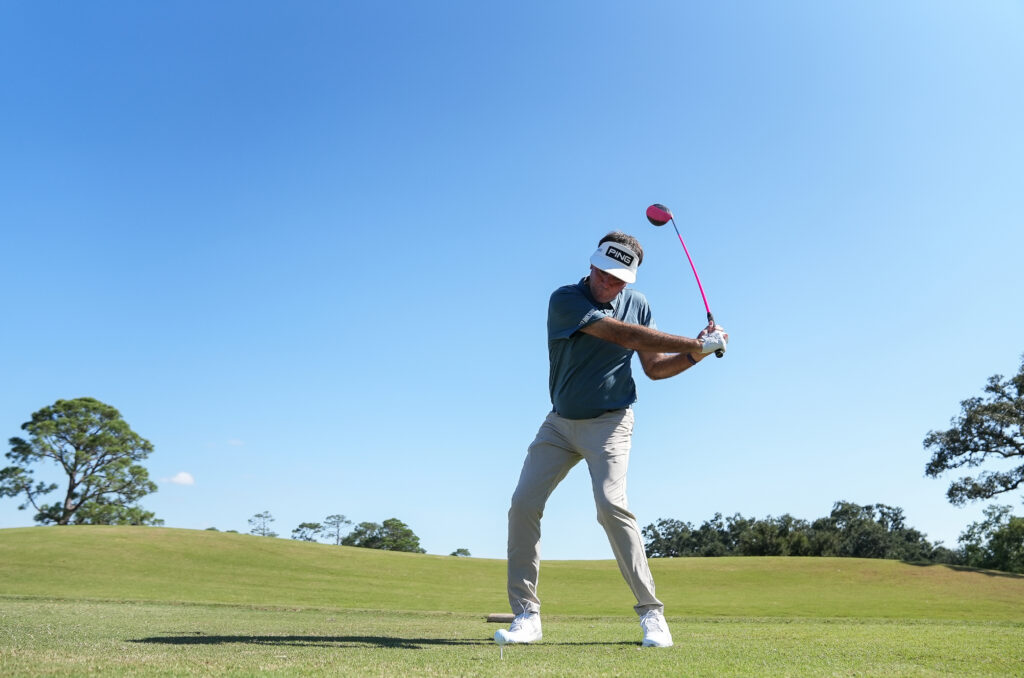 As far as collecting, I see you posting pictures of Michael Jordan and Nancy Lopez cards. Where did this love for the hobby come from?
It's always been there. It's so funny. Last night, randomly, the local card shop had kid's night. I can't go because of my leg, but my wife took my son and my daughter. Our pastor at our church took his kids. They just had a blast. It's not about buying cards at that moment. It's about trading with other kids, getting your hero or whoever it is. My daughter now has two cards for Dennis Rodman's daughter (Trinity), who plays [professional] soccer. She loves soccer. She's seven years old. She loves it.
For me, it started when I was a kid. My son is now 10. My daughter is seven. I told my son last night, I remember having a picture of Mickey Mantle boning a bat, making the bat tougher and stronger. I remember having an autograph on it. My dad took me to get it signed years and years ago. I traded that in as a kid. I was somewhere between 10 and 12 years old. The guy gave me like $5,000 worth of product. As a kid, I thought it was the greatest thing ever. Sitting here as a grown man, I wish I had that picture with an autograph. I know it was real. That's one of those mistakes you make as a kid that you wish you could redo. But at the same time, I let my kids open some cards I had from 1991 [Fleer]. We got four Michael Jordans out.
The love's always been there. But during the pandemic, golf went to a whole new level and cards went to a whole new level. I never really thought about it, but I got so focused on what I was doing in life—my family, golf and other businesses. But then, when I sat during the pandemic, I was like, "You know, I've never had a Michael Jordan rookie." I go with cheaper [options]. I'm just going to be dead honest with you. So, when the Michael Jordan rookie in a [PSA] 8 came up at a reasonable price — or what I thought was a reasonable price — I jumped at the opportunity.
And then there's Nancy Lopez. I saw her at Augusta. I love that lady. She's the Arnold Palmer of ladies golf. For me to have a card of hers is special.
And I have [NFL legend] Bubba Smith, too. I have to show you because it's my favorite. (Watson reaches for a 1972 Topps card.) The reason why I like this so much is because it's signed. It says "78," which he wore. I was born in '78. And my name comes from Bubba Smith. For me, it means so much. It's not about the value. Who cares about the value? It's about cards I truly like and people I look up to.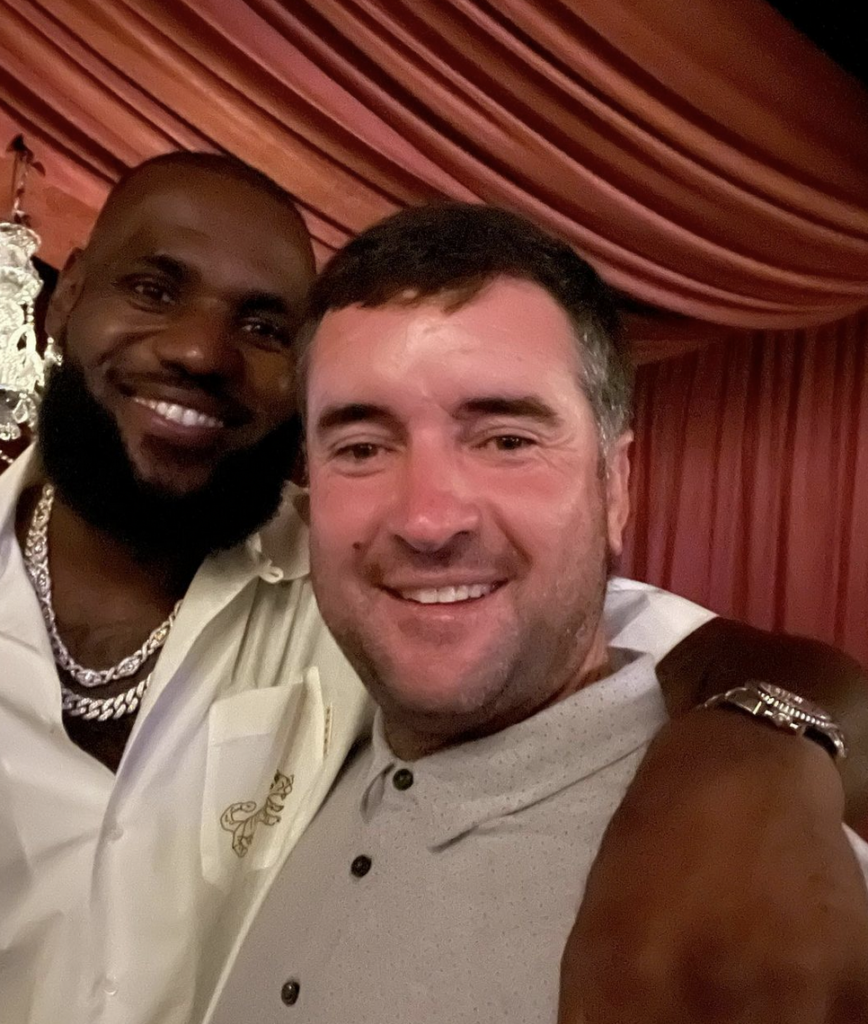 So, you focus more on your heroes than names who are hot in the card market?
Yes. I mean, who doesn't like Michael Jordan? These young kids today only know him as the shoe guy. But when they look at highlights, now they get to see who Michael Jordan really was, right? That was a different kind of basketball than there is today. And then, when you think about LeBron James and what he's been able to do on and off the court, it's amazing. And who doesn't like Ja Morant? For Father's Day, my kids and my wife surprised me with a Ja Morant [rookie card]. For me, it's about things that I like. I don't have a reason to sell these [cards]. Hopefully, it'll never come to a point where I have to sell these. Hopefully, I'm good with my money. For me and my son, it's a passion. He loves Aaron Judge. We've started collecting him. He's massive, he hits for power and he seems like a great dude. I've never met him but his interviews and the way he reacts seem so positive.
Tell me about the wild ride you've seen the card market go on over the past couple of years.
It's funny. We actually had a plan. I had a couple of buddies and we were thinking about opening up a shop. We wanted a card shop because I want a kid's night. It's like golf—you give out free golf balls, free lessons, free junior clinics at the driving range here in town. Same thing with the card shop. You can have fun with it. For me, I had surgery, so we stopped that plan to open a card shop for right now.
When you look at it, it's like anything, houses were high on the market but now they're going down. Cards are the same way. But it depends on why you're doing it. A lot of people stepped up and tried to buy Flawless cards and tried to hit the home run. I'm not in it for the home run. I think the biggest part of the business is not doing it for the home run, [the collectors who are] in it for the "wow" factor of getting their hero. We did have some newcomers come to the business because of the "wow" factor of selling a card for high prices. I've talked to my son a lot about this. You keep your favorite cards. Trade them if you want to. It's not about making money or any of that stuff. People that jumped into it were for the quick sale. But people that have been here for years and have a passion for it are still going to be here. Just like the game of golf. You have moments where houses go down and houses go up. Golf goes up and down. More people play, less people play. It's like anything. We're in a weird time for everything, not just cards.
Golf cards haven't generated a lot of excitement in the hobby lately. What can be done to get your sport more involved?
I was with Upper Deck for a few years a long time ago. The PGA Tour, I think, has a deal with Upper Deck. A lot of people don't know most of the [golfers]. We all collect the high-end cards. We all want the big names. We don't know the people coming out of Triple A and going to the Major Leagues and going back to Triple A. I think golf is in that weird dynamic. It's just hard to get mainstream. There are these athletes that are on SportsCenter all the time. You hear those names, know those names and want to have those names. Golf is just not there. They only show the person [on the screen] who came in second or third… or Tiger Woods, wherever he finishes. It's very few times that you hear people's names. In basketball, football, baseball, even hockey and now soccer, you're hearing those people's names more. With F1 [racing], who doesn't want a Lewis Hamilton card? It's because you hear those names. In golf, you don't hear all the names. There's only a handful of people at the most that you can say you know of.
Beyond Lewis Hamilton, who are some folks you'd like to add to your collection?
I went down to Miami for the F1 race. I saw Lewis Hamilton. I didn't say hey to him but I saw him. He's a legend in the sport. We can sit here and say he's the greatest. It's like Tiger and Jack Nicklaus. You could debate all day and never have the answer. But me and you know it's Tiger. Let's be honest. [In racing] it's Lewis Hamilton. I also got to know the McLaren team, so now I've started to look at some of their cards. But then, when you go back to ladies golf, I played with Lexi Thompson. A Lexi Thompson card would be cool. I've been staring at Wayne Gretzky rookies. Like I said, though, I don't wanna come off that hip pocket. You don't want one that's really beat up. You want a better one.
You want a PSA 7 or an 8, right?
Yeah, I look at the 8s and I'm like, "Oh, that's too much."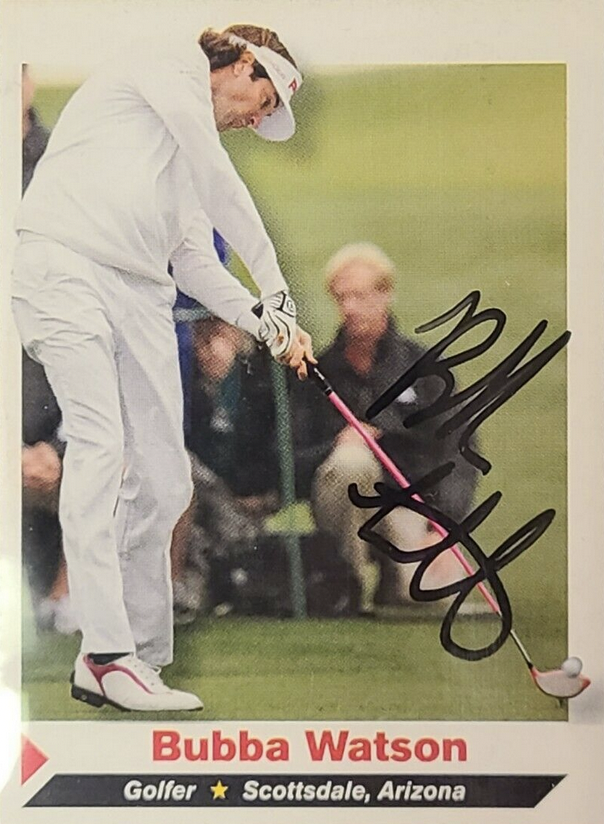 But hold on, Bubba. You can pay for a PSA 8. Why won't you pull the trigger?
Yeah, but I have a wife that I have to sneak this past. I have to butter her up to get her to say yes to this. But no, there are always different things that pop in. Why do you like somebody and why do you not like somebody? There are a few people that I haven't gotten yet. But I wanna play it right. I don't wanna just go in [the card shop] and waste a bunch of cash. I wanna do it right. But [talking about Gretzky] I almost want to go get the PSA 8 Michael Jordan [1986 Fleer card]. Get all 8s. So, if it's a Tom Brady rookie, I'd get a Tom Brady 8. I'd get a Wayne Gretzky 8. Just to keep it with a theme. I messed up with the LeBron and Ja because I got 10s.
What about your own cards? Do you have a few Bubba Watson rookies in the collection?
No, I don't have any of my cards. They're not worth very much. When I signed with Upper Deck years and years ago, I got them to do me an uncut sheet. The sad thing is that I don't know where that uncut sheet is. If I could find that, I'd definitely frame that up. I do have some cards of me laying somewhere, but I haven't gotten them graded or anything like that.
With the Sports Card Investor app, you can profit from the hobby you love by keeping up with trending cards, tracking real-time prices with Market Movers and buying items on eBay. Download the industry-leading app here for Apple or Android
Note to readers: If you purchase something through one of our affiliates, we may earn a commission.