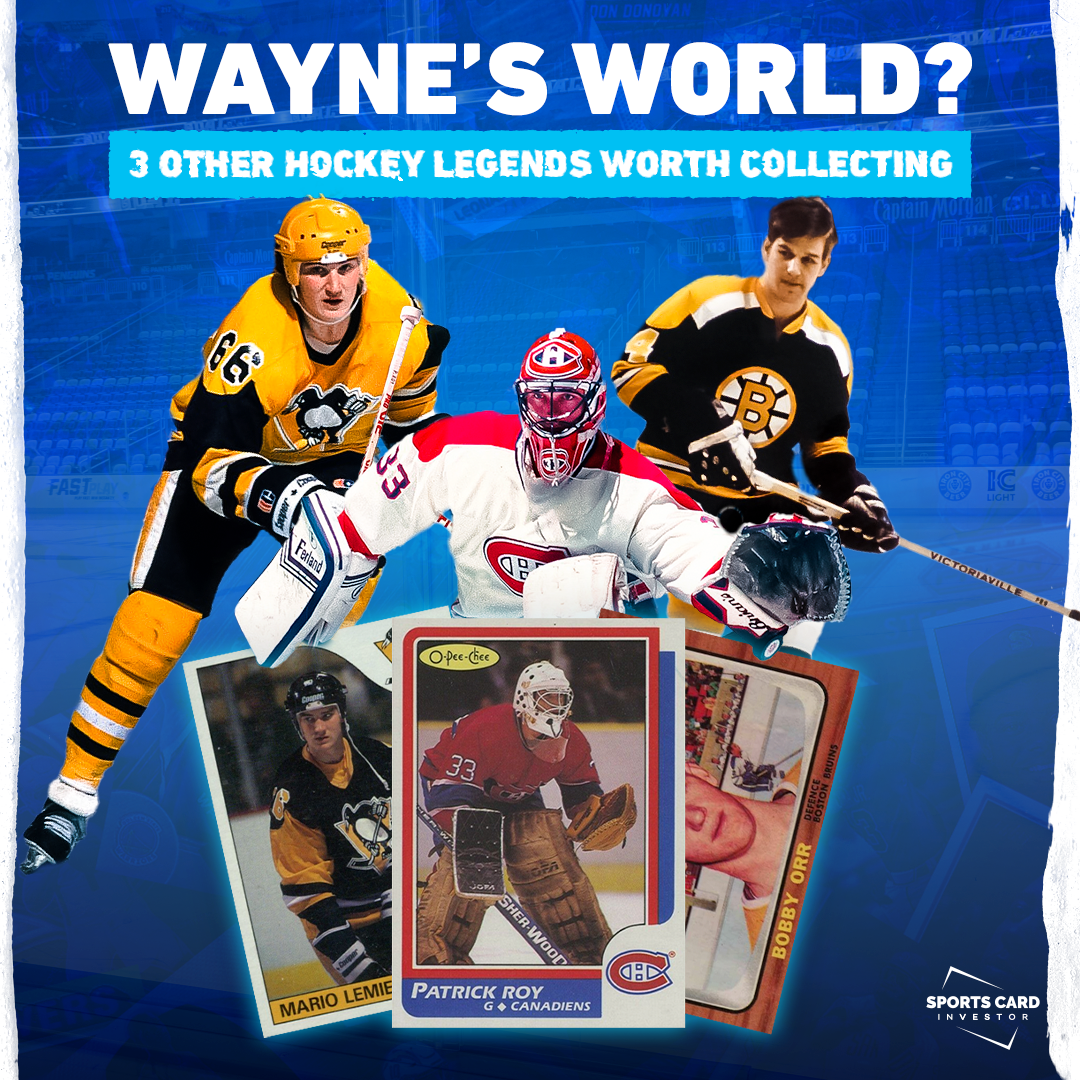 We know that Wayne Gretzky is considered the Great One. Though he remains the only player with a jersey number retired throughout the entire league, Gretzky is far from the only legendary hockey player in the hobby. Let's take a look at three other all-time greats who absolutely belong in your collection.
Before Gretzky, the consensus greatest of all time was Boston Bruins defenseman Bobby Orr. Orr redefined the position, creating a new dynamic that had not yet been seen in the NHL–a puck-rushing defenseman. Previously, defenders were tasked with clearing the front of the goal crease, winning puck battles along the boards and making good first outlet passes. Orr decided to scrap the latter and, instead, chose to carry the puck out of his own zone and into opposing zones. With great speed, tremendous skating and offensive gifts that could rival any forward in the league, Orr was impossible for opposing teams to contain.
The holy grail of Orr cards has to be the 1966-1967 Topps rookie. With nothing higher in circulation than a PSA 7 (some graders like SGC and KSA do have higher grades on eBay), this remains one of the most difficult cards to obtain in decent condition. Over the past year, we have seen this card smash the $20,000 barrier, with recent sales netting over $23k.
While Orr and Gretzky are legends who changed the game, Mario Lemieux re-invented it on every level imaginable. Never before had a player of Lemieux's physical stature – when they played, Mario was four inches taller and 50 pounds heavier than Wayne – possessed Gretzky's level of skill and hockey sense. With skating that was even more exceptional than Orr's, Lemieux dominated the league to a level previously thought impossible.
Lemieux's first game put the entire league on notice, as he swiftly scored a breakaway goal on his first shift. The flailing goalies of the mid '80s knew that they'd have their work cut out for them, with a player of Lemieux talent and formidable size. But the Penguins star didn't just put up points, he elevated everyone around him, providing career numbers for players like Rob Brown, Mark Recchi, Rick Tocchet and Kevin Stevens. Additionally, he helped spark the early career of Jaromir Jagr, helping him become one of the most dominant European players to ever play in the NHL. 
For Super Mario, it's always about the '85-'86 O-Pee-Chee/Topps rookie. While raw, the entry points can be pretty affordable; higher grades of either can get very pricey. Rightly so, this set is notorious for poor centering, making higher grades much lower pop. Additionally, OPC cards, being Canadian exclusives, have a smaller count than their Topps counterparts. Lemieux will remain on hockey's all-time Mt. Rushmore, so this should always be considered a safe asset for your portfolio. 
Beyond this, there are plenty of newer autograph and patch autograph cards for Lemieux, but nothing beyond his rookie seems to draw the same fervor from collectors.
While Martin Brodeur may be one of the most statistically decorated goaltenders in NHL history, you'd be hard pressed to find many who don't have Patrick Roy at the top of their list of best netminders. Roy's swagger and four Stanley Cup championship rings paint the picture of a fierce competitor who wore his heart on his sleeve. With legendary press conference soundbytes, well-publicized physical altercations with Red Wings goaltenders Mike Vernon and Chris Osgood and a firm hold on second place in career wins (behind Brodeur), Roy created a following that will live forever.
The talented French-Canadian goalie also played a bulk of his career during a trading card explosion, with an array of '90s inserts, sought-after rookies and autographed memorabilia cards that continue to be made today. Roy famously led the Montreal Canadiens to the Stanley Cup as a scrawny rookie two years prior to his first card, the '86-'87 OPC/Topps. With somewhat better QC than Lemieux's card class, Roy's card fetches a pretty penny in higher grades. The last three sales of the OPC in a PSA 9, in fact, have an average price of $1,521.
Track your collection and maximize your profit with Market Movers, the hobby's most powerful sports card pricing platform! Learn more here.
Note to readers: If you purchase something through one of our affiliates, we may earn a commission.