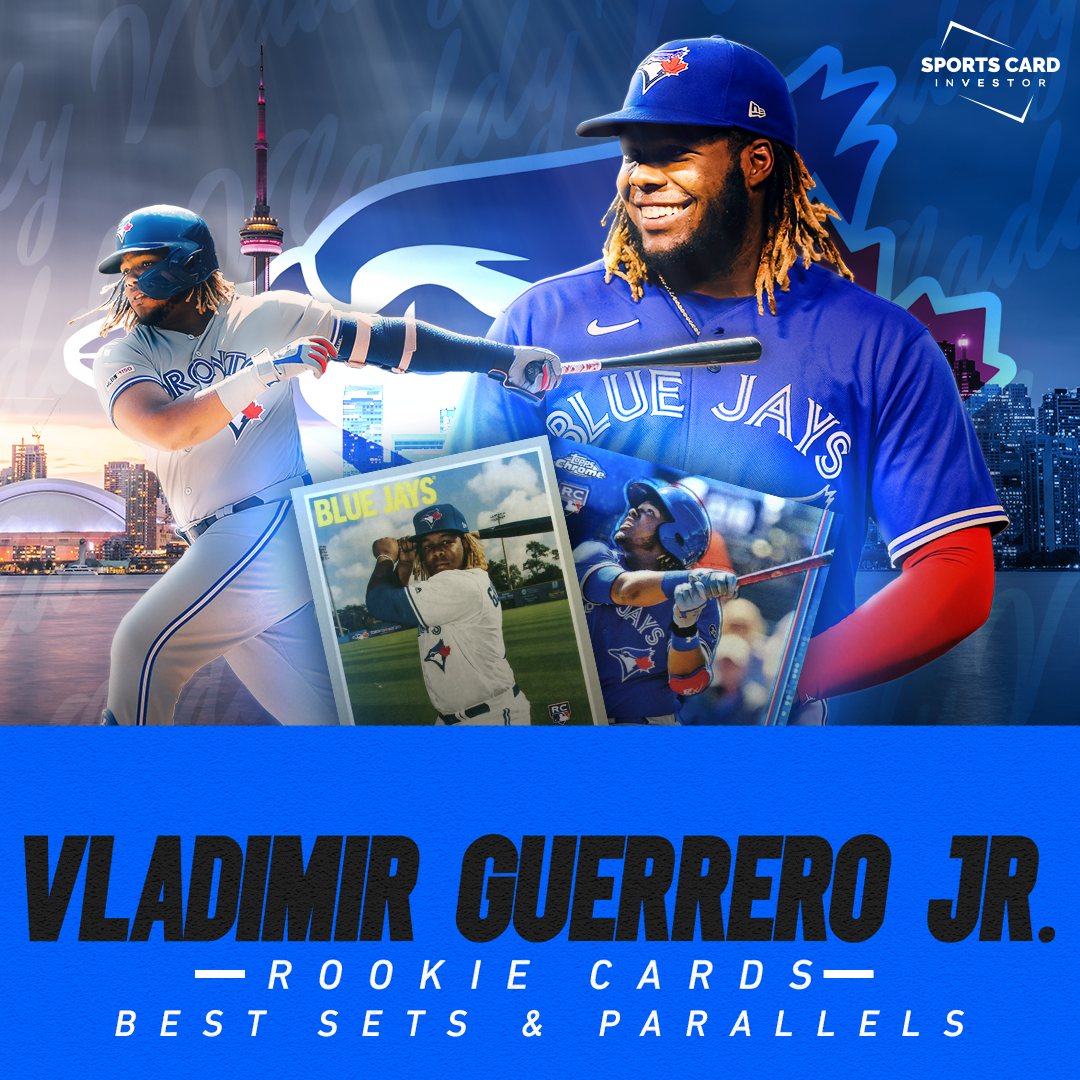 If it weren't for a father who hit 449 home runs and earned nine All-Star Game selections, Vladimir Guerrero Jr. could easily say he was the best baseball player in his family. And if it weren't for a certain pitching-hitting phenom in Anaheim named Shohei Ohtani, Vlad Jr. could have easily won the 2021 American League MVP as well. Thankfully, playing second fiddle is something this Toronto first baseman won't have to deal with for much longer. A starter in the 2022 MLB All-Star Game, Guerrero Jr. is a slick-gloved, hard-hitting infielder who's only now getting his cleats wet in the bigs.
Of the stud-filled 2019 rookie class, Vlad Jr.'s cards have had some of the most consistent sales. His coveted Topps Chrome Rookie Auto PSA 10, for instance, sold for $1,076 on July 5, 2021. Even with the radical highs and lows the hobby has seen over the past 365 days, the same card only dipped to $915 on July 2, 2022. Other autos and colorful parallels tell a similar story of resilience for one of the game's great young sluggers.
Vlad Jr. has a number of rookie cards from '19, so use this Sports Card Investor guide to see which ones we think you should focus on. Cards are broken down into tiers, ranging from the most affordable and more popular options to the most unique, expensive and rare.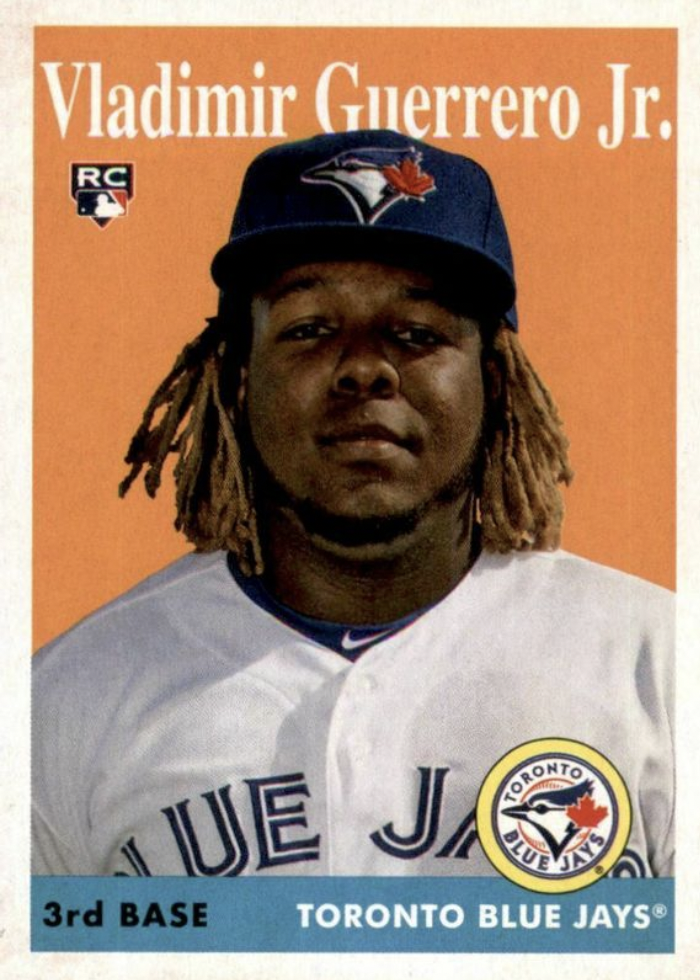 VALUE ROOKIES:
The Value Tier includes cards with high print runs or lower-quality cardstock. A good fit for new collectors or those on a limited budget.
2019 Topps Archives #14: Don't let the baby face on this throwback card fool you—the only thing on this guy's mind is taking a grown-man's hack of your favorite pitcher's fastball and sending it into the cheap seats.
2019 Topps Allen & Ginter #278: Hovering between $40 and $90 for a PSA 10 for much of the past year, this may be the smartest entry point for hobbyists looking for an RC of a perennial all-star that won't puncture the wallet.
2019 Bowman's Best #26: This base is a good-looking action card, but the Atomic Refractor (sitting around $150 at press time) takes things to sparkling new heights.
2019 Topps Heritage #504: The batting pose here screams "spring training." The other thing collectors should hear with this one is "savvy play," especially considering how this card hasn't sold for more than a reasonable $90 since September '21.
POPULAR ROOKIES:
This tier includes cards from the most popular sets across both retail and hobby formats. Typically easy to buy or sell when needed.
2019 Topps Chrome #201: This sought-after card has been graded nearly 8,500 times by PSA, but that proliferation cannot negate the fact that, at one time, it consistently reeled in $200+.
2019 Bowman Chrome #73: When the 2021 All-Star Game MVP was ripping through pitchers in April '22, this rookie sold for $150. After his bat cooled off in May, it dropped into the $30s. The refractor (/499) had a similar stumble over the same time frame.
2019 Topps Chrome Sapphire Edition #340: We don't know what we love most about this card—the image of Guerrero Jr. admiring one of his majestic long balls or how the Jays' blue jersey somehow makes the shimmery coating pop even more than normal.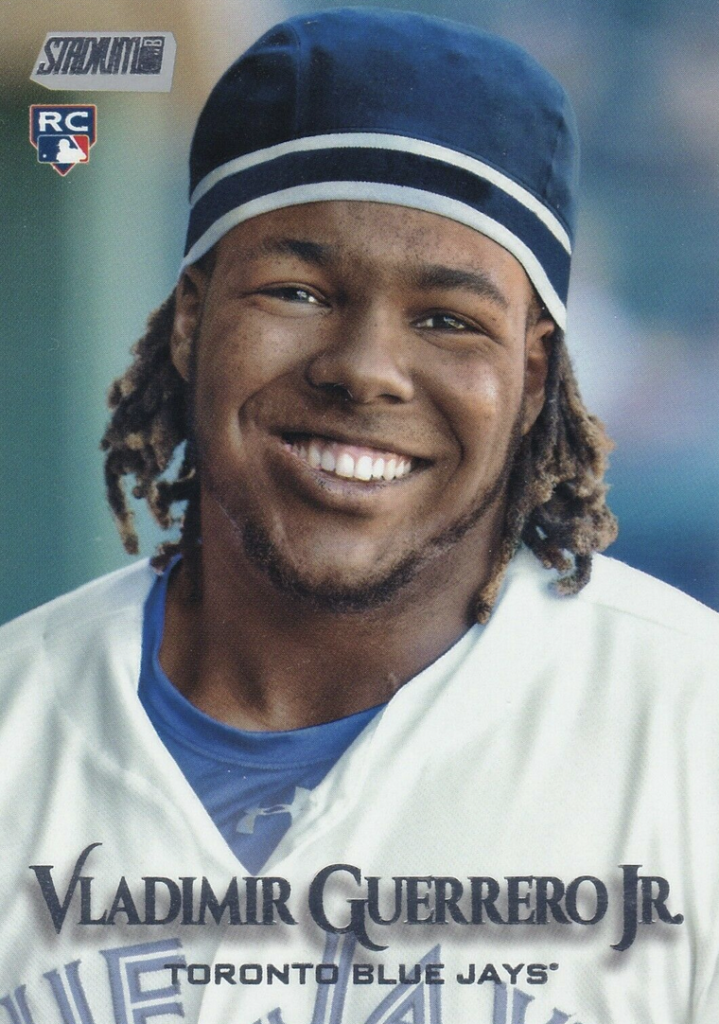 MORE UNIQUE ROOKIES:
This tier includes cards with lower print runs, unique designs, or cards from hobby-only products. Usually higher-quality cards than the Value or Popular tiers, though not necessarily more popular or easier to buy or sell.
2016 Bowman "Chrome Prospects" 1st BCP-55: Though the hype of being the son of an MLB Hall of Famer was immense back in '16 and '17, the spry young man captured in this photo not only lived up to the buzz, but in many ways has already eclipsed it.
2019 Topps: While the shot of Vlad Jr. here is the same one as Topps Chrome, there's one glaring difference—this RC is missing a card number on the back's top right corner. Error cards don't have the panache they once did, but the flub is still pretty cool.
2019 Topps Stadium Club #301: Just look at this guy's million-dollar smile. Keep having 40-homer/100-RBI seasons and watch it turn to a 10-year/$300-million grin before your very eyes.
With the Sports Card Investor app, you can profit from the hobby you love by keeping up with trending cards, tracking real-time prices with Market Movers and buying items on eBay. Download the industry-leading app here for Apple or Android.
Note to readers: If you purchase something through one of our affiliates, we may earn a commission.