UFC 280 will go down on October 22, and as one of the biggest and most important events of the year, the aftermath is likely to have a massive impact on the UFC trading card market. This fight card is loaded with two title fights, several fan favorites, and under-the-radar bangers. Let's take a look at the five fights most likely to impact the UFC card market.
5. Muhammad Mokaev vs. Malcolm Gordon
At just 22 years old, and with only two UFC fights under his belt, Muhammad Mokaev may not yet be on the radar of most UFC fans and card collectors. In fact, with his debut fight happening just this past March, the only Mokaev cards printed to this point have been a pair of Panini Instant cards issued directly after each of his fights.
So why include a fighter who is a relatively unknown commodity, and especially one who doesn't yet appear in any of the more popular card series such as Panini Prizm or Select? It's because Mokaev is looking primed to become both a top-ranked Flyweight and a future favorite of card collectors. It's not just his undefeated professional record of 7-0, his lengthy 23-0 amateur career, or his accolades in grappling as a youth. All of those things help of course, but Mokaev has the potential to be one of the UFC's biggest stars with his skills, high-paced style, and confident, likable personality.
Mokaev's first-ever card, a Panini Instant from this past March, sold 1,109 copies while current card collector darling Paddy Pimblett's sold just 661 from the same event. It's clear that the hype is already building for this young prospect. This is not to imply that Mokaev is, or ever will be, more popular than Pimblett, but it's a clear sign that many UFC collectors are looking forward to watching Mokaev's ascent through the ranks, as well as his future card releases.
Going into UFC 280, Mokaev is a massive favorite at about -700 odds with most sports books. Don't worry if he loses this fight, though – he's incredibly young for a UFC fighter, and many of the greatest fighters historically experienced losses early. These losses often act as a motivator for fighters to reach the next level in their skillset. A dominant win is only going to heighten anticipation on future releases, though, and we'll likely see desirability and prices rise on the few existing Mokaev cards that are out there.
4. No. 6 Beneil Dariush vs. No. 9 Mateusz Gamrot
Beneil Dariush is an established veteran with 20 UFC fights, and a current win streak of seven. He's still somewhat unknown outside of hardcore MMA fans, and his cards don't yet have the type of following among collectors they deserve. Mateusz Gamrot is a relative newcomer to the UFC, debuting in 2020, but entered the organization with plenty of experience from fighting in Poland's KSW organization, one of the largest in Europe. He's a rookie in the current 2022 lines of Panini Prizm and Select, but his cards haven't reached the hype of peers such as Paddy Pimblett or Ian Garry.
According to Market Movers, Gamrot's key 2020 Prizm UFC Silver Raw sold for as much as $30 a year ago, but has seen sales as low as $1 within the last three months. That Prizm has ticked back up in recent weeks, however, and is now averaging around $12 leading into UFC 280.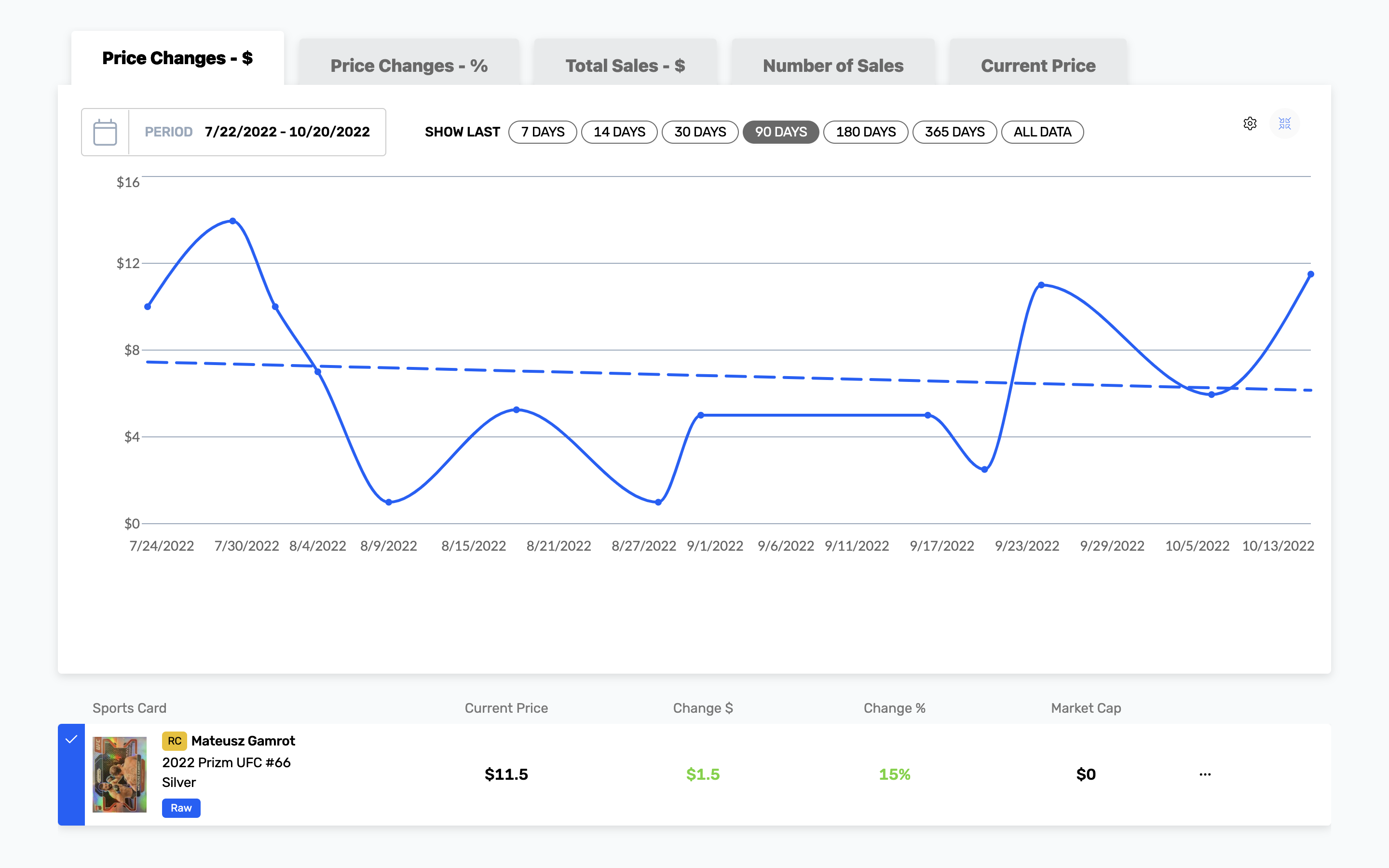 Both of these fighters are on the type of winning streaks that usually result in shots at the belt, but unfortunately that might not be the case here. There are talks of featherweight Alexander Volkanovski jumping up to lightweight to face the winner and try his hand at becoming a double-champ. If that move happens, it's likely that he jumps the line over the winner of this fight, which probably means another fight for said winner before they can get their own title shot.
It's important to remember that UFC values aren't always tied to success in the Octagon – the most important thing is that the fighter has fans excited about them, and in turn want to buy their cards. Remember those famous memes with Daniel Cormier, Joe Rogan, and John Anik losing their minds at the commentary desk? They're reacting to Beneil Dariush knocking out Drakkar Klose after a wild, punishing, back-and-forth fight at UFC 248. On one of the biggest and most intriguing cards in recent memory, this should be a fight full of high-energy scrambles, creative submission attempts, and wild-yet-skillful striking that will leave an impression on any and all fans watching.
3. No. 1 Katlyn Chookagian vs. No. 7 Manon Fiorot
Katlyn Chookagian's cards have never carried much value on the market. Even desirable and low-numbered parallel cards can be had for a very affordable price, with very few cards ever selling for more than around $25. Chookagian is a very good, highly-ranked fighter, who has beaten several very good, highly-ranked fighters, but few people would project her to ever become a UFC champion at this point in her career. It would be fair to say her style in the cage is points-based as she has never recorded a finish in her UFC career, and few (if any) fans will view her as an exciting, must-watch type of fighter.
Manon Fiorot, however, is a fast-rising prospect with six knockouts in her nine wins with two in the UFC Octagon. Fiorot's rookie card year is 2022, and key cards like her 2022 Prizm UFC Octagon /8 Raw and her 2022 Prizm UFC FOTL Gold Shimmer /5 Raw have already sold for more than $1,000 each.
A canceled fight in September has left Fiorot without a fight since March, resulting in many of her key cards dipping over the last 180 days. According to Market Movers, her most popular card over the last six months has been her 2022 Prizm UFC Silver Raw, which is down 85% over that same period. Once a $60 card in March, this signature rookie can be snagged for less than $3 before one of the biggest fights of her career.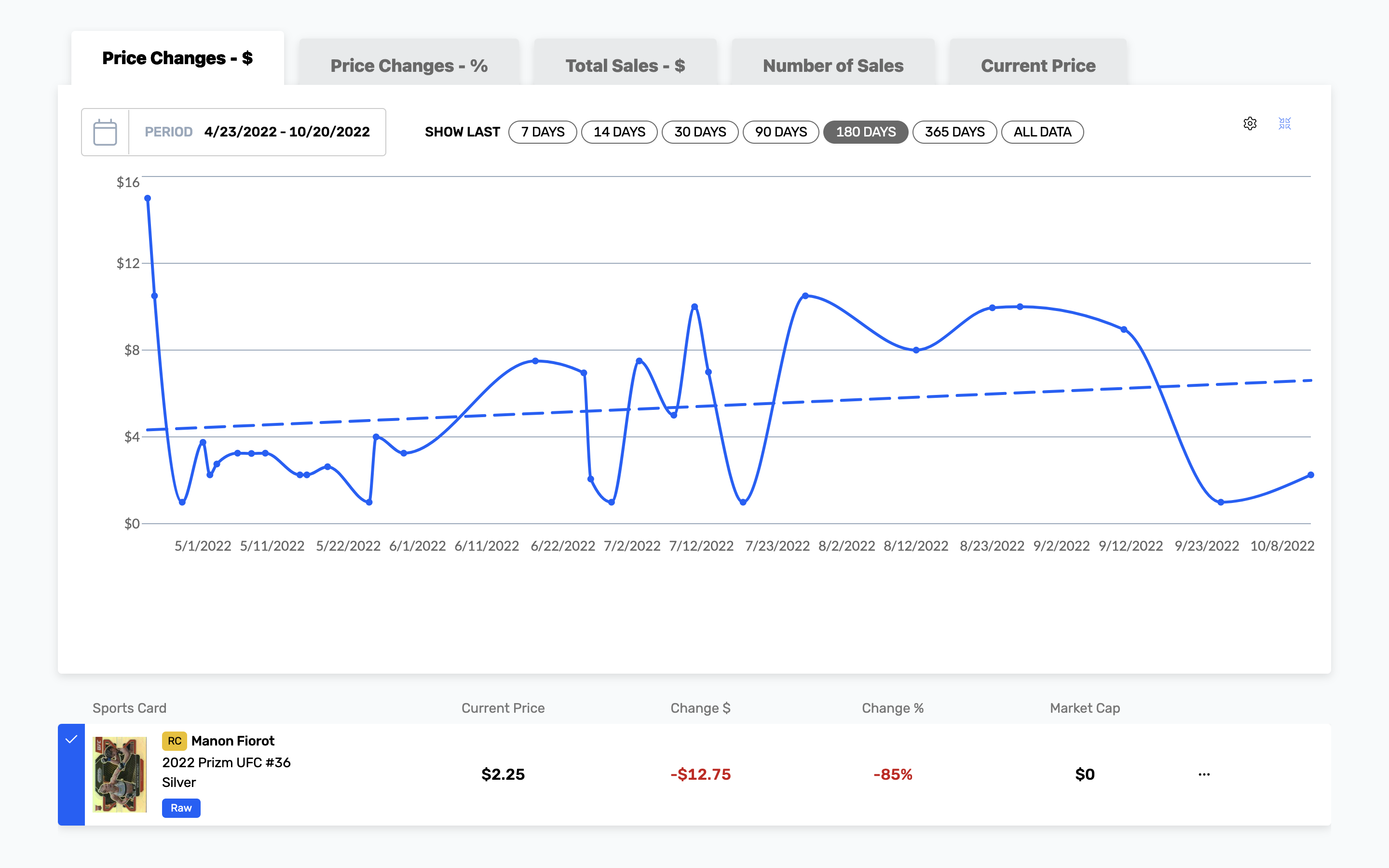 A win over the No. 1-ranked Chookagian could likely catapult Fiorot into a title shot against the dominant queen of the women's flyweight division, Valentina Shevchenko. If you're looking to buy Fiorot, it will likely prove wise to start purchasing early because prices could rise quickly if the -205 favorite is able to get the win – especially if she's able to deliver another finish over her opponent, something that has only been accomplished by the aforementioned Shevchenko and former strawweight champion Jessica Andrade.
2. No. 1 Petr Yan vs. No. 12 Sean O'Malley
Both Petr Yan and Sean O'Malley are already quite popular fighters among UFC card collectors. Yan has already been a UFC bantamweight champion, and as a skilled striker with a lot of power for the weight class, he's an exciting fighter to watch in the cage. O'Malley can still be considered a prospect to some degree, but his brash personality, funky fashion, and smooth fight style have made him a fan favorite pretty much from Day 1. Both already have a strong market around their cards, so don't expect the result of this fight to do much to dissuade that.
Although a loss for either fighter shouldn't hurt much, a win for O'Malley will be huge. It's hard for even his biggest haters to deny he passes the eye test with his skills, especially in the stand-up game. He's long, fluid, unconventional, and has knockout power. The problem is that, to this point, he's only met two proven top bantamweights in the Octagon, and both of these fights ended controversially.
O'Malley's last fight back on July 2 ended in a draw against Pedro Munhoz, and since then two of his key rookies have dipped. If we look back to that fight, we can see O'Malley's 2018 Topps Chrome UFC Base PSA 10 got a bump shortly after, but has continued to trend down over the last few months.
His 2018 Topps Chrome UFC Refractor PSA 10 has seen a similar decline, but several sales in October have bumped it back up to the $350 mark.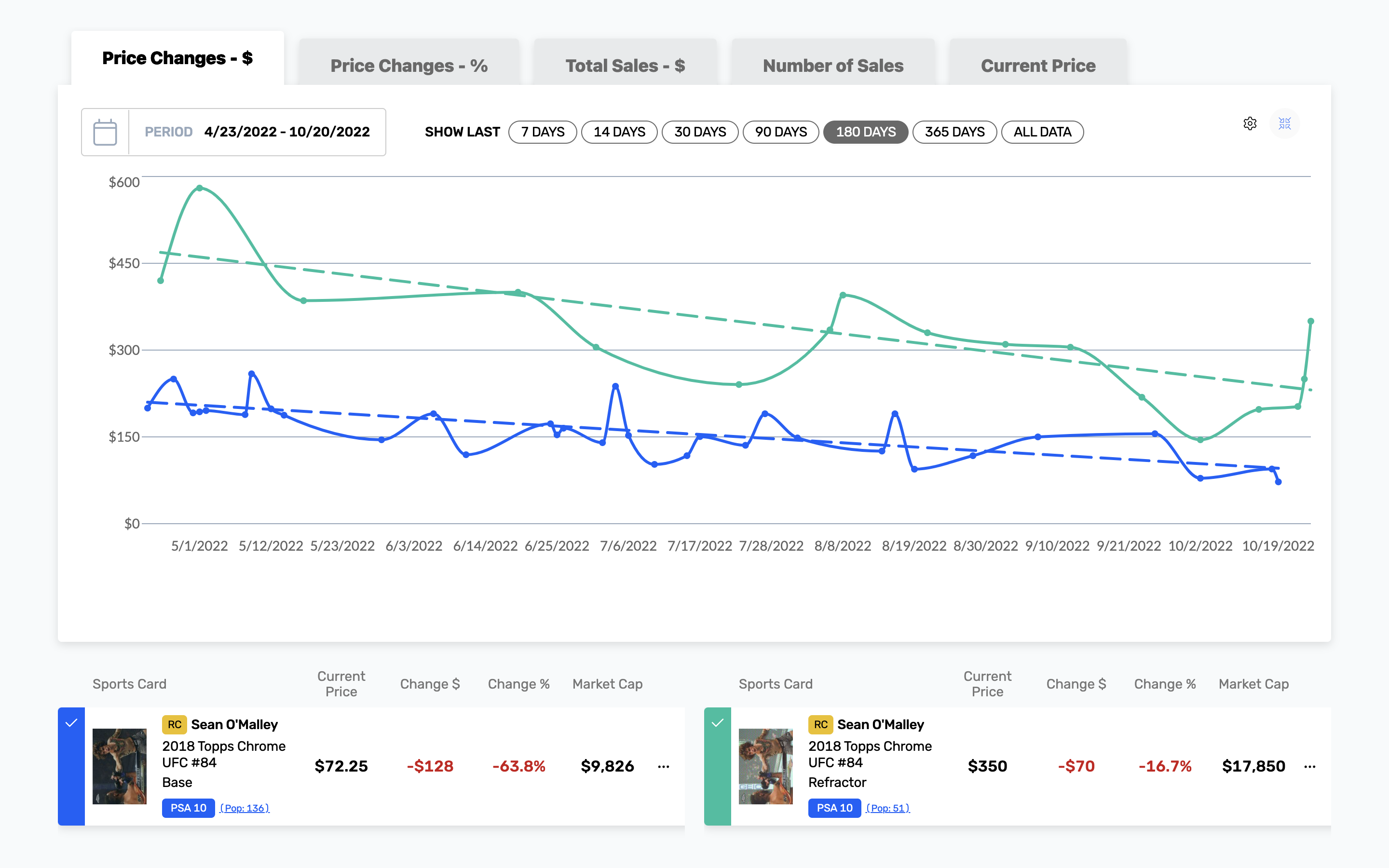 Yan will be the biggest test of Sugar Sean's career to this point, by a large margin. As of this writing, Yan is a strong -380 favorite to win the fight. A win over Yan, especially by knockout, will surely increase O'Malley's value and desirability in anticipation of a likely title shot following UFC 280.
1. No. 1 Charles Oliveira vs. No. 4 Islam Makhachev
Technically this bout is for the vacant UFC Lightweight championship due to Charles Oliveira coming in over the 155-pound weight limit for his title defense at UFC 274 against Justin Gaethje. In this case, the championship became vacant the moment the bout with Gaethje began, and only Gaethje was eligible to win the belt. Oliveira went on to win the fight via rear-naked choke, muddying the waters at the top of the division. Still, if you ask most fans they will likely tell you, "the champion has a name, and it is Charles Oliveira". A few years ago, many would have thought of "Do Bronx" as a journeyman fighter, but with an 11-fight win streak over high-level competition, and a UFC-record 19 finishes, he has become not only a very popular fighter, but also one who is considered to be among the best lightweights ever.
His opponent, Islam Makhachev, has long been considered by many fans to be the heir apparent to the Lightweight throne since the retirement of his mentor, Khabib Nurmagomedov. Makhachev is on a 10-fight winning streak in the UFC, and outside of his lone loss in 2015, has mostly dominated his competition with his smothering Dagestani wrestling. The Khabib connection has heightened expectations for Makhachev, and ahead of this fight, the hype could build back up for his cards.
Makhachev hasn't fought since February 26, and since then his 2019 Topps Chrome UFC Base PSA 10 and his 2019 Topps Chrome Refractor PSA 10 have dipped 23% and 9%, respectively. Extremely low populations on both cards leave plenty of opportunity for growth, however, and cards that were once $640 and $305 can now be picked up for less than $250 each.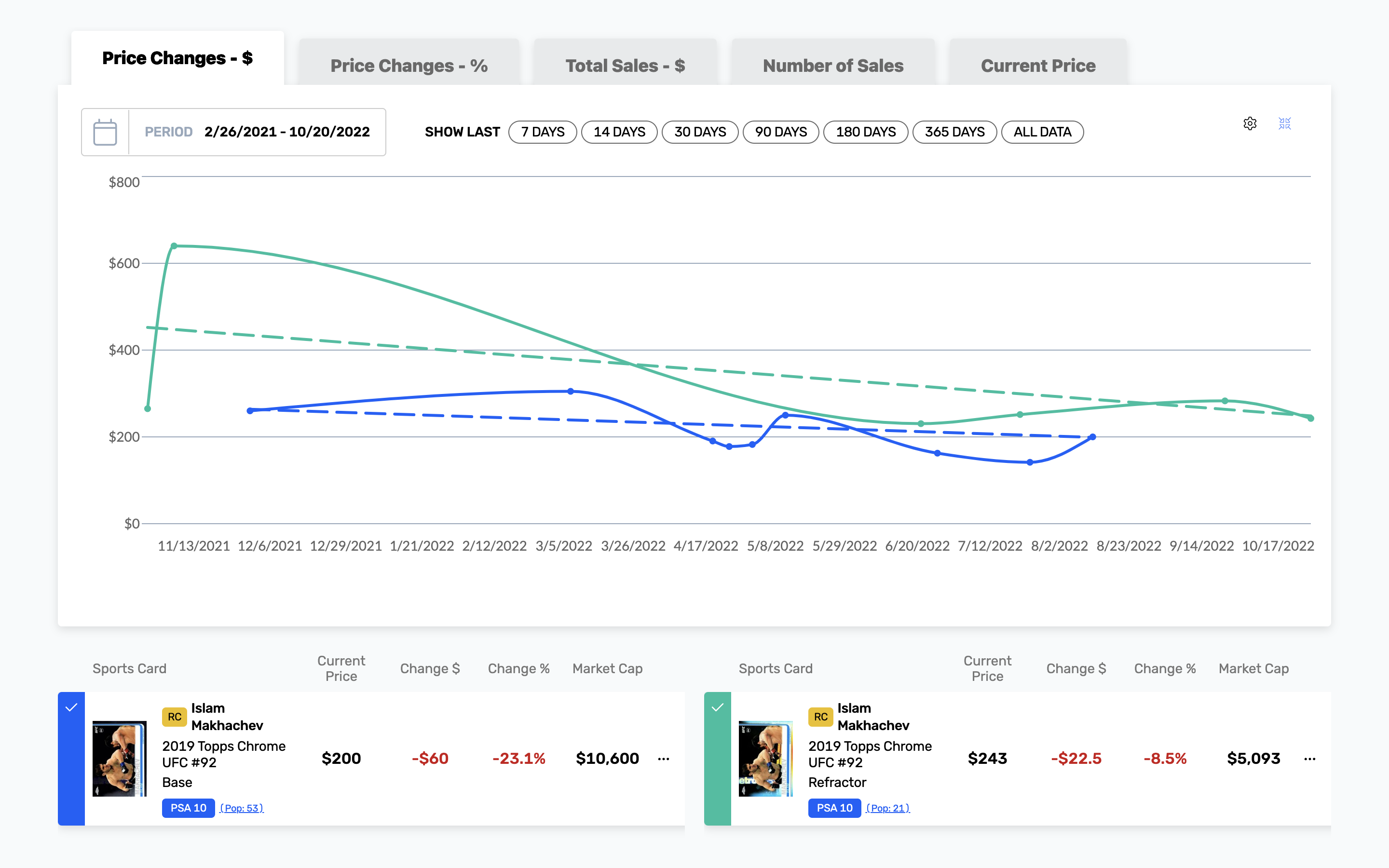 UFC 280 will prove to be a pivotal moment for the card market around Makhachev, mostly because there's potential for both growth or regression. The attraction to Makhachev for collectors, at least in part, is due to the perception that he is all but an unbeatable force. Many of his fans consider his TKO loss to Adriano Martins to be a fluke, and with what we have seen from him since, there may be some truth to that. In this regard, a loss to Oliveira will expose him as indeed human, and will take a lot of shine off his prospects of becoming champion in the future.
Winning the title in a fight against Oliveira will only strengthen his case as a dominant force, though, and we should see his card value skyrocket as fans anticipate a long run as the UFC lightweight champion.
With the Sports Card Investor app, you can profit from the hobby you love by keeping up with trending cards, tracking real-time prices with Market Movers and buying items on eBay. Download the industry-leading app here for Apple or Android
Note to readers: If you purchase something through one of our affiliates, we may earn a commission.