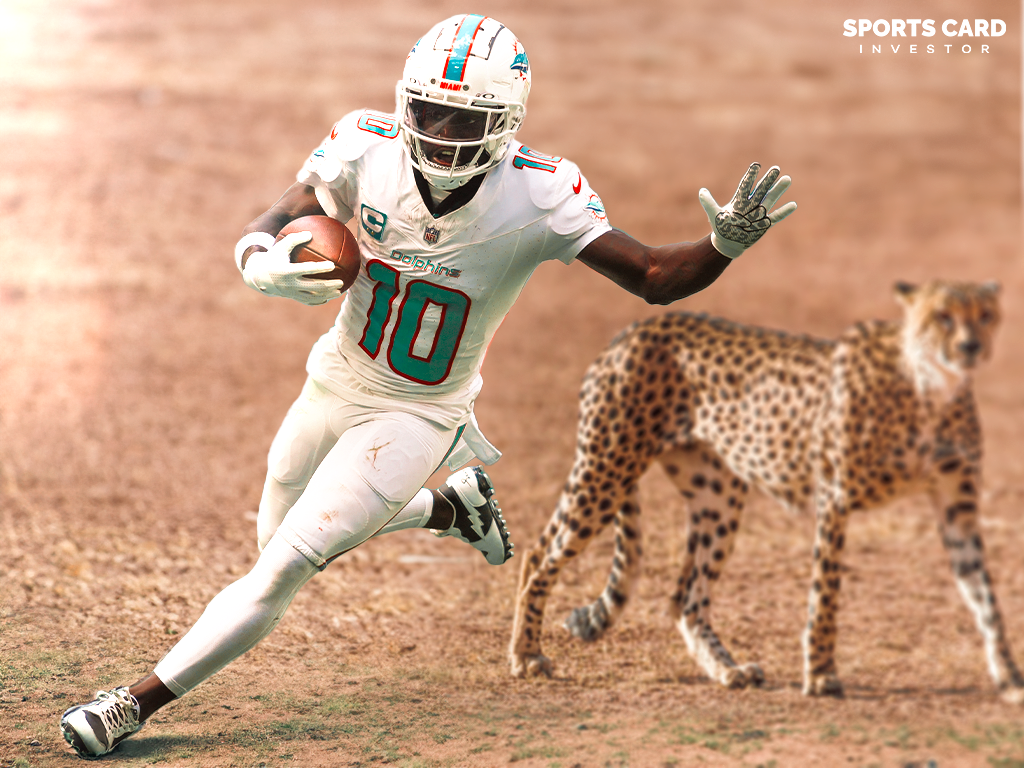 Tyreek Hill Rookie Card Guide: Best Sets & Parallels
Since being drafted 165th overall in 2016, Tyreek Hill's lightning speed and impressive space creation has led to the Miami Dolphins wideout establishing himself as one of the top receivers in the league. While many questioned if he would be able to sustain the same amount of success that he had while in Kansas City, Hill put all doubts to rest after posting single-season career bests in both catches and receiving yards last year.
Even still, due to his draft year and status, there's not nearly as many of his cards in circulation as there are of other more recent skill position rookies and QBs. For all of these reasons, he's an interesting player to dive into. Let's take a look at our picks for Tyreek Hill sports cards to target.
Value Rookies
The Value Tier includes cards with high print runs or lower-quality cardstock. A good fit for new collectors or those on a limited budget.
2016 Select Premier Level #170 PSA 10: Our first selection for budget-friendly collectors is Hill's 2016 Select Premier Level in PSA 10. Trading at $66, this option has a pop count of just 27.
While it isn't the most liquid print, a Tyreek Hill PSA 10 rookie card for less than $70 gives a low entry cost for an elite receiver on an improving team with a talented young quarterback. 
2016 Select Concourse Base #65 PSA 10: Next is Hill's Select Concourse Base in PSA 10. This card is currently available at a 29% discount, as it has dropped $23 over the last 365 days and is attainable for less than $60.
There are a lot of characteristics to like here, such as decent liquidity, a pop count of 142, and a color-matched background, that make this option a great value pickup.
2016 Optic Pink PSA 10: Our final pick for Hill's value cards is his 2016 Optic Pink in PSA 10. This is another option trading below 365-day trends, as it is down 36% over that time period.
For a card with a pop count of just 47, trading every month (on average) is another solid indicator. Those interested can scoop these up for around $75.
Popular Rookies
This tier includes cards from the most popular sets across both retail and hobby formats. Typically easy to buy or sell when needed.
2016 Prizm Silver #296 PSA 10: Liquidity is often a factor that plays a large role in decision making, and with good reason. With Hill having the ability to post ridiculous stats and highlights every week, knowing you can move the card when the time comes can be a powerful trait. His 2016 Prizm Silver in PSA 10 leads the pack, trading 84 times over the last 365 days.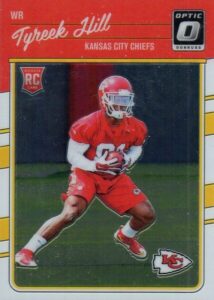 You can pick one of these up for $120, but it's worth noting that in each of our trackable time periods during the last year, this card has seen profit spikes.
2016 Optic Base #117 PSA 10: Hill's 2016 Optic Base features a pop count of 337, and has changed hands 57 times in the last 365 days, good for second most among his rookie cards graded in PSA 10. This card also sits at an appealing price point of $120 for those interested.
2016 Optic Holo #117 PSA 10: Our third pick for top popular rookie cards is his 2016 Optic Holo. Attainable in PSA 10 for less than $100, this print is down 34% over the last 365 days.
It has traded 28 times during this time period and features a desirable pop count of 146.
Unique Rookies
This tier includes cards with lower print runs, unique designs, or cards from hobby-only products. Usually higher-quality cards than the Value or Popular tiers, though not necessarily more popular or easier to buy or sell.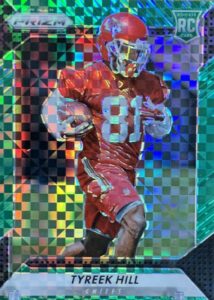 2016 Prizm Green Power #296 PSA 10: Hill's 2016 Prizm Green Power is one of just three of his prints (graded in PSA 10) that is down in pricing over the last 60 days. This card has a pop count of only five, and was short-printed to just 49. Collectors can pick up this variation for around $350. 
2016 Select Premier Level Light Blue Die-Cut #170 PSA 10: Another unique selection would be his 2016 Select Premier Level Light Blue Die-Cut. In PSA 10 there are just four in circulation. Previously trading for $156, this card was sold in September for $300.
For a card with low liquidity and sales volume, it's curious as to what comparison or factors caused pricing to nearly double. Nonetheless, this card features some sweet card art and was printed just 125 times.
2016 Optic Red & Yellow #117 PSA 10: While most of Hill's Optic rookie prints have been down the last 365 days, Hill's Red & Yellow parallel in PSA 10 is up 44%.
You can secure an option for $160, a good price for a desirable color-matched print with a pop count of only 116.
Rarest and Most Exclusive
This category may be out of reach for most collectors due to price. Don't worry if this tier is too pricey as there's a host of options in other categories that could be perfect for your collection.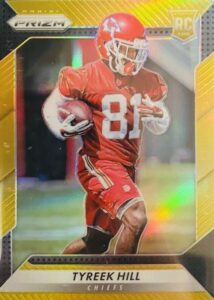 2016 Prizm Gold /10 #296 PSA 10: For those looking to add some exclusivity to their collection, our first pick for Hill is his 2016 Prizm Gold. Down $150, this card is currently trading for $3,400. With a pop count of just two, this card has shown high levels of pricing stability over the last year, meaning this card may be more appealing to those looking to add to their PC.
2016 Select Concourse Green #65 PSA 10: Hill's 2016 Select Concourse Green hasn't been traded since December of 2022 and there is only one PSA 10 currently known in circulation. Short printed out of 5, this option is sure to add exclusivity to anyone's collection.
2016 Prizm Red (SSP) #296 PSA 10: The last of Hill's cards that we'll be discussing today is his 2016 super-short printed Prizm Red in PSA 10. This card also has a pop count of just one, and is actually trading at a 48% discount, a good option for those looking to add rarity without breaking the bank.
With the Sports Card Investor app, you can profit from the hobby you love by keeping up with trending cards, tracking real-time prices with Market Movers and buying items on eBay. 
Download the industry-leading app here for Apple or Android. Note to readers: If you purchase something through one of our affiliates, we may earn a commission.
Paul Hickey is a regular contributor to Sports Card Investor, the creator of the Sports Card Investment Report at NoOffseason.com, and the host of the Sports Card Strategy Show on Apple Podcasts, Spotify and YouTube. He can be found on Instagram at @sportscardstrategy and on Twitter @nooffseasoncard.