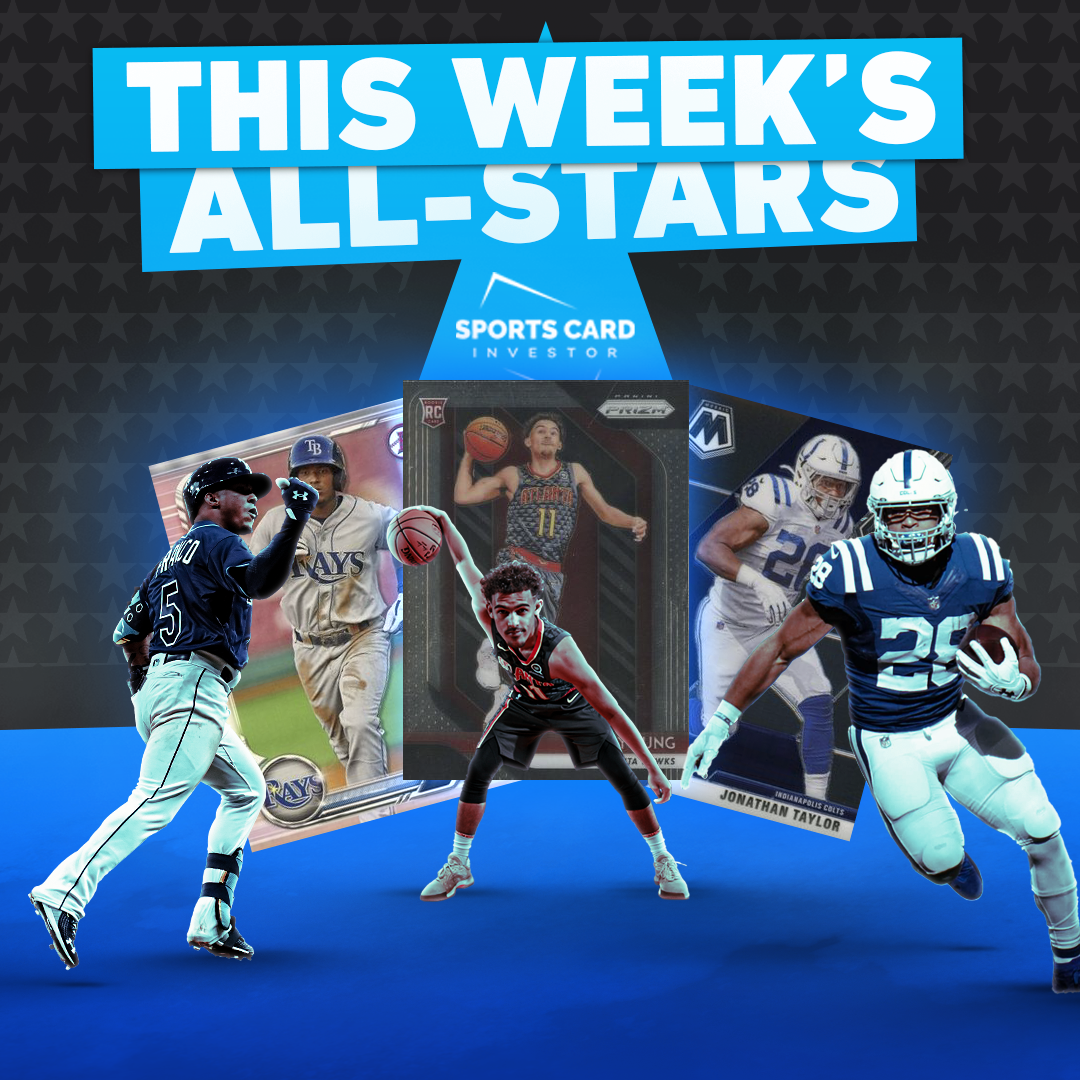 Even when the sports card market continues to dip, Trae Young finds a way to keep rising. After eliminating Joel Embiid and the Philadelphia 76ers, Young has turned his focus to Giannis Antetokounmpo and the Milwaukee Bucks in the Eastern Conference Finals.
The Hawks are up 1-0 after a historic performance from Young, and his cards remain some of the hottest in the hobby.
Here's a look at Sports Card Investor's impact players from across the major sports:
Luka Modric, Croatian and Real Madrid Midfielder
Already an incredibly accomplished player, Modric and Croatia will advance out of the group stage after a dominating 3-1 win over Scotland. Modric had an assist and one of the best goals of the Euros so far with his outside-of-the-boot finish.
Modric has now become the oldest and youngest scorer ever for Croatia, scoring his first at age 22 and now his latest at 35. Modric is Top-10 all time for Croatia in goals scored, assists, and appearances, and is looking to lead Croatia to its first ever Euro Cup win in what should be his last chance to do so.
Modric's most popular card in Market Movers, his 2014 Prizm World Cup Base Raw, is down 12% over the last 365 days. — Doug Huskey
Jonathan Taylor, Indianapolis Colts Running Back
So much offseason talk for the Indianapolis Colts has centered around new quarterback Carson Wentz that running back Jonathan Taylor has largely been overlooked. But a year ago, Taylor had 12 total touchdowns and led all NFL rookies in rushing yards.
The kid is only getting started. Knowing this, the timing couldn't be better to score a few of his 2020 Mosaic RCs. Reasonably priced around $50 right now, the card could see a jump once Taylor starts juking defenses again next season. — DeMarco Williams
Wander Franco, Tampa Bay Rays Shortstop
For some baseball collectors, Christmas came early this year with the news of Franco finally getting called up to the bigs. Franco has been the bonafide No. 1 prospect in all of baseball the past two years and expectations couldn't be higher.
The 20 year old was able to live up to those expectations in his debut against the Red Sox, going 2-4 with a HR and 3 RBIs. Now that Franco's finally in the bigs showing he can compete at the highest level, baseball collectors and fanatics are excited to see more.
Franco appeared in this week's Top 5 Hottest Sports Cards, after his 2019 Bowman Paper Prospects PSA 10 jumped 86% in the days after the Rays announced his promotion. — Tyler Holzhammer
Trae Young, Atlanta Hawks Guard
Young and the Hawks keep playing spoiler for some of the East's top teams this postseason. Atlanta is currently up 1-0 after a win in Milwaukee, and Young exploded for 48 points and 11 assists in his first conference finals game.
Young's play during the playoffs has kept his cards hot despite an overall dip in the sports card market. His 2018 Prizm Base PSA 10 is up 21% over the last 7 days. — Ben Burrows
Track your collection and maximize your profit with Market Movers, the hobby's most powerful sports card pricing platform! Learn more here.
Note to readers: If you purchase something through one of our affiliates we may earn a commission.