On October 24, Tampa Bay's Tom Brady became the first player in NFL history to reach the 600-TD mark. A ridiculous feat to put alongside the hundreds of other ridiculous feats that Brady's accomplished the past 21 seasons with the Buccaneers and New England Patriots. Pacing the league in touchdowns and passing yards through the first seven weeks of the 2021 NFL season, the 44-year-old QB shows no signs of slowing up. And a sports card industry that simply can't get enough of the G.O.A.T. couldn't be any happier about that observation.
Brady has dozens of rookie cards from across the 2000 season, so use this Sports Card Investor guide to see which ones we think you should focus on. Cards are broken down into tiers, ranging from the most affordable and more popular options to the most unique, expensive and rare.
VALUE ROOKIES:
The Value Tier includes cards with high print runs or lower-quality cardstock. A good fit for new collectors or those on a limited budget.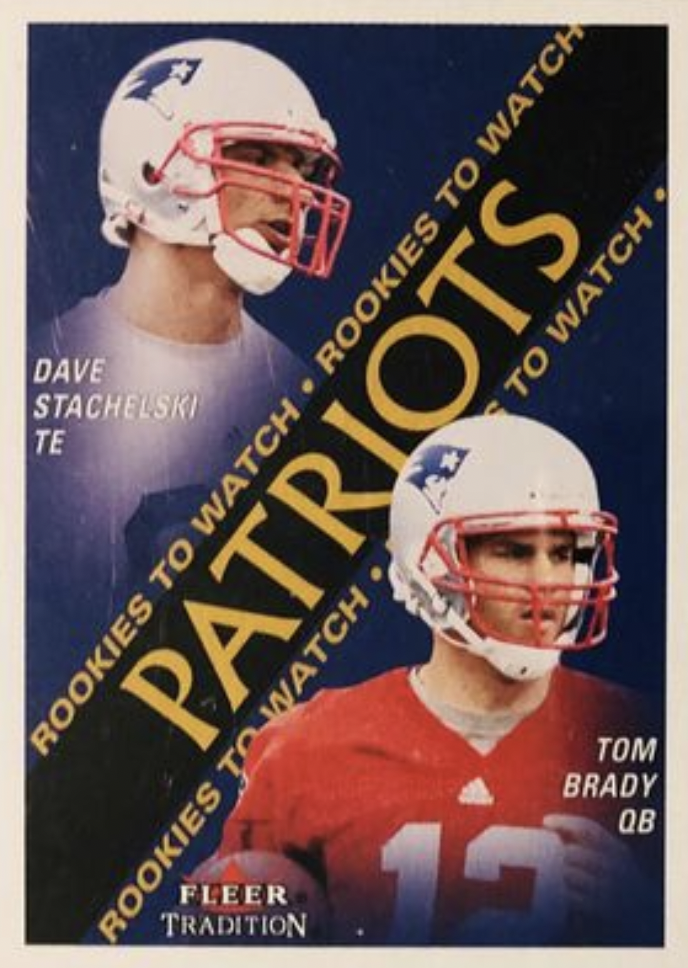 2000 Skybox Impact #27: There he is in all his University of Michigan splendor. This collegiate card was selling for under $1,000 in early January 2021, but you'll be lucky to find it south of $2,000 ever again.

2000 Fleer #352: We're guessing that some of tight end Dave Stachelski's cousins might have a few of these "Rookies To Watch" cards stashed away. The other 106 PSA 10s are likely under lock and key by Brady fans because they can get over $1,200 on the open market.
2000 Donruss #230: In this photo, a focused Brady is either looking ahead to a brilliant career in a New England uniform or he's simply checking down receivers in a Pats practice. Either way, this one in a PSA 8 or 9 is still worth a few thousands.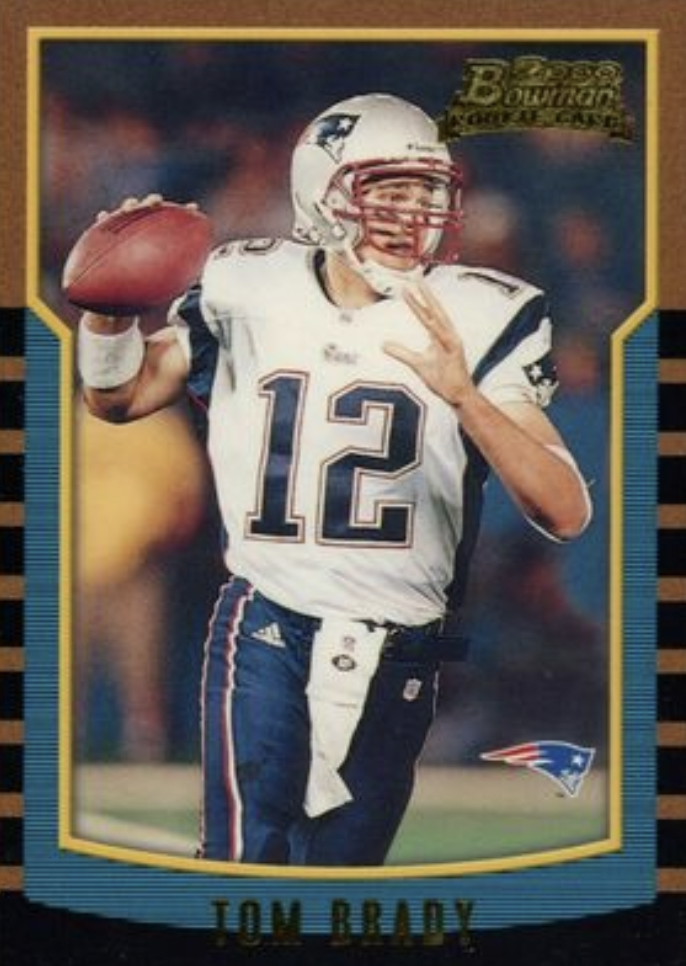 POPULAR ROOKIES:
This tier includes cards from the most popular sets across both retail and hobby formats. Typically easy to buy or sell when needed.

2000 Bowman #236: Easily one of the important football cards of the past 50 years, this one is essential for any true Brady collector. The Chrome version (and its highly coveted Refractor), which can easily garner more than $20,000 in a PSA 10, is a holy-grail catch for many.

2000 Upper Deck Star Rookies #254: Talk about unassuming. In this practice picture, Brady looks more like a third stringer than the only QB to ever make two NFL All-Decade teams. Of course, there's nothing bench-worthy about the card's $6,500-7,5000 price tags, though.

2000 SP Authentic Base #118: In a PSA 9, these rare cards (just 1,250 were printed) go for more than $25,000. The PSA registry says there are 98 PSA 10s in the world. Congratulations on early retirement, if you're in possession of one of them.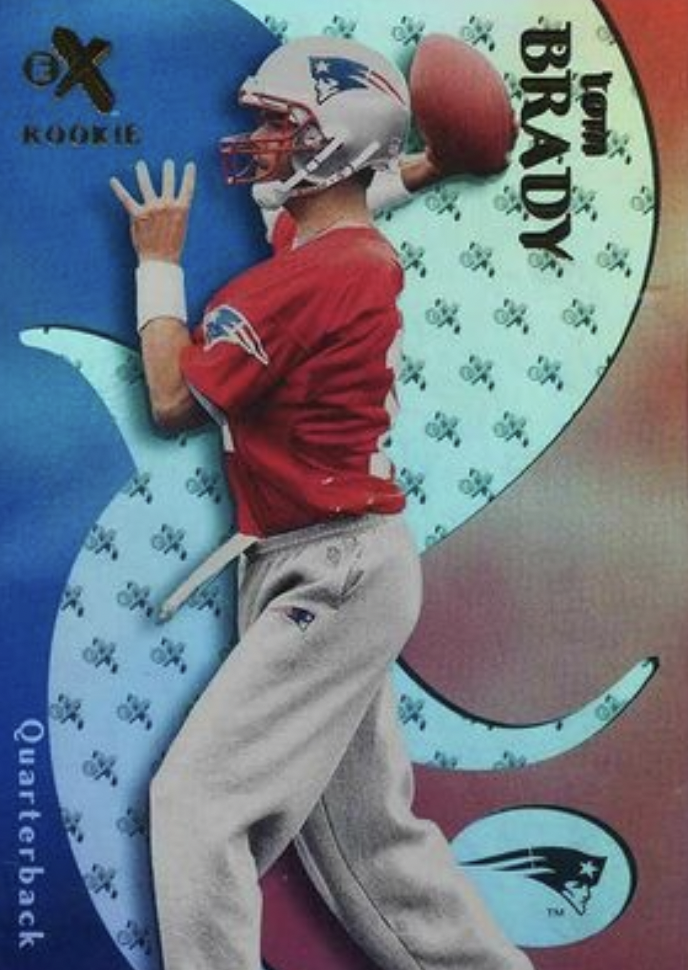 MORE UNIQUE ROOKIES:
This tier includes cards with lower print runs, unique designs, or cards from hobby-only products. Usually higher-quality cards than the Value or Popular tiers, though not necessarily more popular or easier to buy or sell.

2000 Fleer E-X #122: Fleer E-X is an odd imprint that tried to separate itself from the football fray with wonky background shapes and shiny coatings. Alas, the set doesn't leave much of an impression beyond this hard-to-find Brady beauty (just 1,500 cards).

2000 Metal Base #267: A brand that has become a collector's favorite over the past few years, Metal stands out with its heavier, more industrial feel. All of those qualities, along with this Brady card's horizontal layout, makes this a great one to have.

2000 Quantum Leaf #343: Over his Wolverines career, Brady managed a so-so 30 TDs and 4,773 passing yards. But you'd never know it from this card. With this action image sitting atop a backdrop splattered in "2000 Rookie" watermarks, Brady looks like an All-American.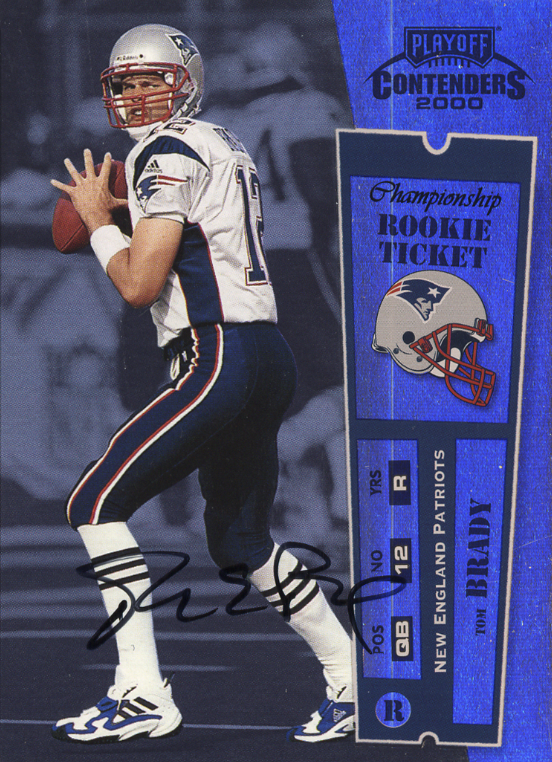 RAREST AND MOST EXCLUSIVE:
We won't spend much time here because this category is likely out of reach for most collectors due to price, but they are still fun to look at.
Sets like SPX and Revolution typically feature visually stunning designs and low-numbered cards.
This is also where you'll find the most impressive patches paired with high-quality, on-card autographs. Don't worry if this tier is too pricey as there's a host of options in other categories that could be perfect for your collection.
Track your collection and maximize your profit with Market Movers, the hobby's most powerful sports card pricing platform! Learn more here.
Note to readers: If you purchase something through one of our affiliates, we may earn a commission.