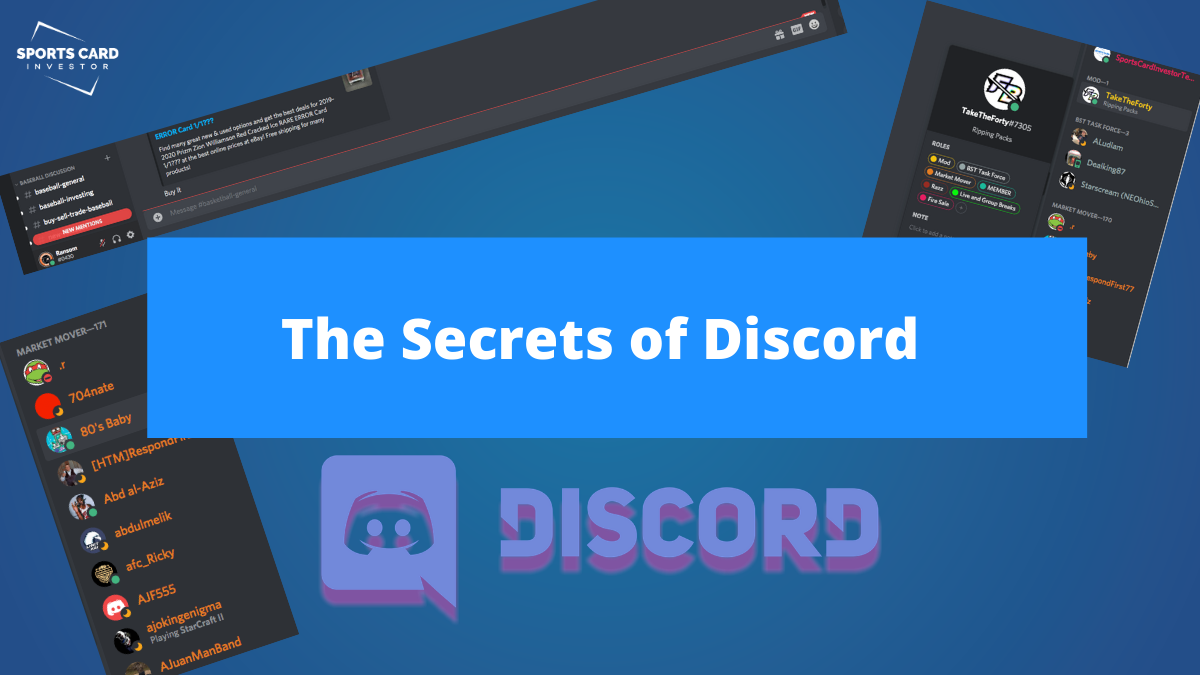 Introduction
When I started to use Discord to advance my knowledge of sports card investing and network within the community, I had no idea it would be this good, and this exciting. This article will discuss some keys to success by using Discord and how to traverse that medium.
History of Discord
Discord was started to solve a big problem: how to communicate with friends around the world while playing games online. Today, Discord is used by everyone from local hiking clubs, to art communities, to study groups. Discord has garnered 100 million monthly active users with people talking for upwards of 4 hours per day on the platform. Discord is now where the world talks, hangs out, and builds relationships with their communities and friends.
Why Discord is valuable for sports card investors
First, let me introduce myself. My Discord username is Ransom, and I can be found in our Discord server's admin section. Also, in the admin section is my good friend, Card Optic. Many of you know Card Optic from Sports Card Investor.com "weekly picks," and most get to know me through interaction when joining our server. As the administrators, we have a relationship with every single member who joins our server and we love that responsibility. Lastly, in that section, you will also see the SportsCardInvestorTeam.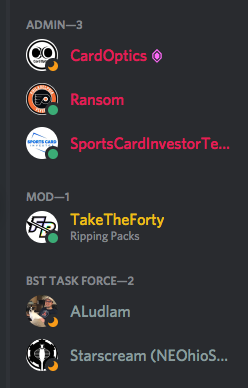 We also have a moderator section that works tirelessly to better our server's experience every time you log in. Geoff and the team are continually thinking of new ways to be the industry leader and it reflects. Our moderator section is comprised of Slewfoot, Bogey79, Cruzsupply, Kohl Johnson, TakeTheForty and Tyler AKA T-Pot. All are very knowledgeable about the server's functions and extremely fast in replying to any member's needs. Many of you know T-Pot from both the "weekly picks" as well as being featured on the You Tube channel discussing the features of Market Movers. Imagine, you have access to the people that not only continue to develop MM, but use it daily for their own collections!
Now, why is Discord valuable to you as a sports card investor. As discussed in Discord's history, the server was initially developed for gamers to use while playing. This development allowed for fast communications between players and eventually caught the eye of groups that wanted a quicker way to communicate as a whole. The value comes from our members and the discussions of all things sports. Currently, we have channels for Baseball discussion, Basketball discussion, Football discussion, Hockey discussion and Soccer discussion. In each of those channels, we also have discussions for investing, buy-sell-trade and new releases. We have discussions regarding Pokemon, new purchases, mail day, grading help, and a plethora of other cool discussions on our server. As many of you know, there is also the premium channels for members of our paid membership options. Lastly and probably most fun is our Razz, Live Breaks and Selling channels. These channels are closely monitored for any scammers or nefarious activity and great way to get involved with trusted breakers and sellers.

In any one of these channels, you can join in and interact with your community members or sit back and see what community members are saying regarding the sports card market in real-time. As you can imagine, the basketball channel is starting to heat up now that the season is over and members are trying to figure out who they want to invest in this upcoming season.
While researching a potential pick, I often fall back on Discord for good sound advice from guys I now have been collecting for years. I always come to my own conclusion, but running an idea by a few hundred people is still good practice…so as long as it's not a secret pick up before, the market gets hot.
TRENDING MLB CARDS ON EBAY
A look at our Discord community
We've already discussed some of our channels, now let's touch on the community within for a second. Our server currently has thousands of active members, with new members joining daily; it usually has about 175-200 Market Movers on at any given time throughout the day, approximately 150 sports card Investors and 1200+ members. This allows you to pose a question to well over 1500 people, plus the admin, the moderators and the Sports Card Team at any given time. This feature is often underutilized. I have been at sports card shows / conventions, got onto my Discord mobile app, and posed questions regarding sealed wax prices while on the card show floor. I had answers within seconds from trusted members of our community and saved hundreds. I have done this numerous times and I feel like we're cheating every time.
As many of you know, many athletes, actors, influencers, or simply just famous people follow the sports card investor community. Every once and a while, they jump into the channels to talk about sports cards. It usually happens that someone calls them out because they don't believe them and then they have to take a selfie to prove it. The funniest one yet has been Gary V. I shed light on this because we are all here for the love of the hobby and to thrive off each other. It doesn't matter your background or what part of the world your from; we are all here to help each other. Trust me; I've trolled soccer discussions for months before even thinking about posting something. Post or not, you will definitely learn from just being apart of the community.
How to Discord
Lastly, we can talk about how to use Discord. If you don't have Discord on your laptop or PC. Search for Discord in your search browser and follow the simple instructions. To get the mobile app, go to the app store on your mobile device and download it. I suggest becoming a member before uploading the mobile app, it seemed to be easier. Once a member, join our community as well as any other communities that peek your interest. You can message any member by merely scrolling over their username, as shown. You also have the ability to live chat or start a mobile discussion with friends you develop in time. To add in or create a dialogue, go to the channel you wish to discuss and simply type your message. Follow the discussion boards and have your questioned answer. It works exactly the same way on the mobile app.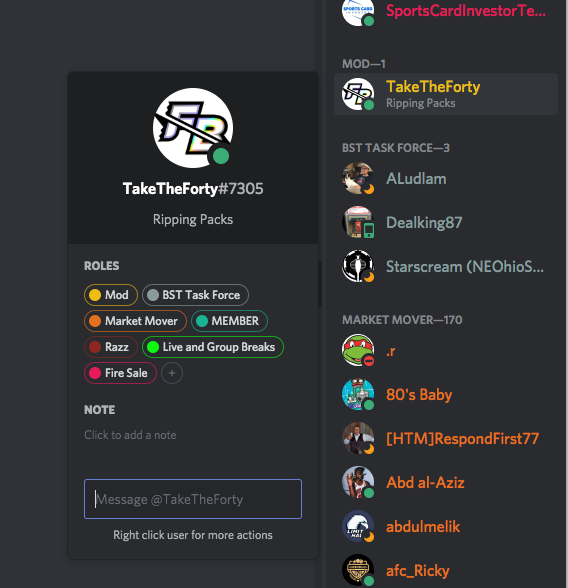 Conclusion
A very quick article regarding Discord and just a few of it's features. If you are scared of technology, don't be, our team is here to help. We will get you set up and on the right track. If you don't think it can help you in your journey, give it a try; it is at least a great way to network and see what the community is saying "real time." If you feel overwhelmed, don't worry, sit back and enjoy the talk. You don't have to pose a question or feel pressured to interact. You can learn a lot by just checking it out every once and awhile.
Lastly, we appreciate you guys. You are the community, and I we love being apart of it. I answer hundreds of messages a day and emails on top of that. You will not overwhelm me with questions or burden me. If you need any help on this journey, we are here to help.
There are a million tips and tricks I left out, I will continue to touch on Discord in future articles. If you have any quick tips for new members or how Discord helps you, we would love to hear them!!
Ready to take your sports card investing to the next level? Join our Membership Program now for card picks, analytics, premium community access and much more!