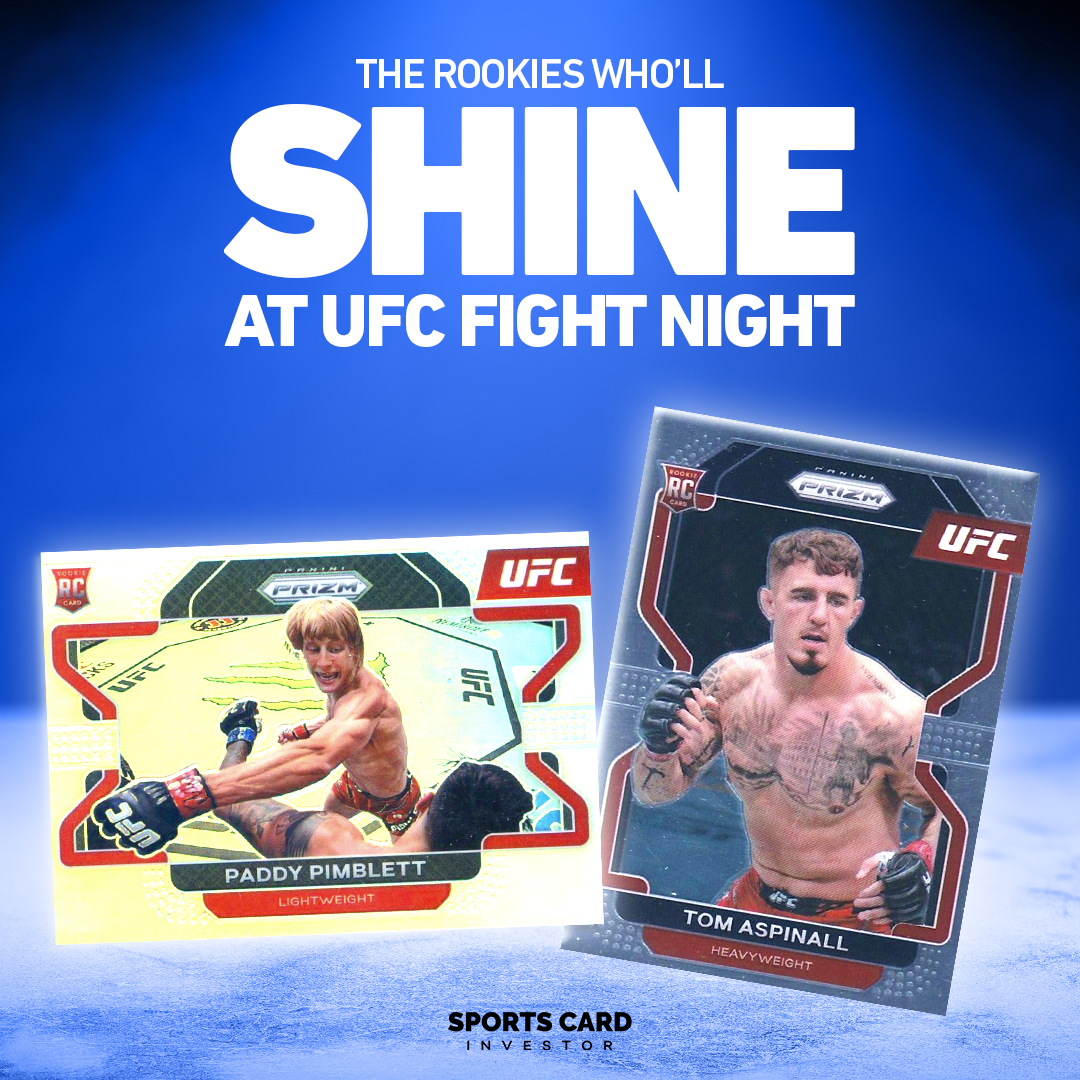 The UFC returns to London on July 23 for what should be one of the most highly anticipated Fight Nights of the year. MMA's top platform last visited the UK metropolis back on March 19, 2022 and put on one of the most memorable cards in history. The latest lineup features several up-and-coming fighters who are poised for significant breakouts, if they can walk away from the event with a victory.
Additionally, the marquee features several fighters who make up the highly anticipated rookie class for UFC's 2022 Prizm and Select products. Here are three rookies to pay attention to for UFC Fight Night and beyond.
Despite his mild-mannered approach to the media, Tom Aspinall is undoubtedly one of the most significant prospects in the octagon. The Manchester heavyweight is a powerful force who can finish his opponents both on the feet and ground. Aspinall headlined the last London card, defeating Alexander Volkov by a first-round submission. He meets Curtis Blaydes in Fight Night's main event, with the winner likely finding himself fighting for a title shot in the near future.
Aspinall is one of the most sought-after rookies in this year's sets. Investing in his potential is pretty straightforward. If you're hopping on the bruiser's bandwagon, try grabbing a lower-numbered Prizm rookie parallels such as teal (last sold for $525 raw) or orange ($185). Those with even bigger budgets can try reaching for his Mojo ($786), which should go up even more by beating Blaydes.
The other two cards worth looking into when it comes to Aspinall come from Select. Scooping up one of his lower-numbered rookie autos (#/99 sold for $250 on July 14) would be a nice addition while the Octagonside (Tie-Dye out of 25 sold for $330 on July 10) offers a cool non-auto alternative.
There is still time to get in on Aspinall before he enters the conversation of a top-three heavyweight, but a victory over Blaydes speeds things up considerably.
Despite having just two fights inside the UFC octagon, Englishman Paddy Pimblett has undoubtedly established himself as one of the most significant prospects in recent UFC history. Pimblett is primarily known for his stellar grappling abilities but has shown versatility by knocking out six opponents in the first round. His personality, ability to work the microphone and his strong following are all impossible to ignore. Pimblett will face Jordan Leavitt on the main card at Fight Night. Leavitt is 3-1 in his UFC campaign and should provide Pimblett with a significant step up in competition.
When it comes to investing in Pimblett, it is imperative to be cautious given how unproven he is. Still, his prices are already much higher than other rookies in the class, given the hype and media attention he commands. For example, Pimblett's Select Octagonside Tie-Dye rookie sold for $1,325 in July compared to Aspinall's aforementioned $330 sale.
For those trying to get in on Baddy's boom-or-bust train, check out his Prizm Silver raw, which can be purchased for around $50 while his Select Octagonside Silver Prizm raw consistently moved for $300 the first two weeks of July. If Pimblett continues to win in the octagon and on camera, both of those cards can quickly double in value.
Rounding out the list of notable rookies fighting this weekend, Paul Craig is a feature 2022 rookie despite competing in the UFC since 2016. Since September '19, he has compiled a 5-0-1 record and secured a top-10 ranking in the light heavyweight division. Craig is an entertaining fighter who's never gone the distance. The true embodiment of the "finish or be finished" mindset, the resilient Craig will meet Volkan Oezdemir in the main-card opener in London.
Despite his entertaining style, Craig should not be viewed as a title contender. In fact, those who have invested in the Scottish fighter prior to Fight Night should be ready to sell if he's able to defeat a few more top-10 light heavyweights.
His Prizm Gold (#/10) sold for just over $600 in late April. Craig's Select rookie autos consistently go for under $100 while his low-numbered Select parallels can be acquired under $50. For investors who feel Craig can someday become a title contender, the investment is worth the risk given how much cheaper he is compared to Aspinall and Pimblett.
With the Sports Card Investor app, you can profit from the hobby you love by keeping up with trending cards, tracking real-time prices with Market Movers and buying items on eBay. Download the industry-leading app here for Apple or Android
Note to readers: If you purchase something through one of our affiliates, we may earn a commission.