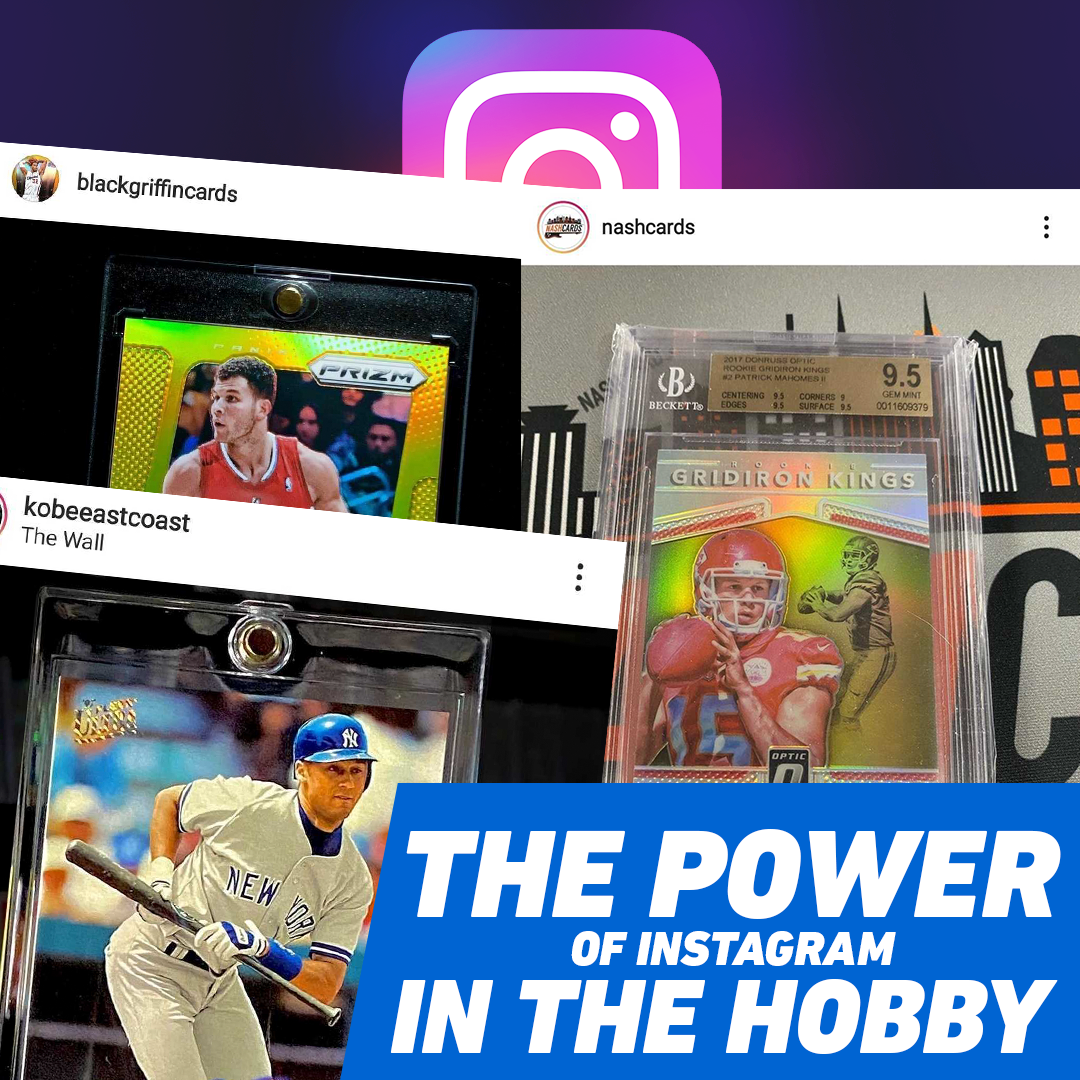 It's dinnertime and a group of travel writers are gathered at Aspen's Mi Chola for a bite. While most around the table are chuckling about events of the day, the Instagram influencer in the crew rarely lifts her head. One appetizer comes and goes. Another does the same. Her fingers never stop twiddling on her phone. Too many DMs and comments to respond to, she says. Food can wait. She's got connections to make.
But such is the life of modern-day e-businesses. And it's not just travel and fashion bloggers who are dealing with the evolving times; the sports card world wholly understands the importance of engagement on IG, Twitter and other social platforms. Heck, when Sports Card Investor eclipsed the 45,000-IG follower mark earlier this summer, we jumped for joy in the office. There's a lot of content being created out there; we know how difficult it is to build and retain an audience for it.
So, too, do the three accounts profiled in this story: Nash Cards (@nashcards), Black Griffin (@blackgriffincards) and KobeEastCoast (@kobeeastcoast). The former is a popular name in the hobby with a brick-and-mortar shop just outside of Nashville. The latter two are private citizens who center their posts around their impressive personal collections. All three create great content on IG. All three have been kind enough to share their thoughts on four areas where the platform is changing the way we view the hobby.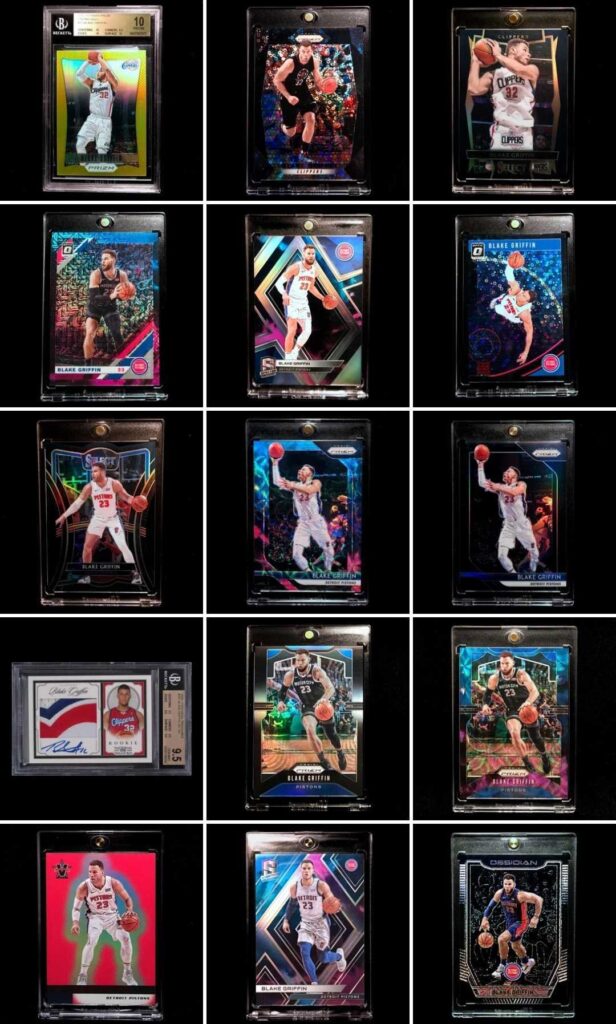 Buying
While eBay remains the clear favorite platform for buying and selling sports cards online, avenues like Facebook Marketplace, Twitter and Instagram have grown in popularity. With Twitter and IG, the process is simplified. The seller posts a pic of the card/lot and puts a price in the caption. Interested parties generally say "take" in the public chat to claim the card or slide through the DMs. The buyer then follows the payment directions pinned to the seller's bio. Easy peezy, relatively breezy.
Black Griffin, an Instagramer who's been collecting high-end cards of Brooklyn Nets forward Blake Griffin since getting back in the hobby in 2012, uses the platform this very way. A self-proclaimed introvert, Black Griffin says IG provides a safe shopping zone for someone like him.
"I collect alone, meaning I don't have any real-live friends I do this with," says Black Griffin. "Nobody in my real-life cares about this stuff. Instagram is also the marketplace I value most. I've been able to locate and acquire many cards that never would have been made available on a public marketplace."
#BlakeGriffin may not be what you'd use for your personal card quest, but when you're looking to buy, try hashtagging the player's name or putting it in the search bar. You'll be surprised by what potential treasures you'll find just a tap away.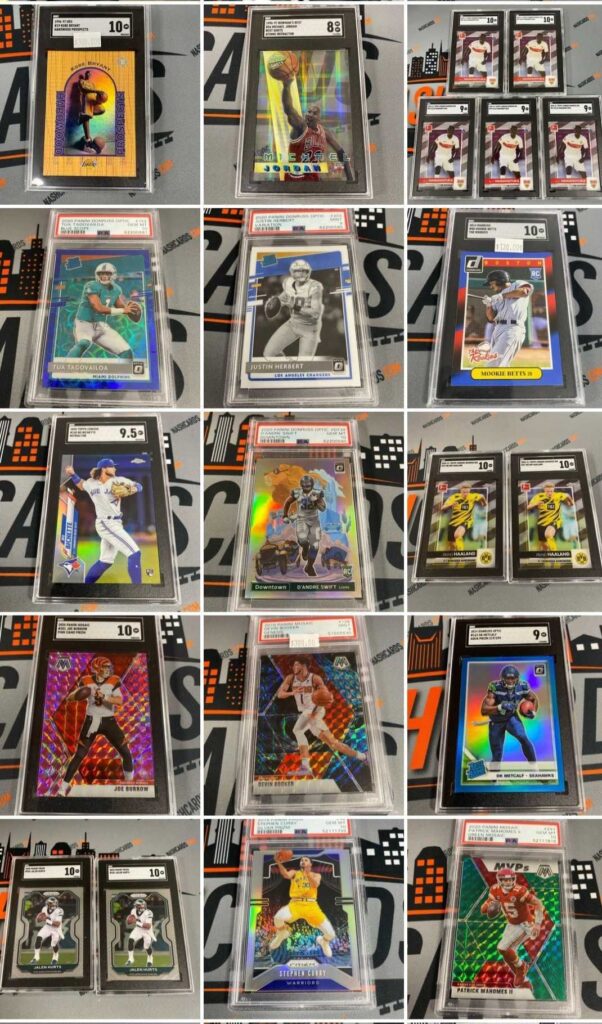 Selling
Of course, the platform is also becoming a go-to place to peddle your cards. The keys for selling success lie with consistency, community and crisp photos. Though we'll tackle the latter two points later, the first item speaks for itself. If you're selling, you'll want your followers to have a general time frame for seeing your stuff. No, they probably won't expect a 2 p.m. sale every Monday, but getting lost for three weeks between posts isn't the way to build a brand, either.
Take Nash Cards, for example. One of the more popular follows on Insta, Nash Cards regularly spoils its 23,000 followers with flash sales of graded cards that range from $30 to into the thousands. "That's what I'm known for," says Nash Cards owner Chris Kelsey. "I will post a bunch in a row, like maybe 10, 20 or 30 posts in a row. As far as a content post [with a video or a non-sale photo], you might find two, three a week on my page."
And then there are outlets like KobeEastCoast, a slick PC page run by a collector named Milan. When he decided it was time to let his Kobe Bryant cards go, you can guess which platform Milan used for the transaction. "[Instagram] helped me move my whole collection," says Milan, who had one of the most impressive ensembles of Mamba cards anywhere before changing his page's focus to New York Yankees legend Derek Jeter. "I don't go on there to sell cards. But when I decided to move everything, that's what I used to move everything, instead of going to an auction house or so on and so forth. I just did it that way."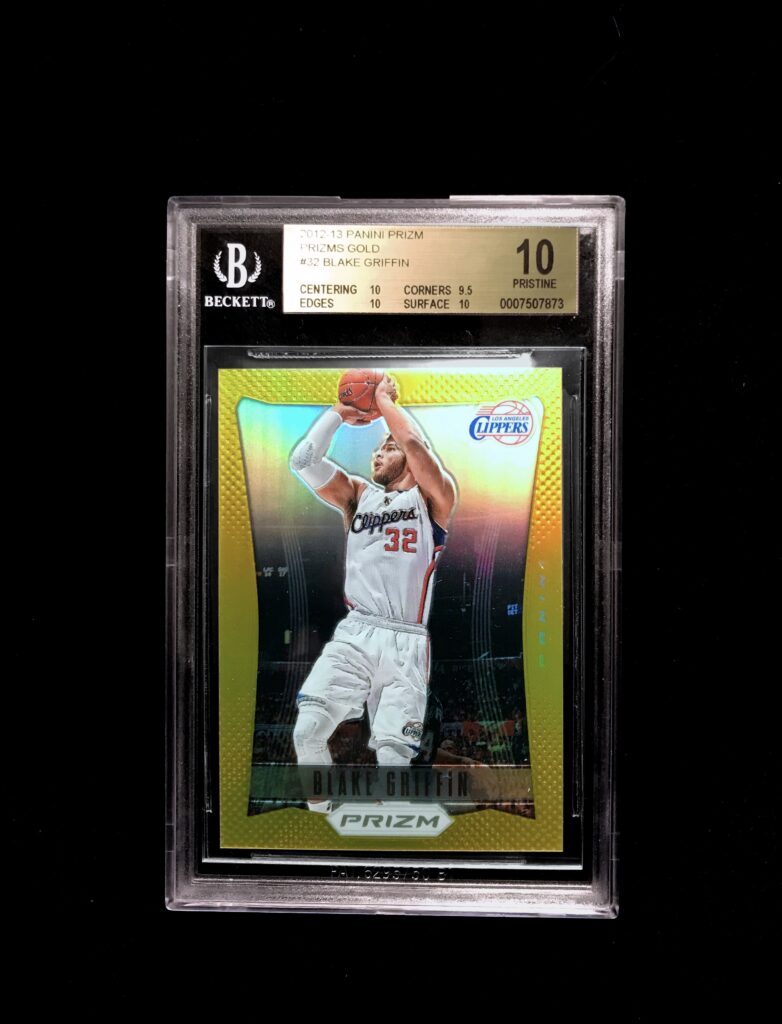 Networking
Community is so important for sports card collectors on IG. To Black Griffin's earlier point about being an introvert, Instagram allows like-minded collectors to get together and talk about the hobby they love—but from a distance.
"It's given collectors access to a global social network," says Black Griffin. "The markets for luxury items rely upon social circles and the desire for those market participants to try to compete with each other. To have what their friends have or to have something better, more rare, more elusive or more expensive than what their friends have. Showing off your collection and being able to brag about owning the newest trend or the most valuable cards may be the biggest catalyst of the card market."
So, if you want to chat about your favorite Brooklyn Nets or vintage New Orleans Saints cards, there's likely an audience out there for you. Once you find a good follow or two, strike up the occasional conversation, make comments on posts and buy a card or three. That's how you build a (virtual) bond. You'd be surprised by how, after a while, you become friendly and start DM'ing about things that have nothing to do with cards.
And then there's the whole aspect of how your IG network can help with decision-making. "I fell into a group of guys that one guy was my age, the other one was probably a couple years younger, and there was a couple of 16- to 18-year-old high school kids," says Nash Cards' Kelsey. "And we were in this group chat and I was basically like, 'Is this a good trade? Is this a good card? What do you think this is worth? Should I pay $10 for this?' That's where I learned. That's where you really bounce back ideas and you ask other people [what they think]."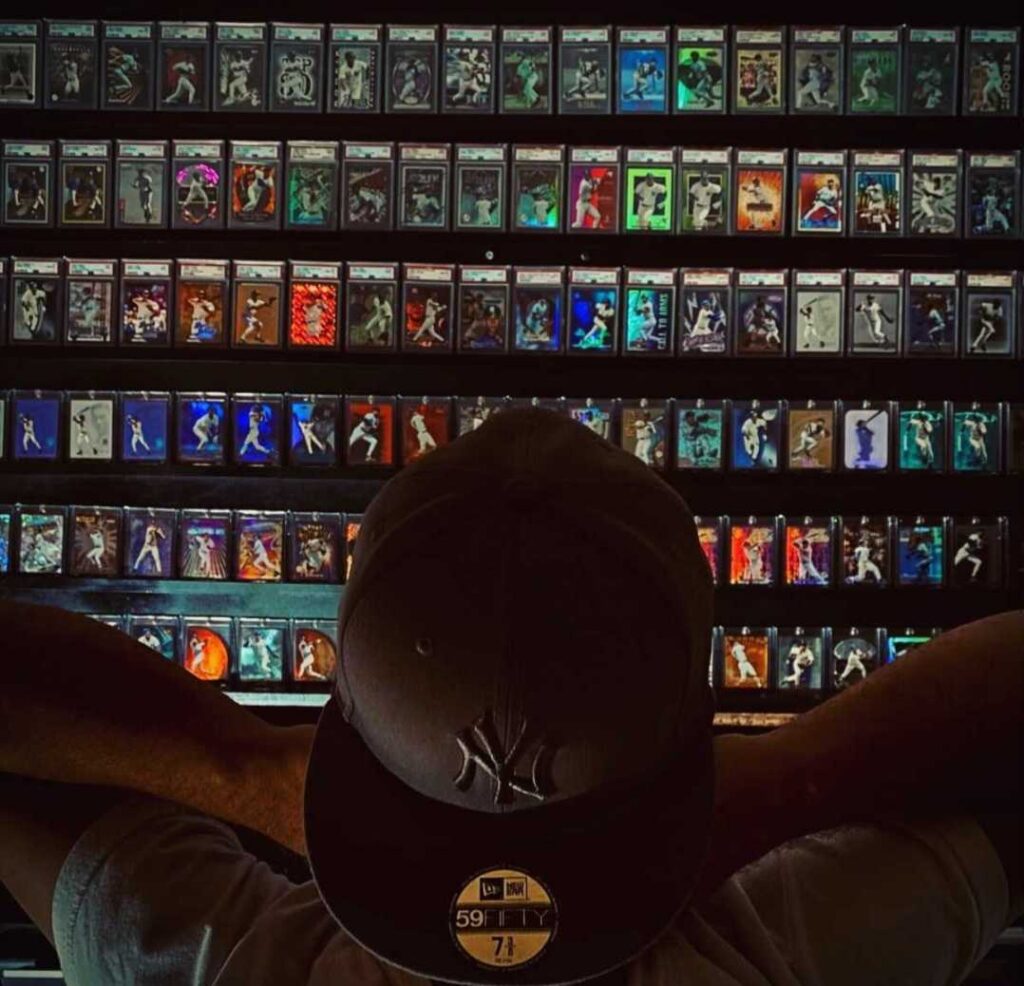 Showcasing
Not unlike a pastry chef, sneakerhead or fitness instructor, one of the main reasons hobbyists flock to IG is to show off something. If you have a ridiculous Scott Rolen collection or you just scored a signed Cristiano Ronaldo card in a blaster box, IG is probably the first place you'd want to show it off.
"When I started my account," says Black Griffin, "I chose to only show my Blake Griffin 1/1 collection because I felt he and similar players' cards were underrepresented. I wanted to use my account to act as both a record of the rarest parallels and demonstrate collecting cards of players other than Jordan, LeBron, Kobe and the hottest rookies could be a fun and prestigious pursuit."
But why do Black Griffin, Nash Cards and KobeEastCoast have such faithful IG followings? It has a lot to do with how their pictures look on your phone. Though all three accounts use Instagram for different reasons, they agree on one thing—posting high-quality images is essential to social media success.
"Part of the passion is to display the card," says Milan. "I use LED lights. I use two from separate angles to try to minimize any shadowing. And then I like to use 2x zoom on a square, the Instagram preference for the square image, so it doesn't get cropped when it's the full page. And then I do some effects, like exposure. You can add some vibrance, raise some color a bit and just make the card pop as much as possible."
Kelsey likes LED lights and a good zoom, too, but his secret weapon is a lot less expensive. "I have a piece of cardboard, maybe six by four," he says. "I put that over my head when I snap a picture. And what that does, it almost creates a human-sized shadowbox for me, and it really cuts off all the glare on that card." People laugh when they see him using it at the shop. "But I tell them," adds Kelsey, "if you want good pictures, [use it]. Finding that perfect corner in your house for Instagram was a struggle for me back in the day in that small apartment. I understand the struggle."
Track your collection and maximize your profit with Market Movers, the hobby's most powerful sports card pricing platform! Learn more here.
Note to readers: If you purchase something through one of our affiliates we may earn a commission.