In the early 1990s, card companies saw the demand placed on rookie cards by collectors and accommodated that popularity by increasing print runs. As more companies started entering the sports card market, manufacturers also realized that they needed to distinguish themselves from each other. Thus, the insert was born.
These cards were often specialized for that brand and card set, were printed far less than the more common base cards, and were promoted as the chase card to obtain. Often, these cards were exclusive hits, usually coming one per hobby box or one per case during the late 90s and early 2000s.
In 1992, Topps Baseball introduced a parallel variation of its base cards. They were randomly inserted in 1:36 packs of a wax box, 1:18 packs of a cello box, and 1:12 packs of a rack box. With a gigantic 792-card set checklist, these parallels meant that a collector at the time would have to open at least 792 wax boxes in hopes of completing the set – if they didn't shell out for one of the 12,000 produced Gold Card Factory Sets. Today, you can pick up a Topps Gold #156 Manny Ramirez Draft Pick RC for between $6 and $8.
Almost overnight, these chases became the cards to have. Just two years later in 1994, Fleer Baseball had just over 10 insert sets with odds ranging from 1:2 packs (All-Stars) and 1:6 packs (Team Leaders) to 1:30 packs (Smoke 'n Heat) and 1:37 packs (Award Winners). Fleer's 1994 set had a 20-card Rookie Sensations insert as well as a 35-card Major League Prospects set. At the time, those sets were introduced to capitalize on the rookie card chase while collectors also searched for key rookie inserts.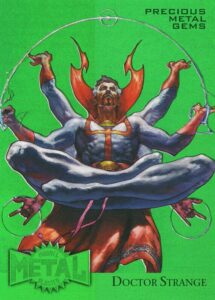 Other sports perked up and started making their brands centered around particular inserts. The 1996-97 Topps Chrome NBA release had refractor parallels inserted in 1:12 packs. By 1998, Upper Deck Hockey started introducing their 'Exclusives' parallels and numbered them to just 100, along with the holy grail chase 1/1s. All sports soon started bolstering their products with even rarer chases including Game Jersey cards and autographs.
To highlight how rare the game jersey cards were for that era, 1997-98 Upper Deck Hockey Series 1 listed the pull rates as 1:2,500 packs. The same pull rate went for Upper Deck's NBA series in the same year, and those cards can now fetch hundreds if not thousands in raw condition. These hard-to-pull rates emphasized the chase, most notably with the now iconic 1997-98 NBA Metal Universe Precious Metal Gems Emerald /10 and Red /90.
By the early 2000s, inserts were a way of the sports card industry. Even sports such as golf were including Autographed Dual Shirt inserts (1:200 packs) in 2003 Upper Deck products. It was no longer enough to just get a star player's base rookie card. Now it was about chasing the hard-to-pull numbered parallels, too. Even better if you were able to pull an autographed rookie card. Tom Brady's 2000 Playoff Contenders Championship Ticket /100 has become iconic for the autograph aspect despite there being scarcer rookie year cards of his including the 2000 Playoff Absolute #195 Players Honors /10, 2000 Donruss #230 Stat Line Season /20, and 2000 Donruss Elite #183 Status /10.
In recent years, the explosion of serial-numbered cards and parallel variations of base cards has replaced the chase of normal inserts. As a result, inserts have become less sought after even as companies try to come up with new chases for collectors.
Part of this could be manufacturers struggling to design new and engaging concepts. We saw an increase in "comic book" designs with the Net Marvels inserts, and now we're seeing city-themed designs thanks to the popularity of Downtown. The challenge now rests on these companies battling with creating more tried-and-true inserts or continually pushing the envelope on a design, even if the card itself doesn't receive the same acclaim. One example would be 2021-22 SP Authentic's Hockey set introducing the short-printed SP Holofoils insert.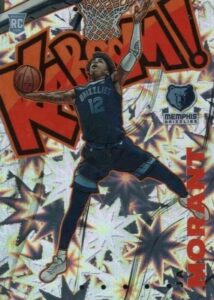 One way companies can try to solve this issue is by making the inserts themselves truly unique. Concepts could be pulled from popular non-sports brands such as Pokemon sets or Marvel sets where there is more of a reliance on alternate art, flashy reflective surfaces, and visual design appeal.
A great example of a unique non-sports insert is the Daily Bugle Headlines from Skybox's 2021-22 Metal Universe Spider-Man set. It combines a throwback feel with character artwork interposed in the middle of a card folded like a newspaper.
As more products get released, it's important to remember that inserts can become unique chases again. For collectors, it's about chasing an insert set that specifically appeals to you – and this might not appeal to investors or flippers, since not every insert is designed or meant to be the next Kaboom, Downtown or PMG. Companies need to continue challenging themselves with unique design concepts that may not be recognized in the short-term, but could end up being appreciated much farther down the road in the future.
With the Sports Card Investor app, you can profit from the hobby you love by keeping up with trending cards, tracking real-time prices with Market Movers and buying items on eBay. Download the industry-leading app here for Apple or Android
Note to readers: If you purchase something through one of our affiliates, we may earn a commission.