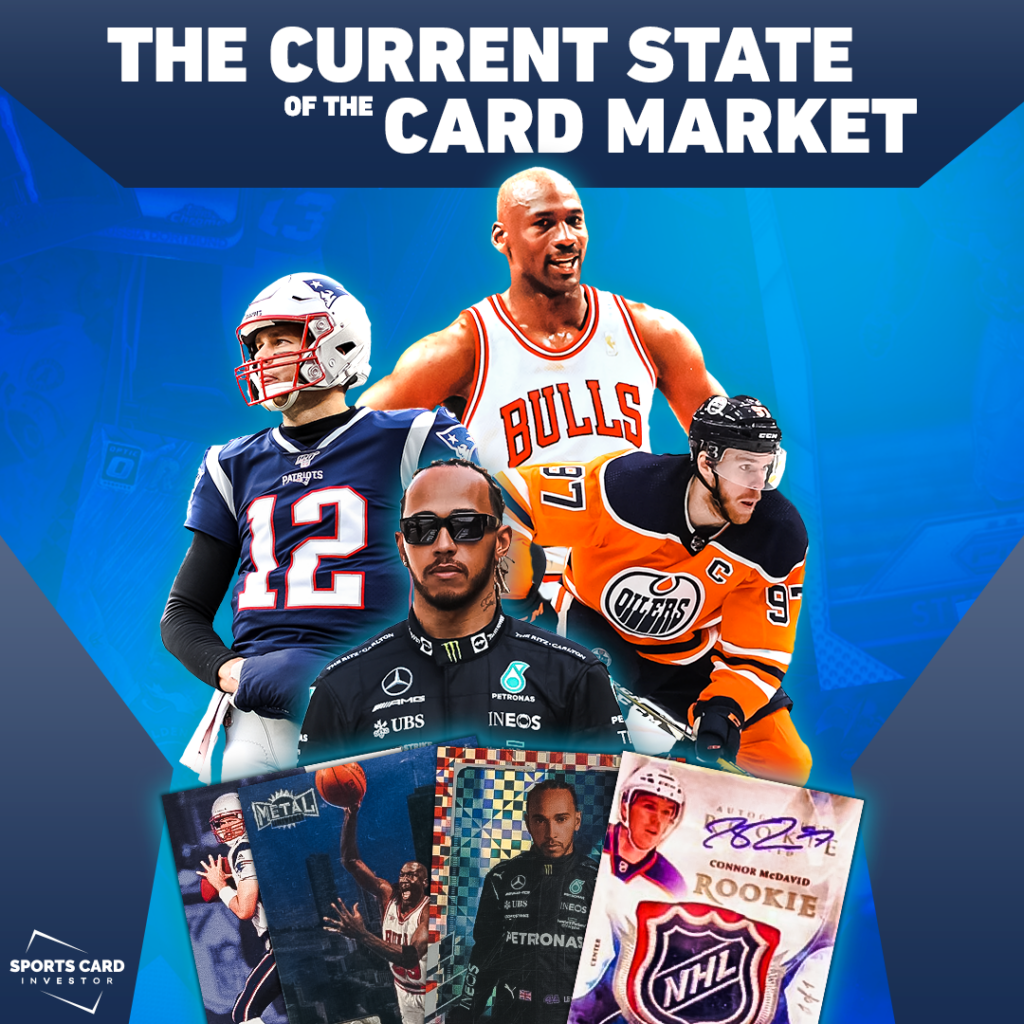 The Current State of the Sports Card Market
The six following observations about the current state of the sports card market are from Karn Rai (@thebig3hockey on Instagram). Rai is a leading dealer of high-end sports cards who sets up at many of the largest sports card shows across the U.S. and Canada. Rai also facilitates private sales of high-dollar investment cards.

High-End '90s Basketball
The $312,521 sale of the 1997 BGS 9 Metal Universe Championship Michael Jordan Precious Metal Gems (PMG) has ignited the '90s basketball segment of the industry. Privately, many industry veterans are scouring social media to pick up 1990s grails of their favorite players, in anticipation that many are going back to "collecting what they like," truly rare cards and historically significant insert sets. Many are achieving this by consolidating high-end modern cards.
The aforementioned Jordan PMG sold for $112,000 more than its last sale in September 2021.
Other interesting insert sets seeing a lot of attention are the following: E-X2001 Essentials Credentials, Jambalayas, Slam Bams, Star Rubies and Fleer Legacy Collection.
Rare Formula 1 = Doing Extremely Well… High Pop Formula 1 = Stagnant or Correcting
The $900,000 sale of the 2020 Topps Chrome 1/1 Superfractor Lewis Hamilton may have been surprising for some, but for others, it was exactly where they expected the final price to be. Since the release of the popular set, Formula 1 cards have been one of the strongest segments of the hobby. High-end colors of 2020 Topps Chrome and 2020 Topps Chrome Sapphire have been difficult to find on the market. Sales of Oranges, Golds, Reds and autographs have been strong.
With production issues apparent on almost every color parallel (resulting in PSA 7s and 8s to be commonly assigned), high grades (PSA 9s and 10s) of any color parallel from either set have seen spectacular prices.
There is a maturation in the Formula 1 market occurring as well. Prospecting is becoming more apparent, with the likes of F2's Oscar Piastri and Mick Schumacher, the son of F1 great Michael Schumacher, seeing strong prices in 2021 products.
With the production of more sets and, in turn, more F1 cards, prices have corrected or stayed stagnant in "high" population areas of the market. While PSA 10 base driver cards are seeing stagnation, Hamilton's PSA 10 Sapphire and his much-adored 2020 Base SP variation are experiencing a correction.
While many may point to the correction of higher-pop Hamilton cards to pinpoint a drop in the F1 market, I believe this is another example of the maturation of the genre.

At the beginning, money was largely flowing towards the super-popular Hamilton and, to a lesser extent, Max Verstappen. But as more people learn about the cards and the sport in general, money is moving towards more drivers, such as Charles Leclerc, Lando Norris, George Russell and Guanyu Zhou.
But be it newer drivers or the usual marquee names, the Topps dynasty keeps going strong. Though 2021 Topps Chrome has not seen the explosive growth we observed with 2020 Topps Chrome, it remains healthy with large sales (like the $60,000 2021 Lewis Hamilton Red /5 autograph).
Hockey Continues to Grow
One of my favorite genres to buy is hockey. The organic nature of these cards is unmatched in the industry. The number of key cards locked away in collections is astounding. The potential for record prices in the sport is extremely high; however, there is one problem – no one wants to sell. The lack of key cards hitting the public market supresses the attention being paid to the hockey genre in the United States. Make no mistake about it, though, big sales occur all of the time privately.
Still, we are beginning to see Canadian collectors (who own a large share of hockey cards) become more comfortable sending their cards to American auction houses. With more record prices, of course, more attention is sure to follow.
Speaking of attention, ESPN and Turner Sports recently released viewership data for the NHL. The numbers are extremely strong. Regular-season viewership was up 18% over last year.
The hockey card market is top-heavy. Alexander Ovechkin, Sidney Crosby, Auston Matthews, Connor McDavid and Nathan MacKinnon garner most of the attention. Rookies such as Kirill Kaprizov are seeing some explosive prices as well, demonstrated by the $30,000+ sale of his 2020 Metal Universe Retro PMG Gold 1/1.
Other significant sales include $100k+ transactions for the 2020 Metal Universe Retro PMG Gold 1/1s of McDavid, Crosby and Ovechkin. Even more impressive, McDavid's 2015-16 Exquisite RPA PSA 10 /10 recently sold for $144,000, breaking a modern hockey record. (The record was later eclipsed by the Crosby retro PMG 1/1 sale at $164,000.)
As you can see, the hockey market appears to be moving away from the flagship Upper Deck Young Guns rookies into rarer serial-numbered cards. The effect of this is positive. With premium items gaining attention and value, the market is experiencing more excitement than ever before.
You're starting to see a lot of cross-genre pollination. The sets that basketball collectors are used to are now flourishing in hockey. We're talking Limited Logos, Exquisite RPAs, Intimidation Nations, Ex-Credentials, Noyz Boyz, Jambalayas and Platinum Portraits. The golden era of hockey inserts appears to be between 2012 and 2016, where you can find many of the inserts that basketball collectors would recognize from the '90s.
While the PMG market in Marvel is seeing a correction from the short-spanned explosion in prices (though prices are still pretty impressive), 1997 retro hockey PMGs remain strong. 2020 was the first year for a stand-alone Skybox Metal Universe product in hockey and it appears to be the start of another era of hobby nostalgia on the ice. The brand will be back with a 2021-22 offering in June that includes all new 1997 Retro PMGs, Jambalayas, Noyz Boyz and Platinum Portraits. Interesting to note, 2021 Metal Universe appears to only have rookies as a part of the 1997 Retro PMG checklist. A chase for a rookie's Retro PMG may only add fuel to the Metal Universe fire.
High-Pop Modern is Still in Decline
High-population modern cards appear to still be in a decline. While many hoped for the commodity card segment of the market to recover, it appears more and more investors are willing to cut their losses. You are seeing a variety of high-pop modern cards of any grade hit the market and sell for market lows.
This is great for the market. For a moment, we were seeing investors and dealers hold onto their cards, hoping for break-evens or minimal profits. This resulted in less transactions at card shows, higher sticker prices and a sour outlook on the market.
With more dealers willing to let go of their modern high-pop cards, we can perhaps see a bit of a "reset" in that segment of the hobby. A large market dump will result in the lowest prices we've seen in quite some time, which, in turn, would result in even less of these cards being graded. By establishing a true floor to high-pop modern, it's possible we can see positive ROI on high-pop modern cards in the mid-to-long term.
Hopefully, the sellers of high-pop modern cards are reinvesting their funds and consolidating into more quality cards that have seen similar price corrections.
The Super High-End Iconic Card Market is in a High-Supply Cycle
1986 Fleer Michael Jordan PSA 10
2003 Upper Deck Exquisite LeBron James RPA /99
2000 Playoff Contenders Tom Brady Championship Tickets /100
These are three cards that have helped to define what an "iconic" super high-end card is. This tremendous trio falls in the "commodity" range of the super high-end spectrum. When market records occur on super high-end commodity cards, a higher supply follows onto the market. Old sellers take profits while new buyers establish new floors.
This high-supply cycle we're currently in can last months or even years. However, at a certain point, everyone who's willing to sell at the new established price point has sold. Every new buyer now has a larger established floor. New buyers are less likely to auction their cards, unless they have confidence in a positive ROI. These buyers will eventually withhold these cards from the market, and we'll see a period of super high-end commodity cards "dry up" from the public.
It would be prudent to watch for the floor of this high-supply cycle. While the cards mentioned above may be volatile, they always find their way back into the record books.
The "Emerging Markets" Area of the Industry is Being Squeezed
One of my favorite areas to invest is in the emerging markets segment of the hobby. With new markets, the opportunity exists to get in at the ground floor. New markets typically also have a lot of what I like to call "market sideliners." These hobbyists often don't initially believe in the value of the emerging product, don't believe in the integrity of the product or simply don't understand it. This is all much music to my ears. The amount of market sideliners in a new product is a key indicator for me before I jump in.
If a product is demonstrating real buzz, high-quality niche demand and has a lot of market sideliners, I go all in. I'm talking soccer, UFC, MetaZoo and Formula 1. Prior to 2020, many of these markets were either non-existent or had only a fraction of the value they do today.
As time goes on, there will be fewer emerging markets to enter (and those that sneak their way in will have higher price points). Instead, we'll start seeing old segments being re-wrapped as new and shiny (see: WWE Prizm).
We are now seeing the hobby's expansion into celebrity cards, NFT cards and Movie cards. I'm not sure what the long-term appetite will be for this segment.
On a positive note, perhaps all of this new product will result in money traveling back to traditional markets such as the NBA, NFL, MLB and NHL. The hockey genre is especially positioned uniquely, with its strong foundation base, years of releases and roster of market sideliners.
Another interesting release could be Topps Chrome Tennis, a summer release that, depending on the price point, could see similar growth (albeit not quite as explosive) to what we've seen with 2020 Formula 1.
Track your collection and maximize your profit with Market Movers, the hobby's most powerful sports card pricing platform! Learn more here.
Note to readers: If you purchase something through one of our affiliates, we may earn a commission.