It's officially official now. Tom Brady, the man who's played in nearly half of the Super Bowls held during his storied 22-year career, has formally retired from the NFL. After a stellar season where he threw for a career-high 5,316 yards while leading Tampa Bay to a No. 2 seed in the NFC Playoffs, there was speculation that the G.O.A.T. would keep eating. But after the Buccaneers' postseason loss, whispers of Brady winding things up grew so loudly that he had to address them.
With the greatest QB of all time hanging up the cleats, where does that leave a hobby that has adored the man for so long? We don't know for sure, but we can speculate as to how the collecting chips will fall after the big announcement. Some of the following names will be obvious impacted players. Others will need a more wide-lens approach to see. But hey, if a New England Patriots scout can look past a certain Michigan quarterback's so-so stats and pedestrian physique to see a future star, we can certainly pick out a few cards worthy of being toploaded.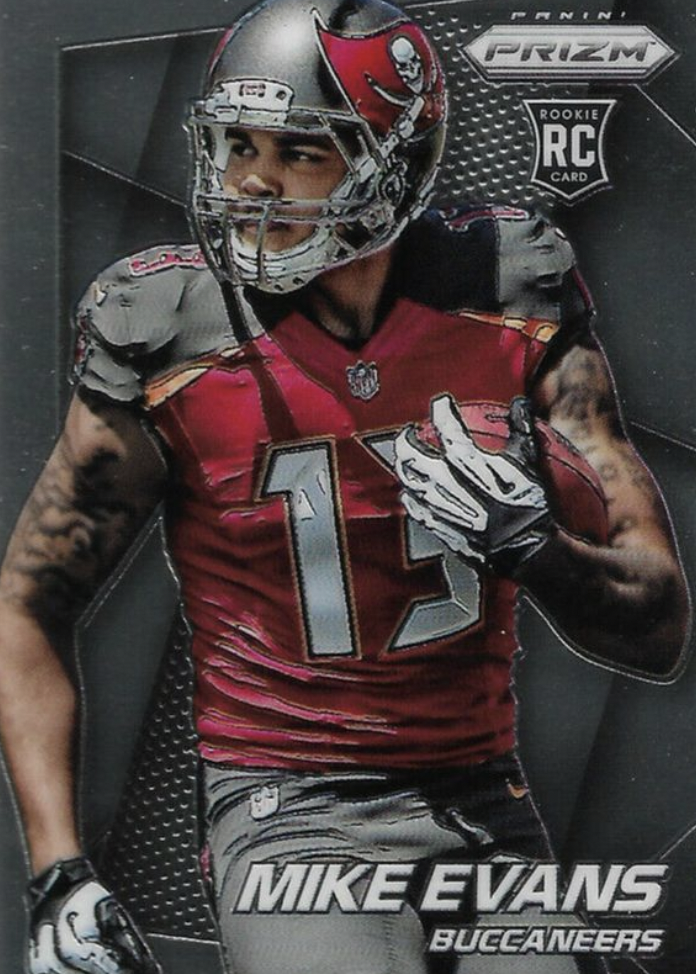 Mike Evans
Though Evans has a quiet, old-school approach to his game, the dude is only 28 years old. There's lots of quality route-running left in this Bucs receiver's future. Yes, the 27 TDs he caught from Brady over the past two years will be difficult to replace, but Evans was a beast before Brady. For the sake of Evans' rookie cards (like the moderately priced 2014 Prizm), here's hoping that Kyle Trask, Dwayne Haskins or whomever the front office gets in free agency keeps tossing end-zone opportunities his way. If they do, there's no reason this card in a PSA 10 can't eclipse the $100 mark again. Should the Bucs' season be bumpy, though, Evans' cards may fall through the cracks.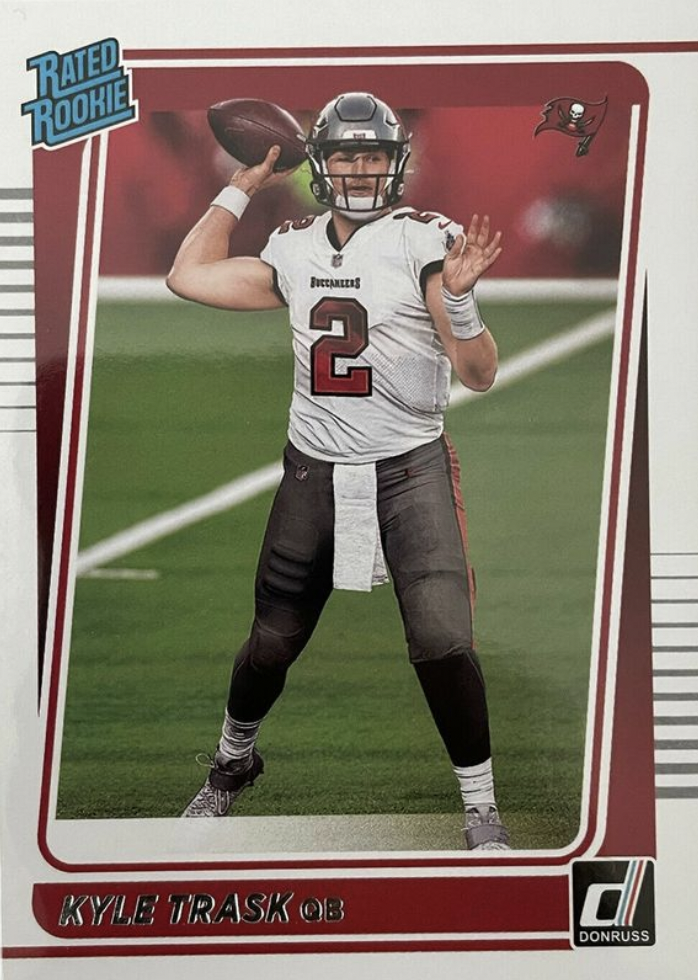 Kyle Trask
At the University of Florida, Trask racked up more than 4,000 passing yards and 43 TDs his senior year. We'd be shocked if the Bucs didn't give him a chance to show what he can do filling Brady's shoes. Off that thinking alone, Trask's Raw Donruss rookie card jumped from $1.79 on January 2 to $3.57 on January 31. That's nearly a 66% increase in less than a month. Just wait until his first slabbed cards start flooding the market. Who knows where prices will go if Trask has a great camp or gets the Week 1 nod? Guessing people asked the same questions when the little-known Brady took over for the Patriots' beloved Drew Bledsoe, too.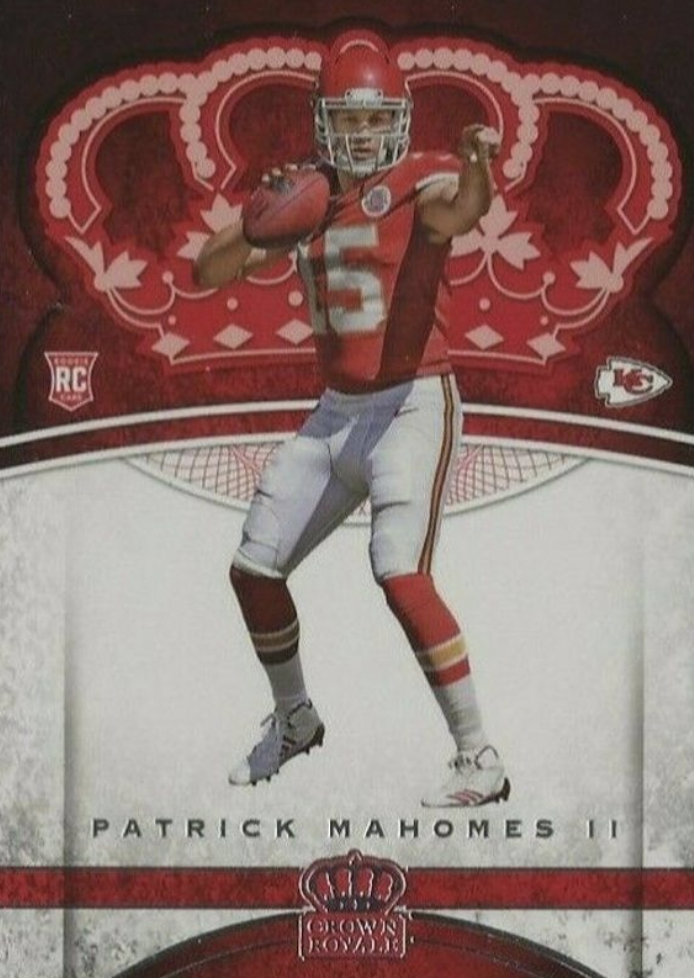 Patrick Mahomes
One of the unofficial storylines going into Super Bowl LV was the symbolic passing of the QB torch from the Bucs' Brady to the Kansas City Chiefs' Mahomes. While a blowout KC loss in that title game (not to mention stellar '21 seasons from Josh Allen and Joe Burrow) deflated some of that talk, there's still a bit of symbolism to it all. Collectors' knees will stop jerking and, once they do, cards like Mahomes' second-year 2018 Optic Holo (around $350 at press time) may go from the $350 it stood at press time back to the $500 levels from the start of the season. Of course, If he bounces back to lead the Chiefs to a third Super Bowl in four years, that actually might be thinking too low.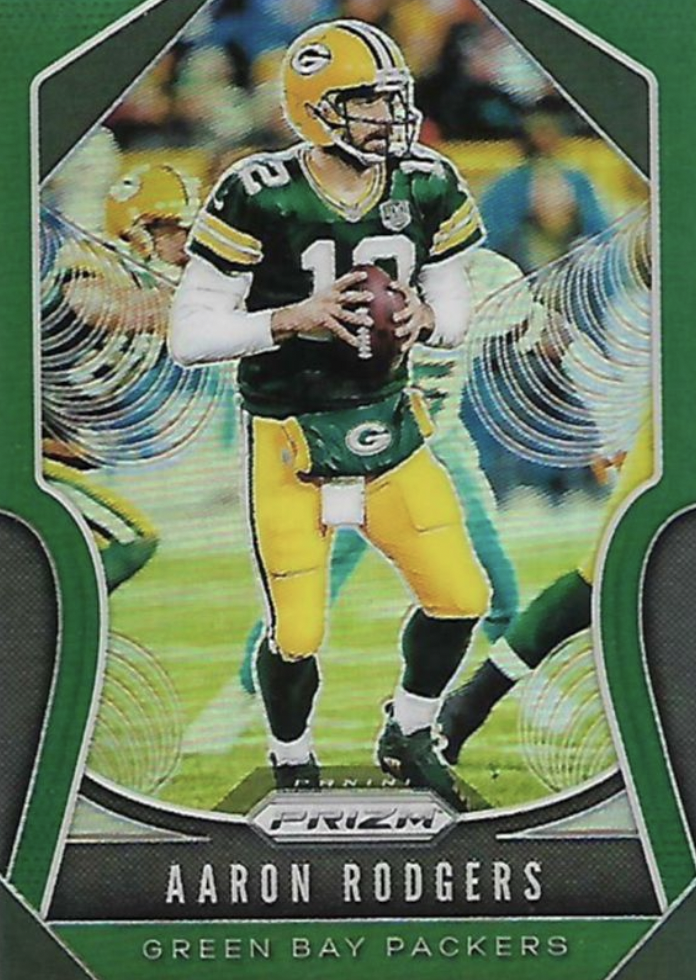 Aaron Rodgers
While we've gone into detail about Rodgers' rookie cards previously, there may be a play here for some of his other numbered cards (color-matching Green and Lazer Prizms immediately come to mind) and rare inserts—especially if the disgruntled signal caller swaps uniforms in 2022. Let's say A-Rod lets this current Brady news cycle quiet down and then pops up in late-March and signs with Denver or San Francisco. The hobby would go haywire. Heck, even if A-Rod squashes his differences with the Packers, re-signs with the club and somehow leads Green Bay to that elusive second Super Bowl win, Rodgers' top cards could benefit from the headlines.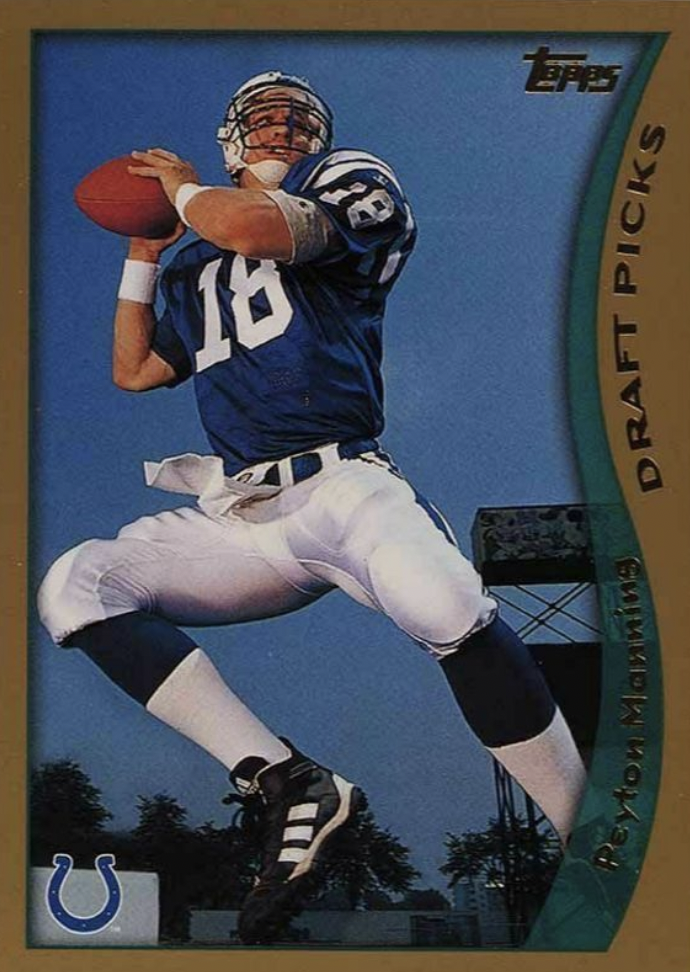 Peyton Manning
Magic-Bird. McGwire-Sosa. When you think about Brady's biggest rival, most conversations start and end with Mr. Manning. Sure, Ben Roethlisberger and Drew Brees had equally impressive individual numbers over the years, but the Brady-Manning battles always had that extra something to them. Peyton's name will undoubtedly come up in tributes surrounding Brady and we wouldn't be surprised if the mentions caused a bump in Manning card interest. After all, Manning's '98 Topps RC is only $600, down roughly 40% since June 2021. And should the charismatic duo ever connect for a post-retirement commercial or TV program, we could see another spike.
Track your collection and maximize your profit with Market Movers, the hobby's most powerful sports card pricing platform! Learn more here.
Note to readers: If you purchase something through one of our affiliates, we may earn a commission.