INTRODUCTION:
What are the best local sports card shops in the USA? Time for the community to decide!
You, the community, will drive this competition and ultimately name the Best Sports Card Shops in four regions of the country. The regions are divided into the Northeast, Southeast, Southwest, and Northwest. The winners will be announced in July, before the 41st Annual National Sports Collectors Convention.
For this competition, please only nominate actual local sports card shops, the brick and mortar shops we all hopefully have in our communities that continue to provide exceptional service to the hobby we all love.
During these times it is even more important we think about our sports card shop owners, and all small business owners that have had to shut the doors for time being. These business owners are an integral part of our communities and are relied upon daily. So let's honor some of them through this contest!
RULES:
The competition is integrity-based; each reader can submit only one nomination for his or her favorite sports card shop. We kindly ask you not to nominate multiple times for the same shop or nominate two different shops, and each nomination will be vetted accordingly.
To nominate your shop, email me, Mark, at mark@sportscardinvestor.com. The format should look similar to this:
Subject: NOMINATION FOR SPORTS CARD SHOP
Region:
Sports Card Shop Name:
Shop Instagram:
Comments:
Each community member will receive a confirmation their nomination was recieved for the Regionals.
Once enough nominations for the sports card shops have been accepted and vetted, voting will occur over our social media platforms.
COMPETITION:
Nominated sports card shops will be put into a Regional bracket system, like the NCAA Tournament. Then, your votes will help your local sports card shop advance through its Region, so get out there and campaign for them! Let the community know who you rep and why!
Each Region will have the top vote-getting shops judged for their online presence, types of products they sell, years of service, social media presence, and hospitality.
The Regional Finalists will be announced on July 1st, 2020. That will allow each Finalist one more month to do more campaigning and obtain as many votes as possible. Those votes will ultimately crown each Regional Champion, and they will be named as Sports Card Investor's Best Sports Card Shops for 2020.
REGIONAL BREAK DOWN: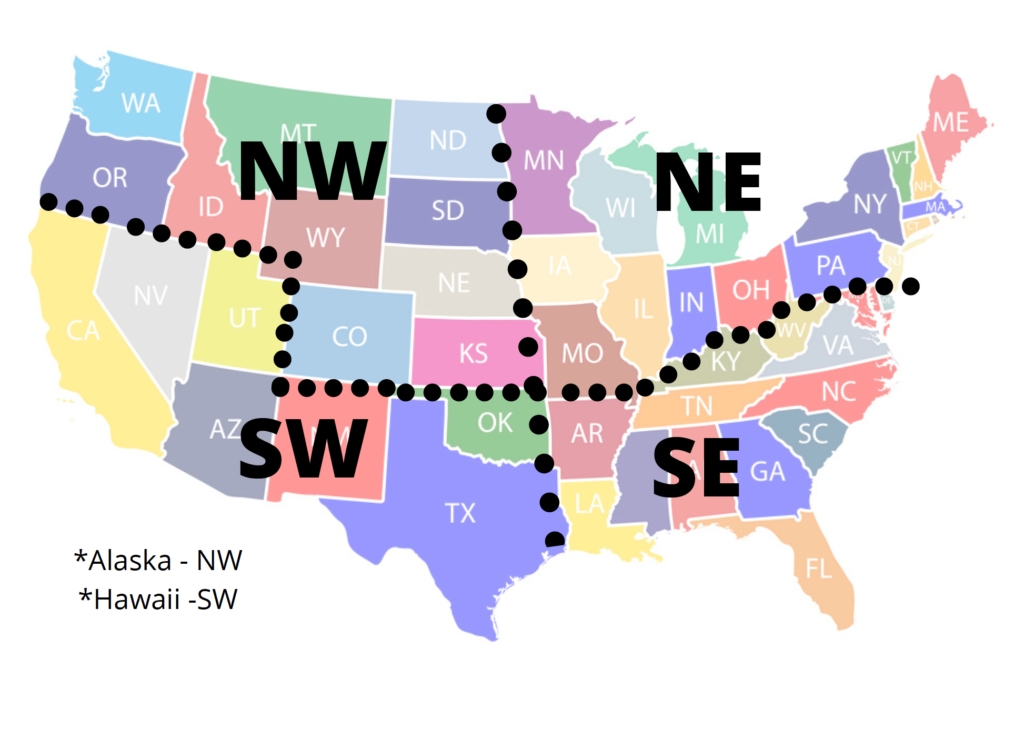 TIPS:
If you want your local sports card shop to win, you have to get out there and campaign with them. Let the owner(s) of the sports card shop know you voted for them so that they can start a campaign as well.
Don't forget Instgram, Twitter, and other platforms to get awareness for your shops and grab some votes. Tag your shops, tweet your shops, and start a movement.
CONCLUSION:
Any question regarding this competition can be directed to me, Mark, at mark@sportscardinvestor.com. All ages are welcome, all community members are welcome…all are welcome to be part of this competition!
NOMINATIONS START NOW!