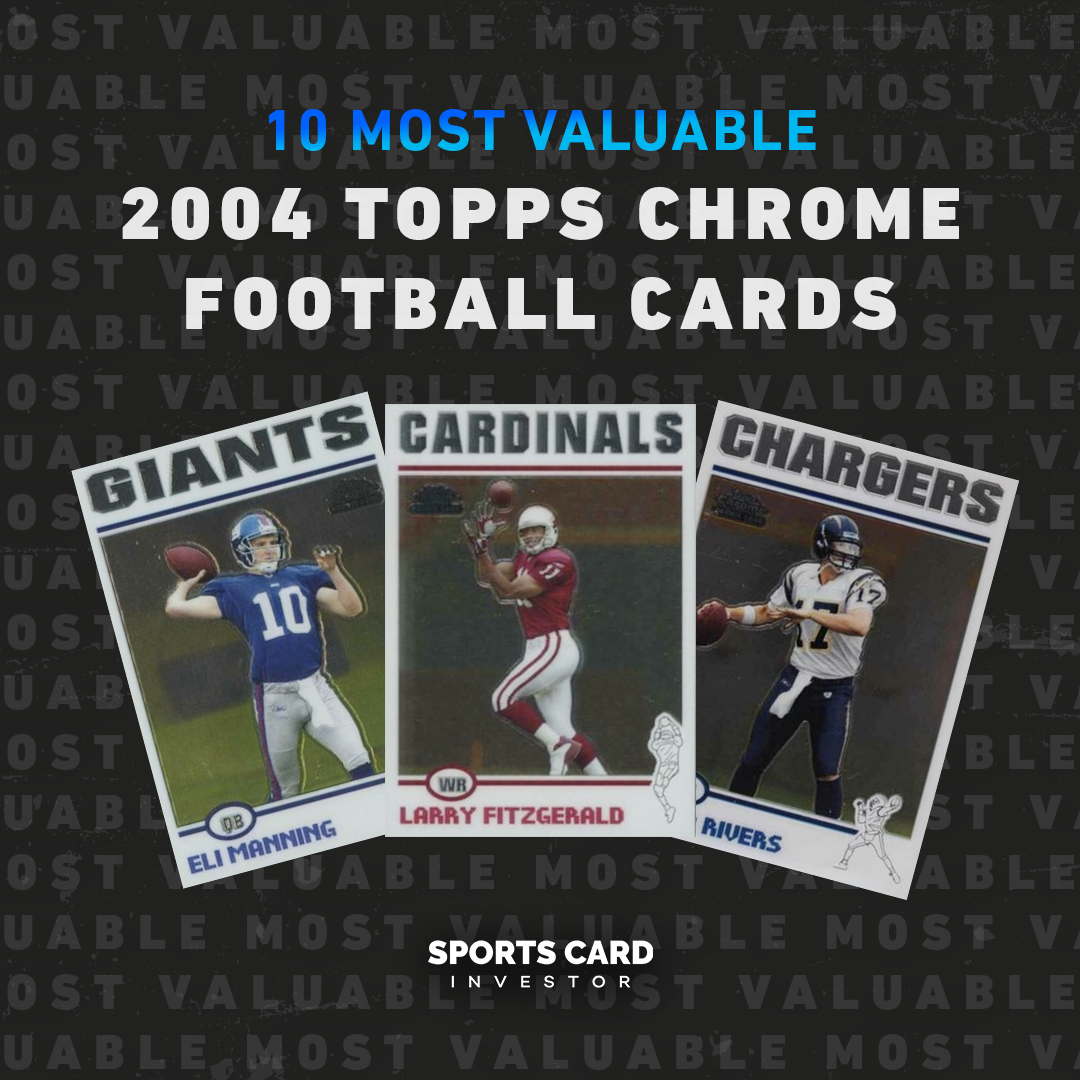 The hype surrounding 2021 NFL Draft QB darlings Trevor Lawrence, Justin Fields, Zach Wilson and Trey Lance is through the roof. But we understand the stakes. Make the right call and you have your franchise cornerstone for a decade. Pick the wrong player and you're probably looking for a new job by the time the 2022 NFL Draft rolls around.
With all the young arm potential, some people are making the comparisons between this class and the 2004's elite quarterback group. Headlined by future Hall of Famers Eli Manning, Philip Rivers and Ben Roethlisberger, the '04 roster features the finest set of QBs since Jim Kelly, Dan Marino and John Elway first shook then-commissioner Pete Rozelle's hand back in 1983.
Almost as impressive as the '04 trio's 180,811 combined passing yards and four Super Bowl rings are the values of their 2004 Topps Chrome rookie cards. But legendary signal callers aren't the only players worth snagging in the set made famous by bold team name graphics and stark white borders. There's also a once-in-a-generation receiver, a safety who was lost too soon and a bruising running back you may not have expected. Read on for the full rundown of the 10 cards you should have from the coveted 2004 Topps Chrome lineup.
*NOTE: This list is based on average sales over the 90 days prior to press time. Like everything else in the hobby, prices and rankings can change at any moment.
Larry Fitzgerald- #215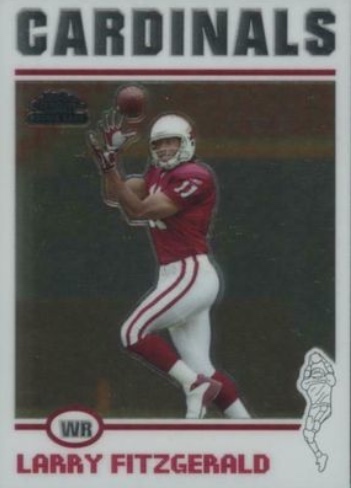 There's a wild stat floating around Twitter that says Fitzgerald, the Arizona Cardinals' fabulous wide receiver, has more career tackles (41) than dropped balls (32). Yeah, read that again. After you've fully digested those numbers, chew on this: there's an outside chance that Fitz gets the 68 receptions he needs to hit 1,500 career catches, a plateau only the great Jerry Rice has reached. Imagine where this card goes if that happens.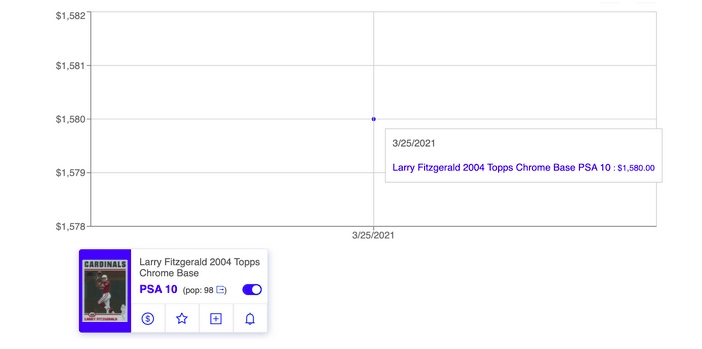 2. Ben Roethlisberger- #166
The 11th selection in this star-studded draft, Roethlisberger has made a career out of taking his lumps (a broken jaw in '06; more leg and elbow injuries than we have time to count) and leading his team to victory (two-time Super Bowl champ). While the last three seasons haven't gone as planned, Big Ben is coming back for an 18th campaign, making him the only starting QB from '04 still lacing up the cleats. That news alone will keep this RC active for a while longer.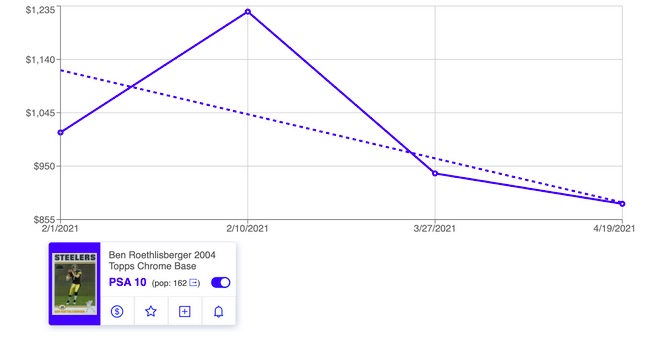 3. Eli Manning- #205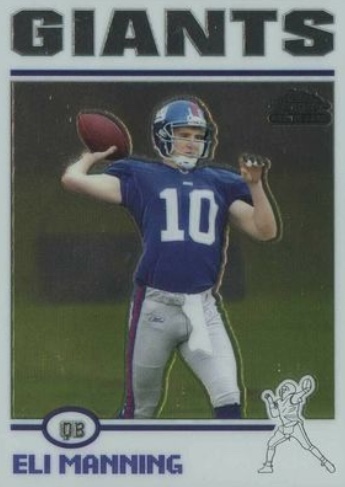 Though No. 1 pick Manning came into the league with a bit of controversy (the Mannings made it very clear they didn't want Eli playing for top-pick-holding San Diego), he was able to shake off the drama and have a successful career (two Super Bowl victories over Tom Brady-led teams) under New York's scrutinizing lights. This rookie card will shine for those reasons and because Manning will likely stay in the public consciousness, either by popping up on the occasional commercial or scoring a commentating gig somewhere.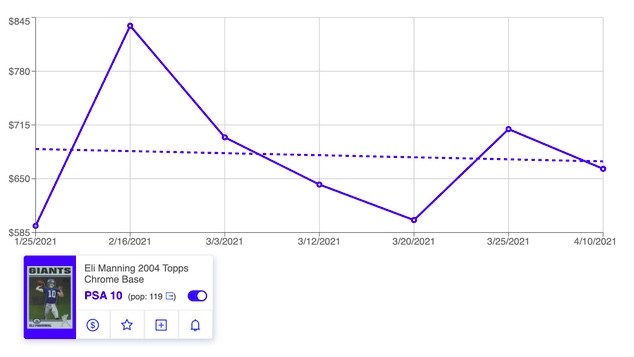 4. Tom Brady- #125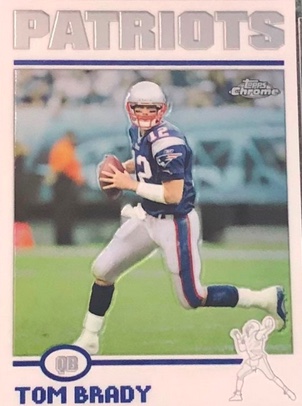 With the fairy tale Super Bowl victory with Tampa Bay giving him seven titles, Brady has reached that rare space where almost any card with his name on it that grades a PSA 10 is the right play. This particular image shows the G.O.A.T. rolling out to his right. Some movement is good. It also doesn't hurt his fourth-year card's appeal that its POP is a relatively low 74.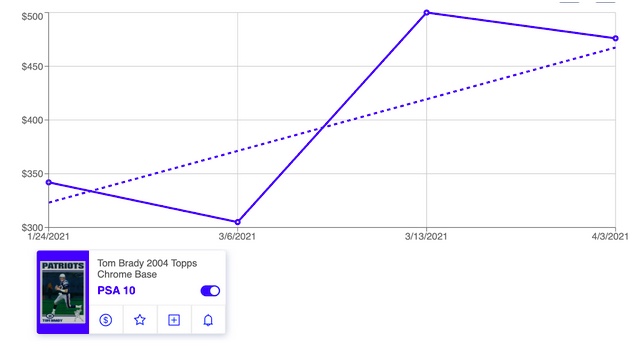 5. Philip Rivers- #230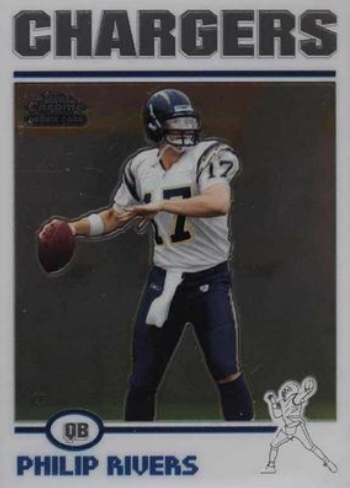 One solid-but-not-stellar season with the Indianapolis Colts can't tarnish all the great things Rivers accomplished with the San Diego Chargers. It's almost poetic that the QB sits fifth on this card chart because he's also fifth all-time in passing touchdowns, passing yards and completions. Collectors love the gawky stats from this era's Dan Marino. And once he gets the call to Canton's Hall in a few years, they'll show even more appreciation by scooping up this winner.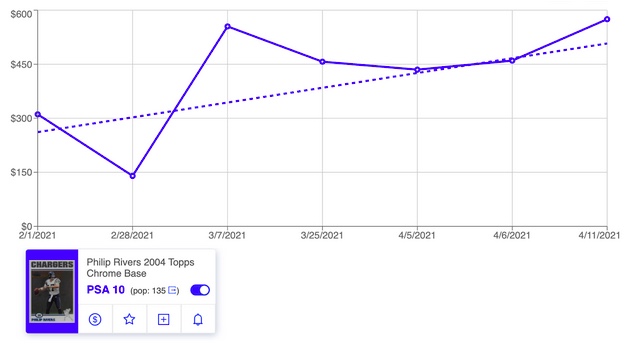 6. Sean Taylor- #202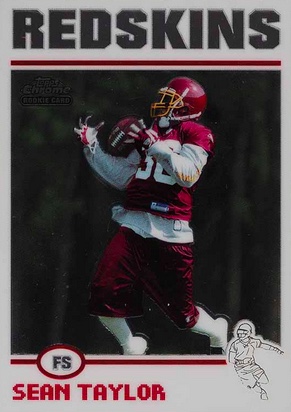 One of the most ferocious safeties the NFL had seen in a long time, it looked like Taylor was well on his way to becoming as feared in the position as Ronnie Lott and Steve Atwater. But tragedy struck on November 26, 2007, when Taylor was killed in a home invasion. Though the gifted player is no longer here, every now and then you'll still see this RC come up for sale or hear his name mentioned when people talk about today's hard-hitting defensive backs.
7. Brett Favre- #100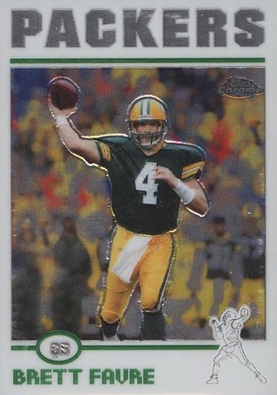 The outspoken Favre might make social media headlines today for his political comments, but there was a time when his cannon arm did most of the talking. This card captures Favre, by 2004 a star in his 13th season, preparing to unload one of his trademarked missiles downfield. We have no clue if Donald Driver or Javon Walker caught the pass, but the way the Packers' green-and-yellow jersey pops against the white backdrop gives the card a classic feel.
8. Drew Brees- #83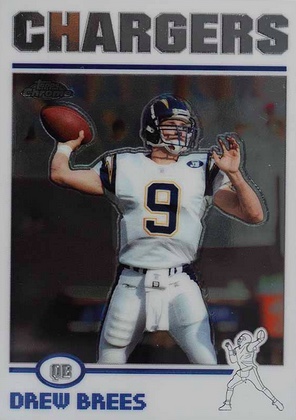 With a well-paid Philip Rivers in the fold, everyone knew Brees' Chargers days would be numbered. That, of course, proved great news for New Orleans, where Brees would wind up marching the Saints to two NFC Championships and a Super Bowl XLIV victory in 2010. Though this is the fourth-year card from the recently retired QB, it's a sneaky good one to own because its POP is low (15 PSA 10s) and its reasonable price will only go up once Brees gets inducted into the Hall.
9. Steven Jackson- #180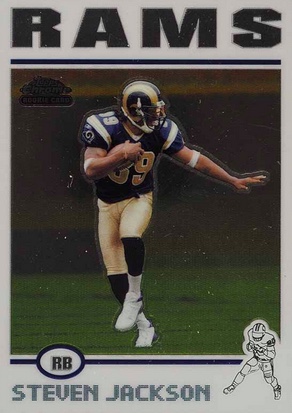 Jackson is probably the biggest surprise on this top 10. But ask any poor defender who stood in his way once he got rolling downhill and he'll tell you that he more than earns his slot as the lone running back represented here. The Rams' all-time leading rusher (yep, Steve Jax has 3,179 more yards than Marshall Faulk), Jackson was about that action in St. Louis. This rookie card won't move any sales mountains, but it'll forever be one of the underrated talent's best options.
10. Peyton Manning- #149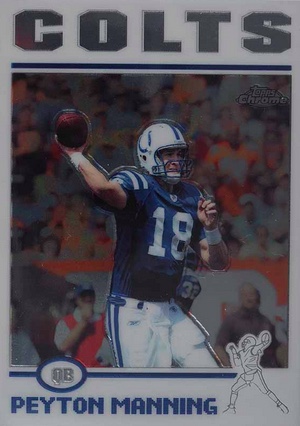 By the time the 2004 NFL season came around, No. 18 was a grizzled veteran with a younger brother hopping onto the scene. But hardly old news, Peyton was coming off an MVP season where he led the league in passing yards and completion percentage. Like most other late-'90s/early-'00s cards with Peyton's name on them, collectors should be in let-me-stash mode with this one, especially with Manning's 2021 Hall of Fame induction coming in August.