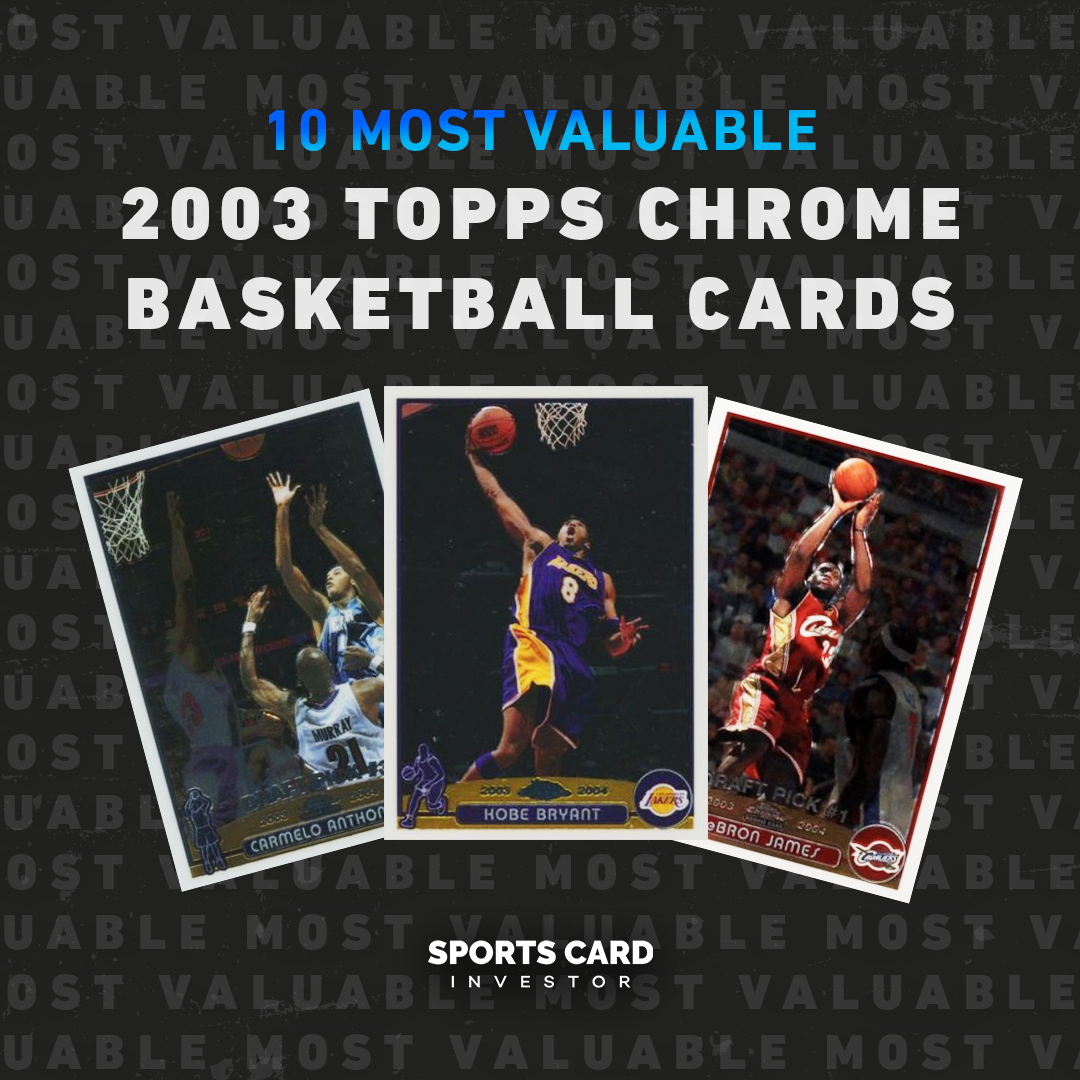 When it comes to naming the premier NBA Draft class of the last 20 years, none can touch 2003. Even if you take away the three-headed monster that is LeBron James, Carmelo Anthony and Dwyane Wade, you still have a another almost-certain hall of famer (Chris Bosh), a few all-stars (David West, Kyle Korver) and even a current head coach (Luke Walton).
But here's the thing: you can't take away LeBron James, especially if you're talking sports cards. The biggest name in the game, James' 2003 Topps Chrome PSA 10 has demanded more than $30,000 since late January 2021. This essential card will likely be the most hunted LBJ RC for the next 20 years, which probably explains why packs have been selling for $2,500 each on eBay.
Should you score a pack, you may not get 'Bron, but your chances of nabbing something decent aren't bad. In addition to the aforementioned rookies, the 165-card set includes coveted vets (Kobe Bryant, Kevin Garnett) and some cool inserts like "Coast to Coast." And if you're really lucky, you could also spot the rare base Refractor, Black Refractor or X-fractor parallels. Come across one of those for King James and you'll be sitting pretty. But honestly, your card portfolio grows instantly more attractive with a PSA 10 for any of the players listed below.
*NOTE: This list is based on average sales over the 90 days prior to press time. Like everything else in the hobby, prices and rankings can change at any moment.
LeBron James #111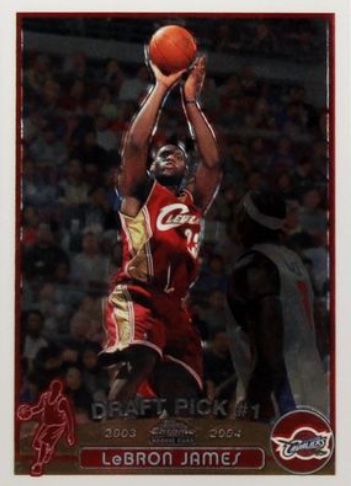 When it's all said and done, this card may go down as LeBron James' 1986 Fleer-like statement piece. Much like the iconic Michael Jordan card, this one already holds industry prestige (PSA 10 Refractors have sold north of $300,000) and features a memorable photo of a baby-faced LBJ elevating for a jumper. If there's one King James card to have in your collection, this is it.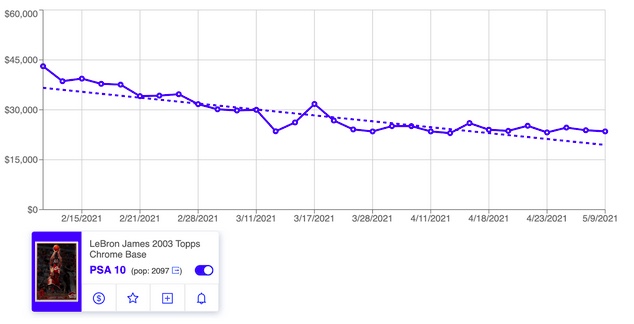 2. Dwyane Wade #115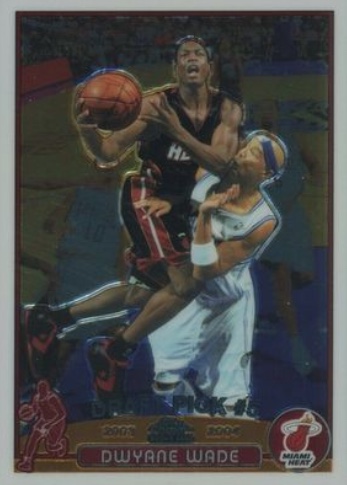 Of all the rookies on this list, Dwyane Wade saw professional team success the quickest. Miami's '06 NBA Finals crown (as well as subsequent titles with James and Chris Bosh in '12 and '13) solidified Wade's place among the game's best shooting guards ever. With his retirement years thus far filled with jobs as a social justice lobbyist, sports commentator and game show host, he's proving to be one of the most versatile former players as well.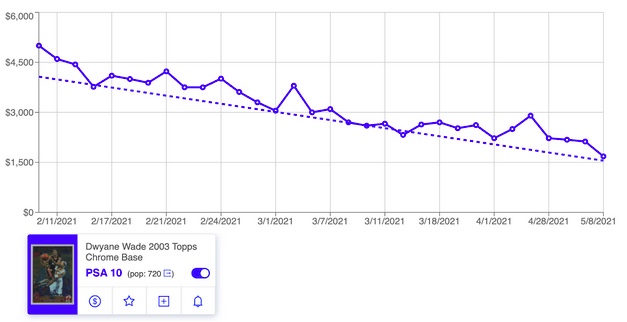 3. Carmelo Anthony #113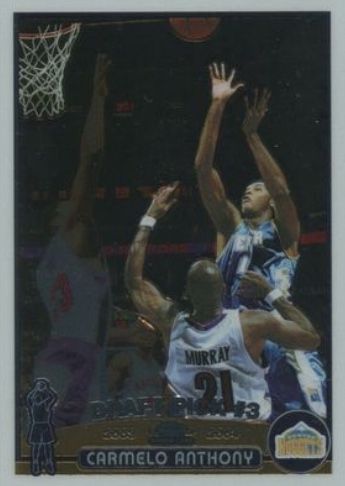 Coming into the league fresh off a Herculean effort in the NCAA Tournament with Syracuse, all eyes were on Carmelo Anthony. The No. 3 draft pick didn't merely live up to the hype; he surpassed it with Denver and New York. In later campaigns with the likes of Oklahoma City and Portland, a mature Melo hasn't had a quick first step, but his ever-dependable jumper does have him slowly marching up the league's all-time scoring list.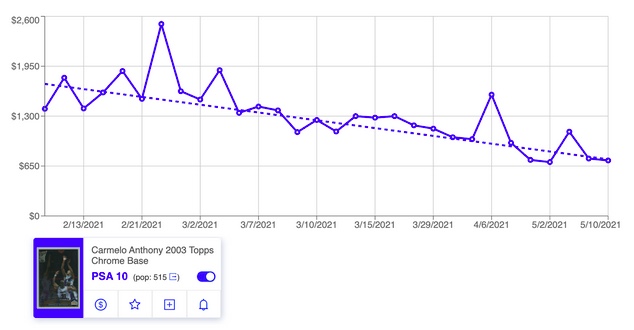 4. Kobe Bryant #36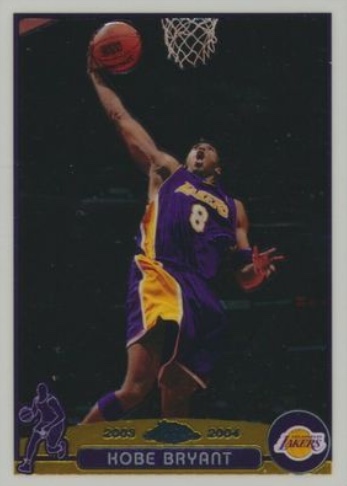 The season prior to this card was a unique one for Kobe Bryant's L.A. Lakers—they didn't make it to the NBA Finals. The team three-peated ('00-'02) before it and made it all the way to the Finals in '04. But such is the allure of Bryant, Shaquille O'Neal and the Lakers in the early 2000s. It just didn't seem as if they could do any wrong during that era. And from the way this card has averaged around $800 over the past 90 days, that mystique lives on.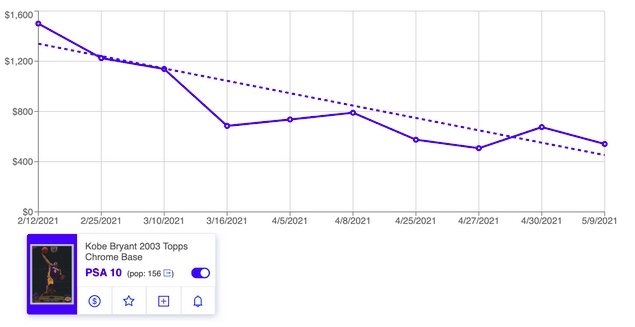 5. Chris Bosh #114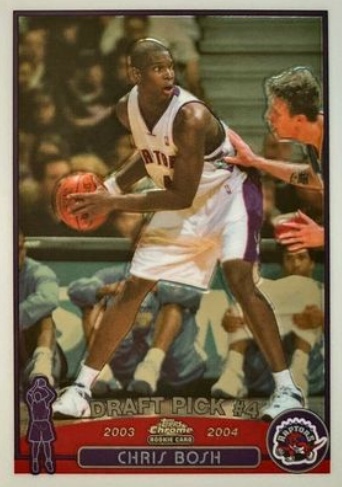 Before a blood-clotting condition ended his career in 2016, Bosh amassed 11 all-star appearances in 13 brilliant seasons. Most collectors know these numbers (and are aware that the well-rounded forward is a likely first-ballot hall of famer), so they treat this card with the respect it deserves. Though the fourth pick in the 2003 draft is also the fourth most-visible rookie on this list, hoops fans in Toronto and Miami likely rank Bosh much higher in their thoughts.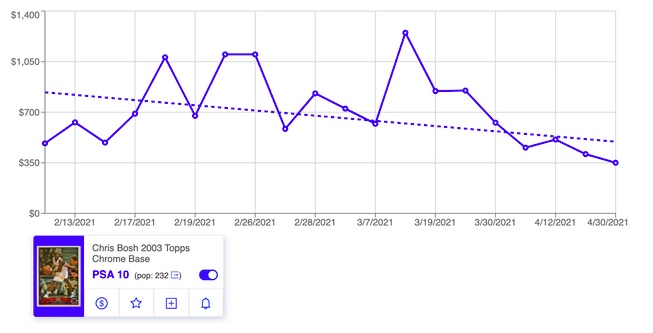 6. Shaquille O'Neal #34
Considering all that he's done on the court (28,596 career points, four-time Finals MVP) and in pop culture, Shaq's cards don't get nearly the attention we feel they deserve. So, call us pleasantly surprised to see this base card ($280) for Shaq Diesel, by then in his 12th season, hanging on in our top 10. Even cooler, O'Neal's card is No. 34 in the set, the same number he wore during the Lakers chapter of his illustrious career.
7. Scottie Pippen #49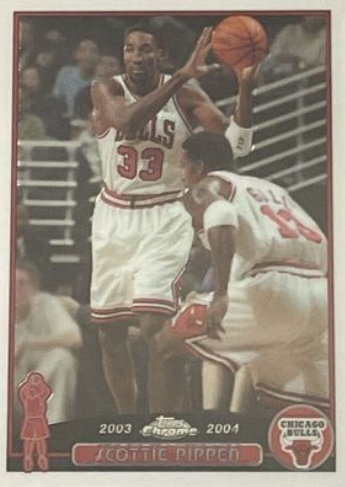 Some people probably value this card ($104) because of the respect they have for Scottie Pippen. Others cherish it because it marks his return to the Chicago Bulls for the last season in his brilliant 12-year resumé. All we have to say is that, in the picture, it appears that Pippen is preparing to make one of his 6,135 career assists—yet another mind-blowing stat from the all-time great.
8. Vince Carter #15
The best in-game dunker of all-time (sorry, Dominique), Vince Carter made a career out of sensational slams. While basketball lovers have their favorite jams of his, we've always considered his '05 smash over Miami's Alonzo Mourning to be one of our favorites. But instead of capturing one of the future hall of famer's gravity-ignoring moments here, Topps threw collectors a curveball and shared a picture of Carter taking a jumper.
9. Kevin Garnett #100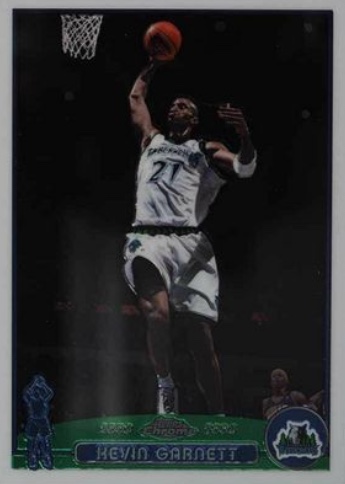 An '08 crown with the Boston Celtics will make many forget about all of the playoff disappointments Kevin Garnett had with the Minnesota Timberwolves in the early '00s. But those who remember the first-round exits during those lean years should also recall that KG was an absolute terror on the hardwood in '03, averaging 23 points, nearly 14 rebounds and two blocks during the MVP-winning season.
10. Kirk Hinrich #117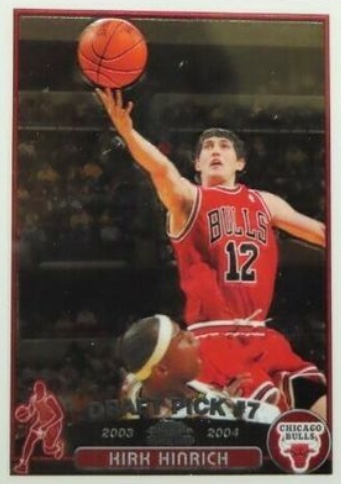 The biggest shocker on this tally, Kirk Hinrich is the only guy here who won't ever be inducted into Springfield. But that fact takes nothing away from Hinrich being the seventh pick in the '03 draft and going on to having a solid NBA career with three teams over 11 seasons. Just goes to show that if you have a good-looking stroke from deep and hustle for loose balls, the hobby will always remember you.
Track your collection and maximize your profit with Market Movers, the hobby's most powerful sports card pricing platform! Learn more here.