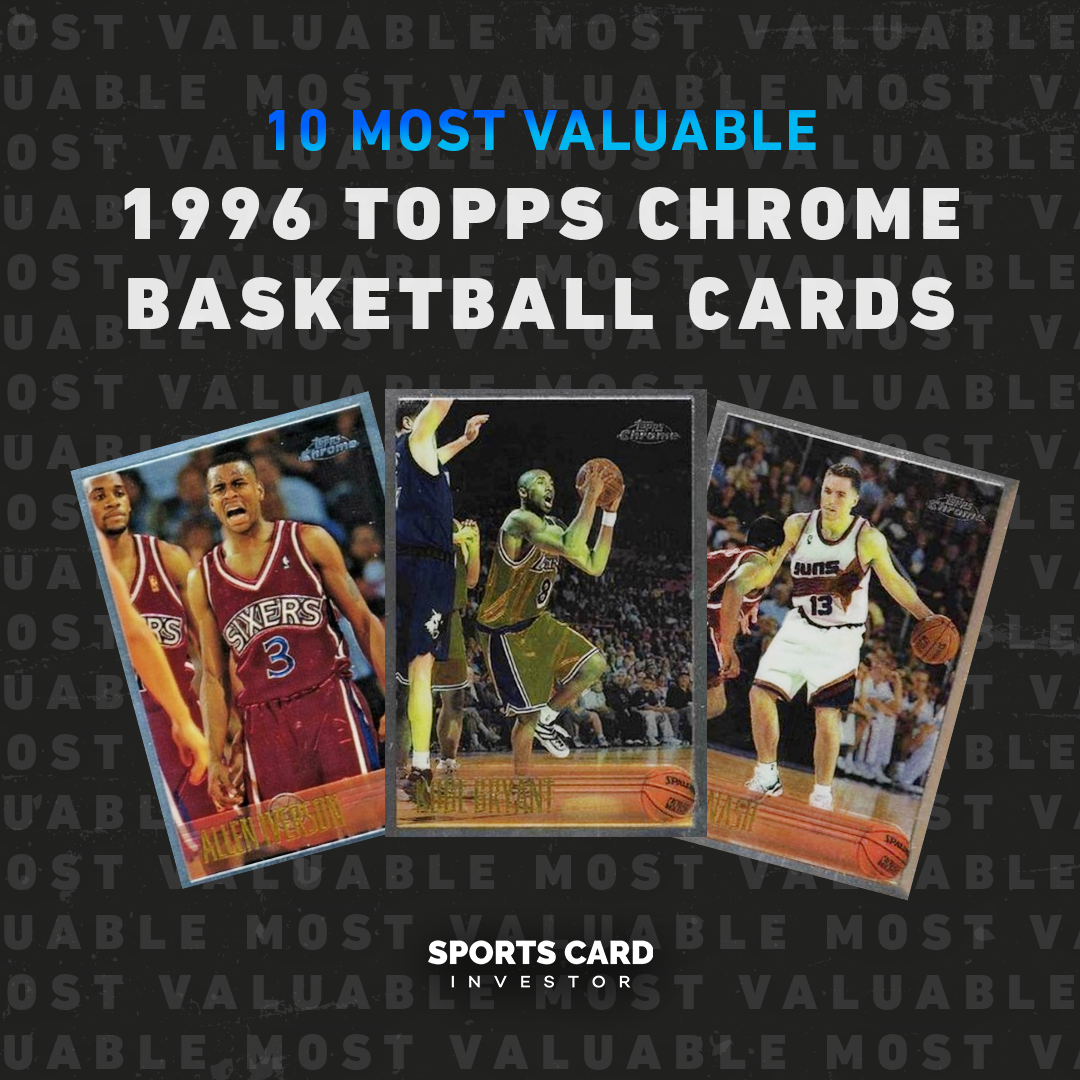 The 1996-97 NBA Draft class was special. We're talking "This bunch might rival Michael Jordan's 1984 class" kind of special. Headlined by game-changing guards like Kobe Bryant, Steve Nash, Ray Allen and Allen Iverson, the group has an undeniable aura about it. That mystique certainly translates to the hobby, where these players' mint rookie cards, especially the Topps Chrome variety, have long commanded top dollar.
But the '96-97 Topps Chrome set offers more than RCs of some of the best players in NBA history. You'll also find coveted base cards for vets (Michael Jordan, Hakeem Olajuwon and Kevin Garnett) and even a few team cards that collectors love. But truthfully, with its metallic silver borders, almost every card in the set looks pretty dapper.
The following 10 cards don't just look the part, though. They've also proven to be sound economic bets over the years. Several of these cards in a PSA 10 routinely fetch north of $2,000, with Kobe's now-iconic card leading the way with a nearly $40,000 average sticker price.
*NOTE: This list is based on average sales over the 90 days prior to press time. Like everything else in the hobby, prices and rankings can change at any moment.
Kobe Bryant- #138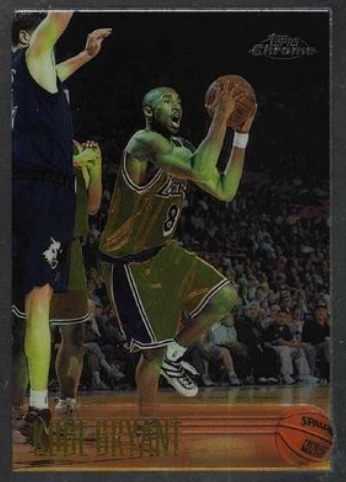 Though the POP for this card is pretty high (830 PSA 10s at last check), folks are still clamoring for it. That said, if there's just one card that encapsulates the five-time NBA champ and 18-time All-Star, it's this one. As for the look of the RC itself, the image is a simple, beautiful moment where Bryant is weaving his way to the basket, possibly to score two of his 33,643 career points. Few cards over the last 25 years mean as much to the hobby as this one.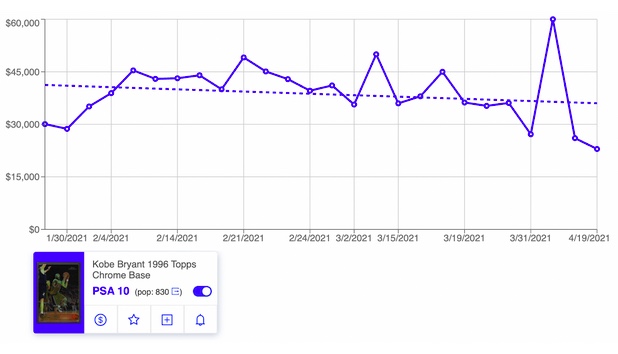 2. Allen Iverson- #171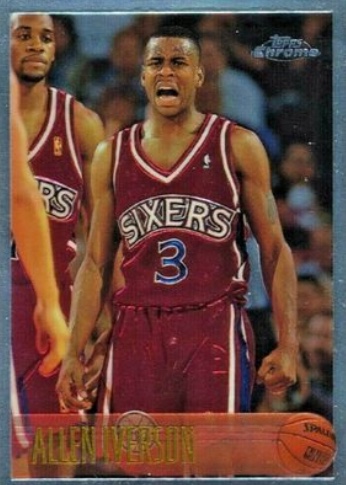 If Steph Curry and LeBron James are the most influential players in today's game, Allen Iverson has to be one of the most inspiring of the last era. Even if you forget about the crazy crossovers or pirouettes in the paint, a corn-roll-rockin' A.I. was the obvious answer for kids (and hobbyists) searching for someone who had as much swag off the court as he did on it. Bonus points for this being a card of a ball handler that doesn't have an actual basketball in the image.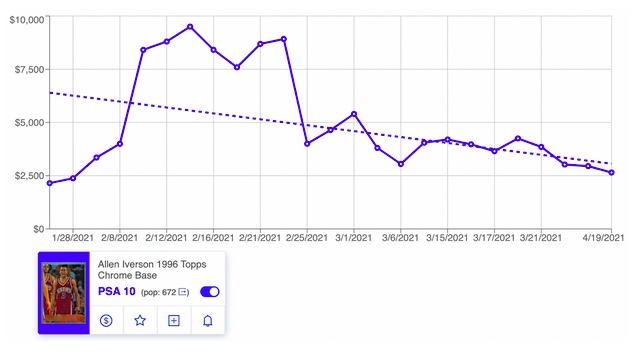 3. Michael Jordan- #139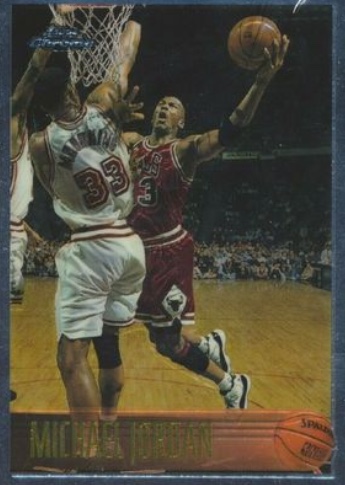 This card has everything. An image of Michael Jordan soaring through the sky? Check. A defender, this time Miami great Alonzo Mourning, trying to slow Air Jordan down? Yes. A clear look at the timeless Jordan 11 sneakers? Of course. Couple all of that with Topps Chrome's polished frame and you see why this card from Jordan's 12th year regularly snatches $3,000 in a PSA 10.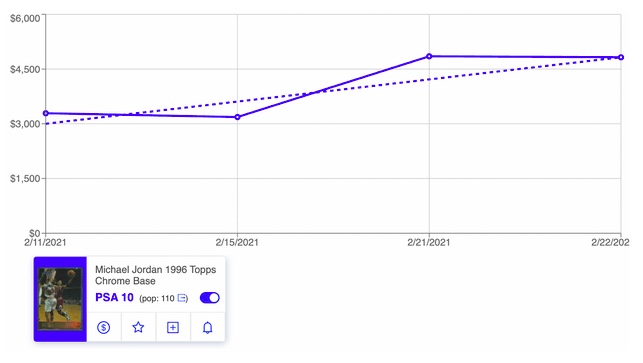 4. Steve Nash- #182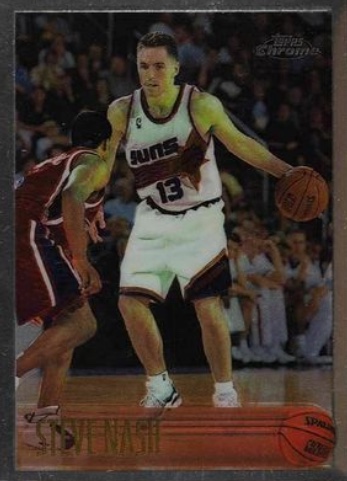 It really shouldn't surprise people that Steve Nash is finding success as the Brooklyn Nets' head coach. For 18 glorious NBA seasons, he was basically the hardwood leader for some really good Mavericks, Suns and Lakers teams. Hovering around $3,000 in a gem mint right now, this card could see a bump if the Nets can stay healthy long enough for a lengthy playoff run.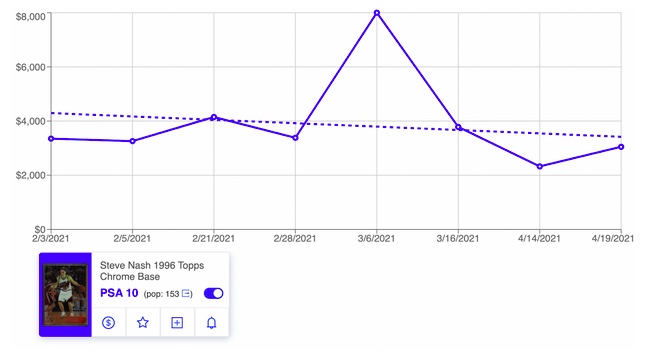 5. Ray Allen- #217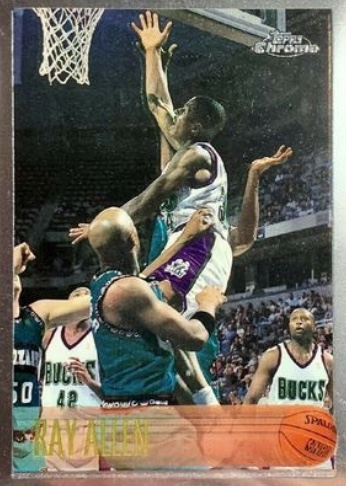 A quiet star with the Seattle Sonics, Milwaukee Bucks, Boston Celtics and Miami Heat, Ray Allen's long-range shooting made most of the noise. Most hoops fans will never forget his clutch three-pointer versus the San Antonio Spurs in Game 6 of the 2013 NBA Finals. But to make the Hall of Fame, you need more than one moment. You need a career of floaters, mid-range daggers and acrobatic lay-ups, kinda like the one captured in this rookie card.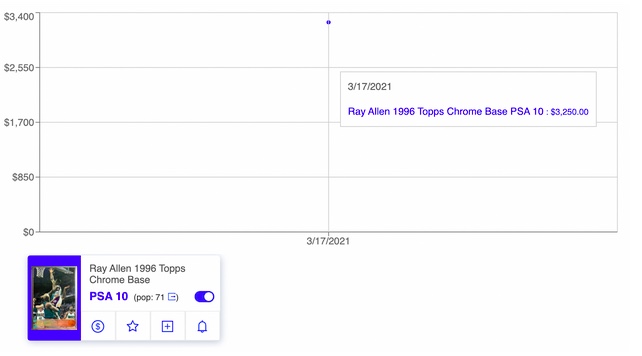 6. Kevin Garnett- #45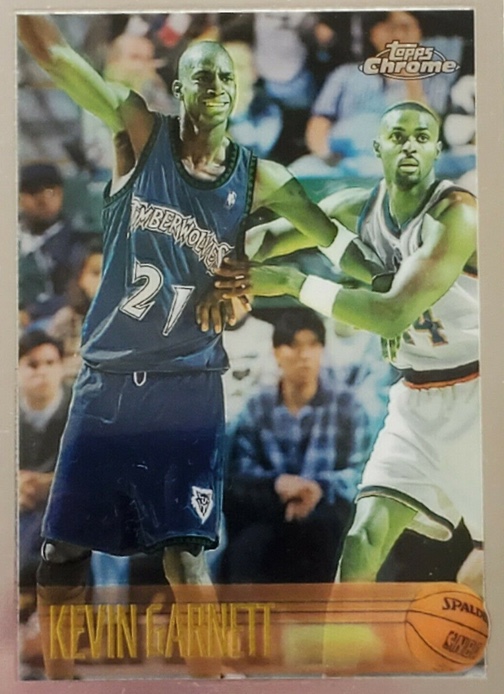 In the category of "second-year cards to own," this one ($2,795) makes sense for a host of reasons. For starters, Kevin Garnett, the Minnesota Timberwolves' all-time leader in points, rebounds, steals, assists and blocks, is a generational talent. Also, the photo is a strong one of KG calling for the ball in the post. Lastly, the POP report says that only nine PSA 10s exist. Like Garnett's transcendent game, there's just so much to like here.
7. Hakeem Olajuwon- #35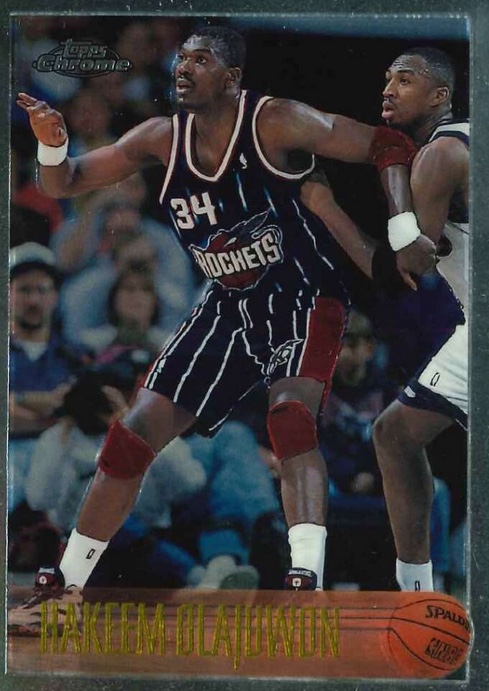 By 1996, Hakeem Olajuwon was already an 11-time All-Star with two NBA titles. Mix in all of the Houston Rockets center's incredible stats with the fact that he had his own patented move ("The Dream Shake") and generally carried himself with a cool, calm demeanor, and you have all the explanation you need for why this base card ($499) is still valued so highly.
8. Chicago Bulls' 70 Wins- #72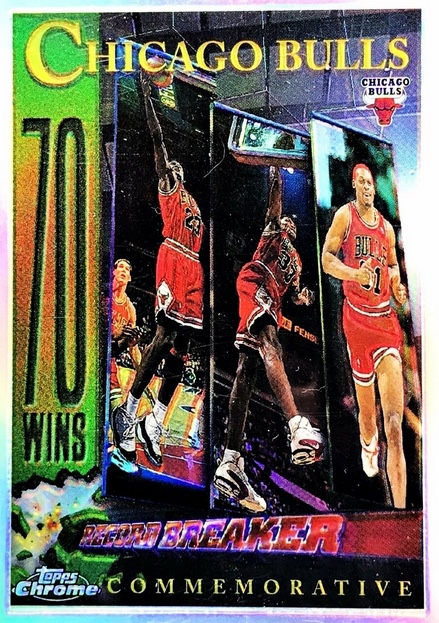 There aren't many team cards worthy of making a '90s set's top 10 list. But then again, there aren't many teams like the 70-12 Bulls, a squad that ran through the rest of the league on its way to the 1996 NBA Finals crown. The card ($397) itself is mostly a multi-font design mess, but it features the team's three biggest contributors (MJ, Scottie Pippen and Dennis Rodman), so all is forgiven.
9. Dennis Rodman- #176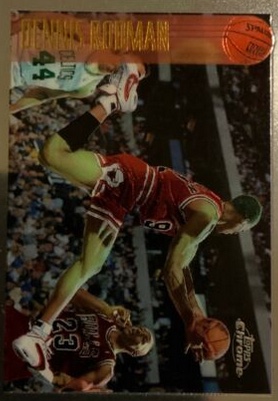 And speaking of Mr. Rodman, his Topps Chrome base ($371) earns a spot on this top 10, too. That's not that big of a surprise, though. One of the game's hardest workers (Rodman led the league in rebounds seven times) and most animated characters (Rodman probably led the league in hair-coloring treatments during that same span), The Worm will forever hold a place in fans' hearts. And as long as that's true, his cards will remain relevant.
10. Stephon Marbury- #177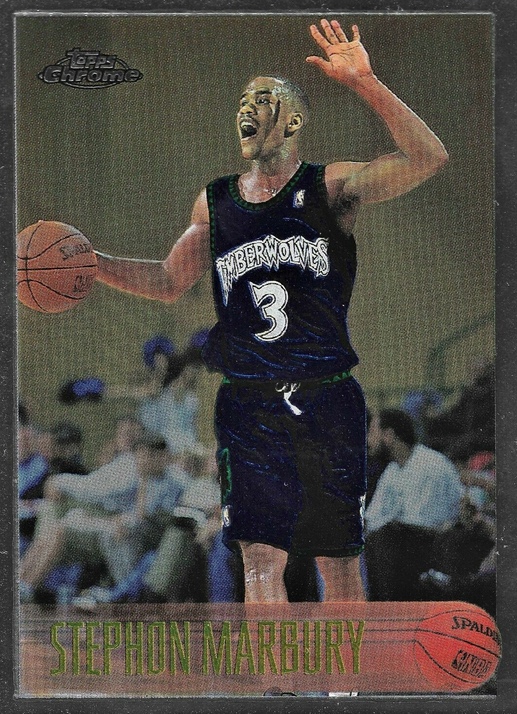 Though Nash and Iverson may have had more esteemed NBA careers, Stephon Marbury's international resumé is nothing short of spectacular, which probably explains this rookie card's value ($274). After 13 solid seasons in the NBA (Marbury is 27th all-time in assists), he relocated to China, where Marbury became a two-time champion on the court and a rock star off of it. Though his playing career ended in 2018, Marbury remains in the public eye as the head coach of the Chinese Basketball Association's Beijing Royal Fighters.
Track your collection and maximize your profit with Market Movers, the hobby's most powerful sports card pricing platform! Learn more here.