Only a few sports card sets have proven so vital that they actually transcend into pop culture relevancy. The 1986 Fleer Basketball set falls into this category for one reason—Michael Jordan's rookie card. With a Jordan PSA 10 going for $738,000 in early 2021, it's easy to see why this iconic, red-white-and-blue-bordered set has captured so much attention.
But unlike the 1998-99 Chicago Bulls team, this set doesn't merely fall apart without Jordan in the picture. The company's first basketball release delivers some major star power (the 132-card, 11-sticker set features nearly 30 Hall of Famers), much of it coming in the form of rookie cards. Of course, when we say "rookie," we're not only thinking players from the '86 rookie class. Because there were no major basketball card releases between '82 and '86, every big name to debut in that span got his first card in the '86 Fleer set, too.
If you're fortunate enough to get your hands on a box, you'll have a blast searching for the rookies, legendary vets and grade-worthy minor stars. (Last we checked on Market Movers, solid players like Wayman Tisdale and Norm Nixon were still commanding more than $300 apiece for their PSA 10s.)
Sure, Air Jordan's iconic No. 57 card is the headline maker here, but there are more than a few other beauties that deserve some front-page attention, too. Read on to see the PSA 10 cards (excluding the way-too-obvious MJ, of course) from the '86 Fleer set that everyone will want to have in their collection.
*NOTE: This list is based on average sales over the 90 days prior to press time. Like everything else in the hobby, prices and rankings can change at any moment.
Dominique Wilkins- #121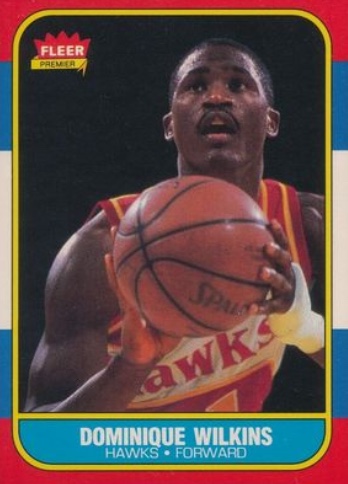 Affectionately called the "Human Highlight Reel" by most hoops fans, Wilkins became a legend for his rim-rattling in-game dunks. But lost in the slams is the fact that Nique was a nine-time all-star who didn't flinch when he faced MJ, Larry Bird and other greats of the era. While this rookie card's low POP might indicate how collectors are still sleeping on Wilkins, these sale prices prove that people do understand his importance in the sport.
2. Charles Barkley- #7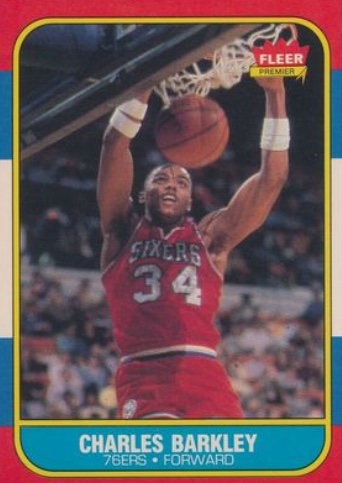 Most folks know Barkley today for his hot takes on NBA on TNT, but there was a time that the outspoken TV personality was a spry, elbow-spraying forward. Sir Charles was that rare talent who shined for three franchises (Philly, Phoenix and Houston) across his Hall of Fame career. With its thunderous slam image, this rookie card personifies what Barkley meant to the league in the '80s and '90s.
3. Hakeem Olajuwon- #82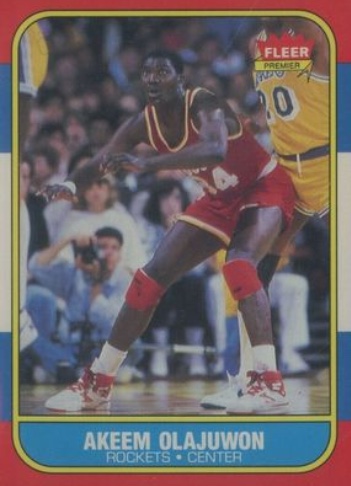 Barkley's teammate for those late '90s Rockets team, Hakeem "The Dream" Olajuwon was an absolute nightmare for opposing bigs. The footwork. The post-up game. The defense. If you ask old-school fans to name the best centers of all-time, Olajuwon's name is one of first mentioned in the conversation. That respect explains why this rookie card is always a best-seller in the set.
4. Magic Johnson- #53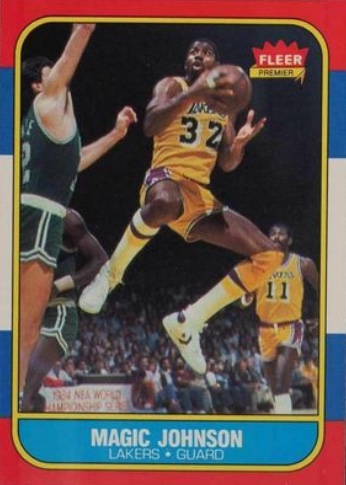 Magic's rookie card, of course, is the tri-photo '80 Topps he shares with Larry Bird and Julius Erving. But this beauty still finds its way onto our top 10 because hobbyists simply can't get enough of '80s Magic cards. With this one, Magic's hanging in the air for what looks like a fancy lay-up attempt. We're talking about the most electrifying passer ever, though. This could have easily led to a no-look toss over to Byron Scott. Who knows? All that's for certain is that the card is a timeless one.
5. Larry Bird- #9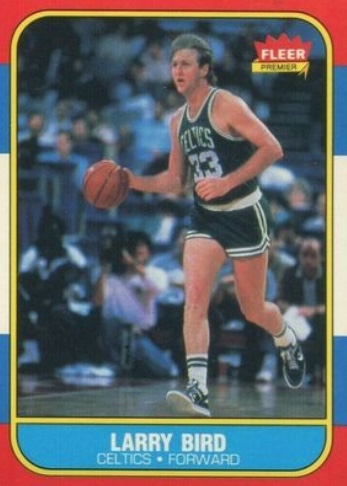 Imagine what Bird's long-distance numbers would have looked like had the three-pointer been as integral to the game then as it is today. (For some historical context, 24-year-old Donovan Mitchell already has more three-point attempts than "Larry Legend" did over his entire career.) Still, Bird's numbers (21,791 points; three-time NBA champ) are more than enough to keep his name at the top of fans' minds and this card forever in circulation.
6. Patrick Ewing- #32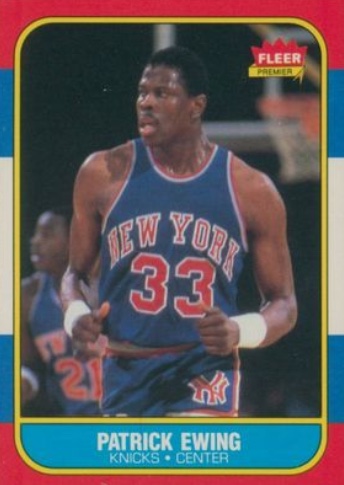 Ewing was the most important piece of the New York Knicks' glorious playoff runs in the 90s. The towering center is still quite the presence today, bringing new life to his alma mater, Georgetown, as the head coach of its men's basketball team. Still this PSA 10's relatively low POP begs one question: are people not valuing Ewing's RC or is it simply a tough card to Gem? With more than 1,200 PSA 9s out there, it's looking more like the latter.
7. Karl Malone- #68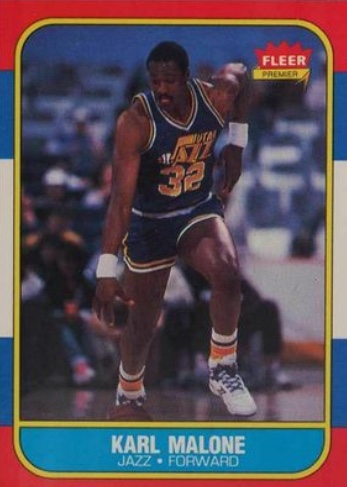 The "Mailman" made headlines a few years ago with the release of his own rum. But as the Utah Jazz's best player for nearly two decades, Malone was a dizzying presence in the paint for the league. One half of the great give-and-go tandem with John Stockton, Malone finger-rolled his way to the second-most points in NBA history. While far from the most outgoing personality, collectors will always respect how loudly his game spoke.
8. Chris Mullin- #77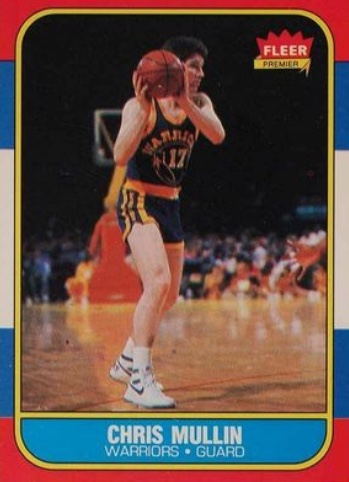 Long before Golden State's "Splash Brothers" or the Baron Davis-fueled "We Believe" movement, there was the Warriors' flashy "Run TMC" offense, sparked by Tim Hardaway, Mitch Richmond and Chris Mullin. Brilliant from mid-range and bold with the buzz haircut choice, Mullin had a swag that took him all the way to Springfield. But even with all of that, some might be shocked to find this RC's average sales among the set's best.
9. James Worthy- #131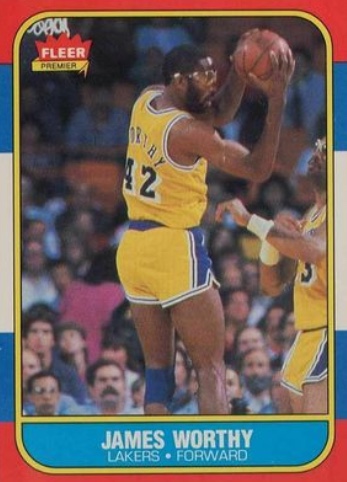 Though Worthy played alongside others who got more attention — "Big Game James" ran alongside Michael Jordan at UNC and was Magic's sidekick for all those "Showtime" Lakers squads — the smooth forward is highly respected in hoops circles. That esteem carries over to the hobby, too, where this RC remains one of the most coveted for L.A. fans and collectors in general.
10. Isiah Thomas- #109
Before Damian Lillard, Russell Westbrook and Allen Iverson, there was this bulldog of a point guard. The heart of those "Bad Boys" teams in the '80s and '90s, Thomas was very good at facilitating (No. 9 on the all-time assists list) and finding ways to score (19.2 points per game). The Last Dance docuseries may have made him a meme, but a spectacular 13-year career with the Pistons make Thomas a legend more than deserving of a slot on this tally.
HONORABLE MENTION – #76 Johnny Moore
San Antonio Spurs fans remember Johnny Moore as a solid guard who irritated opposing backcourts with his quick hands. Those who followed the rest of the NBA won't recall much about him at all. But for the savvy collector who's building a complete '86 Fleer set, Moore rests near the top of their wish list because there are just so few of his Gem Mints out there. As late as April 2021, we saw his PSA 10 going for more than $8,000.
Track your collection and maximize your profit with Market Movers, the hobby's most powerful sports card pricing platform! Learn more here.
Note to readers: If you purchase something through one of our affiliates, we may earn a commission.