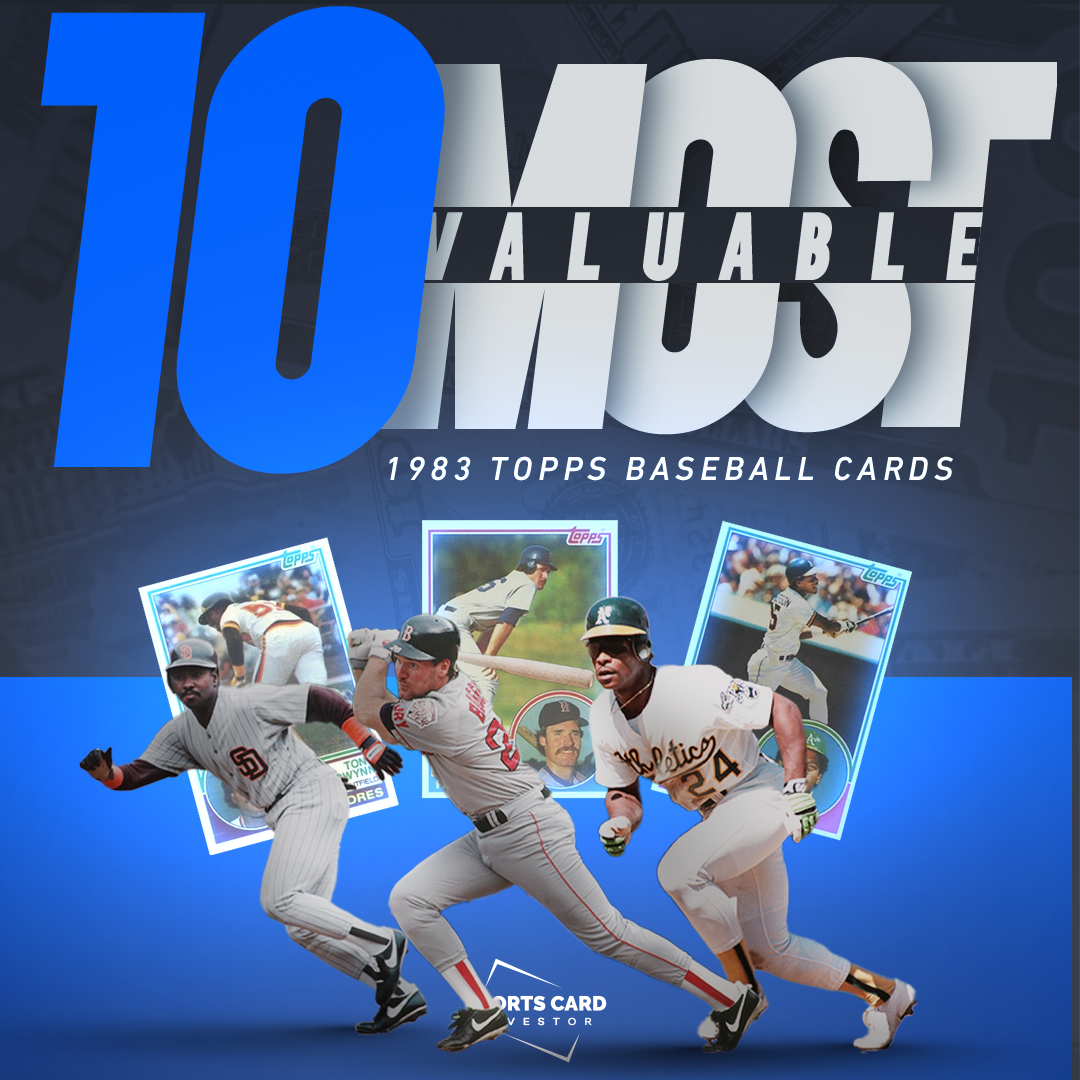 There's something to be said about quiet elegance. The 1983 Topps set never tried too hard to get the industry's attention. All things considered, the 792-card set is pretty tame. A simple, colored-line border over a white background. Unfussy fonts. Two photos, one big action shot and one smaller circle portrait. Nothing terribly busy here. Still, it all comes together into a timeless collection that has turned heads in the hobby for decades.
While the look sells itself, a lot of the set's allure stems from the fact that its checklist boasts so many great names. Heck, nine of the 10 guys who follow are in Cooperstown. Two of those, rookies Wade Boggs and Tony Gwynn, regularly tussle for the collection's most valuable card; just depends on which .330 hitter the market is enamored with that day. Keep reading for a closer look at these two and eight others who make '83 Topps one of the most important sets in history.
1 Tony Gwynn #482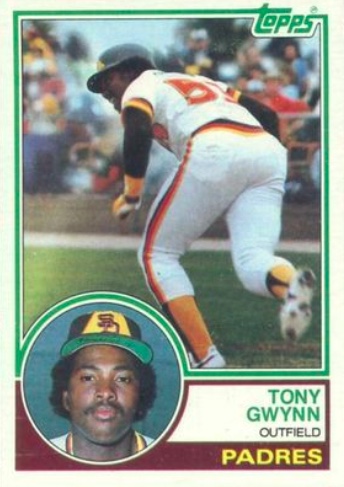 We could chat for hours about all of the jaw-dropping Gwynn statistics. One that always kills at parties is that the legendary San Diego outfielder has more four-hit games (45) than multi-strikeout ones (35) in his storied career. That's just insane. Almost as crazy, this rookie card in a PSA 10 hasn't fallen under $1,800 since January 1, 2021.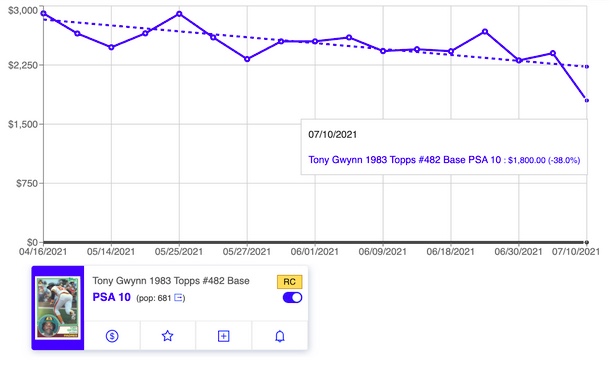 2 Wade Boggs #498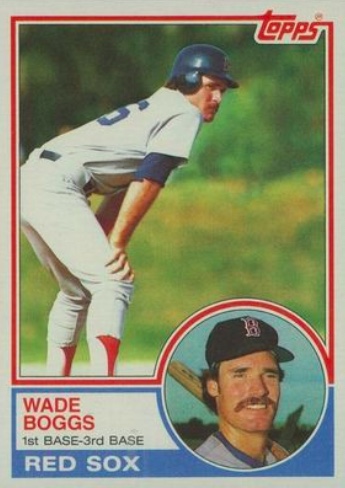 There's one Boggs you recall from the diamond (3,010 hits, five batting titles). There's another Boggs from pop culture (Cheers, The Simpsons). And then there's a third from sports card lore. This latter iteration offers a few beloved rookie cards that collectors have cherished for decades. This '83 Topps RC, for instance, still sells once or twice a week at prices that range from $1,200 to $2,700.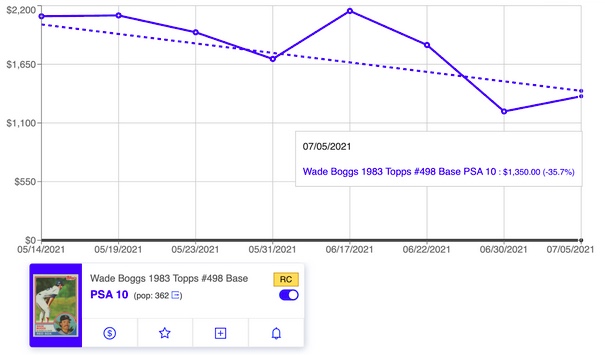 3 Ryne Sandberg #83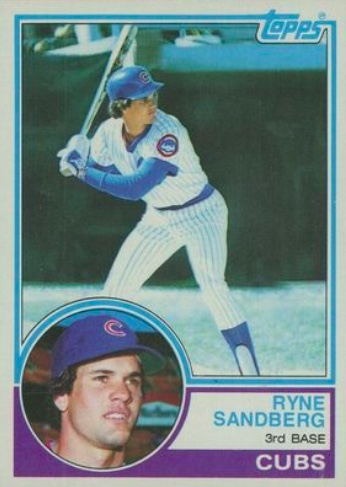 When you think about middle infielders who were known as much for their bat as their glove, this Cubs icon should pop into the conversation almost immediately. Sure, Ryno has nine Gold Gloves, but he's also clobbered 282 dingers and won the 1990 Home Run Derby. The hobby acknowledges this versatility, too, by keeping this rookie card near the $1,000 mark every month.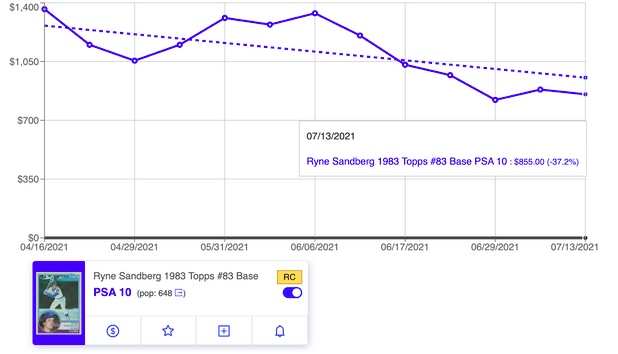 4 Nolan Ryan #83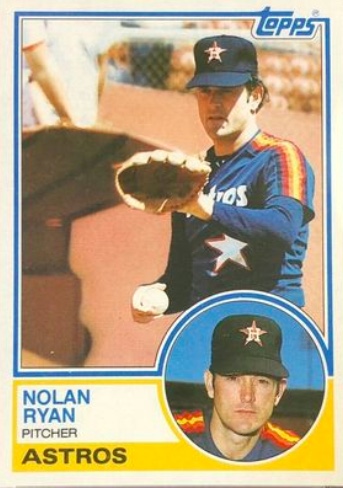 In his 17th season in 1983, Ryan was still a handful on the hill. In fact, he was just coming off a 245-K campaign the year prior. So, how does Topps reward such greatness? With a somewhat odd photo of Ryan, with his Astros cap barely hanging onto his head, in the middle of a game of catch, that's how.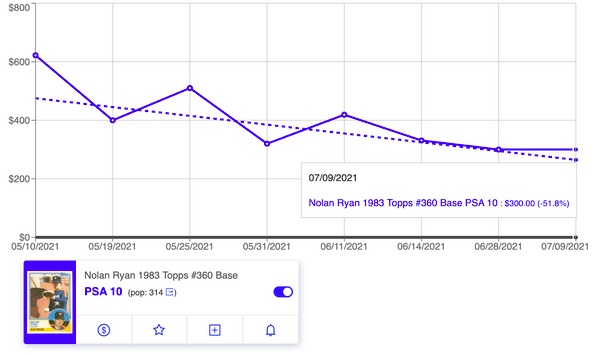 5 Cal Ripken Jr. #183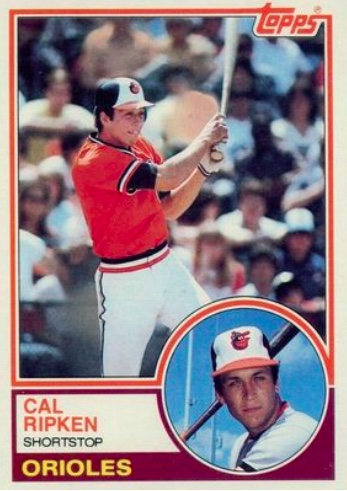 One year removed from his Rookie of the Year-winning season, this Ripken card is still a hobby favorite because it shows the Orioles third baseman's timeless swing and a close-up of his youthful mug all on one important card. Its $300 PSA 10 price tag is no mistake.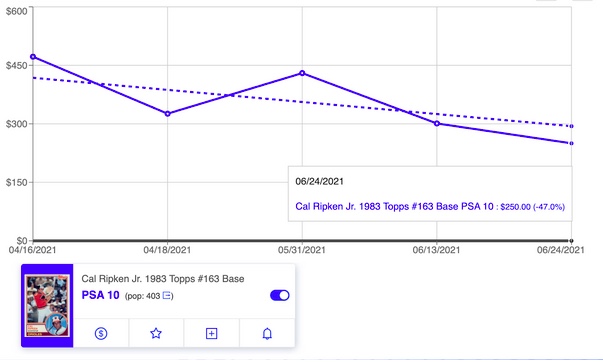 6 Rickey Henderson #180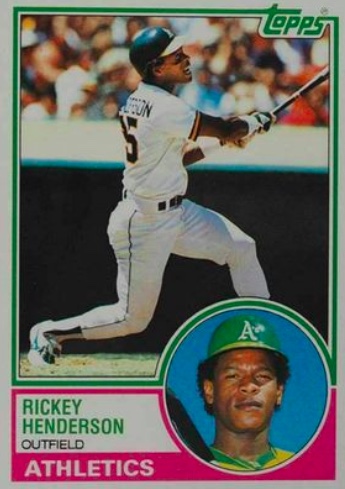 In 1983, Henderson had one of his greatest seasons ever, pacing the American League in walks and stolen bases and hitting nearly .300. Henderson would lead the league in steals a whopping 12 times over his career. So, when you think about how quickly this card comes up when hobbyists list their Henderson favorites, it all starts to make sense.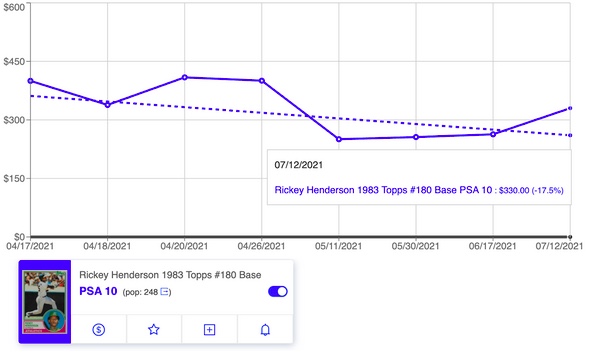 7 Keith Hernandez #700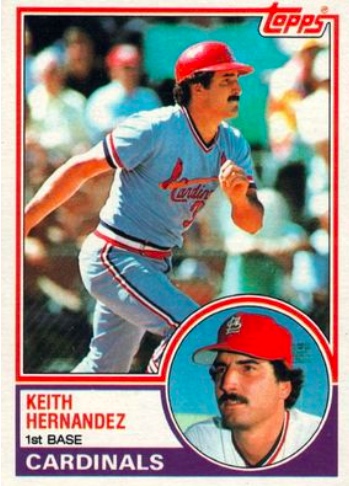 Though Hernandez is the only player on this tally who hasn't given a hall of fame acceptance speech, his decorated resumé (five-time all-star, 11-time Gold Glove) is nothing to sniff at. Cooperstown or not, sports collectors (and Seinfeld fans) have always been a fan of this Mets infielder and this card more than confirms it.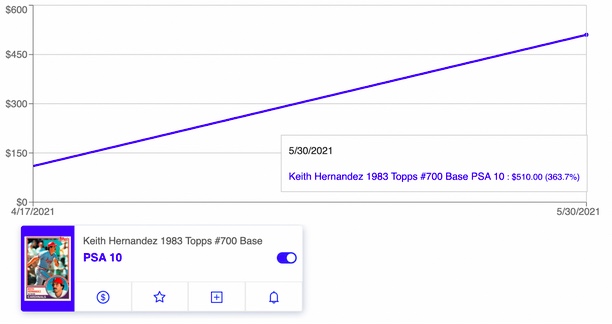 8 Tim Raines #595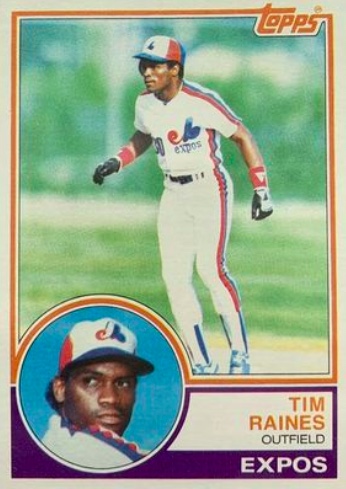 Whenever Rickey Henderson wasn't MLB's steals leader, the Expos' Raines likely was. With six seasons of 70 or more swipes, Raines had wheels. His 170 home runs show that he had some underrated thump, too. And the fact this card consistently fetches $200+ means he's got more than a little stamina as well.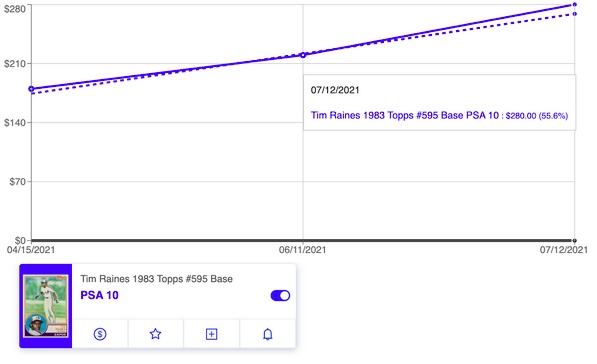 9 George Brett #600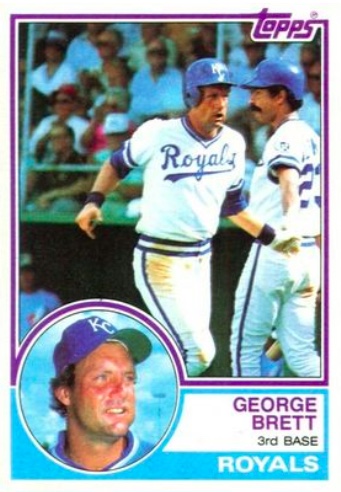 When you look at the '80s in their totality, Brett's name has to be in the mix for being one of the decade's top players. An all-star every year from '76 to '88, the Royals icon hit for average and had decent power. When it comes to his cards, they've proven to be some of the era's most dependable as well. This one, in particular, has stayed between $150 and $320 for the past year.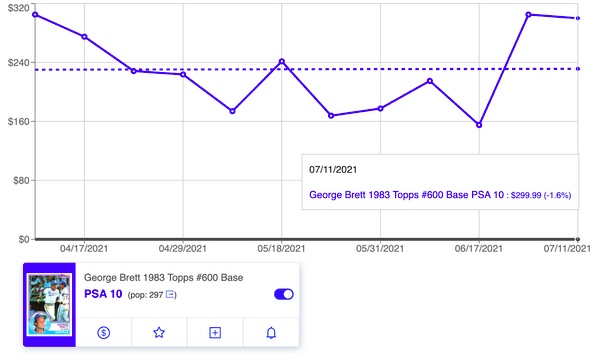 10 Johnny Bench #60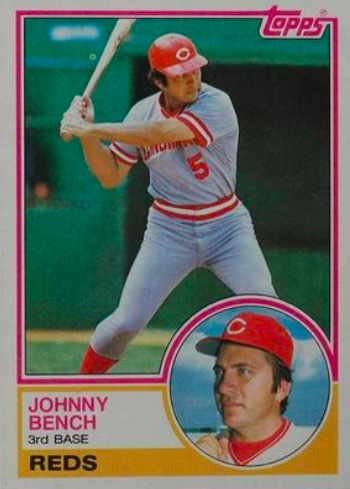 After leading Cincinnati to two World Series titles, earning 14 all-star appearances and redefining what it means to be a Major League catcher, Bench retired after the '83 season. We don't know if this card consistently sells for more than $180 because of sentimental Reds fans or baseball followers in general merely showing their appreciation for greatness.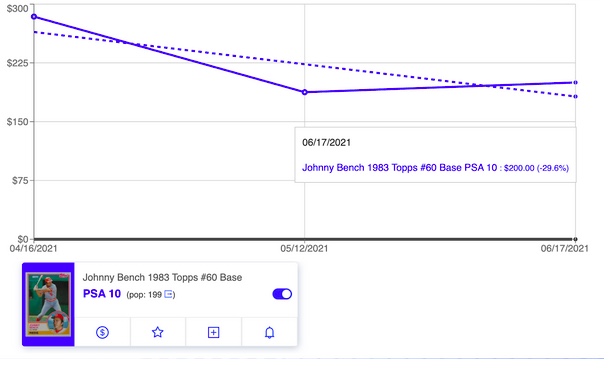 Track your collection and maximize your profit with Market Movers, the hobby's most powerful sports card pricing platform! Learn more here.
Note to readers: If you purchase something through one of our affiliates we may earn a commission.