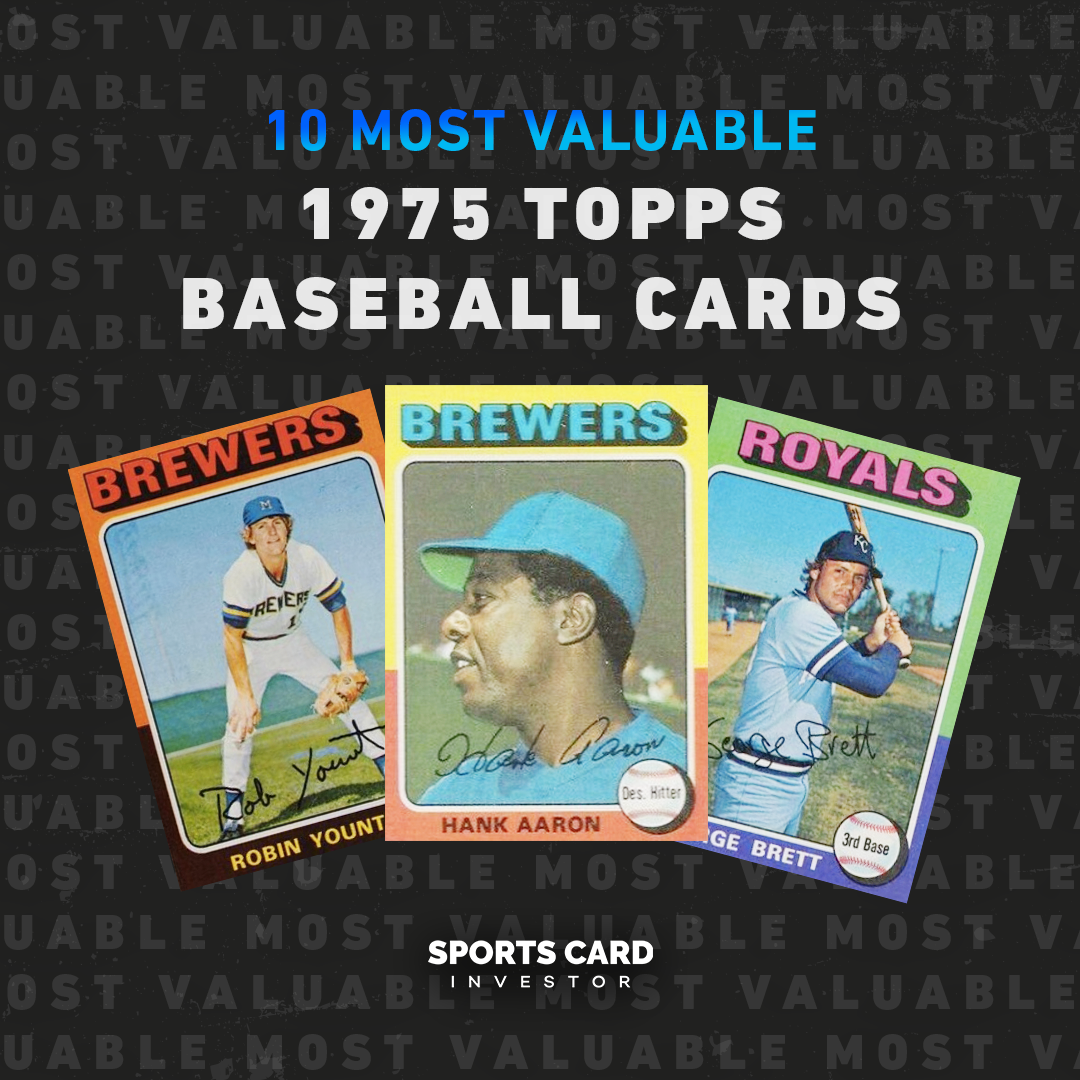 Some baseball card sets stand out in the hobby because of the rookie cards attached to them. Others hold firm positions in collectors' minds because of their distinctive look. And then you have special collections like 1975 Topps that hit it outta the park with their contents and their creativity.
If you're talking memorable sets from the '70s, this one holds a special place in the heart of the hobby. Part of the nostalgia comes from the cards' appearance. With each card swathed in loud colors (oftentimes having absolutely nothing to do with respective team's colors) at the top and bottom border, the set has a vibrancy that's nearly unmatched from the era. Couple all of the hues with team names written in a slightly funky font and you have yourself just about all the fun you can possibly muster onto one piece of cardboard.
But things get serious once you look at the checklist. From sought-after rookies (George Brett, Gary Carter) to icons nearing the end of their careers (Hank Aaron), the set doesn't have to work terribly hard to get your attention. But which 10 from the 660-card lot are its most valuable? We've cracked the numbers and listed the PSA 8s from the set that top the list.
*NOTE: This list is based on average sales over the 90 days prior to press time. Like everything else in the hobby, prices and rankings can change at any moment.
1 George Brett #228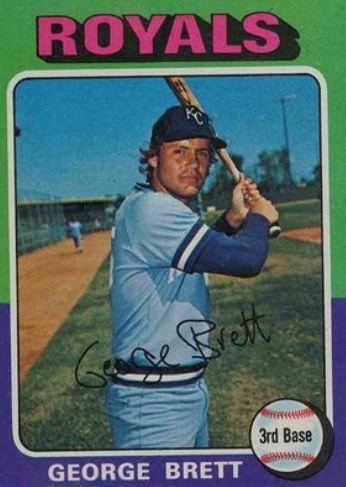 The owner of one of the sweetest swings in baseball history, George Brett's career resumé includes three batting titles, 13 all-star appearances and 3,154 hits. Though he led Kansas City to just one World Series title, Brett comfortably sits atop the Royals' Mount Rushmore, all of which might explain why this card is cemented as one of the decade's most valuable RCs.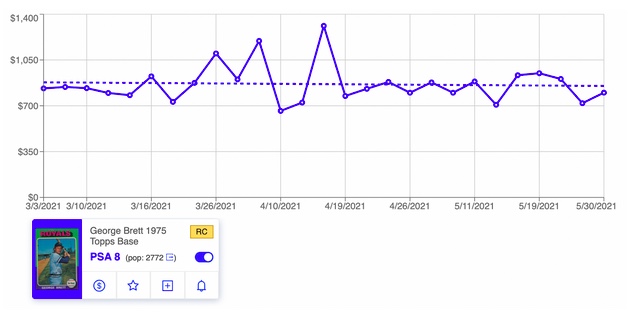 2 Nolan Ryan #500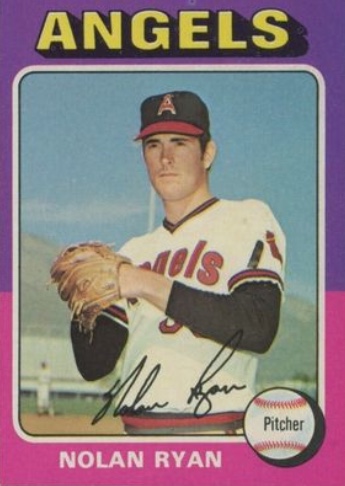 In the season before this card's release, Ryan pitched an unbelievable 332.2 innings and struck out a league-leading 367 batters. Nearly impossible to find that kind of durability or flammability these days. But oddly, one of the most intimidating pitchers in MLB history is captured here on a card with a purple-and-pink border.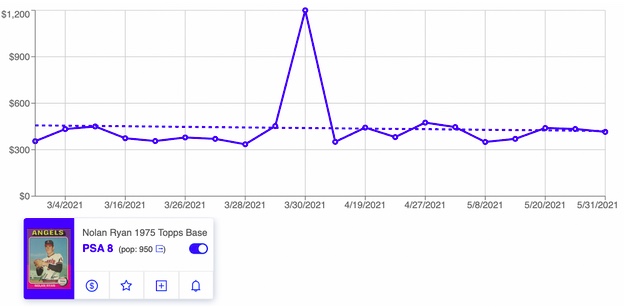 3 Robin Yount #223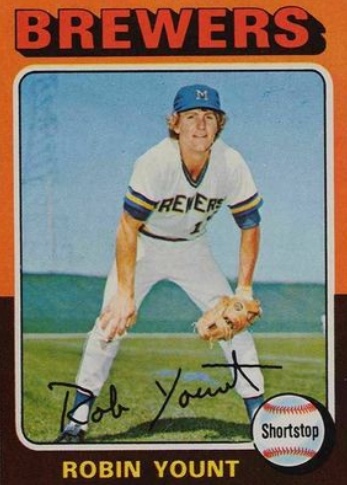 Often lost in the 3,142 hits and two MVPs that Robin Yount collected over his Hall of Fame career with the Milwaukee Brewers was just how darn quick he was. Yount amassed 271 stolen bases and led the league in triples in '83 and '88. It's no wonder this RC is swept up so quickly every time a near-mint one goes on sale on the secondary markets.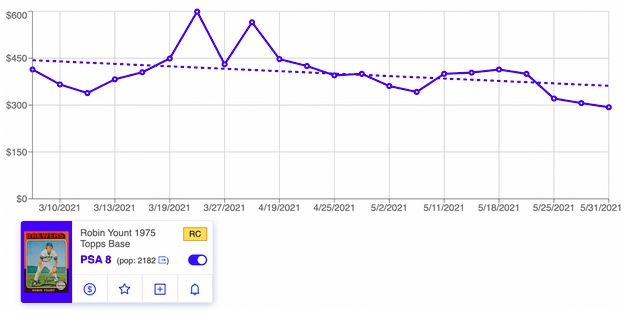 4 Hank Aaron #660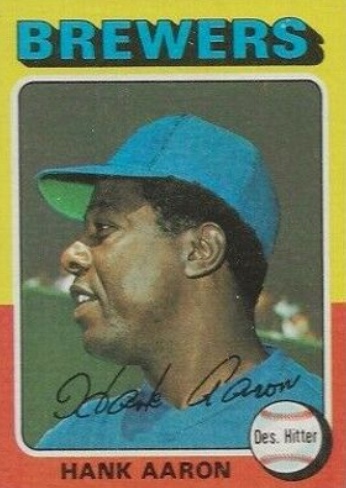 The last card in the '75 Topps set, this Hank Aaron collectible won't ever be confused as the baseball legend's best-looking card. But since we are talking about "The Home Run King" in the year after he passed Babe Ruth on the all-time list, the odd, side-view photo cannot take away from the card's historical significance.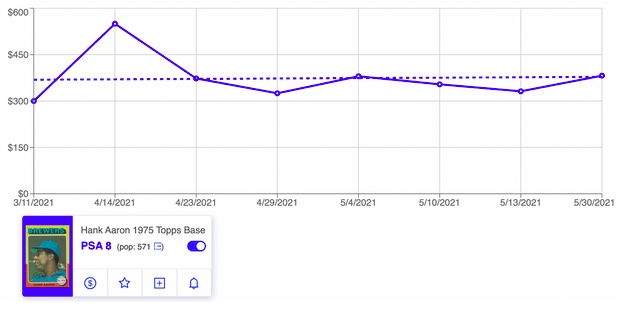 5 Jim Rice #616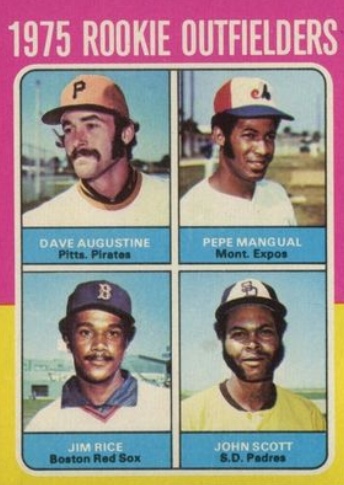 If you put together an all-underappreciated team of baseball Hall of Famers, this former Boston Red Sox star could start in the outfield. But Jim Rice wasn't just slept on during his playing time — c'mon, voters, it took 15 years to get him into Cooperstown? Really?! — but this card shuffling under $200 means it's happening in the hobby as well.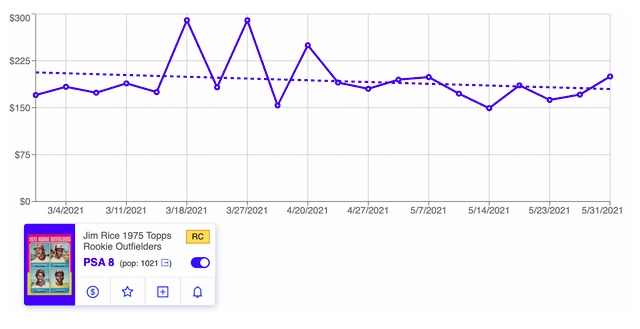 6 Gary Carter #620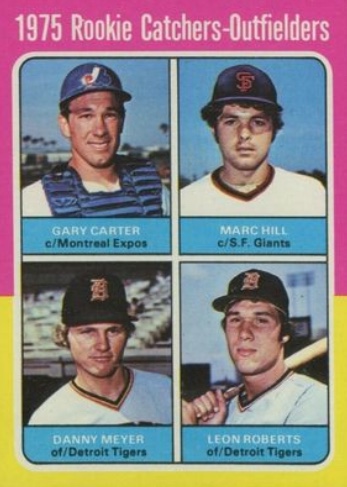 Just look at Gary Carter's smile on this rookie card. In '75, Carter was a spry 21-year-old who worked his way up the Montreal Expos farm system as an outfielder and catcher. They called him "The Kid." Of course, during 11 all-star campaigns with Montreal and the New York Mets, the baseball world quickly found out that he was a fully grown man at the plate.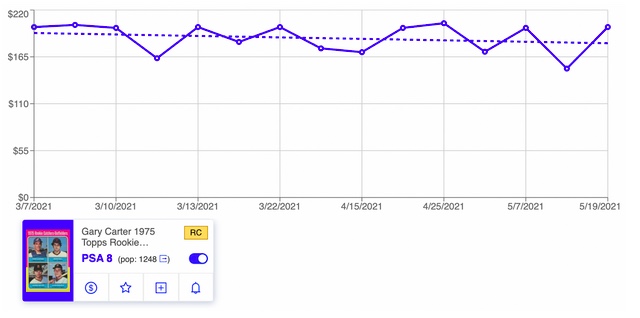 7 Pete Rose #320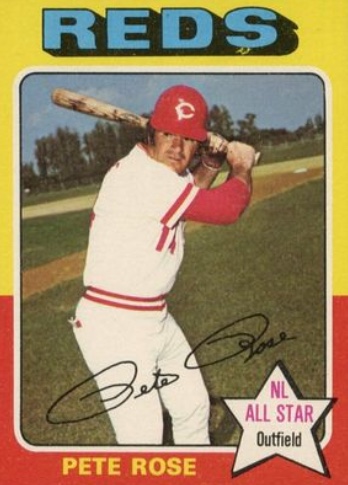 While the Major League Baseball front-office still frowns at the very mention of Pete Rose's name, Charlie Hustle's graded cards generally do pretty well on the open market. Take this one, for example. This card is from Rose's 13th season, yet a PSA 8 regularly fetches between $150-180. Not bad at all for someone who's been on punishment since '89.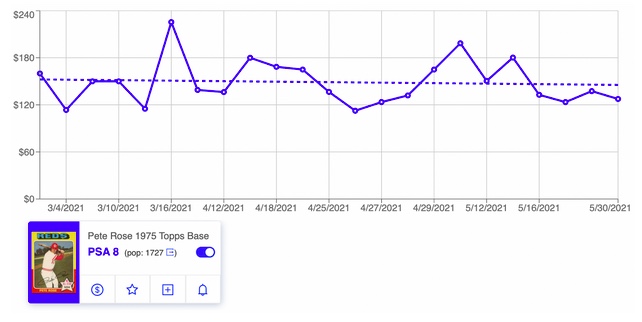 8 Mike Schmidt #70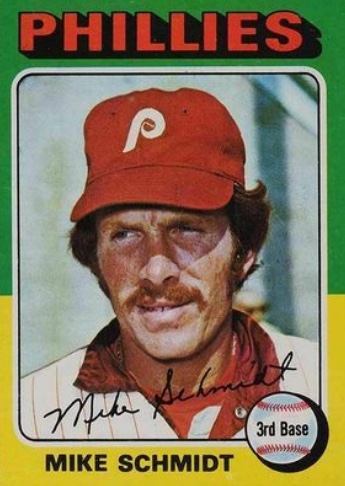 The year 1975 marks just the third season in Mike Schmidt's stellar career with the Philadelphia Phillies. From '75 to '87, he'd hit at least 35 homers 10 times. Because of that kind of consistent power display, Schmidt's graded cards over those two decades are generally viewed as some of the most valued during the era. And that's certainly the case with this one.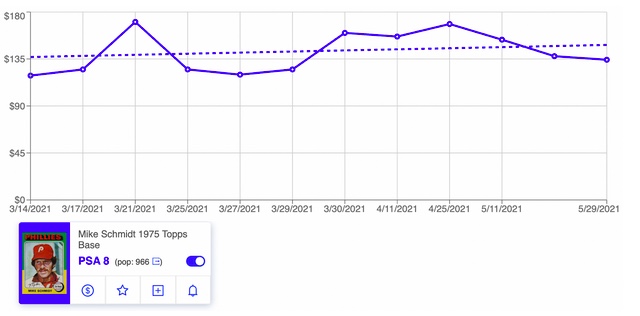 9 Reggie Jackson #300
After eight seasons with Oakland, this card represents Reggie Jackson's last in an A's uniform. We don't know exactly how well the jersey's green and yellow goes with the card border's blue and orange but, hey, here we are. But from the looks of consistent sales around $120-150, most hobbyists don't appear concerned about any color clashing.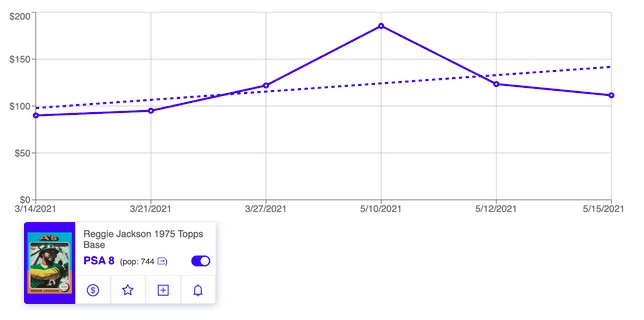 10 Thurman Munson #20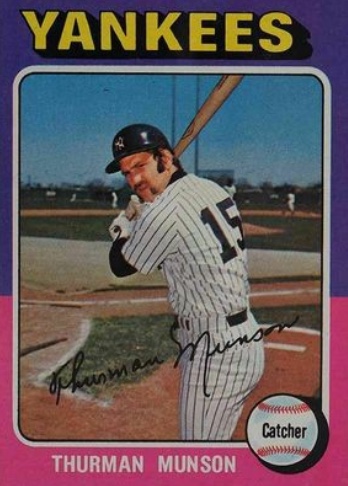 In three of the four seasons prior to Thurman Munson's tragic plane crash in 1979, the New York Yankees catcher finished in the top 10 of that season's MVP voting. Munson was a seven-time all-star but who really knows how bright his star wattage ultimately could have been? But the fact this non-rookie card still demands around $100 sheds some light on how much respect he has in the industry.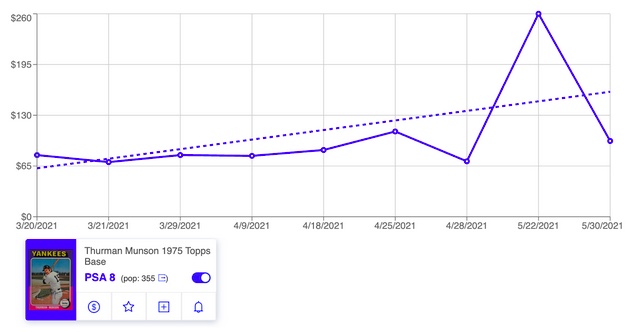 Track your collection and maximize your profit with Market Movers, the hobby's most powerful sports card pricing platform! Learn more here.