Imagine you're Emmitt Smith's child for a second. Your dad, a Dallas Cowboys legend and the NFL's all-time leading rusher, asks you to go into the den and pick out any displayed memento to put in your own collection. What would you grab? A pair of game-worn cleats? Maybe one of Troy Aikman's used helmets? How about a signed Super Bowl program? If you're one of Smith's actual children, the answer is a resounding "none of the above."
"My kids don't care nothing about it," says the 52-year-old Smith. "When I gave my son EJ an opportunity to come look at what I was about to move, he came in, looked at everything around him and grabbed a Magic Johnson-signed jersey and an Emmitt Smith Dallas Mavericks jersey they gave me when I retired. He didn't think about the touchdown footballs, the game-worn jerseys, pants and gloves. None of those things. That told me right there, 'Hey, they don't care.'"
But Smith knows a lot of other people do. That's precisely why he's taken some of the most valuable tokens from his playing days over to eBay so they could be exclusively auctioned off. In the following interview with Sports Card Investor, Smith talks about the eBay endeavors, his two other fan-focused ventures and, of course, the 2021 NFL season. EJ and the other kids won't care much about what he's got to say about those topics, but we're sure you'll get a kick out of it.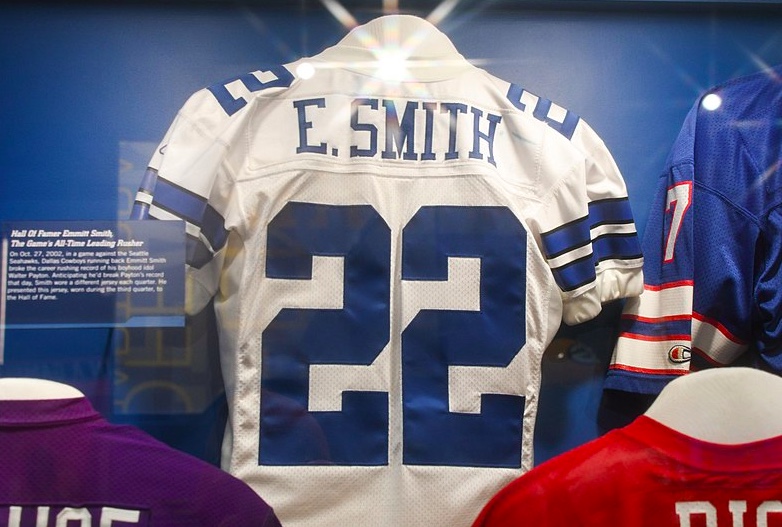 Why is now a good time to share your memorabilia with the world?
Well, that's a good question. There's never really a good time to do anything. Anytime an athlete like myself does something, everybody thinks it's for different purposes and different alternatives. I've always released a little bit of my stuff. I gave a lot of it to charity. I'm at the point right now where I collected most of my stuff for my kids and for their educational purposes. I have a daughter right now that's getting ready to go off to college. Well, she's 17 years old and a senior in high school. She's on the path to go to a higher institution. We gotta figure out which one. [The sale of these collectibles] is scholarship money. The timing couldn't be any more perfect than now because the market is hot. Being in the business of buy-low, sell-high, the market is hot right now. Not that I'm planning on dumping all of my stuff into the marketplace. I'm strategically placing things out there. It's better in the hands of people that want to buy it versus me holding on to it and hoarding it in a storage locker that no one can actually see.
These items that you're selling on eBay come with the PROVA seal of approval. Tell my readers a little bit about PROVA.
Well, what it means is that PROVA has created the process of authentication in the way authentication is intended to be. When you go look at the word "authentication," it's talking about from the cradle to the grave. So, what is cradle to grave? Cradle to grave to me is from an origin of a thing and the process that the thing went through with touch points along the way to verify its authenticity. And what PROVA's done is follow that process. And matter of fact, it has created patterns around that process. With the evolution of technology, it has afforded us the opportunity to put a smart tag in the back of jerseys before they're actually issued to the players. And when they're issued to the players like myself, which I tested out, it follows a chain of custody in terms of what happened throughout the course of that jersey. So, when it gets to the end user, I want the end user to have confidence that this item has gone through that particular process.
I don't think many people in the sports memorabilia/collectibles space, or even in the autograph space, ask the question, "What is the chain of custody of this item? What transpired at the beginning? And how did it get to me?" If it hasn't gone through that chain of custody process, then what makes it authentic? You can always go ask the opinion of somebody, but the opinions are like buttholes—everybody got one. But when you have a tracking mechanism and a process that you've gone through, people can buy into that process because it shows touch points. So, the jersey is issued to a player and the player puts it on. We utilize apps to scan the jerseys in before the player even puts it on. So, the jersey goes out in the football field, we got pictures and we got cameras. Everybody does these photo matches, right? So, what are they photo matching into? And how do they know if it's the right thing? I mean, grass can be a stain on any field at any time. Do you know if it's a first-quarter jersey or is it a second-half jersey? There's so many different nuances there. And with our technology, it keeps track of all those things.
And that's important because we're talking thousands of dollars for some of these cleats and bats.
We're talking thousands of dollars for cleats, bats, helmets, jerseys and footballs. You're talking hundreds of dollars for autographs and everything else. Yes, it's for sentimental value, but that value should be able to be transferred to the next generation—without having somebody come in and ask if it's real. Where's your resource? Do you have a resource that has a repository database like we have? Or do you have a hologram that you can't do nothing with but have somebody say to trust'em? Or I gotta send it in to PSA DNA and have them evaluate my signature against other signatures to see if it's real. That's gonna cost you $200 to $400. So, just use the [PROVA] app; it's damn near free. We're just trying to bridge that gap between fictitious things and bad processes versus great processes and technology that has transformed the way we go about doing business.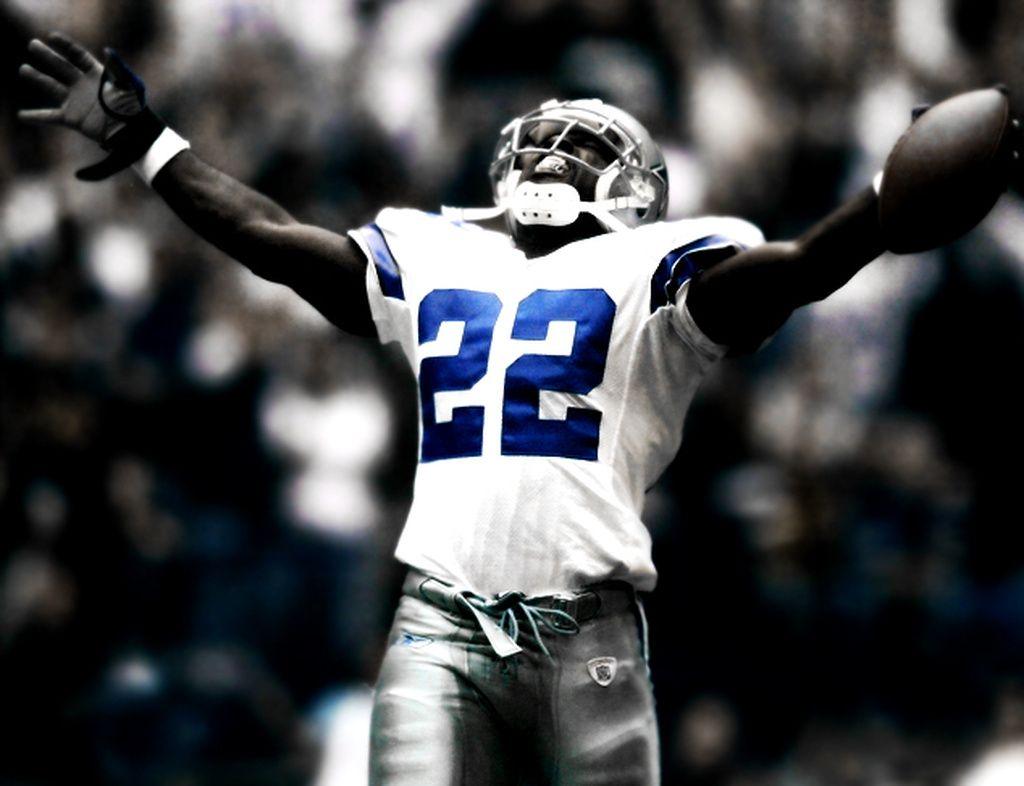 Another way you seem to be looking out for the fan is with Notable Live. What has you so excited about the platform?
Well, with Notable, it was coming up prior to the pandemic coming. Mike Antonucci, myself and some other people were just talking one day about fan connectivity, being interactive and connecting fans with product. Notable was birthed out of that concept. How do you bring people together? Well, this is before Zoom started blowing up. We were thinking this way—how to create video content, how to create environments for fans to be able to come in and have a one-on-one conversation or a series of conversations like you and I are having right now in a format like this. That's how Notable was birthed.
Also, with Notable, you and I are having a one-on-one conversation, but a hundred or two hundred other people are waiting for their turn to have a conversation. But while they're sitting in the background waiting, they're playing trivia and earning points. And to be honest, the 99th person, if they got 100 points, they could jump the queue and get ahead of somebody who has no points and become a VIP. And then, in the background, there are also auctions going on. Live auctions, silent auctions, things that are there to entertain people while they're waiting their turn to get to the front to talk to me or any other notable that's on the platform.
They say that some of the best ideas are often the simplest ones.
It's very simple. You and I are sitting here talking about the Dallas Cowboys. You're talking about Washington. We're watching the game while we're shooting a Notable event. And the rest of the world is sitting there getting a kick out of you and me bantering back and forth, talking about football. And if you happen to be Marshall Faulk with the Rams or Ray Lewis with the Baltimore Ravens, Ray is talking about the Ravens defense and the Ravens team and I'm talking about my Cowboys' offense and defense. We would describe the things that happen in the game just as if someone was sitting here doing play-by-play. But we're also talking about real life. We talk about various things. So, it's like you're eavesdropping. And you get some entertainment in the background, with all the auctions and trivia. And most importantly, at the end, everybody in the room gets a chance to take a selfie, a screenshot of us having a conversation. You get takeaways that way. Notable is there to create more fan engagement, more connectivity between the fan and the notable that's actually doing the event.
Can you speak on a few of the upcoming Notable events?
Ray is probably going to have something coming up. I got my first one coming up, probably either from Tampa at the opening game between the Cowboys and the Buccaneers, or I'm gonna do it from home. I haven't quite made up my mind where I'm going to do it from but I'm going to have a Notable event that evening.
It's funny that you bring up the Cowboys. Give me a couple of areas where you'd love to see some improvement with the team this year.
Well, two areas, I would say. One, I want to see them stay healthy, which is the most important thing that any athlete can do is be healthy throughout the course of the season. If that happens and our defense improves with putting pressure on the quarterback and stopping the run, I think we have a very good chance of being a very good football team this year. I think Dak Prescott, coming back off of injury [helps], even though there's a little concern there with the shoulder and so forth. I think he's gonna be fine. I think Ezekiel Elliott is in the best shape of his entire career right now, with the things he did this offseason. He's a man on a mission because, obviously, he's trying to make up for what happened last year, trying to rebound.
Bringing in Dan Quinn as the defensive coordinator definitely upgraded our defense. So, we're better on that side of the ball. And we got some young corners, too, that are pretty good. Trevon Diggs on one side, the other young cats on the other side and the secondary [are promising]. And we got these young linebackers that can run. But I think the key to the Cowboys is being extremely healthy throughout the course of the season. And just doing what they've been coached to do. That is run to the football, put pressure on the quarterback and just play solid offense, solid defense and special teams. That means eliminating turnovers. So, those are the two areas. There's a lot there, but the two areas I'm talking about are staying healthy and [improved play from] our defensive group.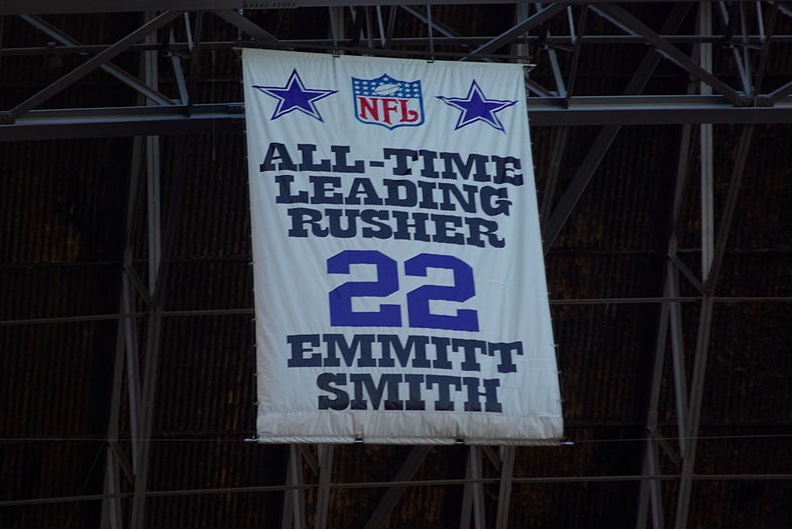 Outside of Zeke, give me two or three running backs who really capture your eye.
Well, the first one that comes top of mind right now is Alvin Kamara, a very dynamic running back out of the backfield. He can run between the tackles and is a very skillful pass receiver. I see him as one of those dynamic guys. And then Nick Chubb. He's a force to be reckoned with up there in Cleveland. The way that he played last year and to have the two-headed monster between him and Kareem Hunt makes their offense really, really potent. Plus, they got great wide receivers and a quarterback that can move the ball around. And then you gotta go to Derrick Henry. C'mon now! Beast mode! You're talking about a guy that's six-foot something, 245 pounds, runs like a deer and got a stiff arm like Muhammad Ali's jab. He's just a big dude that runs downhill a lot. I'm looking forward to seeing Saquon Barkley get back into action. He's been away because of knee injuries. I'm looking forward to seeing him come back because he was a dynamic player before he left.
When I think about the likes of Derrick Henry, Saquon and Zeke, I always have this question in the back of my mind—would these players hold up against Ronnie Lott, Ray Lewis and guys you played against? What do you think?
Well, it's kind of hard to say because physicality in the '90s, and the rules that we played in the '90s, are completely different than now. You would think that the players are not as physical, although they do run hard, they play hard and they get to the ball quickly. But when you think back to the physical play of the '90s and the '80s, the '90s was a beast. The early 2000s was a beast, when you start talking about Ray Lewis and so forth. But when you go back to Reggie White, Clyde Simmons and Seth Joyner with that Buddy Ryan defense [in Philadelphia], the same defense that they had in the '80s with the Bears. You go back to Junior Seau and the Chargers, they were a very good run-stopping team. Today, everybody's running the rock. And they run that thing downhill because of zone blocking and other schemes. So, it's kinda hard to say. That's why you have different eras. It's kinda hard for me to say what Zeke would have been like in the '90s. Or what I would have been like in the 2000s.
You would have had 1,000 rushing yards and 1,000 receiving.
Hey, with some of these spread offenses that these guys are running right now and [defenses are] putting six in the box, Barry Sanders and I would have had a field day!
Track your collection and maximize your profit with Market Movers, the hobby's most powerful sports card pricing platform! Learn more here.
Note to readers: If you purchase something through one of our affiliates we may earn a commission.