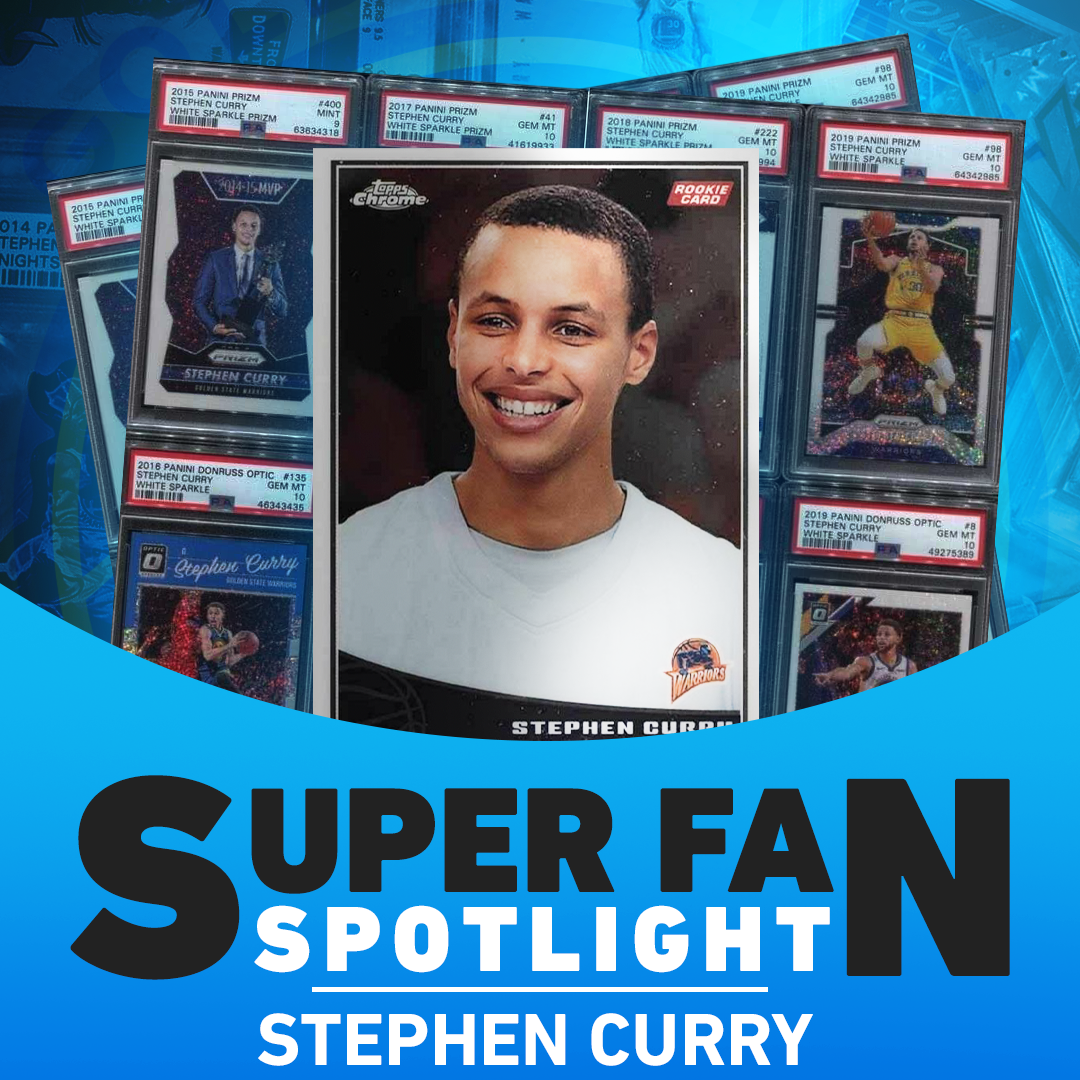 The word "superstar" is used way too casually in everyday conversations these days. Because a fella averages 20 points and eight rebounds does not make him a superstar. Same for a 3,000-yard passer and a 30-homer baseball player. Those are great numbers, yes, but a superstar does so much more than put up big stat lines.
To be clear, Wardell Stephen Curry II is a certified superstar. He's a guy your grandma recognizes, even though she can't tell a baseline jumper from a blocked shot. Steph's a person who could be playing against the Ft. Wayne Mad Ants on a random Tuesday and the arena would be stuffed to the rafters. He's a dude who sells millions in sneakers to kids that look like NASA boots. Only superstars have that kind of effect.
But we don't have to tell that to Gary Cheung. He already knows. A diehard collector who showcases his 1,000-plus cards of Steph on a polished Instagram page (@currycollector), Cheung has seen Curry prices that were once affordable soar as high as used cars lately. But as you'll soon read, Cheung is still doing the best he can to keep his already-impressive collection growing. See, that's the power of a real superstar.
How did you get into cards?
Yeah, I got into it when I was young. I remember being at Champs and I was with my dad at the time. I think it was 1990, when Pro Set [cards] came out. So, I'm originally from Canada—Calgary, Alberta, specifically. That was kind of the junk wax era. My first box of cards was Pro Sets. We were at Champs. I had no idea what [these cards were]. I opened it up and I've been hooked ever since. Growing up, we'd go to the shopping mall and I'd always be at the card store, looking at the display case while my parents walked around the mall and did their shopping. It's been a long journey. I always told my parents that these things were gonna be valuable one day. Look at it now and it's crazy.
When you told them that cards were going to be valuable did they just kind of wave you off?
Oh, yeah, for sure. My mom always said, "If only you spent as much effort with your schoolwork as you did with sports cards, you'd be a genius."
This was the '90s. What cards were you into before Steph came into the picture?
Being from Canada, it was mostly hockey cards. To be honest, I dabbled in everything. At the time I didn't know much about football and basketball. But sports cards really got me into watching those sports as well—especially with the NFL, where there was no team. We only had baseball and hockey teams.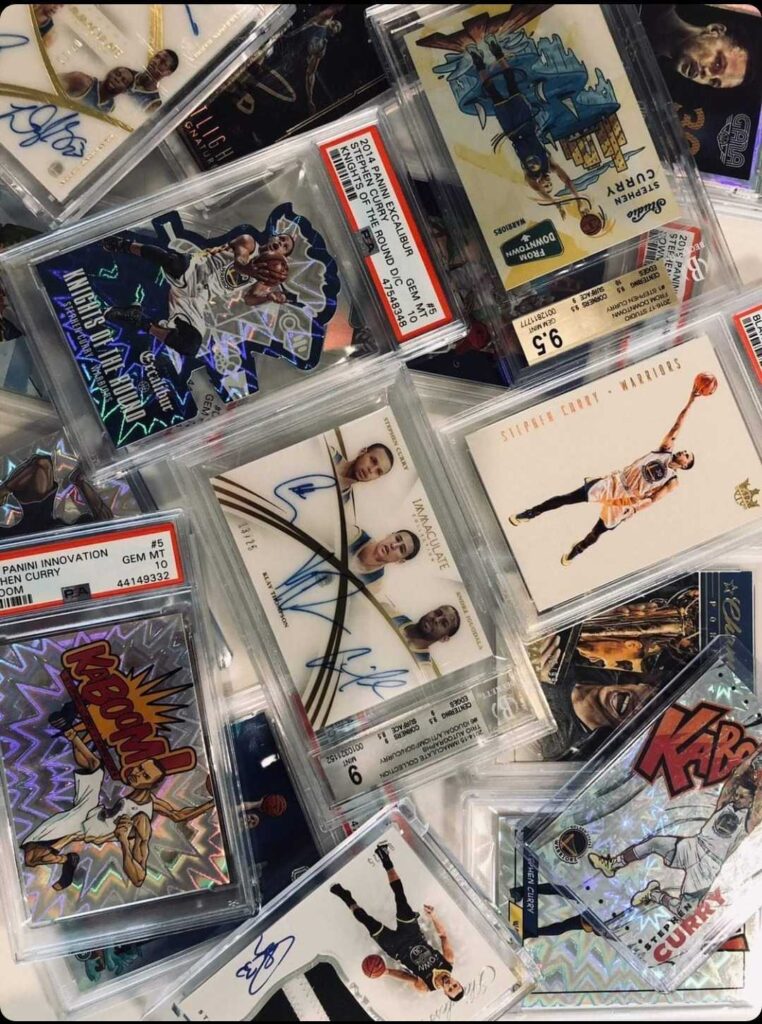 When did you fall in love with Steph? Have you been following him since Davidson?
I was pretty late to the whole Steph Curry bandwagon. I think I started collecting him in 2014. My first card was his Topps Chrome rookie card out of 999. The card I bought was actually jersey numbered, so #30 out of 999. That was my first card and ever since I've been hooked. There were always injury concerns, but I loved the way he played.
Before Steph, one of my favorite players was Steve Nash. The Phoenix Suns played with a lot of ball movement, passing, shooting, just the way I felt basketball was meant to be played. There was a lot of what I call "hero ball." Ya know, put your best player out there, clear everybody out and play one on one. I wasn't really big in the basketball cards at that time, but once Curry became more of a household name, that's when I started collecting. First, I was really picking up rookie cards but then I kinda got more into autographs. And now more recently, inserts.
With regards to your collection, are you only going after the rarest cards and high-end autos or are you collecting anything with Steph's face on it?
When I first started out, I tried to get everything. But with Steph, it's just impossible. There are too many high-end collectors. I originally started with autographs and patches but I kinda got priced out. Right now I'm more focused on certain sets [like] Galactic, Downtown, Kaboom, White Sparkle, Aurora and Black Velocity. There are certain sets, parallel and inserts I chase year after year. Other than that, every now and then a shiny card will catch my eye, but I don't try to chase everything. I talk to a lot of Steph Curry collectors. There's definitely a lot of FOMO out there. But at the same time, when you're working with a limited budget, it's just hard.
Steph is a very expensive PC to maintain.
Yeah, very much so. Some of these inserts that I've been chasing were, maybe, $80, $90 or $100 three years ago. Now we're paying thousands of dollars to obtain the same card. So, you gotta make those decisions in terms of where you want to focus the collection. I try not to move many of my Steph Curry cards. But sometimes, when a bigger card comes up, I'm like, "Alright, I need to consolidate to focus on the areas that I'm focusing my collection on."
I'm assuming you use eBay for most of your purchases.
Yeah, I would say eBay is about 90% of my purchases. PWCC Marketplaces is another. Goldin is a little bit too high end for me right now. I do look at MySlabs to check out my cards as well. Instagram has been a really good place as well to meet new collectors. A lot of times they inquire about some of the rare inserts to see if they're available.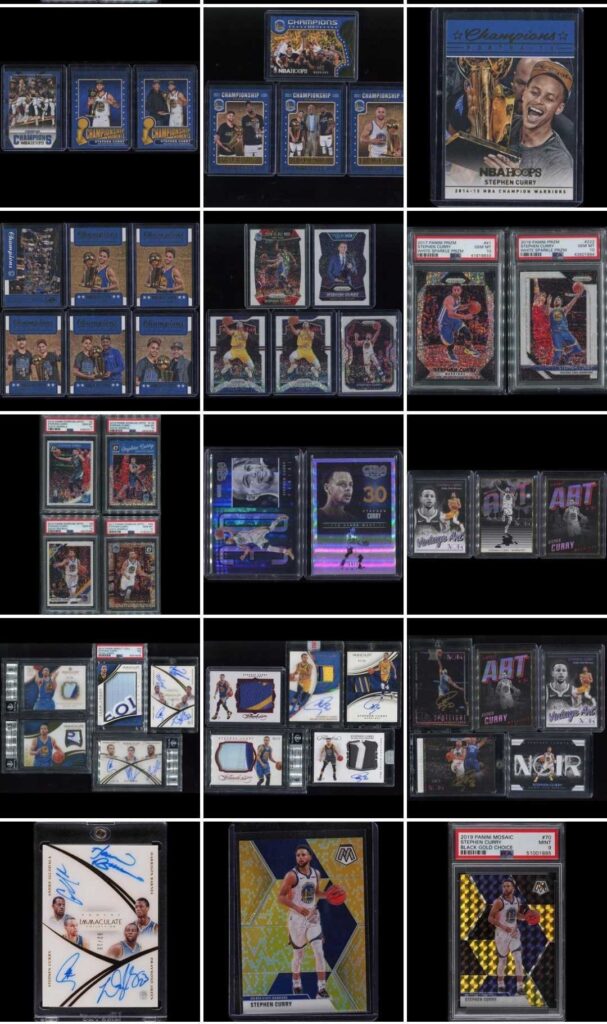 You mentioned other Curry collectors. How big would you say your community of super Curry collectors is?
There are way too many. Some of the biggest collectors are in Hong Kong and China today. I think it's CurryCentral_30 on Instagram. He has a fantastic Curry collection as well. TheLuckyShow05 also has a big collection. There's probably about 20 guys that I follow that I would say have better collections than I do.
Give me a few dream Curry cards on your list.
I think the 2015-16 Galactic, for sure, is one of my grails. I think the PSA 10 recently sold for just over $30,000. That would be a huge grail. I think more realistically, I'd love to get one of the Spectra Color Blasts.
On the flip side, Gary, which card in your possession are you most proud of?
My favorite Curry card is the triple autograph from Immaculate. It's Curry, Andre Iguodala and Klay Thompson. And that's the only pack-inserted Curry-Klay autograph on any card. It's funny because the day I bought it, my wife was actually in the delivery room with my son. So, it holds a little bit more sentimental value.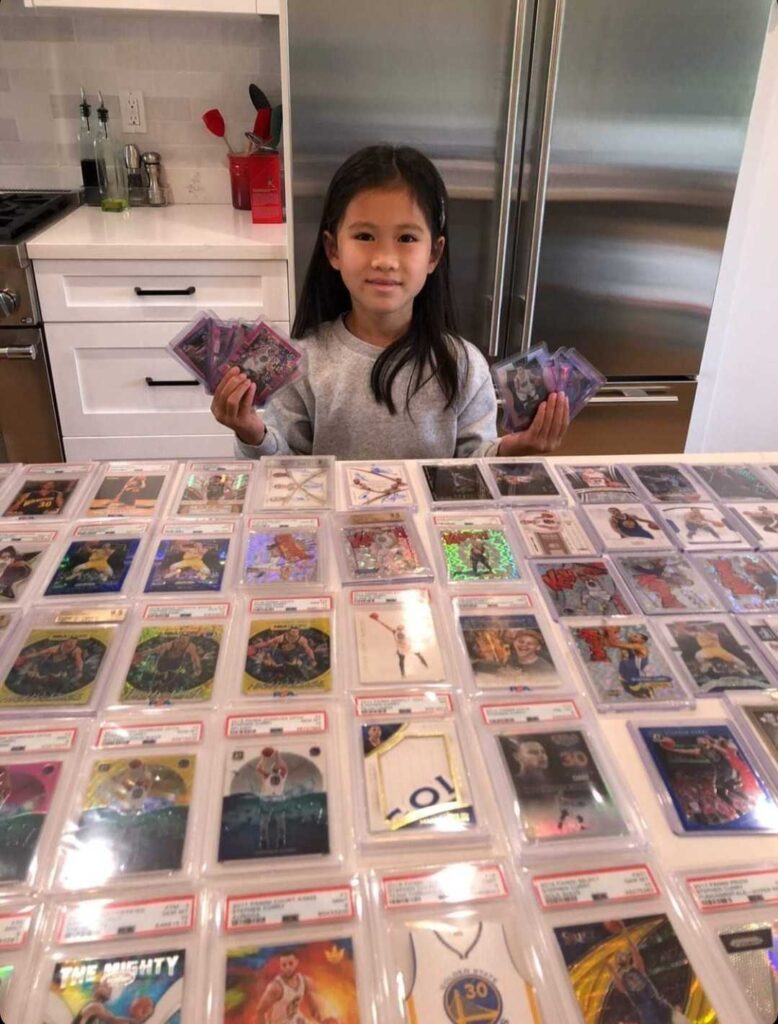 How many Curry cards would you say are in your collection?
I probably have about 1,000 Curry cards. I got a mix of very low-end inserts, base, slabs and raw cards in top loaders. I try to collect a little bit of everything to be honest. I'll pick up his shiny inserts. If I'm at a card show, I'll go to the $1 bin and try to find some $1 Currys as well. I love sharing those with my kids. One of the pictures I shared with you is my daughter holding Pink Stephen Curry cards. She loves the color pink so every time we get one of those, she's always so excited.
Have you met Steph?
I was recently at a Warriors game. We got shootaround access. We were able to sit courtside. It was the [March 14] game that he dropped 47 on. I think Draymond Green had just returned for his first game [back from injury]. That's the closest I've seen Steph Curry. Would love to meet him one day and get his autograph in person.
Track your collection and maximize your profit with Market Movers, the hobby's most powerful sports card pricing platform! Learn more here.
Note to readers: If you purchase something through one of our affiliates, we may earn a commission.