Not even one of the world's biggest Chicago Cubs fans can find too many positive words to describe the team's 2021 efforts. "I think it was to be expected," says life-long Cubbies follower Beau Thompson. "The writing has been on the wall the last couple years. So many Cubs fans are upset that [Kris] Bryant, [Anthony] Rizzo and [Javy] Baez all got traded. But in reality, for the last four years, they really haven't lived up to what they did in 2015 and 2016 with the World Series. They've really struggled. They've underperformed. A couple years ago, people were calling for Bryant and Rizzo to be benched. Now, it's like, 'Well, why did we trade them?'"
But if you're Thompson, you can't mope around about guys going to other teams. There's no time for that when you're on a mission. And for Thompson's task, he needs as much energy as he can muster. See, a few years back, Thompson had the bright idea that he'd collect a million baseball cards with Chicago Cubs players on them. We're talking Bryant, Marlon Byrd, Ernie Banks and anybody else he could get his hands on. A Herculean effort, for sure, but one that can certainly distract a man from staring at the NL Central standings.
At press time, Thompson's card count sat at 713,483. He periodically updates the tally and shows off any massive new hauls on his One Million Cubs Project Twitter page (@onemillioncubs). In the following interview, he talks about the process of tracking cards down, storing them by the thousands and his plans for what happens after he hits the million-card mark.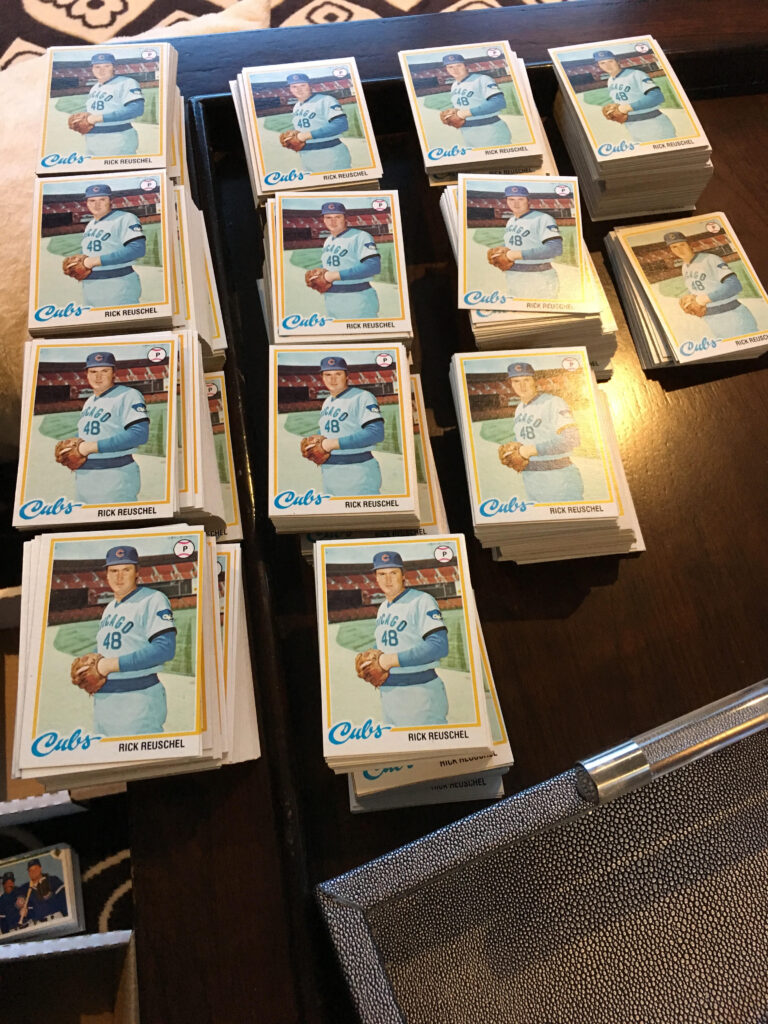 Tell me where this love for the Cubs came from.
I was I was born in '82. So, I was kind of becoming aware of sports and baseball early on with my family and friends of the family. Cubs games were always on the TV. So, I just kind of grew up around Harry Caray and Steve Stone. They were kind of the soundtrack to my youth. I was too young for the '84 Cubs, so I didn't get to experience that. But the city of Chicago was still buzzing from that and the Bears win the Super Bowl in the '85 season. As I was getting to the age of five and six, when you kind of start becoming aware of your surroundings, that was kind of a special time to grow up.
But, of course, I lived through a lot of losing Cubs seasons. We got a little bit of [excitement] in '89 with "The Boys of Zimmer." That gets your hopes up and then they're dashed for a few more years–well, almost a decade until '98 came along. But you know, I was with them through thick and thin. They've got a poor product on the field right now, but like all of us who are around my age or older, we've dealt with a lot of Cubs losing seasons. You just kinda gotta take it in stride and wait till next year.
Where do sports cards come into the picture?
I remember my first pack of cards that I opened was in 1988. I was about six years old. I don't really remember too much about those cards, but in '89 that's when it really took off for me. My mom was a big couponer in the '80s. One of the cereal brands had a [giveaway where] you send in so many UPC codes and you'll get a 1989 Topps team set of your favorite team. I remember getting that '89 Cubs set and just flipping through it as soon as it came in the mail. That's not only where my love for cards began but with Cubs baseball cards really.
Oh, Mark Grace, Shawon Dunston and all those cats?
Absolutely, Andre Dawson and Ryne Sandberg, too. But the one [card] that really kinda stuck out for me was Topps began doing their No. 1 draft picks in 1989. Ty Griffin was coming off the '88 Olympic Games. He was one of the top prospects, No. 1 pick for the Cubs. I didn't know how baseball players came up. I didn't know the process of amateur baseball, the draft and anything like that. So, I saw Ty Griffin in this weird uniform. He's in his Georgia Tech uniform and I'm like What's this? and, all of a sudden, I've developed a love for Minor League Baseball and prospects from Ty Griffin being a part of that set.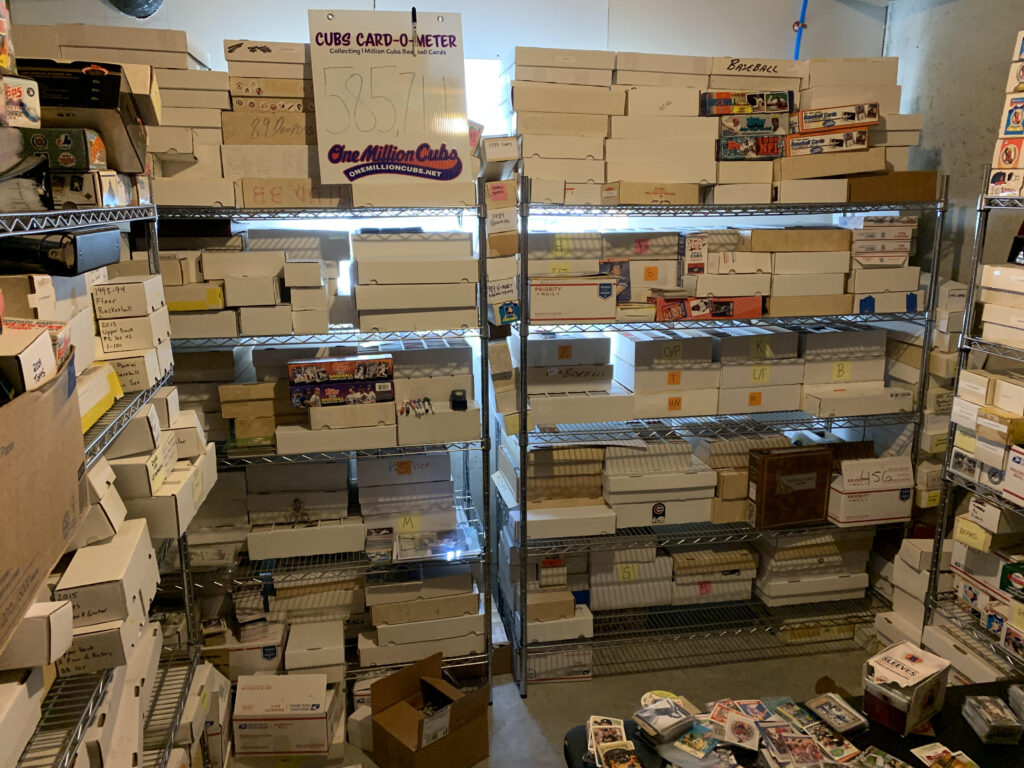 But how does it go from Ty Griffin to having 650,000 cards?
Yeah, that took a little more time to develop. I've been a life-long collector since '88, '89. But I've taken some time off. High school, college. Chasing girls and doing other stuff. Parties and all that. I'd always come back and say, "I just want to sell all my cards because I'm doing these other things." But every time I opened up the closet with all the boxes of cards, I flipped through the Cubs [portion] and it was just so hard to get rid of them. So, I've always had my Cubs cards set aside. I dabbled back in the hobby, would kinda get back into it. I'd leave for a little bit.
But in 2012-13, I kinda started getting back into it and then, in 2014, I moved to Wisconsin. Didn't know anybody. So, the first couple of weeks I was here, I'd just go to Target or Walmart and buy some retail blaster boxes. And all of a sudden, I'm looking at Craigslist and I'm buying collections. All of a sudden, I'm just accumulating all these cards. So, at the point that I developed the One Million Cubs Project, I had accumulated a million total trading cards. A lot of them were those '80s and '90s cards where there's just no value to resell. It was like, "What am I going to do with these?" I'm a collector so I can't throw it away. But at the same time, I can't sell them. At this point, the hobby hadn't blown up like it has today. In the past, I was collecting Cubs and had done some team trades. I thought, "Well, if I have a million cards from the '80s and '90s, I might as well trade me. I'll trade 1,000 Atlanta Braves cards for 1,000 Chicago Cubs cards. That's kinda how it came about. I'll just trade off my cards for Cubs cards.
As I was playing all this out, I said I needed a hook. What can I do to generate a little more publicity for trading for Cubs cards? That solid round number of a million is a huge goal to attain. It's gonna attract some attention. I'll find more outlets to trade for Cubs cards. I started the project in December 2017. In the early days, I was begging for trades. I've got 1,000 Yankees cards. I want 1,000 of your Cubs cards or 500 or whatever the amount is. It was hard. I was on forums, Facebook, Twitter, just all over the place trying to drum up trades. Now it's to the point where I've got to turn down trades because I've got so many Cubs cards coming in. So many irons in the fire with the project that I'm turning down trade after trade just because I'm trying to keep my head above water with all the cards coming in.
With all the cards coming in, logistically, how are you doing this?
Basically, when my wife and I built our house, I was given the basement. That's my level. Everything down there [is mine]. She helped me put things in their place. She's got the eye for design. She helps me design it but I put the contents in there. She gets the rest of the house. And that works out great.
I have the basement, I have a card room and then I have a card closet. The card closet is just absolutely stuffed. It's about 12 feet deep and it's five or six feet wide. And it's just monster boxes stacked eight feet tall, all the way from the door to the wall. Those are the junk-era cards, the '80s and '90s stuff that I don't feel bad for piling boxes on top of boxes. In the card room is where I have some heavy-duty shelving because the cards weigh a lot. I've got all my Cubs on one side and they're kind of spilling out onto the floor because the numbers keep growing on the cards.
They're disorganized, which is something that I always want to [change]. There are some Ernie Banks cards that look familiar but I don't know if I actually have them. It would be nice to get them organized to actually know what cards I need on a checklist.
As far as the cards coming in, my wife and I went to Italy for our honeymoon. When we came back, I had like 17 packages on the doorstep from our mail hold. So, then it was advised that a P.O. Box should be the way to go. Now I get all the Cubs cards through the post office, so that's kinda how that works.
You mention Ernie. What are some of the more valuable cards in the collection?
I love history. I love the history of basically everything, especially baseball and, obviously, the Cubs. So, I've really fallen in love with pre-war and vintage [cards]. I do have an Ernie Banks rookie card, which was actually a surprise trade. I had posted a "10 Most Wanted Cubs Cards" blog. On the day that "Michael in Ohio" read the blog, his father had just passed away. The Ernie Banks rookie card was No. 1 [on the list]. His dad had some vintage cards, including an Ernie Banks rookie card. He thought that, with his dad's passing, it should go on to a collector that would really appreciate it. He wrote this tear-jerking letter with that Ernie Banks card. It was completely unexpected. It was a surprise. I picked up some nice stuff for him in trade.
That's kind of what the project has [become]. At the beginning, it was, "I want a million Cubs cards because I love baseball cards and I love the Cubs." But really early on, within a few months, I started meeting some of the people that I talked with on Twitter or Facebook. You get to meet some really good people. And that's really what it's become. It's become more than just a project to collect as many Cubs cards as I can get my hands on; it's about meeting all these people. A lot of these people have become friends. We chat and it's more than just baseball, more than just baseball cards. Like with Michael in Ohio, the story of his dad's passing, we share that in common. My dad passed away just before I started the project in 2016. You can share some of these life stories with people and baseball cards connect you to all this.
And just going back to some of the vintage, my focus at the National was on pre-war so I picked up the Three-Finger Brown, T206. I picked up a couple different Joe Tinkers, T205 and T201. And then a couple of Hassan tri-folds from the early 1900s, maybe 1912 on those.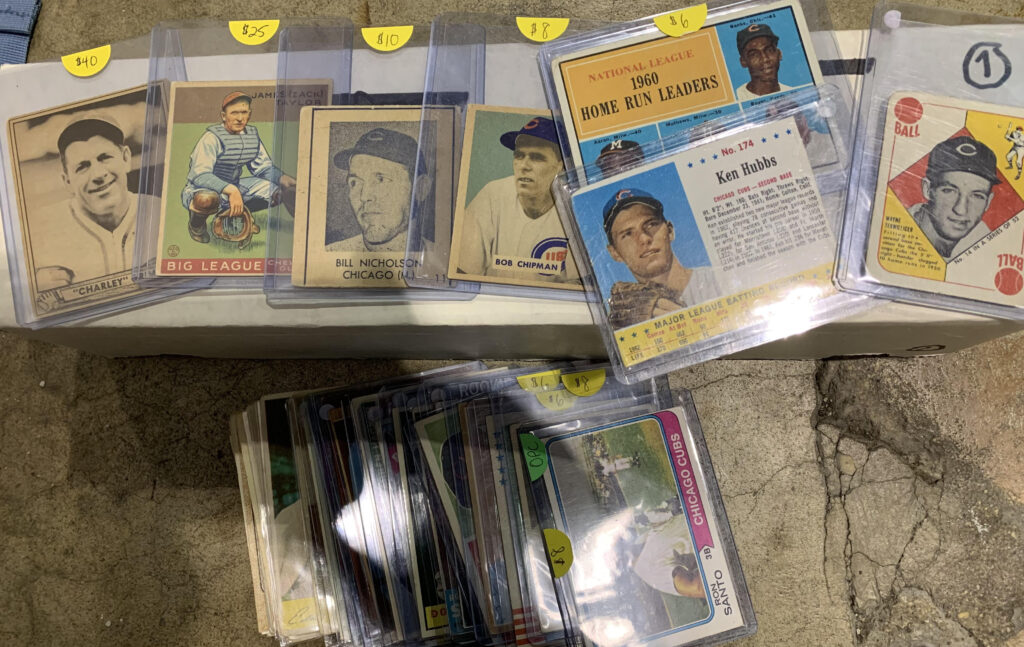 You're over 700,000 cards now. At the pace you're going, when does it look like you'll hit the finish line?
Based on the projections, it's going to be likely the second half of 2023. Kind of the way things are looking, it's gonna fall really close to The National, end of July, early August. That would be tremendous. The funny thing is, I have so many people saying, "I'm sitting on 1,000. I want to be the person that puts you up to a million." But I've had dozens of people say that. So it's like, when I get to like 990,000, all of a sudden, I'm gonna get like a million more cards because everybody's holding out because they want to be the one that puts me over the numbers.
That kinda leads me to my last question. When you hit that milestone, is it on to 2 million? Or is it on to the next team?
That's a common question. My wife would divorce me if I said it's on to 2 million. Or if I collect a million of another team. So, that's out. Once I get there, it's kind of what I talked about earlier, getting them organized. When things were slower, it was easy to keep up with things. I was sorting by player. But then, I had some teams that I would put aside as well. I'm going to sort them by player. And then I want to get them logged so I can have checklists. I won't stop collecting. I'll still continue collecting Cubs cards, but it'll be more focused. I'll be looking for more pre-war, putting the vintage together. I'll still collect the new products when a new set comes out. I'll be looking for those cards. Just trying to complete the run, you know, with all the one-of-ones and those serial numbers. It's a chase. It's not like it's 1981, when you could actually complete sets. I'll just try to complete sets within means as much as possible.
Track your collection and maximize your profit with Market Movers, the hobby's most powerful sports card pricing platform! Learn more here.
Note to readers: If you purchase something through one of our affiliates, we may earn a commission.