Full disclosure: Sports Card Investor first spoke to Scott Anderson, a Carson Wentz super collector who lives in Fargo, North Dakota, about six weeks before the 2021 NFL season began. Anderson sounded optimistic on the call. Why wouldn't he be? His guy Wentz, a fellow North Dakota State Bison (and that's pronounced Bi-zen, by the way), was over the Philadelphia Eagles' ugly breakup and looking healthy for his new team, the Indianapolis Colts.
Unfortunately, just as the Colts' preseason was getting underway, Wentz hurt his foot. A month later, he was placed on the reserved/COVID-19 list after coming in contact with a staff member who tested positive for the virus. The bad news kept coming for the young QB. Anderson knew we had to follow up with him.
"I'm feeling super optimistic," says Anderson, who not only PCs Wentz but also former Bison/current San Francisco 49er rookie Trey Lance. "As of today, Carson is trending to play in week 1 and healing fast. In the past few weeks, there has been another excellent opportunity to buy some of his most valuable cards at a discount."
Of course, Wentz did get the all-clear to play in the Colts' season opener on September 12. He threw for 251 yards, two touchdowns and ran for another 23 yards on four carries versus Seattle. Though Indy took the L, the team's starting QB looked A-OK. Colts head coach Frank Reich was probably the only person with a wider smile than Anderson's.
With each successful outing from Wentz, Anderson's collection of 1,500-plus rookie patch autos, rainbows and numbered cards looks even more impressive on his Instagram page (@wentz_wagon_sports_cards). But from talking to Anderson a few times, you realize that this is about so much more than dollars. There's a sense of pride here. Wentz and Anderson are a part of the same North Dakota State family, so no matter what lies ahead for the quarterback on the field or in the card market, Anderson is going to have his back.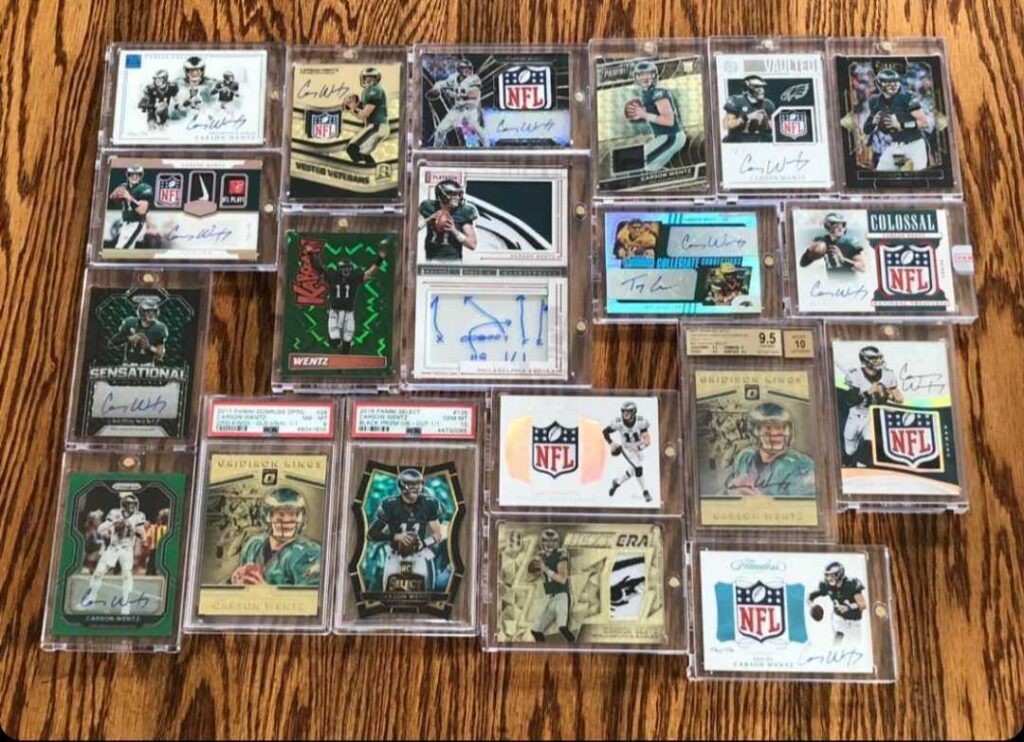 Y'all are doing something special with QBs at North Dakota State.
Yeah, we've won eight out of the last 10 national titles [in the NCAA Division I Football Championship Subdivision]. Technically, our last four [quarterbacks] before this past season have hit the NFL. Brock Jensen hit the Dolphins practice squad. He got three [championships]. Carson got two. Easton Stick is playing on the Chargers, holding the clipboard and making some big bucks behind Justin Herbert. And now you have Lance. It's pretty amazing—all this talent. They're calling us QB U up here in Fargo.
You guys more than deserve the title.
Yeah, it's pretty neat… Since [Wentz's] trade to the Colts, it's been insanity. Since 2016, I got to meet a lot of awesome Eagles fans. A lot of guys up in Philly have been reaching out. We've connected over the years. We talk Wentz. We talk football. You know, I bought a lot of Eagle stuff. I actually grew up a 49ers fan, which is cool that Trey's there now. As soon as Carson was drafted No. 2 by Philly, it was, "All right, bleed green! Fly, Eagles, fly!" I learned about their fan base. Wow, these guys are intense. Yeah, big Eagles fan the last five seasons and then this crazy trade happens to Indy and now I'm wearing my blue No. 2 Colts jersey. Indy fans are amazing, too. Their QB legends in [Peyton] Manning, [Andrew] Luck and [Philip] Rivers and now Carson. It's amazing the people you meet along the journey.
Where do the cards come into the story? Were you into them before Carson came to your school?
I kinda tell this to everyone. I grew up collecting Jordan. I was a big Bulls fan growing up. I started collecting in 1989, 1990. I collected, but college hit in 1999, 2000. I kinda went away from it, but Wentz was drafted and I thought, "Well, he's gonna have cards." I'd buy a box from time to time, going to Target, Walmart and the local card shop. But as soon as Carson stuff came out, I bought his Leaf Metal rookie, his first card that came out, for like $40 on eBay. Ever since, I was like, "Wow, there's a green version. There's a purple version. There's a red version. There's a state pride parallel. Oh, there's Ultimate Leaf. There's Prizm. There's Select." I'm having to learn about National Treasures and Flawless. You can ask my wife cuz, I mean, over the last five-plus years, there's pretty much been a Carson card coming in the mail like every day. Mail day is the best.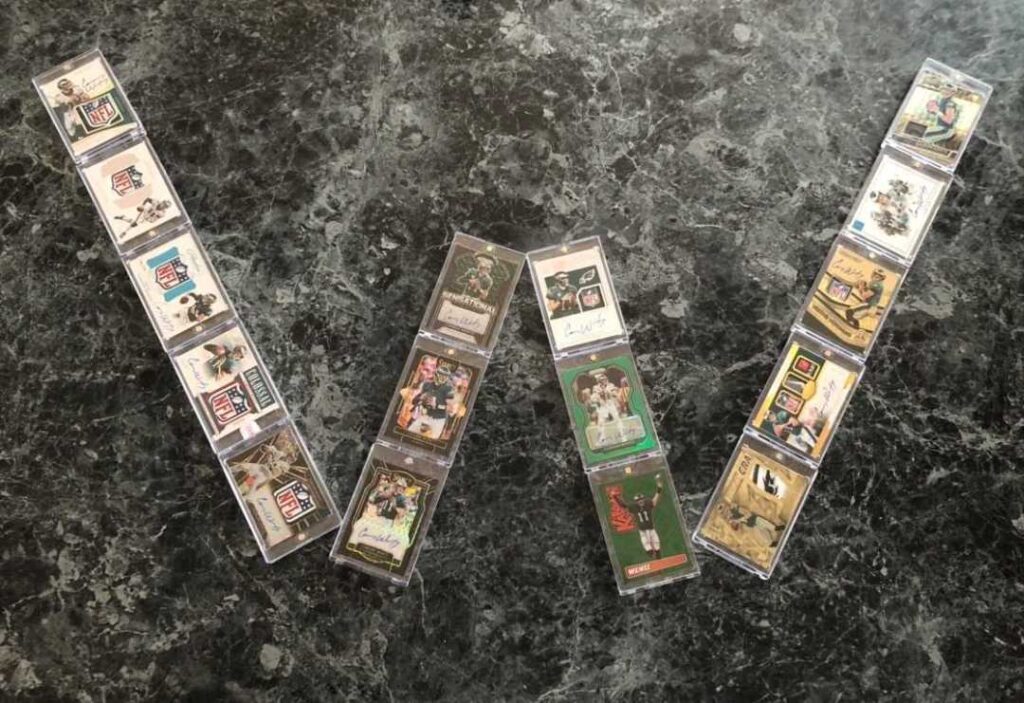 When did it grow into this getting-a-card-every-day sort of love?
You can go to his second year, 2017. He was probably going to be the MVP of the league before his injury. [The Eagles] were leading off SportsCenter and he was dominating. He was leading the Eagles to win after win. I was like, "Oh my gosh." It just consumed me. All right, which [cards] don't I have from 2016? And 2017 stuff was also out for his second year. Which variations do I not have? Pretty much every Wentz that I have, besides a couple, aren't from packs. I bought'em one by one or I made a trade, whether it's been on eBay or Instagram or Facebook. It's cool there's such a big community now. I've met a lot of people over the years where, if someone pulls a neat Wentz, a lot of times somebody will randomly reach out to me and say, "Hey, man, I have a new Carson. Any interest?" I might get first shot at a lot of his stuff, which is pretty cool.
That's what's great about the card community. When they know you're building something for your PC, they will look out for you.
It is. I've joined a few breaks and hit a few Carsons over the years, as well. But yeah, a lot of it's just been one by one, chasing rainbows. A lot of this stuff's been out for five plus years, so you go on eBay one day and be like, "Wow, there's a 2016 rookie that dropped. I've never seen that one." That's always fun, too, just scouring eBay and searching.
As you're building your collection, have you had some that have proven elusive?
Yeah, I usually post [my current needs] every so often. I have every 2016 Select Wentz, except the black 1/1 Concourse Level. It sold years ago on eBay. I've talked to the seller. He can't find who it went to. The thing is just in the void, man. No one knows where it is. I have the Premier Level black 1/1 and the Field Level black 1/1. I have the Green to five, the Gold to 10, all of them, right. Except that Concourse. I've taken some neat pictures over the years. I've always posted, trying to find where it might be, but it just hasn't turned up yet.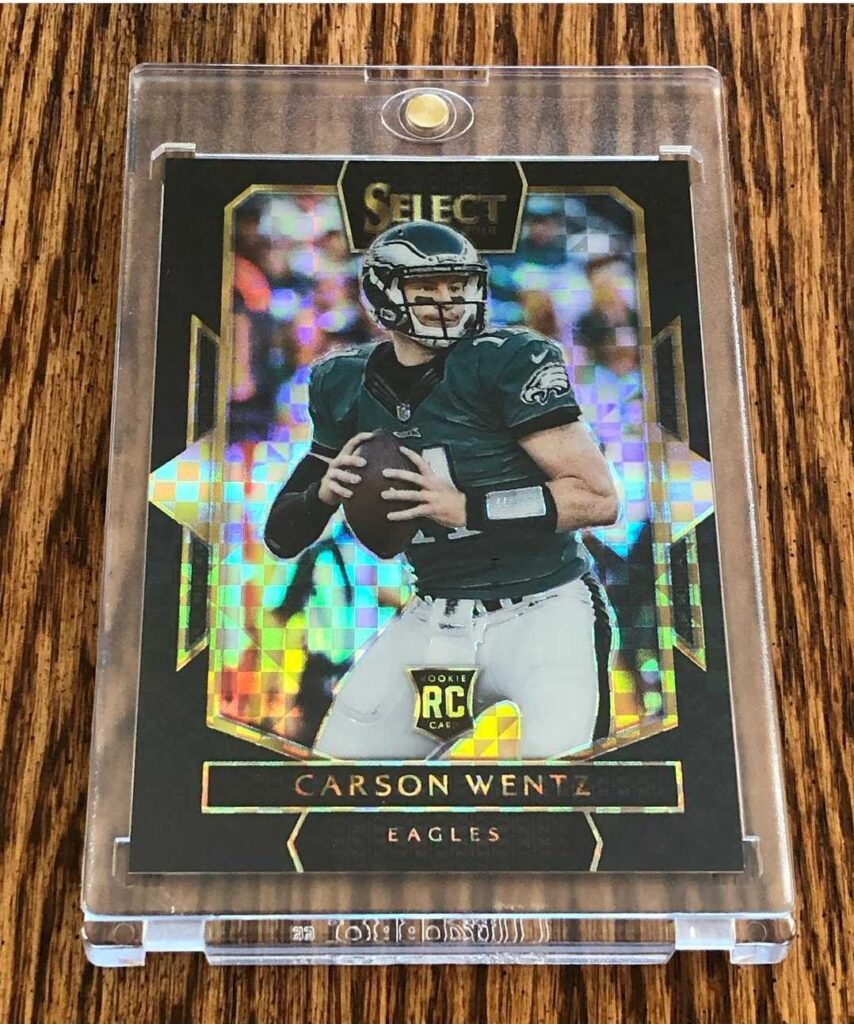 It will eventually.
That's crazy, right? The stuff usually does when you least expect it. You're like, "Oh my gosh, there's that elusive card I've been chasing [to complete] a rainbow." Someone heard about me or something and then something happens.
Do you want any card with Wentz's face on it or just the special ones?
That's a great question because, with everyone's budget and time, I've almost kind of narrowed it down now to 2016 rookie stuff that I haven't acquired yet or 1/1s or SSP (super short print) cards. Like Prizm did a Stained Glass this year. That was awesome. Stuff like that.
Things are gonna get pretty expensive when Mr. Lance's cards start dropping. What's your game plan there?
You know, it's really cool. Contenders Draft Picks has already released 1/1 dual auto Collegiate Connections Wentz and Lance card. I was able to acquire that. The seller hit it in a break. We connected early and I was able to land that. It's one of the prizes of my PC right now. But the pro uniform stuff—the Optic, the National Treasures, all that good stuff may take some budgeting. There may be some swapping a PC card for a major Trey. It's [all about] who you know in the hobby and who you talk to and build connections with. You never know. Stuff could happen and you might land that dream PC card.
What are your predictions for Lance's first couple of seasons?
He went to a terrific organization. They have weapons on offense and an incredible defense. They're back to form. [49ers QB Jimmy] Garoppolo is another FCS quarterback, which is super cool. It just shines some light on FCS football. Garoppolo went to Eastern Illinois and now they got Lance out of North Dakota State. I like that he's gonna get a chance to learn. It sounds like Garoppolo is going to take the lead, a veteran presence. Lance can learn and sit back. You're gonna see the deep ball. He's got a strong arm. And his legs. He's fast. I know there have been some Steve McNair comparisons, some Lamar Jackson comparisons. I think once the kid starts getting some snaps, whether it's this year, year two or beyond, people are gonna take notice. I think [49ers head coach Kyle] Shanahan is going to be back to another Super Bowl and they'll be glad they drafted him.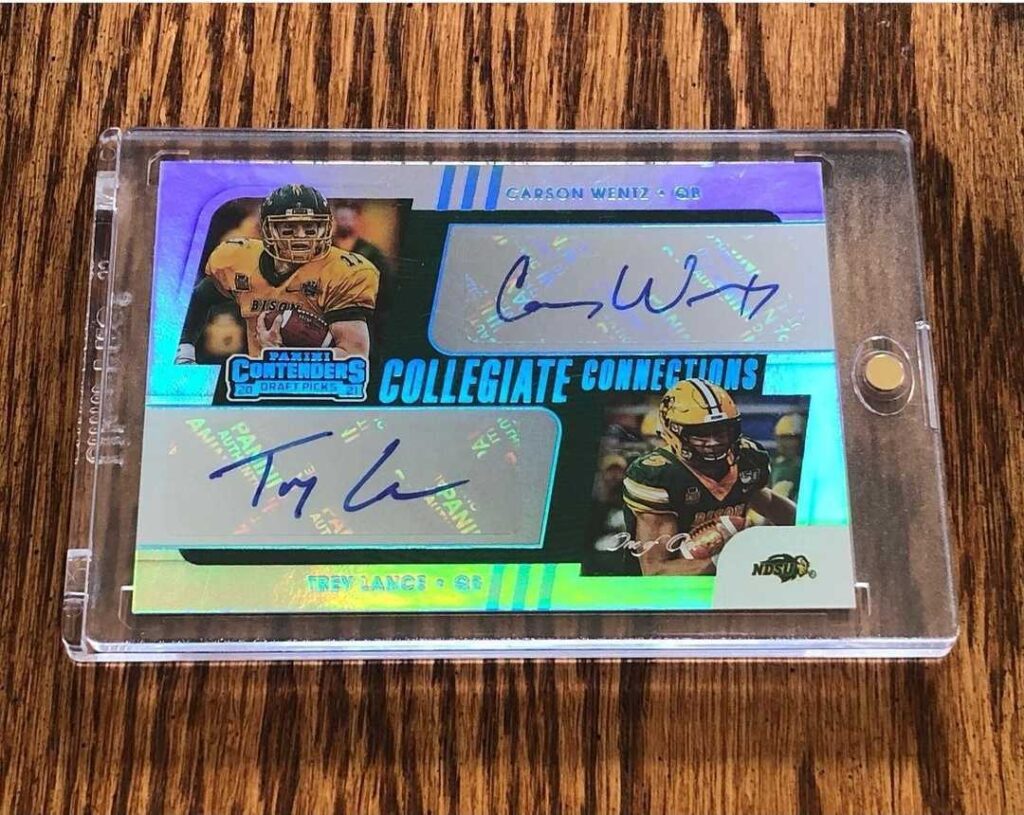 For the collector who may not be a die-hard Wentz fan like you, sell them on the Colts QB. Why should people invest in him?
He goes back to Frank Reich, his coach that he really bonded with over faith in Philadelphia. They have that strong foundation in his 2017 MVP season. So, they're back together. And Indianapolis' offensive line is well known. I mean, Philip Rivers barely got touched last year. Carson's going to be behind that offensive line. They got a great ground attack with [Jonathan] Taylor, [Nyheim] Hines and [Marlon] Mack. They got dudes on defense. There are gonna be games where I think Carson puts up 17, 20 points and they're gonna win just from that defense that's going to be on the field. Them and Tennessee are going to be battling for that AFC South title this year. I think people are going to see Wentz come out of the gate and rack up some wins. He's a value buy right now. Look at his prices compared to the Herberts, Burrows and Tuas. There's some great buys on his rookie stuff right now. I know his first Colts cards are coming out. They dropped last week too. There's a lot of amazing buys right now.
And I like what you said about Jonathan Taylor. With a solid quarterback, now might be even a good time to look at cards for Taylor, Michael Pittman and other young guys on the offense.
I think TY Hilton could have had a multi-year deal with the Ravens and he decided, "You know what? I want to come back and play with Carson." From when they met and what he's with the deep balls, he wanted to play with Carson.
Not every player is just following the money.
Yeah, but I'm not saying Baltimore's not gonna do well. They're going to win, too. But yeah, it's pretty neat to see. There were some rumblings out of Philadelphia asking if Carson was a diva or selfish. I think a lot of his Colts teammates have already come to a side and even former Eagles he played with want to play with him. He's a baller and loves the sport. People want to be with him and play with him.