Like Wilt Chamberlain, Michael Jordan and Allen Iverson before him, Stephen Curry isn't merely a brilliant basketball player; he's a brilliant basketball player who's helping to redefine the game. Showing off more range than Denzel Washington and dribbling skills that make your team's favorite player dizzy, Curry does things on the hardwood that fans thought were only possible in video games. But the Golden State shooting guard is so much more than his long three-pointers and three NBA titles. Over his brilliant, Hall-of-Fame-bound career, Steph has morphed into an endorsement magnet with an equally enormous presence in the sports card world.
Curry has dozens of rookie cards from across the 2009-10 season, so use this Sports Card Investor guide to see which ones we think you should focus on. Cards are broken down into tiers, ranging from the most affordable and more popular options to the most unique, expensive and rare.

VALUE ROOKIES:
The Value Tier includes cards with high print runs or lower-quality cardstock. A good fit for new collectors or those on a limited budget.
Panini Studio #129: A smaller hoops imprint from the late '10s, Studio actually disappeared for a number of seasons after this one. Collectors are appreciative that this '09-10 set happened, though, so we could have this image of a baby-faced Curry.
Prestige #157/207/230: The set actually features a trio of Steph cards, including one in a Warriors uniform, one in a Golden State warm-up jersey and another in his Davidson University jersey. As you might guess, the Warriors one is worth the most while the collegiate photo scores the least.
Panini #307/357/372: This set includes another threesome of Curry cards, one in his Wildcats red and two others in Warriors colors. Each in the NBA jersey commands anywhere between $700 and $1,000.
POPULAR ROOKIES:
This tier includes cards from the most popular sets across both retail and hobby formats. Typically easy to buy or sell when needed.
Topps #321: When scholars hold symposiums on sports cards 50 years from now, they'll refer to this legendary card when it's time to discuss the NBA. Over the past year, PSA 10s have gone for as much as $18,000.
Topps Chrome #101: The glossy version of the Topps, this rare find (/999) has reached fiscal heights that few non-refractors will ever see. At press time, the last four gem mint sales averaged $48,216.
Upper Deck #234: Though the ridiculously high pop (882) lessens the panache just a pinch, this card still demands high dollar (between $1,000-2,000) and sells roughly once a week.

MORE UNIQUE ROOKIES:
This tier includes cards with lower print runs, unique designs, or cards from hobby-only products. Usually higher-quality cards than the Value or Popular tiers, though not necessarily more popular or easier to buy or sell.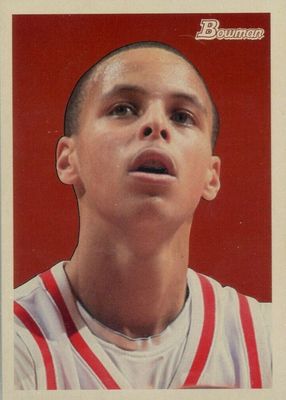 Panini Adrenalyn XL #67: With the funky graphics and futuristic fonts, this one almost feels like something out of a comic book. The look and relative scarcity (pop 96) make this a cool find for Curry collectors.
Bowman '48 #106: A throwback to 1948 Bowman Basketball, this RC features a close-up of Curry, in a Davidson uni, seemingly at the free-throw line. With average sales around $7,000, there's proof that hobbyists like the vintage feel.

RAREST AND MOST EXCLUSIVE:
We won't spend much time here because this category is likely out of reach for most collectors due to price, but they are still fun to look at.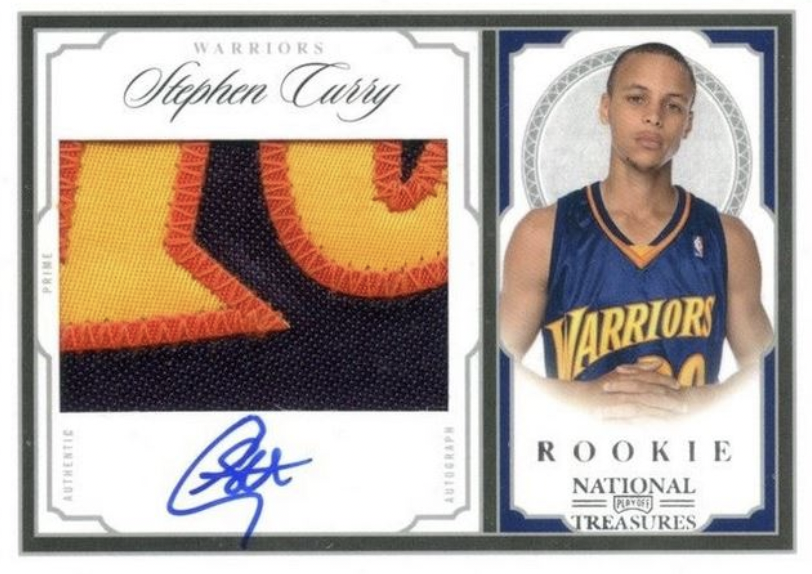 Sets like Exquisite Collection and National Treasures typically feature visually stunning designs and low-numbered cards.
This is also where you'll find the most impressive patches paired with high-quality, on-card autographs. Don't worry if this tier is too pricey as there's a host of options in other categories that could be perfect for your collection.

Track your collection and maximize your profit with Market Movers, the hobby's most powerful sports card pricing platform! Learn more here.
Note to readers: If you purchase something through one of our affiliates, we may earn a commission.